2020 has been a big year for smartphones as new technologies, such as 120Hz displays, 108MP cameras, super-fast charging, were introduced in the life of consumers. And going by the pace at which the smartphone industry is moving, things are only going to get better in 2021. Obviously, smartphone enthusiasts frequently want to upgrade to the latest and greatest devices in order to enjoy the best in personal tech. However, costs can be a barrier for such people as smartphones with the best technology usually commands a premium thus making it accessible to only a limited audience. But if what that didn't have to be the case?
Samsung recently launched the Galaxy Forever program in order to make premium smartphones not only affordable but also revolutionize the way consumers upgrade their smartphones. In fact, reading about the Samsung Galaxy Forever program will make you ask yourself this – why should I pay the full cost of a phone and why won't I upgrade to a new model every year? Let us delve into the details of the Galaxy Forever program to give you a thorough understanding of how the program works and how you can make the most of it.
How Galaxy Forever works
Under the new Galaxy Forever program, you only need to pay 60 percent of the cost to get yourself a flagship Samsung smartphone. That's right – you can get amazing models such as Samsung Galaxy Note 20, Galaxy Note 20 Ultra, Galaxy S20, Galaxy S20+, and Galaxy S20 Ultra at just 60 percent of the price. Incredible, right? The new program makes it incredibly easy to own a Samsung flagship smartphone, that too without paying the full price.
Of the 60 percent, you need to pay just 20 percent as down-payment to take home the premium smartphone of your choice! The remaining 40 percent will be divided into 11 equal EMIs that you pay over the next year. This way, Galaxy Forever delivers great value to customers and ensures extremely low cost of ownership. The EMIs especially are great for those who want the best in smartphone tech in their hands without burning a huge hole in their pocket. But it gets better.
What happens after a year?
Galaxy Forever program is not just about lowering ownership costs of flagship smartphones – it also aims to change the way people own and upgrade their devices. Most people would upgrade their smartphone after using it for roughly two years, even if they don't want simply because of the high prices associated with premium devices. Well, the Galaxy Forever program changes that. It gives customers the freedom to return their smartphone to a Samsung Store and switch the next big thing the brand has to offer. It's that simple!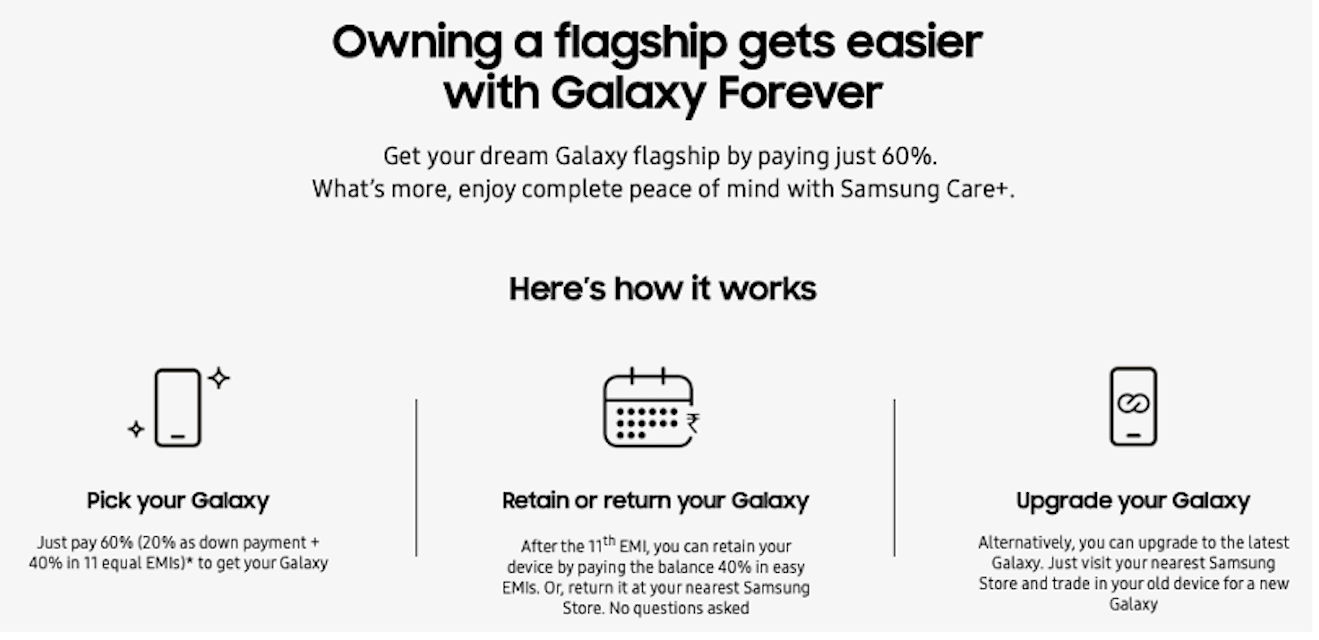 How it works is simple too. After you pay the last EMI, you have three options. The most attractive one allows you to upgrade to the next model by trading in your current handset, no questions asked. Just walk into a Samsung Store and hand in your device and take home a new one by paying just 20 percent of smartphone's price as down-payment! This is the perfect way to switch to the next-gen smartphone with all the bells and whistles that Samsung will offer in 2021 without taking a major hit on your bank account!
Upgrading to a new smartphone is only one of the three options you get with Galaxy Forever at the end of the EMI cycle. You can also choose to keep the smartphone you have been using for a year by simply paying the remaining 40 percent of the cost. It's an incredibly easy way to try out a smartphone and then decide whether it is more than enough for all your requirements.
The third option at the end of the EMI cycle allows you to return the phone to Samsung – the store will ask no questions and you will have owned a Samsung Galaxy flagship smartphone for a year at just 60 percent of its actual value.
What if my smartphone's screen gets damaged?
That's a valid concern for anyone using a premium smartphone, which is why the Galaxy Forever program includes the Samsung Care+ protection for accidental and liquid damage for 1 year. If the screen gets damaged during the 12-months of ownership period, you can just get it fixed from Samsung for free. Even if you return the handset with a cracked screen, Samsung will take it back without any questions.
The amazing value that the Galaxy Forever brings to the table makes it perfect for those who want the best of smartphone tech every year. The program is now open for all consumers – just head to your nearest authorized Samsung Store to be part of the program and take home your favourite Galaxy Note20 or Galaxy S20 smartphone home today!