Two years ago, Samsung introduced the world to its Galaxy M-series, which aimed at delivering flagship-grade features at an affordable price point. Fast-forward to 2021 and the M-series has become a staple in the budget and affordable segment, at least in India. So much so, the company has recently unveiled a brand-new smartphone in the lineup, dubbed the Samsung Galaxy M12, which comes toting an array of cutting-edge features. And that's not all as it also carries an alluring price tag of just Rs 9,999, which will undoubtedly unnerve the competition. It comes as little surprise then, that the Samsung Galaxy M12 carries the slogan, Monster Reloaded. As the phone gears up to hit stores shelves on March 18th, let us give you an overview of all the highlight-worthy features it brings to the table.
Gorgeous visuals with 90Hz Infinity-V display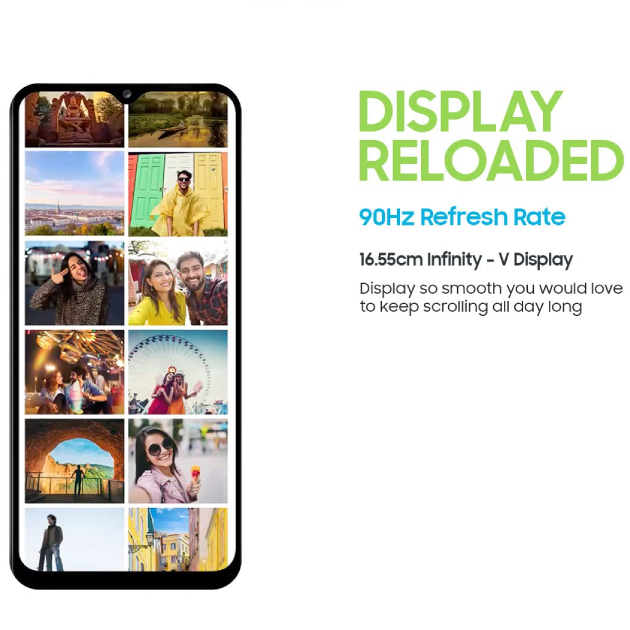 The trademark feature of Samsung Galaxy M12 – the feature that makes it stand out in a rather crowded budget segment – is its 90Hz refresh rate display. Having a high refresh rate display guarantees not just smooth scrolling, but also gives a boost to visuals from certain games that are tailored for such high-refresh-rate panels. Playing high-end shooting games is sure going to be an incredibly fun experience on this display.
Not just that, its display size will also end up impressing you. This is a massive 6.5-inch Infinity-V panel with HD+ resolution that covers almost the entirety of the front surface, leading to an extremely immersive experience. The Widevine L1 certification on the phone ensures that you get High Definition (HD) viewing experience while streaming your favourite TV shows online.
Tremendous performance with 8nm Exynos 850 processor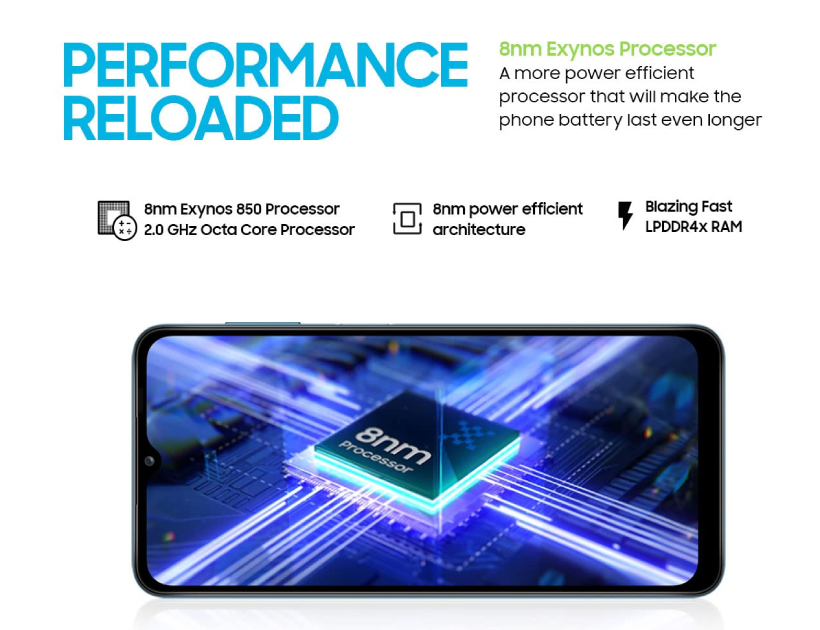 The Samsung Galaxy M12 also comes equipped with the 8nm Exynos 850 chipset that is efficient at resource allocation as well as at minimising power consumption. All this ensures users don't have to plug in their phones to charge in the middle of the day. Not just that, the phone's 8nm Exynos 850 SoC also offers superior performance compared to chipsets built on the 10nm and 12nm process, which are found aplenty in the budget segment.
With this highly advanced 8nm chipset at your disposal, you can expect the Samsung Galaxy M12 to be a handy gaming companion, no matter how heavy and demanding your games are. Add to that the phone's LPDDR4 RAM and you can rest assured that the Samsung Galaxy M12 will be a performance and multi-tasking powerhouse.
Battery backup for days with 6,000mAh battery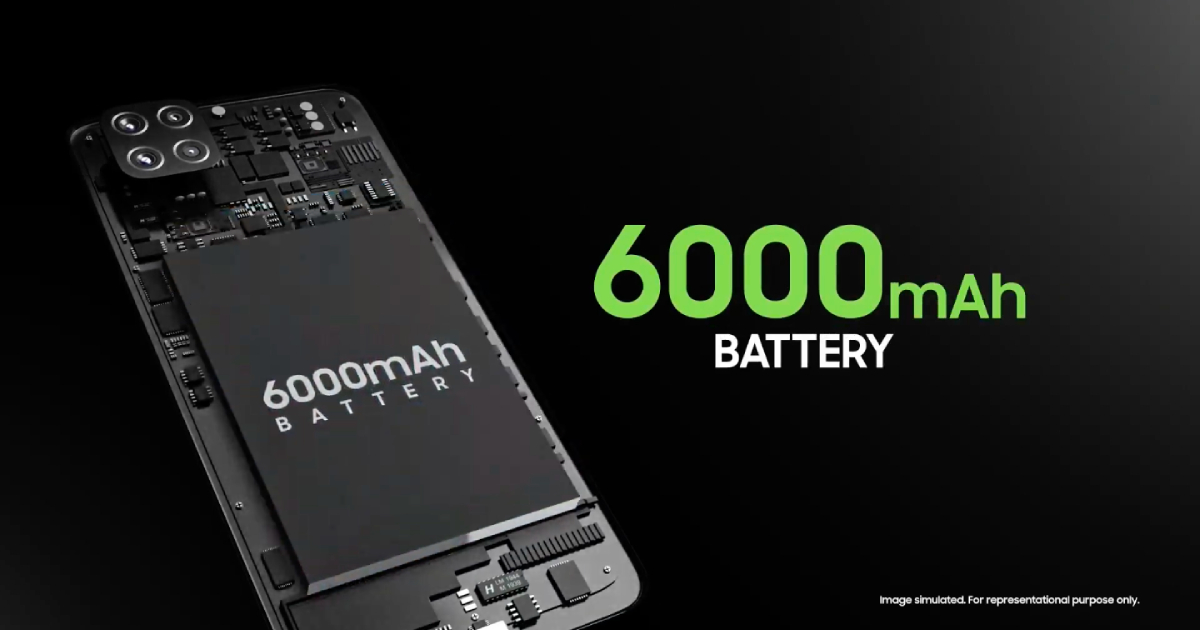 Samsung Galaxy M12 promises to be a godsend for those who prioritise battery life above everything else. Nestled inside the handset's beautiful chassis is a 6,000mAh battery, which is incredible capacious for all your tasks and games. Suffice it to say, judicious users will easily net two days of backup with the Samsung Galaxy M12. And, for all the power-users in the audience, the smartphone will have plenty of juice in the tank even after a day's worth of browsing, chatting, and gaming.
What's more, you will be glad to know that the Samsung Galaxy M12 also comes with support for 15W fast charging. Consequently, should you run out of juice in the middle of the day, the bundled charger will have you and your phone up and running in no time. Coupled with the handset's ginormous battery, the Samsung Galaxy M12 is going to keep your battery anxiety at bay.
Stunning photos with True 48MP Quad Camera
Samsung has furnished the Galaxy M12 with a True 48MP Quad Camera setup, which not only delivers spectacular photos and videos, but also offers exceptional versatility, which will help users capture stunning shots in a wide range of photography scenarios. The main 48MP camera promises excellent results, primarily because the company has employed the newer ISOCELL GM2 sensor. What's more, the unit's high resolution also gives users the flexibility to crop out unwanted portions from their photographs without decimating the image quality.
Then, there's the 8MP ultra-wide camera that will allow buyers to capture more of the scene without zooming out or moving from their position. Rounding off the quad-camera setup of Samsung Galaxy M12 are the 5MP portrait and 2MP macro lenses that will help users click phenomenal portrait images with a gorgeous bokeh effect and ultra-close-ups of their subjects, respectively. And, lest we forget, the phone also comes with an 8MP front camera that, thanks to the company's unique colour-science, will undoubtedly be the envy of your friends and family alike.
All this for just Rs 9,999!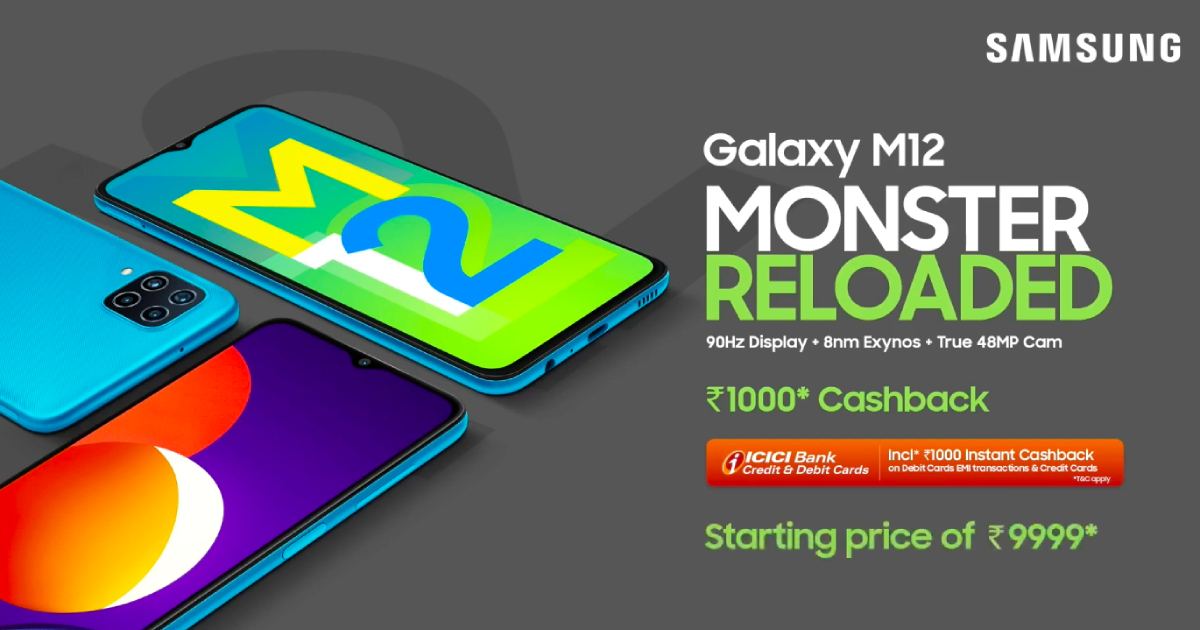 Taking everything in consideration, it is clear that the Samsung Galaxy M12 should be on every budget buyers wishlist. The smartphone offers a slew of enticing features that will impress you from the word go, be it with its stylish design, its rapid 8nm processor, or its excellent cameras. But that's not all this smartphone has to offer. The phone's premium design, Gorilla Glass 3 protection, Dolby Atmos audio, super-fast Face Unlock, side-mounted fingerprint scanner, and more add to the phone's value proposition.
Now, don't let the phone's features fool you into thinking it's an expensive device – the Samsung Galaxy M12 prices in India are just Rs 10,999 and Rs 13,499 for the 4GB + 64GB and 6GB + 128GB variants respectively, making the smartphone an incredible deal for budget buyers. But it gets better. Samsung is bringing down the prices for a limited period with its introductory launch offer: customers purchasing the phone – whether online or offline – using an ICICI Bank cards will get up to Rs 1,000 instant cashback! This will lower the price of the incredible Samsung Galaxy M12 to just Rs 9,999 for the 4GB variant and Rs 12,499 for the 6GB option. Now that's a steal! So, head on over to Samsung.com, Amazon.in, or your nearest retail store right now and grab yourself the Monster Reloaded!