"Samsung Galaxy M30s will reportedly come with Exynos 9610 SoC, 4GB RAM, and Android Pie, while Galaxy A10s will feature a 3,900mAh battery and fingerprint scanner"
Samsung has released plenty of new smartphones in the country this year. Ranging from budget to high-end, we've got a good spread of phones from the company. The Galaxy A10 and the Galaxy M10 are the cheapest of the lot and provide basic smartphone features at an affordable price tag. Recently, there have been rumours that Samsung would be launching a slightly upgraded variant of the Galaxy A10, and now, there's some evidence. Along with this, we finally have some specifications of the rumoured Samsung Galaxy M30s smartphone.
A new Samsung device with the model number SM-A107F, has just been listed on the FCC. The listing reveals the design and some features of the phone. It is believed that this could be the upgraded Galaxy A10, which maybe called the Galaxy A10s. As per the listing, the phone comes with a rear mounted fingerprint scanner. This is good news because the standard A10 did not include a biometric scanner.
Apart from featuring a fingerprint scanner, the Galaxy A10s will have a 3,900mAh battery, a 3.5mm headphone jack, and a dual-rear camera setup. No other information, such as RAM/storage, processor, etc, is known. Perhaps you can expect a slightly more powerful processor and increased RAM/storage options. The Galaxy A10s should also cost a little more than the standard variant.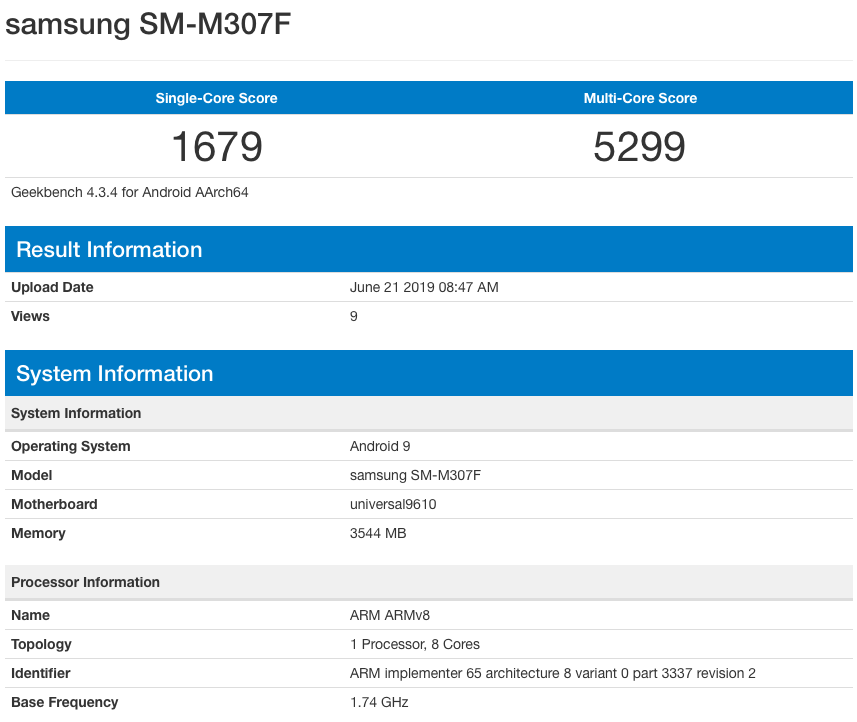 Meanwhile, the rumoured new variant of Galaxy M30 was also spotted online. The phone was listed on Geekbench with the model number SM-M307F. The listing reveals that the phone is equipped with 4GB RAM and runs Android 9.0 Pie. That's nothing new to be honest, but the model number is. However, the new variant is running an Exynos 9610 octa-core processor. The standard Galaxy M30 was powered by the Exynos 7904 chipset, accompanied by a triple-rear camera setup and a large 5,000mAh battery. Therefore, you can expect this new variant to be similarly spec'd, but with an improved processor and more RAM/storage variants.
We are not sure about the launch dates for these phones, but rest assured, they should be available in India. The new Galaxy M30 variant will apparently be known as the Galaxy M30s.