The 'smartphone experience' depends on many things, but there's one factor that carries a lot of weight — the processor. Of course, the other specs matter, but just like our brain, the processor is core to everything you do on your phone. Samsung has just introduced a new SoC in the form of the Exynos 9611, which is powering its latest mid-range offering, the Galaxy M30s. If you ask us, the Samsung Galaxy M30s is a winner, all thanks to its next-gen Exynos 9611 processor, which manages to excel at multitasking as well as games, even while running cool. It's also pretty frugal on the power consumption front, making for excellent battery life. As for the icing on the cake, that has to be either the AI-powered cameras, or the Game Booster tech. Join us as we take a closer look at how the Exynos 9611 enables the Galaxy M30s to handle anything you throw at it.
Architecture designed for the future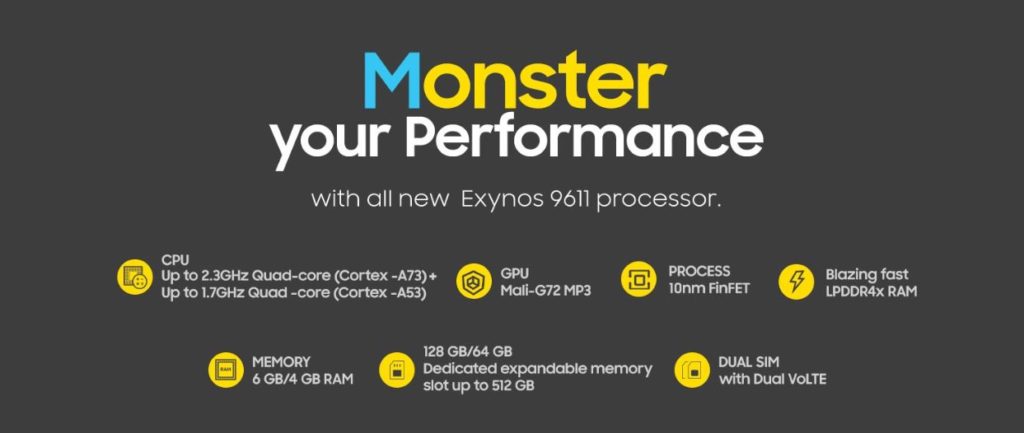 The architecture of the processor is what has the greatest impact on its performance. And the Exynos 9611 is a next-gen SoC that's built on a 10nm FinFET process. We'll spare you the technical details, but smaller fabrication processes mean cooler, faster, and more efficient chips. The Exynos 9611 processor uses two sets of four cores (making for an octa-core processor). The primary Cortex-A73 cores excel at heavy lifting — these are the ones that make it possible for the Galaxy M30s to be a multitasking demon. Then there are also four super-efficient Cortex-A53 cores that keep background processes humming along nicely.
Turbocharged clock speeds with battery optimisations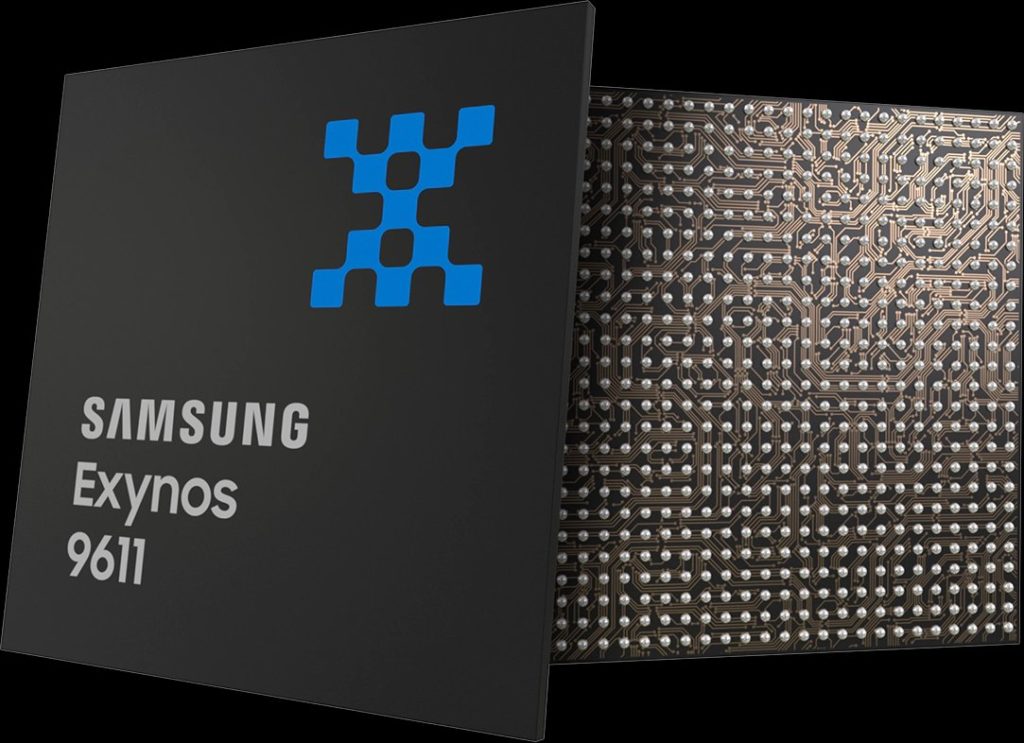 The main Cortex-A73 cores in the Exynos 9611 can hit speeds of 2.3GHz, which is fantastic if you are a heavy gamer or someone who demands smooth, lag-free multitasking. Meanwhile, the Cortex A53 chip can hit speeds of 1.73Ghz. Together, the eight cores have enough power to keep your foreground apps and games run smooth, while reserving enough power for background apps and notifications.
With great power comes great responsibility, which in the case of a smartphone would be efficient power consumption. The Samsung Galaxy M30s comes with what can be described as a 'monster' battery. In fact with a 6,000mAh pack, the M30s blows the competition away in the battery department But what makes it even more effective is the battery optimisations made possible thanks to the Exynos 9611 processor. First, with a 10nm process, it runs very coolly (heat, as you know, is wasted energy). Then, with two separate sets of quad-core clusters, the device can intelligently split the tasks between them. This smart utilisation of resources makes for a device that can keep up with even the most demanding user — how does 29 hours of non-stop video playback sound to you?
AI-powered game booster to keep the pros happy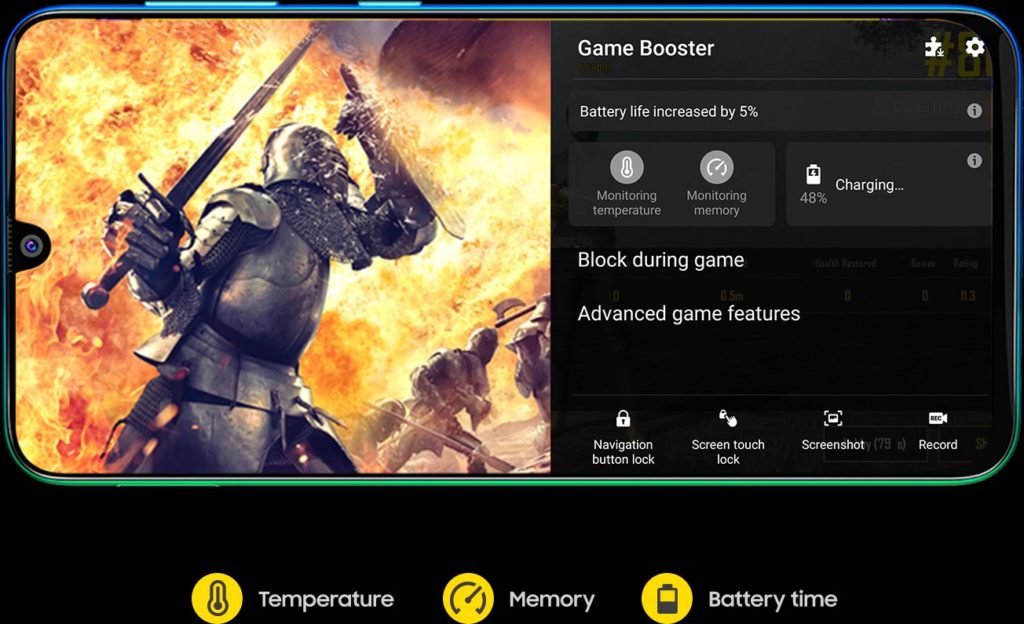 The Exynos 9611 and its Mali G72 MP3 GPU have more than enough muscle for the latest, most demanding games, even at the highest settings. But they also get some added muscle thanks to the AI-powered Game Booster. This special tech monitors your phone's hardware, ensuring it runs cool, and keeping aside enough system resources for non-stop, lag-free, high-frame-rate gameplay. The Galaxy M30s really makes the most of this Game Booster — you won't just get smoother gameplay, but also battery life savings, and you also have the option of system enhancements and settings you need for high-stakes gaming — you can block notifications, prevent screen mis-touches, take screenshots, and even record your gaming sessions.
AI-enabled cameras for vacation memories you'll treasure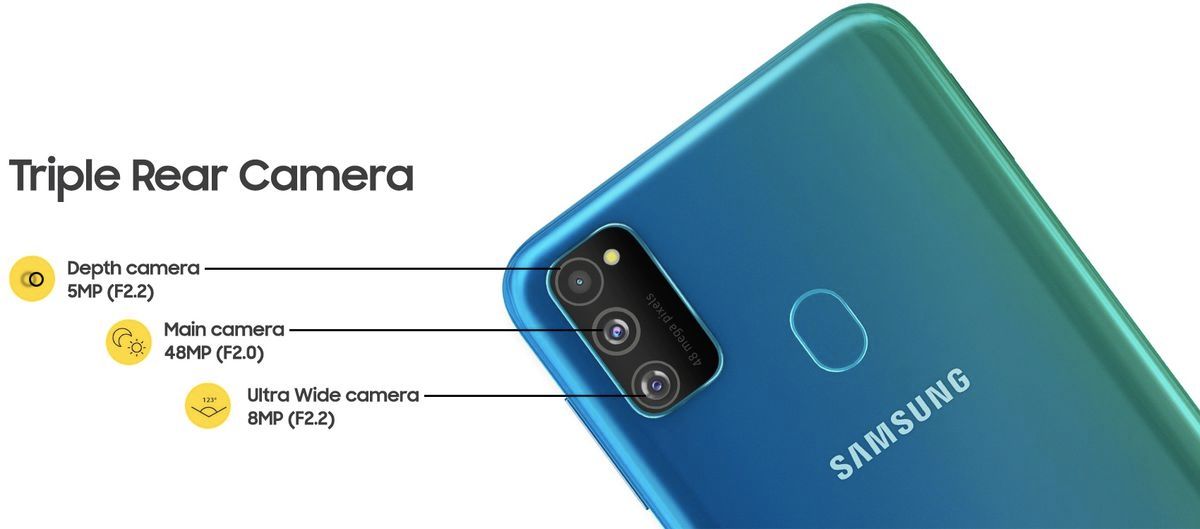 The camera is often the most important feature for many users. If you're like us, you'll love how the Exynos 9611 makes it possible for the Galaxy M30s to take stunning photos. In-built AI optimisation and image processing let the Galaxy M30s identify the objects in a scene, and then fine-tune different parameters (from exposure to white balance, and many, many more) to ensure you get the best photos and videos possible. This AI-powered smart image processing also gives you images with lifelike, dreamy bokeh, and brilliantly lit night photos (there's a dedicated Night Mode). When you combine these capabilities with the triple-camera system (a 48MP main camera, an 8MP ultra-wide camera, and a 5MP depth sensor) of the Galaxy M30s, you get photos you'll treasure for a lifetime. Videos also gain from next-gen features like Super Steady stabilisation, Super Slow Motion (at 480fps), Live Focus, and Hyperlapse.

The Samsung Galaxy M30s is a solid device, with capabilities that far exceed that of anything else in the mid-range. The credit goes to its powerful spec sheet — A 6.4-inch sAMOLED display that's bright, vibrant and offers great contrast, a class-leading 48MP triple-camera system that includes an ultra-wide-angle camera and a depth sensor, a 6,000mAh battery that's enough for multi-day usage, dual-SIM with dual VoLTE, a dedicated microSD slot, and Samsung's slick, intuitive One UI OS. But we really have to reserve some extra praise for the Exynos 9611, a processor that enables AI-powered features and endows the Galaxy M30s with impressive capabilities, while still allowing for an attractive price point. Speaking of that, the M30s is available in two variants of 4GB RAM + 64GB storage and 6GB RAM + 128GB storage, priced at Rs 13,999 and Rs 16,999, respectively. As far as availability is concerned, the device is available to purchase off Amazon.in and Samsung.com.