Highlights
Samsung Galaxy M62 support page has shown up on the Samsung India website
The smartphone could be launched in India soon
Samsung Galaxy M62 specs may include the Exynos 9825 chipset, up to 256GB of storage, 6GB of RAM, and a 7,000mAh battery.
Samsung Galaxy M62 India launch could finally be around the corner as the support page has appeared on the Samsung India website. We've been hearing about the Samsung Galaxy M62 launch since as early as November 2020. Everything we've heard about it so far suggested that it would be Samsung's first-ever Galaxy M-branded tablet. It is still hard to tell if the device in question is a smartphone or tablet. Thankfully, the Samsung Galaxy F62 is confirmed to launch in India soon and that could provide some much-needed clarity as the two phones are expected to be similar. It shouldn't be long before the Samsung Galaxy M62 price in India and specifications are revealed as MySmartPrice has spotted the support page on the official Samsung India website, which suggests the phone's imminent launch in India.
Also read: Samsung Galaxy Tab M62 specifications spotted on Geekbench
Samsung Galaxy M62 support page goes live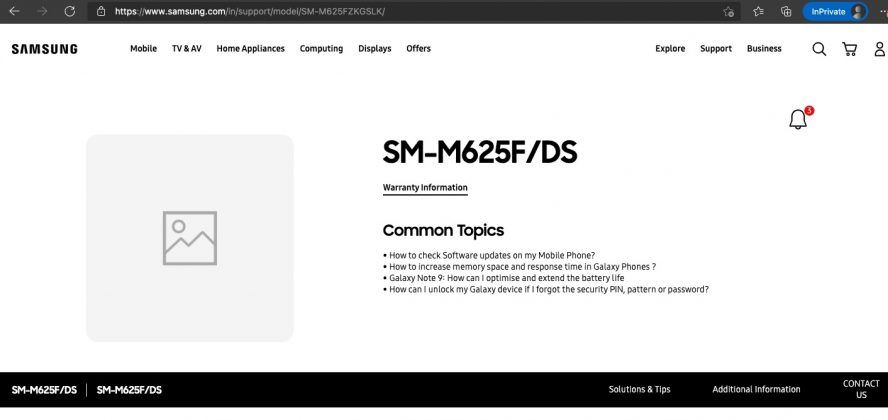 Due to the conflicting nature of previous leaks, it is virtually impossible to determine just what the Samsung Galaxy M62 is at this point. Some live images from earlier shed some light on its innards. Its recent Geekbench listing tells us that the Samsung Galaxy M62 specifications will include the Samsung Galaxy Note 10's Exynos 9825 chipset along with 6GB of RAM and Android 11 based One UI 3.0 out of the box.
Other Samsung Galaxy M62 specs include a 7,000mah battery that can be charged at 25W. The device could also offer up to 256GB of storage, along with a dedicated micro SD card slot. All of these specifications seem to point towards the fact that the Samsung Galaxy M62 could arrive as a tablet. Otherwise, it runs the risk of undercutting the already competitive Samsung Galaxy F62. Besides, undercutting its own products is something Realme and Xiaomi excel at, and it is unlikely that Samsung will go down that path.