"Despite being rated at 20W charging output, the Samsung wireless charger will be limited to a maximum of 15W output thanks to the FCC"
The Galaxy Note 10 launch is only a month away and it looks like the company will also be announcing a new and faster wireless charger. There have been reports that the Note 10 will come with 25W fast-charging support and a charger in the box. However, Samsung could also release a wireless charger that will be just as fast as the wired charger. This wireless charger recently received the approval from the FCC, which means that it is launching soon.
Samsung will probably call it the Wireless Charging Stand and it could carry the model number EP-N5200. The FCC has approved the wireless charger for a maximum power output of 15W. However, the charger is apparently rated for a maximum output of 20W, which puts it closer to the 25W rumoured wired charger. Unfortunately, we might only get a 15W wireless charger as the FCC had only recently raised the wireless charging limit from 5W to 15W. Samsung will have to ask the FCC to further increase the limit to 20W.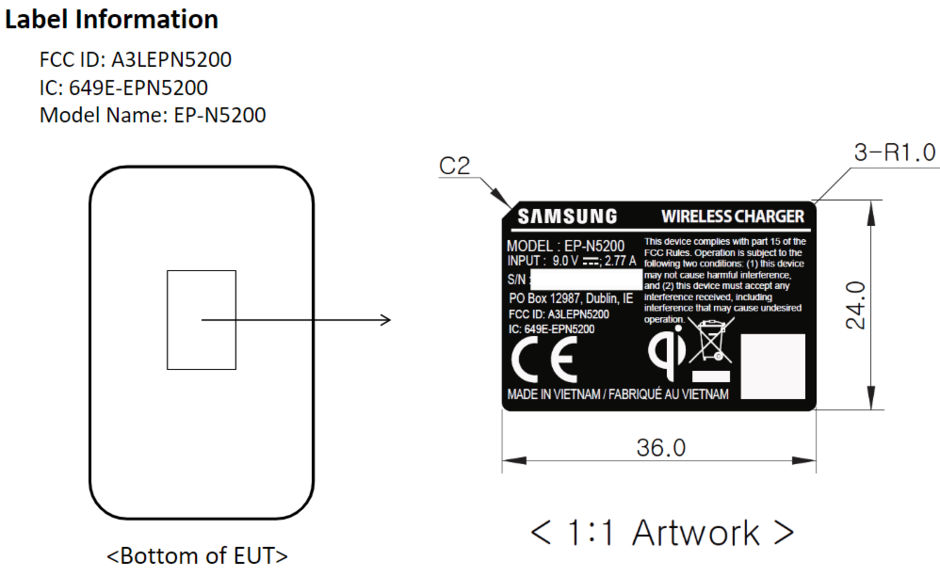 During the MWC event in Shanghai last month, Samsung had put up details about the wireless charger at its booth and even showcased the 20W wireless charger. The company also stated that the same 20W tech could be used to charge other products such as the Galaxy Buds case from the phone. It's good to see that wireless chargers are getting as fast as standard wired chargers. We have seen wired chargers reach speeds of up to 120W, recently unveiled by Vivo.
As of now, there aren't any fast wireless charging pads available for smartphones that are as good as wired chargers. This is why the wireless technology hasn't really reached the masses. Also, wireless charging can also overheat the phone, which nobody wants. The Galaxy S10 series supports reverse wireless charging at a maximum output of 9W, but runs lower in reality. The phone comes with a 15W wired charger in the box, so it would be nice to see higher capacity chargers available with the Galaxy Note 10. We won't have to wait much longer to find out.
Samsung Galaxy Note 10 Video