"Bluetooth 5.1 certification for the Note 10 Lite suggests that Samsung's budget Note may come with some new S-Pen tricks."
Samsung is seemingly close to launching the Galaxy Note 10 Lite, a budget version of its flagship Note 10 flagship. Among all the rumours, leaks, teasers, a new documentation spotted online has revealed that the Galaxy Note 10 Lite smartphone has received Bluetooth 5.1 certification. While the difference between Bluetooth 5 and Bluetooth 5.1 is not massive, there are a few key differences, the biggest of which is accurate location tracking with the latter. This, in turn, suggests that the Galaxy Note 10 Lite may feature an S-Pen that supports location tracking.
This means the Samsung Galaxy Note 10 Lite may be the brand's first phone to feature an S-Pen that can be proximity-tracked by the phone itself. This would be an additional safety feature to ensure that the S-Pen is not misplaced from the device. Furthermore, it can also offer interesting new features such as native geo-tagging of notes taken on the fly, or similar features for taking photographs as well.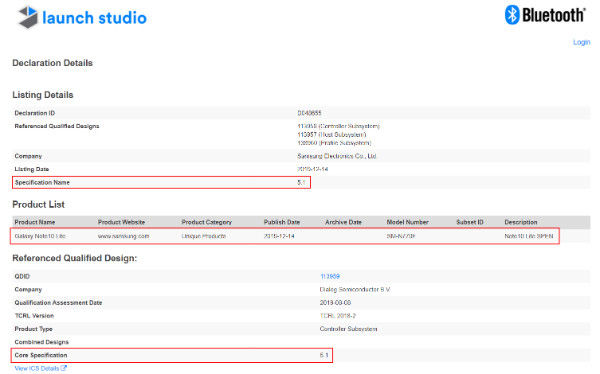 Samsung has been adding quite a few new features to the S Pen in recent years such as air gestures and remote functionalists with the help of Bluetooth LE. Wit the addition of Bluetooth 5.1, Samsung can add more multitasking features to the S Pen, making the stylus an integral part of the Note, if it isn't already.
As of now, the Samsung Galaxy Note 10 Lite is expected to launch in India in mid-January as reported by 91mobiles previously. Its price is expected to around €600 (~Rs 48,000). While this makes it considerably less expensive than the Galaxy Note 10 and Note 10+, it is not particularly in the affordable range. Given the presence of flagship-class devices by the likes of OnePlus in this price range, it remains to be seen if a device like the Galaxy Note 10 Lite finds relevance in today's smartphone market.
Samsung Galaxy Note 10 Lite launch is imminent as support pages have gone live on Samsung's official website in Spain and has also bagged BIS and FCC certifications. The Note 10 Lite is rumoured to be powered by the Exynos 9810 SoC, which is a 2018 processor that powered the Galaxy S9 and Note 9 last year.