"Samsung Galaxy Note 10 is slated to be the company's upcoming flagship and expected to take cues from the Galaxy S10 lineup in terms of features"
Not long after the Samsung Galaxy S10 lineup of smartphones went up for sale across the world, rumours regarding the company's flagship large screen smartphone have started floating in. The latest one is regarding the Galaxy Note 10, which should be launched by Samsung in the company months, as has been the norm. A report from Korean publication ETNews states that Samsung's Galaxy Note 10 will be a buttonless phone and do away with all physical buttons that its present phones have.
As per the report, the new design will not even include a power button and instead use alternate interfaces to allow people to interact with it. These alternate interfaces may include squeeze-enabled sides and gestures. For instance, the power button may be replaced by a seamless physical edge that can be squeezed to switch on the phone. Once turned on, a combination of touch and gesture inputs can be used to operate it. For instance, users may be able to use simple gestures to turn up the volume while watching shows on the Galaxy Note 10.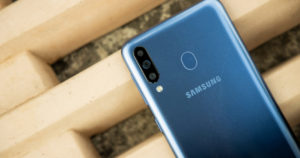 Samsung had previously filed a patent that showed such a squeezeable design, which somewhat aligns with the buttonless device rumour. However, the device reports that Samsung may bring the no-button design to its A series smartphones, which are premium devices that sit right below the Galaxy S and Galaxy Note flagship phones. This is a norm for Samsung, which often launches new features on the Galaxy A devices first before rolling them out to flagships. The brand has also been known to be an early adopter of industry standards. For instance, it made the curved edge, slim bezel, and tall aspect ratio display designs popular, which have now become standard.
However, the report sounds a bit doubtful, since using no buttons can lead to multiple challenges for a smartphone, and it is unlikely that Samsung will take such a big risk with a flagship phone and completely alter the way a person interacts with his/her phone. The Galaxy Note 10 is expected to release some time in August 2019, which is when we should get proof of how the device shapes up to be.