"The 3D scanner app makes use of the 3D time of flight sensor on the Note 10+ to scale 3D models of relatively small objects"
Samsung has launched its own 3D scanner app, unassumingly named 3D Scanner. The new smartphone app does pretty much what its name suggests, scaling 3D models of objects that are relatively small and within its field of view. The app makes use of the 3D time of flight sensor on board the Samsung Galaxy Note 10+, in order to create a 3D graphical replica of the object on the app itself.
According to the app description, 3D Scanner works best for objects sized within 20-80cm3. To use the app, users will need to scan the object from all directions. Samsung recommends that no other objects are placed around the target object, in which case the surrounding objects will also be scanned alongside. The 3D Scanner app is available on the Samsung Galaxy app store, which makes it exclusive to Samsung devices. Furthermore, the app will be compatible with any other Samsung devices that have the 3D time of flight sensor, including the Galaxy Note 10+ 5G and the Samsung Galaxy A80.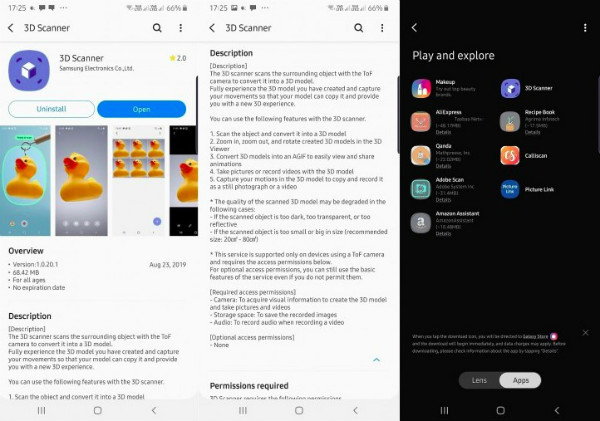 The unique feature will help users of the Samsung Galaxy Note 10+ make better use of all its features. The Galaxy Note 10+'s 3D scanning feature will help users create 3D models, and use them as 3D stickers in photos, or even in videos as creative elements. This would provide a similar usage experience as Apple's Animoji, which create 3D modelled objects as graphical stickers, which can then be used for emoting better in communication apps.
The Samsung Galaxy Note 10+ was launched earlier this week, bringing Samsung's flagship portfolio to the completion. Part of the feature set of the new device is its Exynos 9825 SoC, which uses the 7nm fabrication process to offer better performance and power efficiency than its counterpart, the Exynos 9820, does on the Galaxy S10 lineup. With features such as the 3D ToF sensor at hand, the Note 10+ aims to retain the do-everything attitude that Samsung Note series flagships have retained over time.