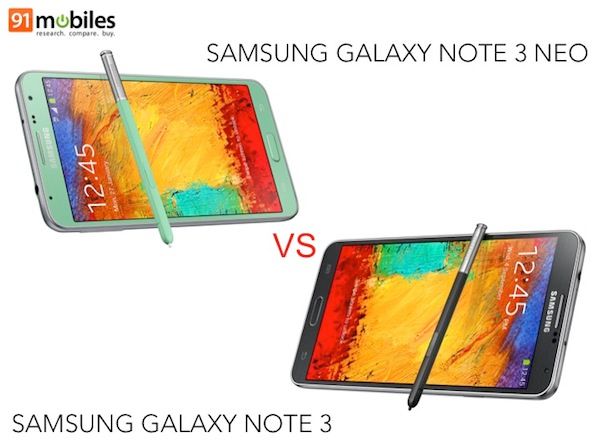 "A closer look at Samsung's Note phablets."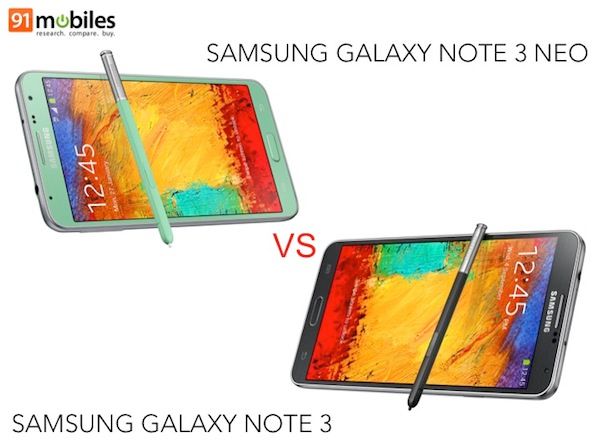 We all expected the
Samsung Galaxy Note 3 Neo
to be a more affordable version of the
Note 3
flagship, so the premium pricing was confusing, to say the least. Even though the two phablets appear to be identical twins from the outside, the internal specs tell a different story. When we got the Note 3 Neo for review, we were eager to find out how it stacked up against the Note 3, widely considered to be one of the best phablets around. So what's different? Find out in our comparison.
Design
The Note 3 Neo takes all its design cues from its predecessor, adopting the same plastic build, faux leather back panel and chrome detailing. Both devices feature a silo at the bottom, which holds the proprietary S Pen stylus. Colour choices are slightly different though. While you can get either in the usual black or white, the Note 3 offers a pink option, while the Note 3 Neo gets a mint green edition.
Displays
Even though it's not apparent at first glance, the Note cousins feature different displays. While the Note 3 gets a larger 5.7-inch Super AMOLED display with 1080p resolution, the Note 3 Neo is downgraded to a marginally smaller 5.5-inch Super AMOLED screen, with 720p resolution. This also results in varying pixel densities – while the Note 3 gets a pixel-packed 386ppi, the Note 3 Neo makes do with a more average 267ppi count.
Performance
Both phablets are powered by Samsung's own Exynos processors. The Note 3 features an octa-core Exynos 5 Octa 5240 SoC, consisting of dual quad-core clusters clocked at 1.9GHz and 1.7GHz, paired with a Mali-7628 MP6 GPU. The Note 3 Neo gets a hexa-core Exynos 5260 chipset on the inside, integrating 1.3GHz quad-core and 1.7GHz dual-core processors, paired with Mali-T624 graphics. While the Note 3 gets a generous 3GB of RAM, the Note 3 Neo has a healthy 2GB.
Cameras
The Note 3 sports a 13MP autofocus camera with LED flash at the rear, and a 2MP shooter in the front. The Note 3 Neo's primary camera is whittled down to 8MP resolution, but the LED flash and front 2MP snapper have been retained. Cameras on both devices offer 1080p recording, HDR, image stabilisation and panorama mode.
Software
The Note 3 was launched with Android 4.3 Jelly Bean, but has since received an update to Android 4.4.2 KitKat. The Note 3 Neo, despite being a newer device, sticks to Android 4.3, but we expect future OS updates are in the offing. Both devices feature Samsung's TouchWiz UI on top of stock Android, which brings with it a host of Samsung-specific services like
Samsung Apps
,
S Health
,
S Planner
,
WatchON
and more. Being Note devices, they come with the proprietary S Pen apps like
Action Memo
,
S Note
and
Scrapbook
, plus
Sketchbook for Galaxy
, powered by Autodesk. The two Notes also support
Air Command
,
Multi Window
and a variety of motion gestures.
Storage and battery
While the Note 3 is available in 32GB and 64GB variants internationally, in India you'll have to make do with the 16GB version, making it identical to the Note 3 Neo in terms of storage. Both phablets pack in a microSD card slot to expand storage up to 64GB, if desired. One area where Samsung has been generous is with battery. Both the Note 3 and Note 3 Neo get bountiful fuel tanks, with 3,300mAh and 3,200mAh capacities respectively, ensuring enough juice to last through more than a day of use.
Pricing
On Samsung's eStore, the Note 3 is listed at Rs 47,900, while the Note 3 Neo gets a Rs 38,990 price tag. However, these are the MRPs, and both devices are available for significantly lower through online and physical retailers. The average online price for the Note 3 Neo at the time of writing is Rs 36,500, while the Note 3 retails for approximately Rs 43,000.
Verdict
It's clear from the specifications that the Note 3 Neo is a dressed-down version of its predecessor, but was never intended for budget territory. With a 720p display, hexa-core processor and all the Note 3 software tweaks, it's still a powerful phablet. Given that the price has already dropped since Samsung's official announcement a few weeks ago, it's safe to assume a further reduction over the coming months. With a difference of almost Rs 7,000 in price currently, the Note 3 Neo makes a good choice for those who want all the functionality of a premium Note device, but are willing to compromise on a few core specs. However, if moolah isn't an issue, the Note 3 is still top dog in phablet territory.
Related read:
Samsung Galaxy Note 3 Neo unboxing and first impressions