The Samsung Galaxy Note10 Lite is probably the most exciting phone to arrive in recent times not only because of the sheer number of interesting features it brings, but also the surprise it sprung when it was launched at a price of ₹38,999. The Bluetooth powered S Pen, which has been the domain of the high-end Galaxy Note line till now, coupled with a flagship-grade camera with Dual Pixel technology along and an all-day 4500mAh battery is why the all-new Samsung Galaxy Note10 Lite poses a serious threat to competitors. Let us give you a deep look at what makes the Samsung Galaxy Note10 Lite the new king of this price segment.
S Pen brilliance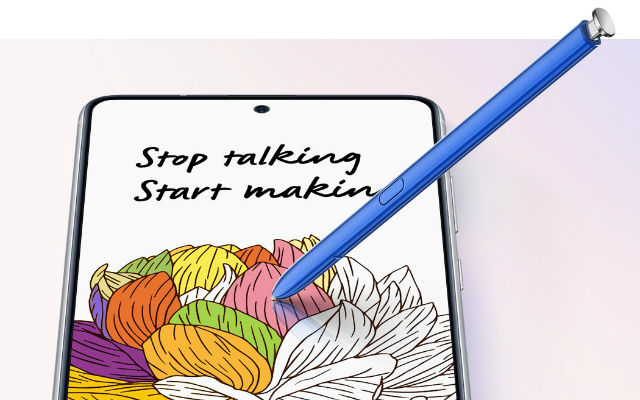 Lodged inside a tiny housing at the bottom of the phone is the trusty S Pen, which provides you with a myriad of new ways to fuel your productivity and creativity. The S Pen is your smartphone magic wand. Whether it's an inspiring sketch or a timely written note, the S Pen lets you be more creative and productive than ever before. The S Pen can be an actual paintbrush for those who wish to give wings to their creativity. You can make use of the AR Doodle feature to draw 3D art in augmented reality.
And then there's the pre-installed PENUP app that presents you with a digital canvas for creating your very own art pieces and share it with other artists. Using the various brushes, pens and other tools available in it, you can really make the most of owning the Galaxy Note10 Lite.
On the productivity front, S Pen has the power to instantly turn handwriting into text with Text Export. Just jot down your thoughts then simply tap your project notes into readable text you can copy, paste and share. The Galaxy Note10 Lite also provides you with a screen you can always write on. Just pop out the S Pen to use the Screen Off Memo feature. The write and draw in a variety of colors. And finally, save your screen to Samsung Notes or pin it to the Always On Display.
Another cool feature of the S Pen is its ability to let you preview photos and videos from your gallery. All you need to do is hover it over an image or a video, and a small preview will instantly appear without actually opening the file.
The S Pen is great for navigating the phone's user interface as well. Its Air Actions feature lets you perform various functions — from controlling the music player to switching between camera modes — without the S Pen even touching the screen. Smart Select is a tool that allows you to instantly select, crop and save whatever is present on the screen. You can also use it for creating GIFs from any video you are watching on the phone.
A Pro-grade camera worthy of accolades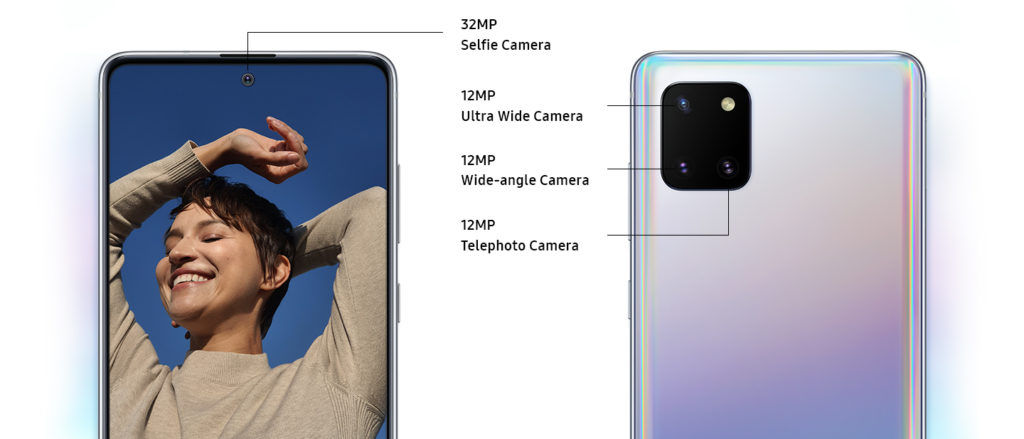 A trio of 12MP cameras sits on the back of the Galaxy Note10 Lite, which make the smartphone a photography champ. The first one is a regular wide lens, while the other two feature 2x telephoto and ultra-wide lenses. The Dual Pixel camera has an f/1.7 aperture opening and OIS support, which spells great news for those who like to capture low-light shots. Samsung has also equipped the phone with a Live Focus feature, which gives bokeh effects to your photos and videos. And then there's the Super Steady feature, which makes blurry videos a thing of the past. In the front of the Samsung Galaxy Note10 Lite is a 32MP camera that will deliver ethereal selfies.
If you've ever edited videos on your phone, you will know that it's not a pleasant experience. However, the Galaxy Note10 Lite doubles up as an all-in-one video editing suite allowing you to make edits to multiple videos, insert transitions or subtitles, change the speed, and even add illustrations with the S Pen.
Hardware for power users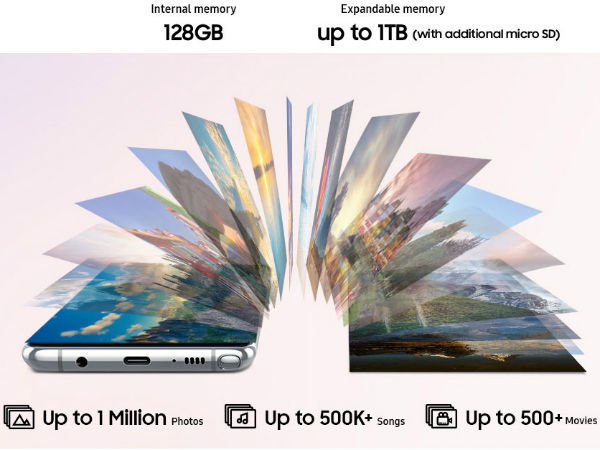 Few smartphones under ₹40,000 can offer hardware as great as the Samsung Galaxy Note10 Lite. At 6.7 inches, the Super AMOLED Infinity-O Display of the Galaxy Note10 Lite is slightly larger than that of the regular Note10 and only marginally smaller than that of the Note10+. That means you get a large, uninterrupted landscape to play with, whether you are a content creator or consumer. The large display is complemented by the full HD+ resolution, HDR support, and Always-on functionality. Inside, an extremely capable 10nm octa-core chipset with clock speeds up to 2.8GHz runs the show, taking assistance from up to 8GB of RAM. The processor on the Note10 Lite can run high graphics smartphone games like Fortnite with ease.
The powerhouse that it is, Samsung Galaxy Note10 Lite features technologies such as an in-display fingerprint sensor and 25W Fast-Charging. And the 4500mAh cell of the smartphone means the battery never runs out. Backing up this heavy-duty package is an onboard storage that can be expanded up to a massive 1TB. That's enough to hold up to 1 million images, 500,000 songs, or 500+ HD movies.
Diverse and secure software
The Samsung Galaxy Note10 Lite comes out of the box with Android 10, which is one more aspect about it that's worth commending. Of course, this software is based on top off One UI 2.0, which brings with it a ton of goodies. Take S Health for instance, which offers complete, all-round fitness tracking while also providing crucial health data. Samsung Knox is the kind of security suite that makes you feel at ease when it comes to your privacy. Thanks to this multi-layered security, all the data on the phone is encrypted by default, and it also allows you to isolate your personal data in a secure place on the device. This can be done using the Secure Folder, in which you can place sensitive apps and secure them with a password. Samsung Pay, the mobile payments app that works on thousands of outlets across the country, is also protected by Knox. It ensures that your card information is encrypted and is kept in a secure data vault at all times.
All these things contribute towards making the Samsung Galaxy Note10 Lite one of the most attractive smartphones in recent times. All thanks to the upgrade offers from Samsung, you can now get an Upgrade Bonus of ₹5000 which is over and above the value of your old device, making the effective ownership price of Galaxy Note10 Lite ₹33,999. The Galaxy Note10 Lite is now available across leading online and retail stores.