Now that Samsung Galaxy Note20 and Galaxy Note20 Ultra 5G Powerphones are here, we explore the amazing capabilities of the new Exynos 990 that powers these ultra-powerful devices. Apart from turning the Note series into powerful gaming smartphones, the processor is armed to the teeth with security features that make it the most secure chipset currently available for the Android platform. Additionally, we will run you through a bunch of features that help the Galaxy Note20 series redefine your work experience with unmatched performance and make your lives easier. Of course, what's a Note series smartphone that's all work and no play – Samsung Galaxy Note20 series is made for not just professionals but gamers too. So take a deep dive into everything that makes the new Galaxy Note20 and Galaxy Note20 Ultra 5G the Powerphones they are.
Defence-grade security guaranteed
The past few years have seen consumers taking the privacy and security of their smartphones very seriously, and this an area where the Galaxy Note series easily one-ups the competition. The secure architecture of the Exynos 990 ensures there are no vulnerabilities that hackers can exploit, like the one that recently hit close to almost a billion smartphones. Then there's the Knox security platform by Samsung, which works real-time on securing the phone at both the hardware and software level to protect your phone from all intrusions. Taking it a step further, the Galaxy Note20 series also features the powerful ultrasonic in-display fingerprint sensor and face recognition for on-device security.
The result of all this? You can be assured of the fact that all your data remains protected by defence-grade Knox security at all times and your phone becomes a virtually impenetrable fortress that ensures total privacy of all your personal data. All these defence-grade security features make the Samsung Galaxy Note20 and Galaxy Note20 Ultra 5G the smartphones that are perfect for anyone looking for a device that can guarantee 360-degree security.
No-compromise performance
The Samsung Galaxy Note20 series Powerphones are designed for power users who work hard and play hard, conquering both the worlds with the same finesse. The 2.3GHz octa-core processor of Exynos 990 is designed to handle any app, regardless of how resource-intensive the app may be. Then there's the powerful ARM Mali-G77MP11 GPU that ensures smooth graphics at all times, whether you love playing games or streaming movies. The Exynos 990 also has a newly renovated intelligent processor that optimises resources and an upgraded cooling system that helps the new Galaxy Note20 series models remain cool even if you play games like PUBG for long hours.
With a huge 6.9-inch Dynamic AMOLED 2X Infinity-O display and a butter-smooth 120Hz refresh rate in its arsenal, the gaming experience on the Galaxy Note20 Ultra 5G is unlike anything you have ever experienced on smartphones. It also ensures that you can make out even the minutest of details and use it to your advantage while gaming. Thanks to features like these, Samsung Galaxy Note20 and Galaxy Note20 Ultra 5G are the perfect smartphones to play high-end games that often feature complex effects and breath-taking visuals.
Future-ready with 5G and Wi-Fi 6 support
But it's not just apps and games that the Galaxy Note20 Ultra 5G excels at – with 5G expected to roll out next year, the smartphone is future-ready. It comes with a 5G modem integrated with the Exynos 990 chip to ensure your transition to the next-gen high-speed network is as seamless as possible. This will ensure you get minimal latency while playing games and zero lag while working on a 5G network.
The Wi-Fi Optimizer and Wi-Fi 6 support in the two smartphones give you the power to stay connected without low latency even in high-congestion networks without compromising on the speed. So if you want a smartphone that's ready to take on the future with a fully-loaded connectivity suite, the Samsung Galaxy Note20 series is the perfect choice for you.
Powerphones for the new norm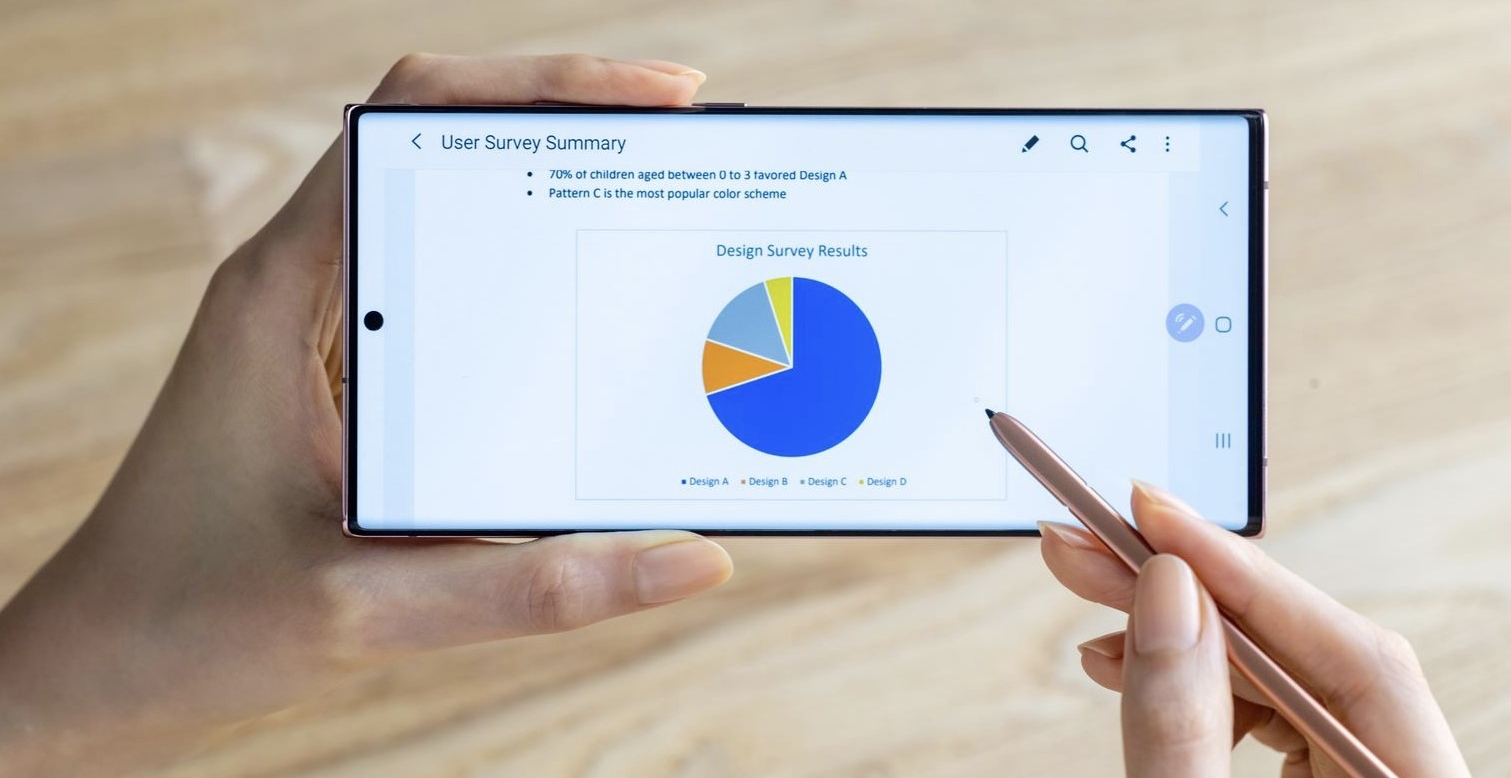 For close to a decade now, the S Pen has been a signature part of the iconic Galaxy Note series. In its latest avatar, the S Pen on the new Galaxy Note20 devices come with several path-breaking innovations that will go a long way in redefining your work experience in the new normal. The power of the S Pen, combined with software prowess that Samsung has developed, results in features that are, well, magical.
Let's take the example of the Samsung Notes feature. While the Notes app has been able to turn your scribbles into editable text for a while now, in the new Galaxy Note series it can even clean up your messy handwriting! Thanks to its new Auto Straighten feature, your handwriting can be corrected with just a tap of the S Pen and it makes your notes easier to read than ever before! Moreover, all your notes can be synced across your smartphone, tablet, and even your PC so you can work seamlessly. Needless to say, this is barely scratching the surface when it comes to the sheer possibilities that the S Pen offers to the Galaxy Note20 users.
But the productivity features of the Samsung Galaxy Note20 and Galaxy Note20 Ultra 5G go much further than the S Pen. In fact, the two smartphones can even act as full-fledged computers. The revolutionary new Wireless DeX feature lets you wirelessly set up a second screen and help you work with a larger display, thus empowering you to become even more efficient. With a new dual-mode feature, you can continue using your Galaxy Note20 normally even when it is in the DeX mode. This opens several new possibilities, such as taking notes from an online video that you are watching on the second display.
With features like these onboard, it is clear that the Galaxy Note20 series transforms into a powerful, full-fledged computing platform in seconds.
In conclusion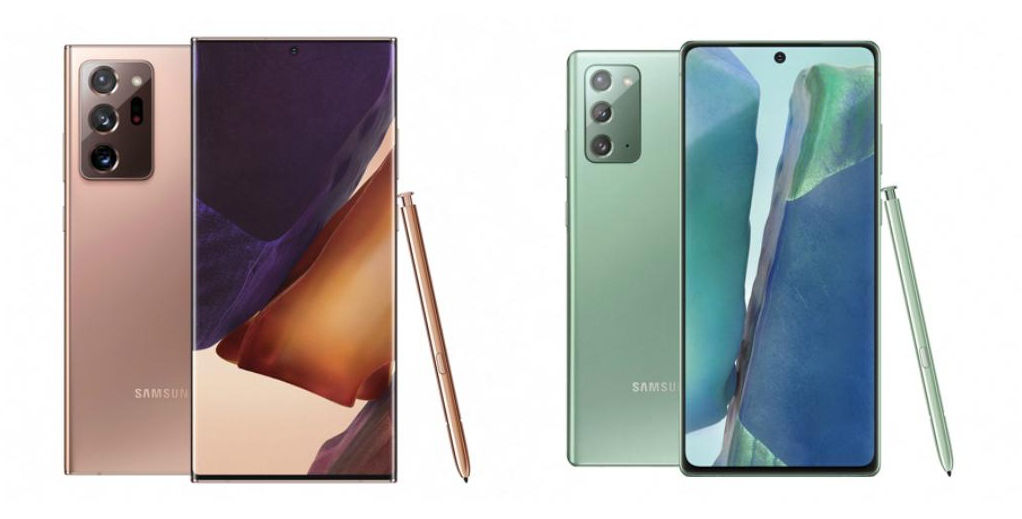 Samsung Galaxy Note series has always been known to be powerful workplace tools that can increase productivity while on the go. With the new Exynos 990 chipset and Samsung Knox, the company ensures complete security and peace of mind as well. It is clear as day that with the new Galaxy Note20 series, Samsung has taken a giant leap forward by enabling real power for work and play. These features effectively make the Galaxy Note20 series the best all-rounder smartphone – a Powerphone in the truest sense of the word. Pre-orders for the series run until August 27th and prices start at Rs 77,999, with e-vouchers worth as much as Rs 10,000 up for grabs. So what are you waiting for? Head to Samsung.com today and pre-order the new Galaxy Note20 or Galaxy Note20 Ultra 5G to own the most powerful and secure smartphones in the world!