"An exploding Galaxy Note7 allegedly left the user with minor injuries to two of his fingers, and burned his Apple MacBook"
Earlier this month, reports from China suggested that some Galaxy Note7 (first impressions) units brought from the country's Jingdong Mall had caught fire soon after switching them on after purchase. However, the company recently announced that the damage to the phones in these cases was caused by external heating. Now in a fresh report earlier today, Bloomberg says that a Chinese man's Galaxy Note7 exploded after he bought it this week.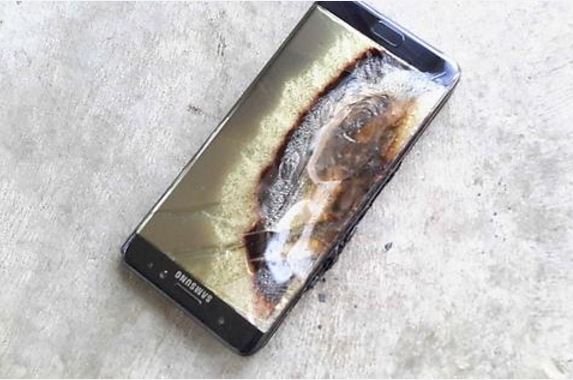 Credit – Crushader / Reddit
As per the publication, the 25-year-old customer, Hui Renjie, said that his Galaxy Note7 exploded Monday morning, less than 24 hours after he received it from Jingdong Mall (JD.com) e-commerce portal. The phone caught fire causing minor injuries to two of his fingers, and burned his Apple MacBook. He claimed that after informing Samsung of the incident, a company representative visited him, and wanted to take away the exploded Galaxy Note7 unit. However, Renjie declined and said he no longer trusts Samsung and intends to publicise the issue.
When approached by Bloomberg, Samsung spokespersons stated that they wish to conduct a thorough examination of the phone, once they receive it. This incident however raises the question if the new Galaxy Note7s being shipped out in China are completely safe or not. Just last week, several reports out of South Korea claimed that some consumers in the country were facing overheating and other battery-related issues with their replacement Galaxy Note7 units. Soon after the reports, the brand allegedly started conducting a close inspection of the problem.
Meanwhile, Samsung is in the process of replacing Galaxy Note7 units with faulty batteries that led to the explosions. The company today announced that since the replacement program was kicked off, around 90 percent of the Galaxy Note7 users across the globe have opted to get their units replaced. In Singapore, where the recall started around 10 days ago, more than 80 percent of customers have sent back affected Galaxy Note7s. However, in the US and Korean markets, only 60 percent of the all recalled units have been exchanged.
As far as India is concerned, reports indicate that Samsung is planning to relaunch the Galaxy Note7 in the country on October 7th. Interestingly, the date coincides with the Indian launch of the iPhone 7 and iPhone 7 Plus

Source