Samsung's newest addition to its Galaxy smartphone range is the On Max. As the name suggests, it's aimed at people who like to stay always "On", and perform to the "Max". Priced in the budget segment, the device brings some interesting features to the table. So, let's take a look at a couple of reasons that make the Samsung Galaxy On Max stand out from its peers.

Made for entertainment
The Samsung Galaxy On Max boasts a 14.47cm (5.7") display with a resolution of 1,920 x 1,080 pixels, which translates to a pixel density of 396 pixels-per-inch. The large real estate with good sharpness levels comes in really handy, especially if you're a gamer or someone who loves catching up on the latest series on your phone.
Even with its display size, the On Max is a mere 8.10mm thin. That's quite a feat given what all it fits inside, which brings us to our next point…
Beefed-up internals
Equipped with an octa-Core processor (4 x 2.39GHz + 4 x 1.69GHz) and 4GB of RAM, the Samsung Galaxy On Max is a powerhouse, especially for the price it comes at. The hardware combination ensures that the phone runs smoothly even with multiple applications open simultaneously.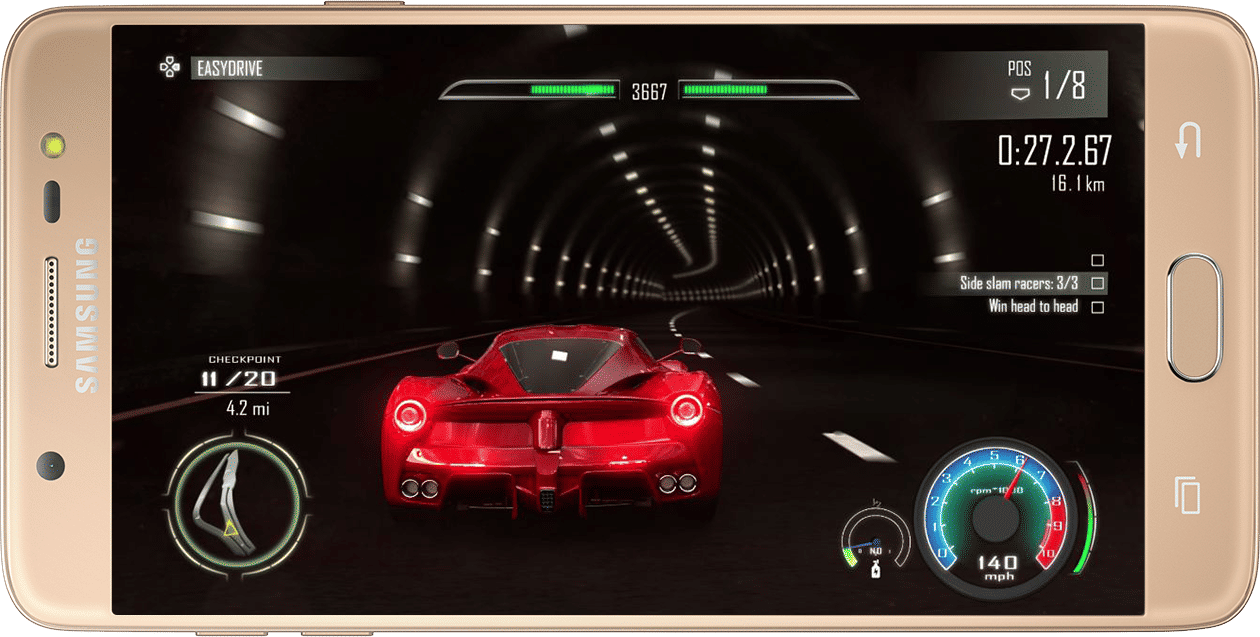 It packs in 32GB of internal storage which can be expanded further up to 256GB, ensuring that it doesn't disappoint the multimedia enthusiasts.
Capable pair of cameras

The star feature of the phone however, is its cameras. For its price, the Samsung Galaxy On Max flaunts a 13MP f/1.7 rear camera and a 13MP f/1.9 front shooter, which is unheard of, in this segment. The lower the aperture number – the bigger the aperture size, and what that means is that more light can go into the sensor, resulting in better pictures even when you shoot in poorly-lit conditions. The front-facing camera features a flash too – so even the selfies clicked in lo light will shine brightly. If you're someone who likes to party a lot, this is a godsend.
Instant sharing capabilities
Capturing your perfect moments and sharing them with the world has become much easier with the immensely useful Social Camera app on the Samsung Galaxy On Max. It enables you to instantly edit and share the pictures with your friends via WhatsApp and Facebook with a single click. On top of that, the phone has live filters and cool Indian-themed stickers that let you add spice to every frame of your life.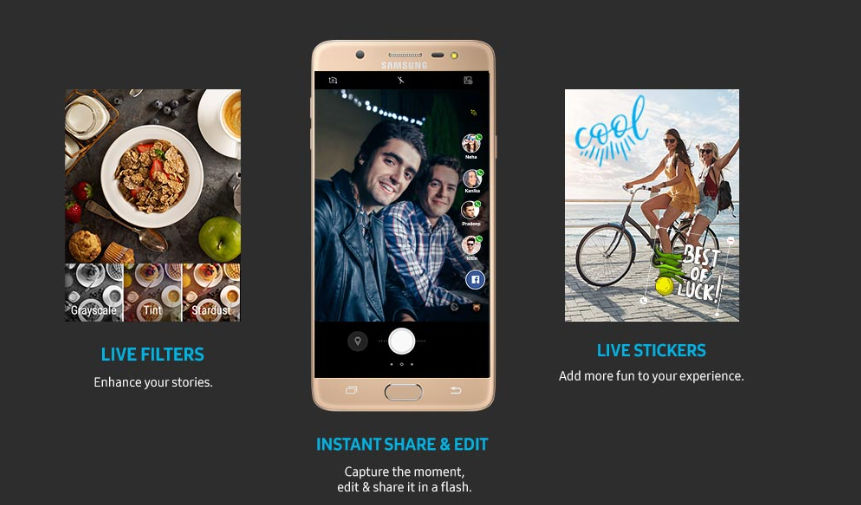 Summing it up, the Samsung Galaxy On Max is a solid performer, and a perfect companion if you love to enjoy every moment of life. Of course, its attractive price tag means that you get a loaded smartphone that gives you a bang for your buck.