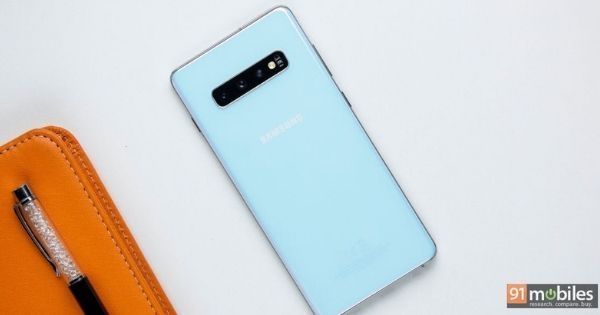 "The unified Galaxy flagship smartphone could be known as the Galaxy One and could support S Pen"
According to a new leak, Samsung could merge the Galaxy S and Galaxy Note lineups into one unified brand next year. The South Korean giant had admitted early this year that the next Galaxy S flagship may not be called Galaxy S11. The company believes that the name is too long. There have been several reports suggesting that Samsung could be merging the two brand names. Now, the new leak states that the internal discussions are ongoing and we might actually have a single Galaxy phone next year.
Samsung usually launches the Galaxy S series in February or March and then unveils the Galaxy Note phones in August. This could not be the case next year, as we may see a unified flagship launched in February. The August event could be used to showcase a new foldable smartphone. However, this isn't confirmed, so take it with a pinch of salt. Prominent leaker Evan Blass sent out a tweet stating that the discussions to make this happen are ongoing. If things move positively, we could have a unified Galaxy smartphone as early as 2020.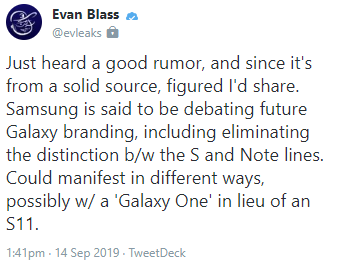 He states that the phone could be called the Galaxy One instead of the Galaxy S11. The tweet also reveals that the source is solid, and Evan Blass is mostly right when it comes to leaks. If Samsung follows this path, then a Galaxy S phone could be launched with S Pen support, which would mean that a separate Note device wouldn't make any sense. Over the years, the differences between the Galaxy S and Galaxy Note series have been fading. The latest Galaxy Note 10 is very much similar to the Galaxy S10 series when it comes to hardware. It uses the same cameras, same ultra-sonic fingerprint scanner, and similar punch-hole display.
There have been rumours that Samsung has already started work on a new Galaxy Fold device with better design and smaller footprint. It is possible that the Galaxy Note launch event dates could be used for the announcement of new Fold. Only time will tell!