"The Samsung Blockchain Keystore is a cold storage wallet, and is compatible with Bitcoin, Ethereum and Cosmo Coin, and also supports decentralised apps."
Samsung was touted to introduce its own blockchain wallet with the Galaxy S10 line of smartphones, prior to their launch. Now, it appears that the company has indeed introduced its first blockchain keystore to save your cryptocurrencies, integrated into the Galaxy S10's One UI firmware. The wallet was also touched upon at the launch presentation, where the company highlighted the safety of making financial transactions with the Galaxy S10, via the Knox safety ecosystem and Samsung's own blockchain wallet.
The wallet in question is a cold storage wallet, which means that it is not connected to the internet, unlike Opera's own integrated cryptocurrency wallet, which is always synchronised with your internet account and transactions. The Samsung blockchain keystore also supports Web 3, the next generation web that facilitates direct transactions and does away with the peer-to-peer transaction format of Web 2. This further means that the Samsung blockchain wallet brings compatibility for decentralised apps, or 'Dapps'.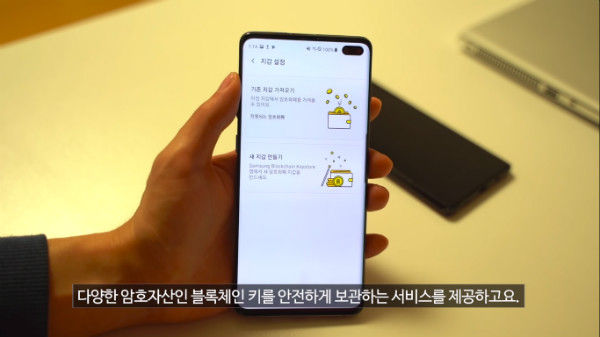 Presently, the only Dapp that is supported by the Samsung blockchain wallet is Cosmee, a South Korean beauty app that uses Cosmo Coin to reward users for transactions and filing legitimate reviews of beauty products. The wallet gives Samsung's flagship smartphone the ability to store multiple cryptocurrencies going forward, and become compatible with more digital currencies eventually. Furthermore, the possibility of using decentralised applications more extensively in the long run gives the Galaxy S10 a layer of future-proofing in terms of the safety quotient of the devices.
It is important to note that even the Opera browser for Android now includes a connected cryptocurrency wallet with support for decentralised apps. More smartphones are slated to include compatibility with cryptocurrency wallets, as digital transactions keep increasing steadily in the future. Samsung's own wallet has limited compatibility for now, but should potentially increase in the long run. The company has not majorly highlighted its cryptocurrency plans so far, but it will possibly detail these features eventually, when it focuses on these features more.