Samsung has taken the covers off one of the most exciting smartphones in recent times, the Galaxy S10 Lite. It is made for millennials who want a smartphone with cameras that capture the world as they see it, and a battery that never runs out of juice. In fact, Galaxy S10 Lite is the first Samsung smartphone to feature the revolutionary Super Steady OIS tech, giving you UHD quality shake-free videos for your Instagram profile! This premium smartphone from the South Korean giant is ready to go on sale in India soon, so we've decided to give you an in-depth look at all its highlights. Let's take a look at the features that make the Samsung Galaxy S10 Lite the perfect smartphone for the young generation.
Pro-grade Camera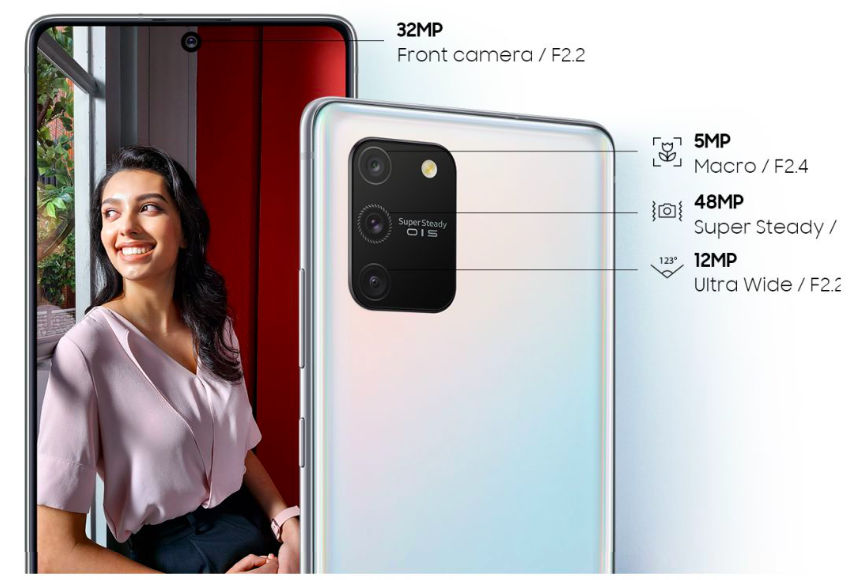 On the back of the Samsung Galaxy S10 Lite sits a triple camera setup consisting of a 48MP main camera, a 12MP ultra wide-angle camera, and a 5MP macro camera. This versatile camera setup facilitates a variety of different photography scenarios, delivering exceptional results even under overcast and dark conditions.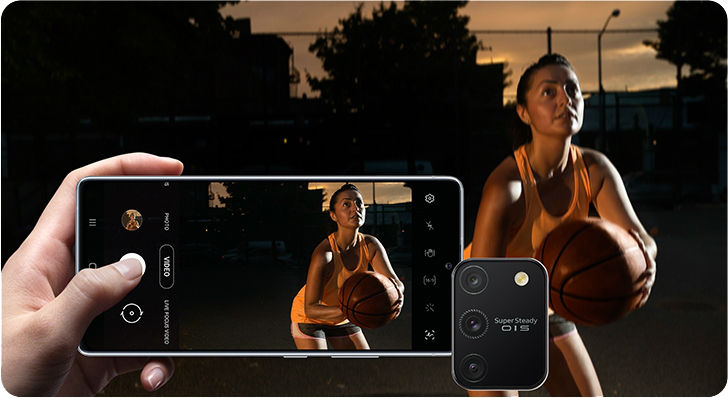 But there's a lot more in store for photography enthusiasts. Samsung has debuted the revolutionary Super Steady OIS feature paired with the primary 48MP sensor on the Samsung Galaxy S10 Lite. The Super Steady OIS technology is built into the hardware of the device and controls much better than any other smartphone to achieve gimbal-like stability. This technology makes shaky videos and blurry photos a thing of the past, even if you are shooting while moving around or under lowlight conditions. Topping it up is the all-in-one integrated video editing suite that lets you create captivating Insta-videos.
No smartphone camera these days is complete without Bokeh mode, but Samsung Galaxy S10 Lite's Pro Grade Camera tops that with the Live Focus feature. With Live Focus, you will be able to control the depth-of-field effect not just in photos but in videos too so that the focus is always on you. Just switch to Live Focus mode while shooting videos and you will be able to preview and adjust the Bokeh effect in real time. What's more, you will be able to switch between foreground and background focus with just a tap! It works on both the rear and selfie cameras while capturing photos and recording videos. And your group-fies will become even better with the wide-angle bokeh.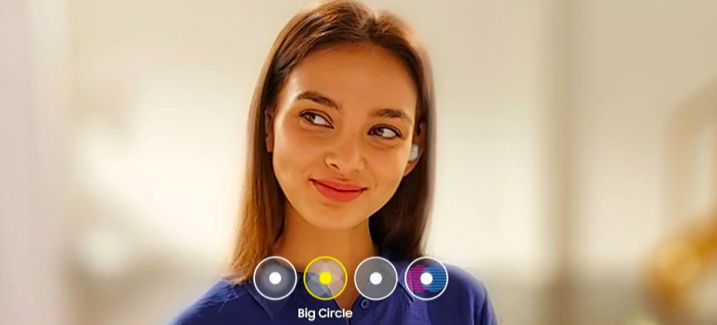 Another feature that takes your videos to the next level is the Zoom-In Mic. It will let you reduce the ambient noise and focus on just the subject while recording videos — just zoom in to the subject and 'hear' the background noise fade away!
The Galaxy S10 Lite comes with a dedicated 5MP Macro camera which ensures that you capture every detail in the super close-up shots without losing focus. The Samsung 'Scene Optimizer' feature automatically adjusts the colour, contrast, and brightness to optimize the image quality based on what you are shooting. So go ahead and shoot exotic pictures of your brunch for the perfect #foodstagram pic or the beautiful sunrise during early morning jog. But that's not all; the Galaxy S10 Lite is also packed with features like hyperlapse, super slo-mo, night mode and AR emoji which you can to your photos & videos. Time for you to get clicking!
Ultra-fast Performance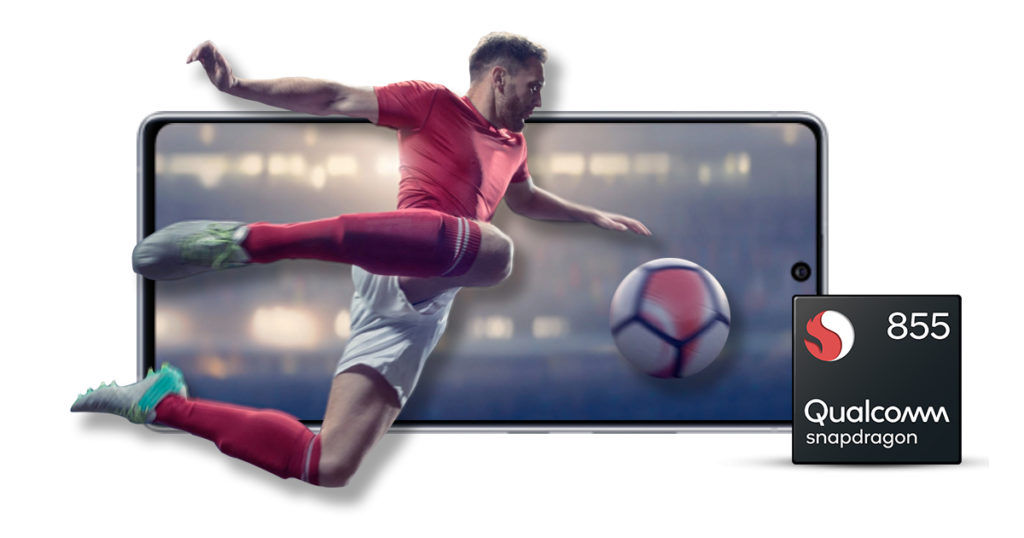 Inside the new Samsung Galaxy S10 Lite is the 7nm Snapdragon 855 chipset. The Snapdragon 855 chipset comprises a 2.8GHz octa-core CPU, an Adreno 640 GPU and 8GB of RAM to deliver super-fast performance. Multi-tasking will be a breeze on this smartphone, letting you switch between as many apps as you want, without any lag or jitters. You can also go ahead and play the most demanding of games at the highest settings possible without frame drops or phone lags!
For all the PUBG fans out there, Game Booster is going to be the most important weapon in your arsenal for all the battles you fight. Game Booster mode will come into play as soon as you fire up the game and give you total control over how your phone operates during your intense gaming sessions. It will learn your gaming patterns for each game you play to deliver longer battery life and smoother performance, without any heating concerns.

And if your Samsung Galaxy S10 Lite is running low on battery, Game Booster will show you exactly how long the battery will last. It will also make sure your battle isn't interrupted by unwanted calls and notification — but you will still be able to access your favourite apps with the handy Pop-Up Panel! And then there are shortcuts to make the best of your gaming sessions, such as navigation button lock to hide the navigation bar, screen touch lock to prevent accidental touches, and quick screenshots.
These mind-blowing specifications are complemented by a large, uninterrupted 6.7-inch sAMOLED Infinity-O display, a long-lasting 4,500mAh battery and up to 1TB expandable storage support.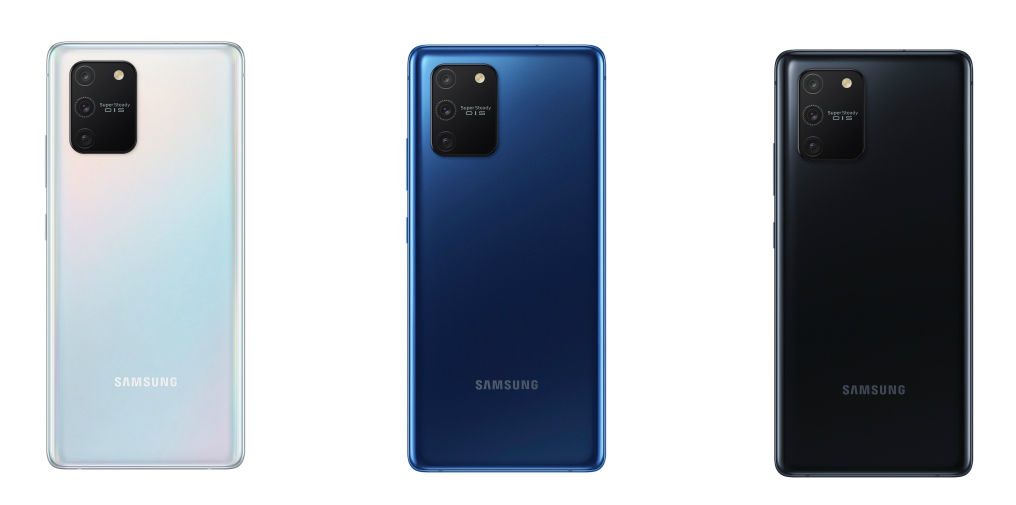 The Samsung Galaxy S10 Lite with the Pro-grade Super Steady OIS 48MP camera, Snapdragon 855 processor, 8GB RAM, 4500mAh 2-day intelligent battery, 1TB expandable memory and many other exciting features seems like a complete package. The phone will be available for pre-book from 23rd Jan on Samsung.com and Flipkart.