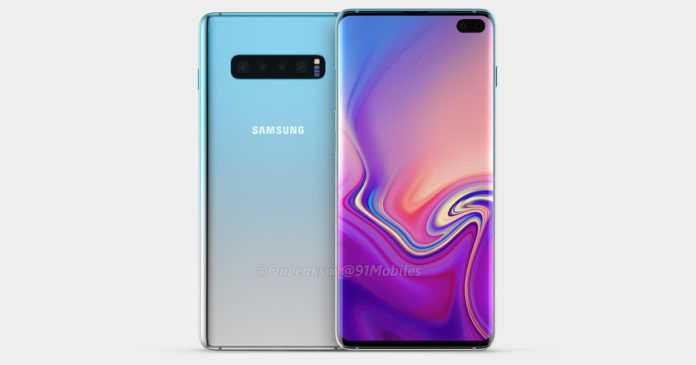 "Samsung Galaxy S10+ will reportedly upgrade from LPDDR5 RAM and have a slim 7.94mm shell despite a large 4,000mAh battery inside"
Samsung's upcoming Galaxy S10 series flagship phones are all set to launch on February 20th, so it is no surprise that leaks continue to flow thick and fast. As per the latest reports, Samsung will be using its own LPDDR5 standard memory chip, which it unveiled in mid-2018, in the upcoming flagship smartphone, significantly improving on speed and efficiency of its memory chips, in comparison with the older generation (but still mostly recent) LPDDR4X memory.
I heard the #GalaxyS10 might use LPDDR5 RAM 😉 pic.twitter.com/uJexVuNrkp— Max J. (@Samsung_News_) January 12, 2019
Furthermore, despite reports indicating the presence of a large, 4,000mAh battery pack inside and multiple cameras to both front and rear, noted tipster OnLeaks claims Samsung's 2019 flagship will have thinner frames than what we've seen from the Galaxy S8 and Galaxy S9 lineups over the past couple of years. The Samsung Galaxy S10 Lite is expected to bear a 7.94mm chassis, while the standard Galaxy S10 may measure 7.85mm in thickness. The Galaxy S10+, meanwhile, may push the boundaries even further, reducing its chassis to just 7.79mm — a whisker slimmer than the Galaxy S7 edge, which neither had multiple cameras at the back, nor such a large battery inside.
@JoshuaSwingle I revealed #GalaxyS10Plus thickness weeks ago 😉 https://t.co/lKODu61Wh7 (FYI GS10 ≈ 7.85mm, GS10+ ≈ 7.79mm, GS10E/Lite ≈ 7.94mm)— Steve H.McFly (@OnLeaks) January 12, 2019
The jump from the LPDDR4X memory standard to LPDDR5 is further expected to heighten excitement around the Galaxy S10 lineup of devices. According to Samsung, the latest generation of mobile memory offers up to 150 percent faster performance in data transfer, while still being 30 percent more power efficient. This, in turn, will help facilitate tasks such as artificial intelligence-based applications, which typically need high bandwidth memory for faster processing. In combination with the latest processing platforms of either Samsung or Qualcomm, the LPDDR5 memory may actually go a long way in establishing the performance prowess of these phones.
Samsung is also expected to unveil a 5G-ready device based on the Galaxy S10+, which is yet another place where the high bandwidth memory chip will come in handy.