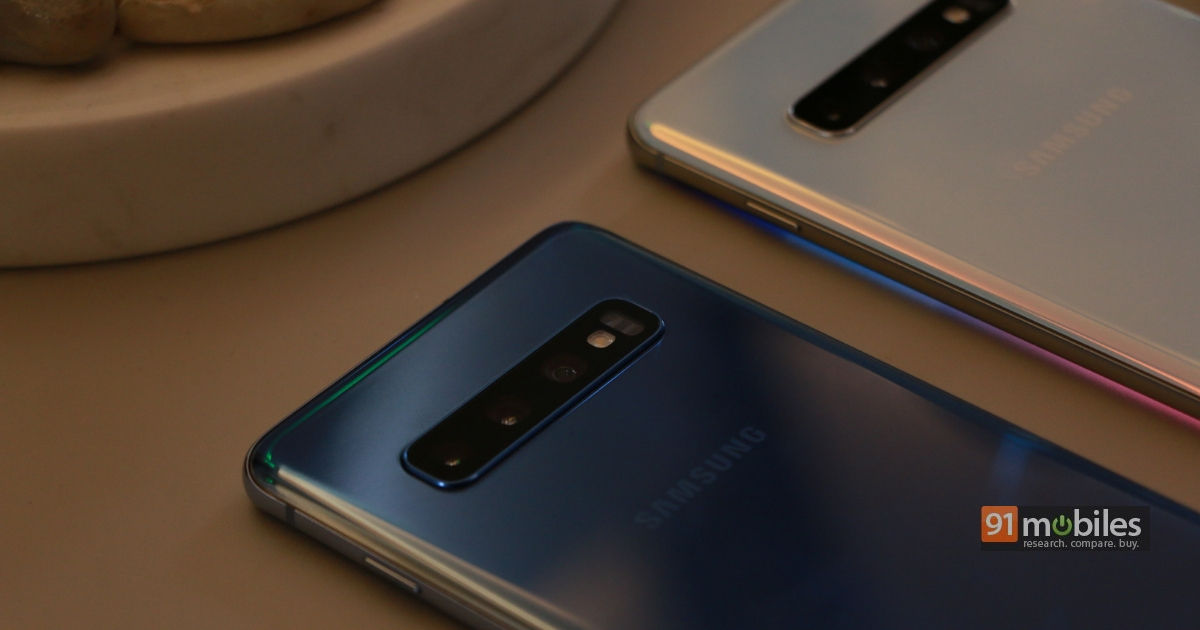 "The Samsung Galaxy S10 series culminates with a total of six cameras in the Galaxy S10 5G, and here's what they all combine to do"
The Samsung Galaxy S10 (first impressions) series is now official, complete with more cameras than you'd have asked for. There are a total of four variants — the "budget" Galaxy S10e (first impressions), the standard Galaxy S10, the more premium Galaxy S10+ (first impressions) and the rather-exclusive Galaxy S10 5G. The most affordable of the lot, the Galaxy S10e, begins at $750 (approx. Rs 53,400), which is a lot. But, for all those dollars, you also get a fair bit of dough, beginning with dual rear cameras at the least.
While the Galaxy S10 lineup has a lot going on for it, the cameras in the four devices are the real deal. With multiple lenses, varying sensor sizes and Samsung's much-improved image processors and camera app, the Galaxy S10 smartphones pack in versatile imaging firepower to please many photography enthusiasts. But, what exactly would you get with these devices on the camera front? Let's take an in-depth look at the cameras in each of the variants.
Samsung Galaxy S10e
Starting with the Samsung Galaxy S10e, the handset only gets a dual-camera unit at the rear, which is seemingly underwhelming for a flagship device. The phone features a 12MP, 1/2.55″-type sensor with 1.4µm pixel size and Dual Pixel phase detection autofocus. This is combined with a 26mm (35mm-equivalent) offering with a 77-degree field of view, optical image stabilisation and f/1.5-2.4 variable aperture. While this primary snapper itself sounds versatile enough, it further gets a 16MP secondary sensor with 1.0µm pixel size, that accompanies an ultra-wide angle f/2.2 lens with 123° field of view and optical stabilisation.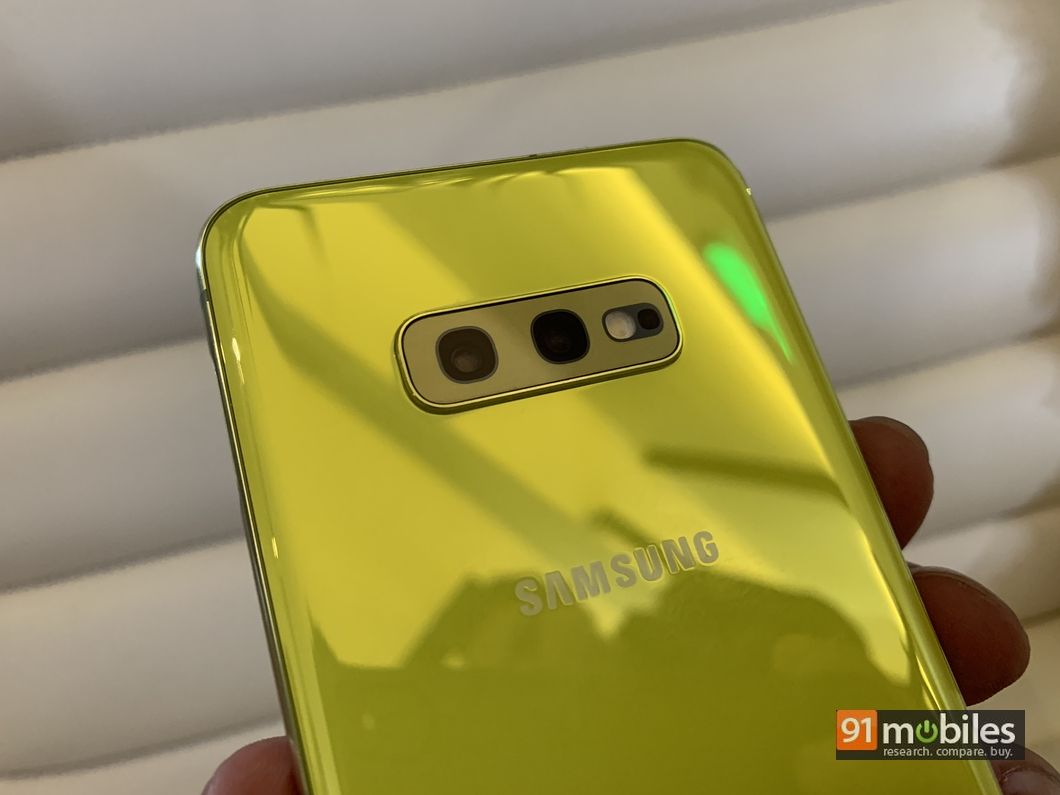 Samsung has not detailed the working mechanism of the Galaxy S10's cameras, but going by how Samsung's track record in the imaging department, the ultra-wide angle sensor is possibly going to work in tandem with the primary sensor, adding colour and light data to improve low light sensitivity and noise performance. Both the sensors get Dual Pixel autofocus pixels, which use the entire sensor area to aid focusing. This further gives the camera live object tracking, which coupled with the new Exynos 9820 / Snapdragon 855 processor, should make for a really fast shooter.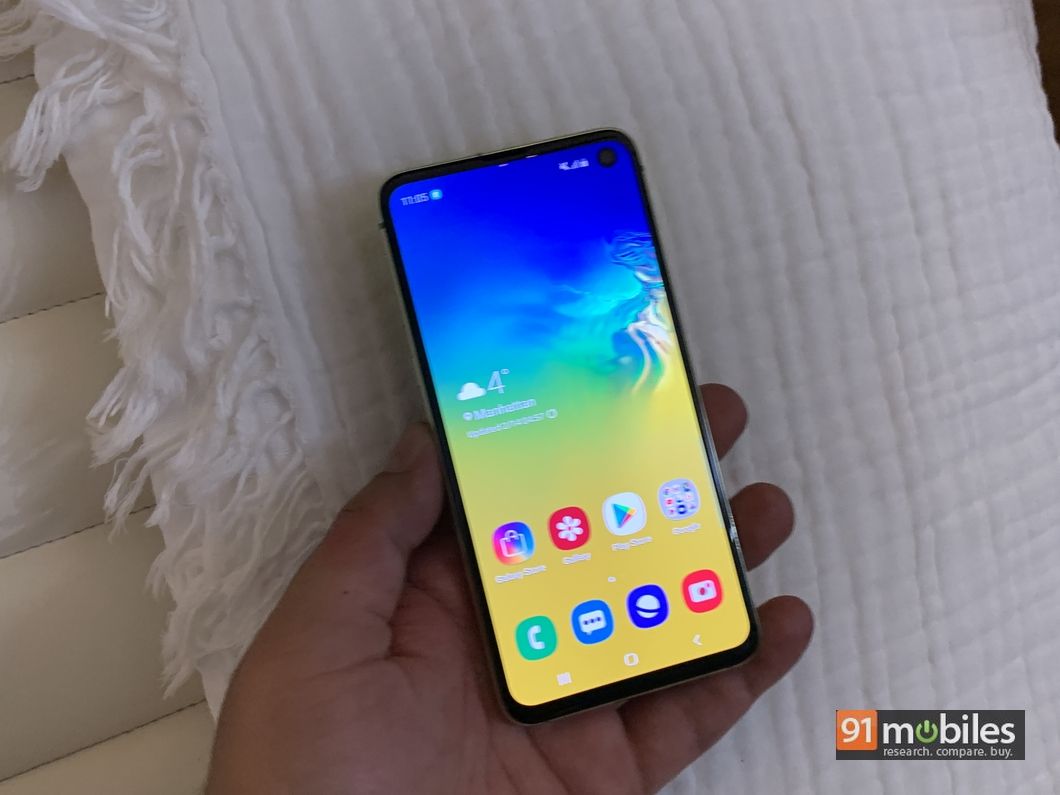 On the front sits a single 10MP sensor with 1.22µm pixel size and Dual Pixel phase detection autofocus pixels, paired with an f/1.9 lens with an 80-degree field of view. The rear cameras also enable features such as HDR10+ video recording, 4K movie recording at 60fps, 1080p movie recording at 240fps and 960fps super slow motion shooting at 720p. While that is fairly impressive, it is still just about what you should expect from a smartphone of its stature.
Samsung Galaxy S10
The standard edition of the Galaxy S10 is probably what is going to sell the most, seeing that it attempts to strike a balance between all the available features and the price. In terms of cameras, it includes the exact same camera setup as the Galaxy S10e, with the addition of a telephoto camera at the back. This camera uses a 12MP sensor with 1.0µm pixel size, paired with a 52mm (35mm-equivalent) f/2.4 telephoto lens with 45° field of view. This gives the Galaxy S10 up to 2x optical zoom, as well as the option to increase the field of view of photographs while shooting landscapes. All other photography and videography abilities, including the selfie snapper's functionality, remain the same.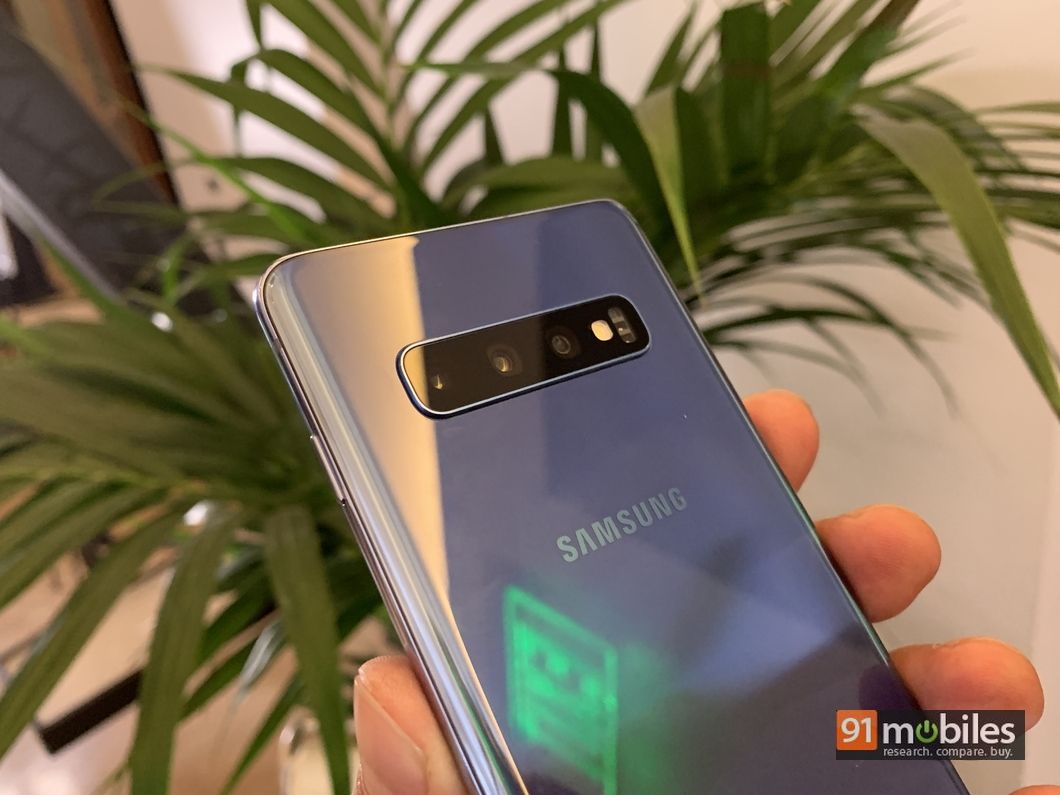 Samsung Galaxy S10+
Considering the limited production run of the Galaxy S10 5G variant, the Samsung Galaxy S10+ will be the de facto flagship for most regions. Samsung's premium, headlining smartphone include a total of five cameras — three at the rear, and two on the front. This means that the Galaxy S10+ gets the exact same rear imaging setup and features as the Galaxy S10. Up front, the 10MP camera is accompanied by an 8MP RGB depth-gauging image sensor with 1.12µm pixel size, and a f/2.2wide-angle lens with a 90-degree field of view.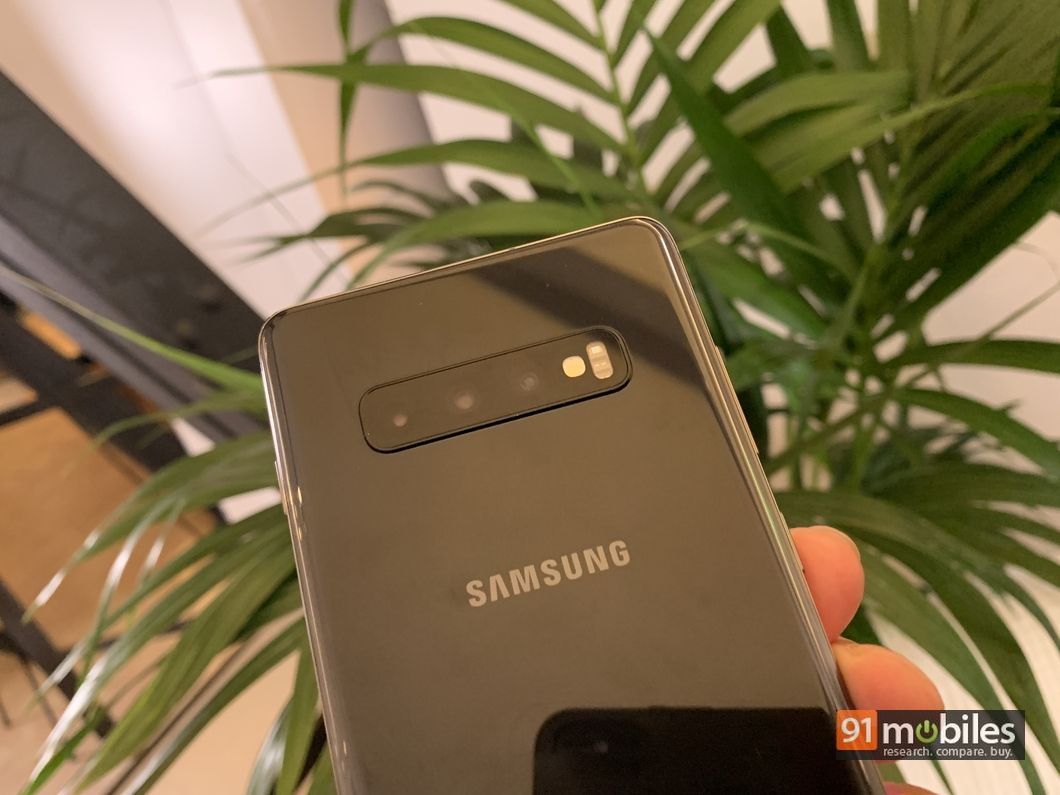 The Galaxy S10+ can also shoot and stream 4K videos at 30fps from its front camera, which is an added ability over the S10e and S10. This might make it a powerful tool for video bloggers. It is important to note that the secondary front camera is a fixed-focus unit, which is added to give features such as gradient blur on backgrounds, better colours and light details for conferencing in dim light, and even focus retouching.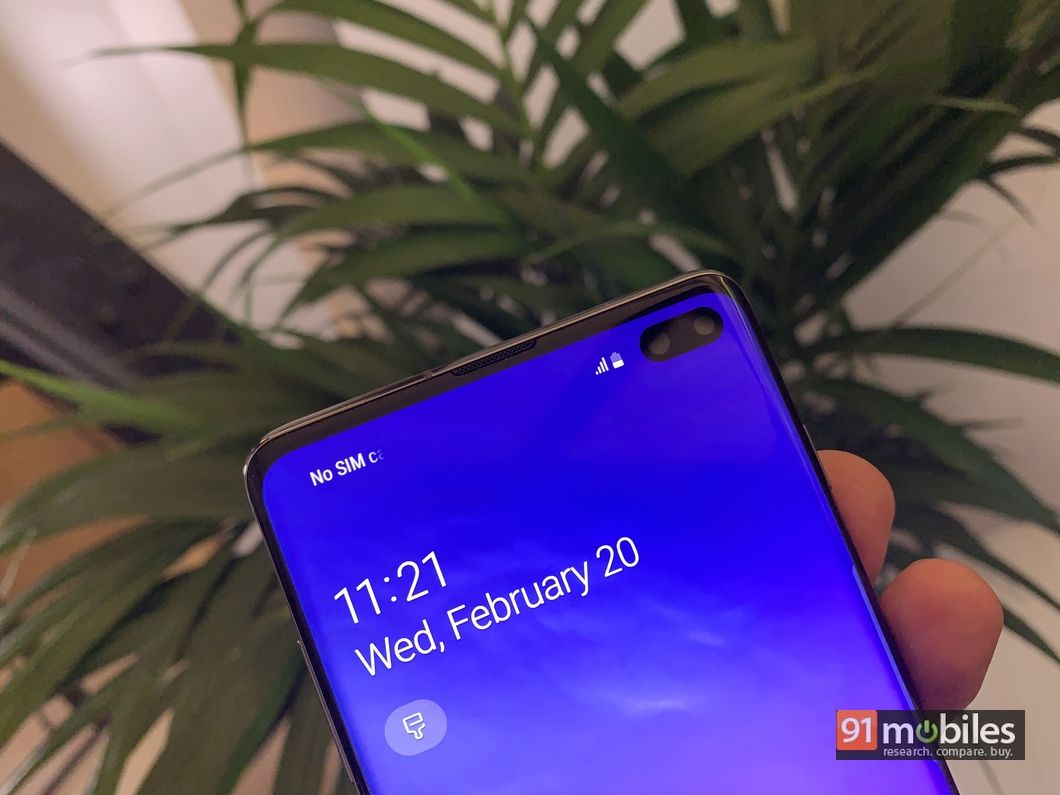 Samsung Galaxy S10 5G
While it is not entirely relevant to the Indian market right now, the Galaxy S10 5G includes a staggering six cameras. The rear imaging setup includes the three cameras, which are similar to the ones on the S10 and S10+, along with an added, 3D time-of-flight (ToF) depth-sensing unit. This added sensor will aid background focus gradients, as well as scale rooms and gauge subject depth to enhance smartphone photography performance. You'll also be able to get the bokeh effect in videos with the depth shooter. Furthermore, it will be able to add augmented reality operations from the rear camera, giving the Galaxy S10 5G the possibility of enhanced AR features.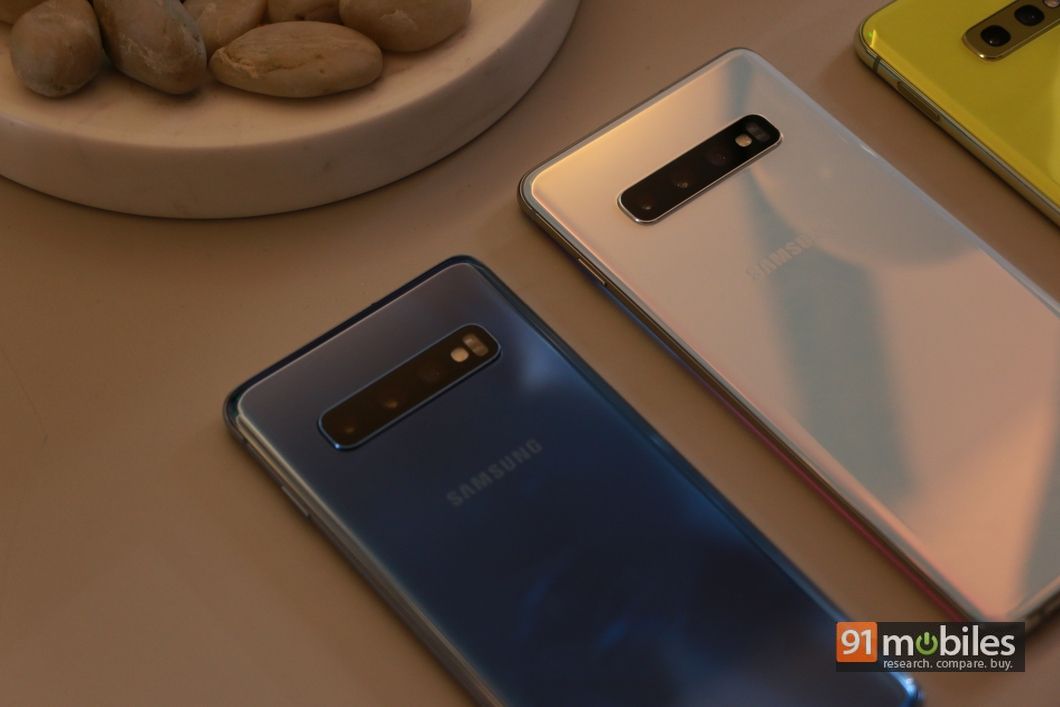 Up front, while the 10MP primary front camera setup is retained, the 8MP fixed focus RGB unit is replaced with a 3D ToF sensor as well. This will serve a similar purpose, while giving the Galaxy S10 5G's front camera more advanced capabilities. Interestingly, while Samsung could have easily used the ToF sensor to add advanced facial unlocking abilities a la Apple's Face ID, it decided to skip the feature in favour of an ultrasonic, in-display fingerprint sensor that uses sound waves beyond the human aural range to identify unique fingerprints. It will however, aid focusing on videos, and add features such as a virtual measuring tool, should you really need one. You also get AR Emoji with the Galaxy S10 5G and Galaxy S10+, which is a nifty addition in today's age.
Samsung is also applying computational artificial intelligence algorithms to its Galaxy S10 camera firmware to ramp up the potential of the phone's photographic performance. The multiple cameras can work individually, as well as in combinations with one another, to produce a burst of shots from which an AI algorithm will choose the best capture. There are also multiple forms of bokeh on offer for both the Galaxy S10+ and the Galaxy S10 5G, including spin and zoom bokeh, to simulate specific Lomography art lenses. The two flagships also include integrated selective colour photography modes, aided by the ISP. Further details about Samsung's One UI optimisations with regards to its camera have not been made available yet, but we expect to dig further into it, over the coming days, and of course, put the phones to test to tell you all about their imaging prowess.