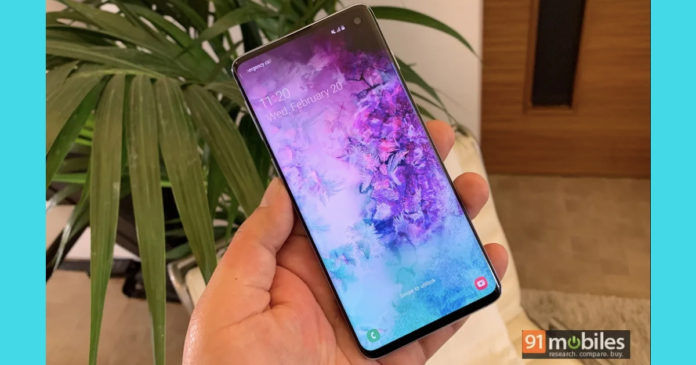 "The ultrasonic fingerprint scanner on the Samsung Galaxy S10 may not fare well in the face of scratches and cracks"
Samsung announced the Galaxy S10 last month and introduced the new ultrasonic fingerprint scanner technology. The Galaxy S10 and Galaxy S10+ (review) feature an ultrasonic in-display fingerprint sensor, which is different from the optical in-display scanners that we have seen on Android phones so far. It is said to be more secure and faster and is claimed to work even when there's water or dust on your fingertips. Now, a new video put out by YouTuber JerryRigEverything tests out the durability of the scanner and the phone in general.
The scratch test reveals that the ultrasonic fingerprint scanner on the Galaxy S10 will work flawlessly even when the display is lightly scratched. However, when the scratches get deeper or if the display were to crack, then the scanner stops functioning altogether. Users may have to re-register their finger for the scanner to work again. Compared to this, the optical fingerprint scanner work even the display is badly scratched.
You can see in the video above that the ultrasonic scanner doesn't respond to requests when the glass is heavily scratched. However, it is very unlikely that a regular user will end up scratching the glass this badly. Therefore, you won't have to worry about the scanner not working, unless you crack the glass.
As mentioned in the beginning, the ultrasonic fingerprint scanner works differently than an optical sensor. It is much more secure than the optical scanner. Most smartphones use an optical in-display sensor, which is basically a tiny camera placed under the display. The camera takes high resolution photos of your fingertip and uses the 2D image to unlock the device. It isn't very secure and doesn't work when your fingers are wet or there's some debris on the screen.
The ultrasonic scanner, on the other hand, sends high frequency sound waves from beneath the glass to capture a 3D image of your fingertip. This ensures that the system isn't compromised by water, dust or other elements. The test also shows that the phone is built quite well and doesn't bend or crack under pressure. Of course, when you are paying close to $800 for a phone, you expect the best.
Samsung Galaxy S10 Specifications
Performance
Octa core (2.73 GHz, Dual Core + 2.31 GHz, Dual core + 1.95 GHz, Quad core)
Samsung Exynos 9 Octa
8 GB RAM
Display
6.1 inches (15.49 cm)
1440x3040 px, 551 PPI
Dynamic AMOLED
Camera
12 MP + 12 MP + 16 MP Triple Primary Cameras
LED Flash
10 MP Front Camera
Battery
3400 mAh
Fast Charging
USB Type-C port
Samsung Galaxy S10 Video