"The 'Space Zoom' technology for Samsung appears to allow some form of extensive zooming without quality loss in photos"
A new Samsung patent has been spotted, filed by the Korean electronics giant with the European Union Intellectual Property Office (EUIPO). While the details are not exhaustive, the Samsung patent refers to a technology that the company calls 'Space Zoom'. Going by the specifics that have surfaced, Space Zoom appears to be a feature that will allow extensive zoom through optical, hybrid or software means, without causing any loss in quality of photographs shot with zoom.
While the technology does sound like hybrid zoom through its general description, it is not yet clear if the same might also refer to some form of pixel density technology that may make up for the perceived loss of quality that results from zooming with a smartphone camera. However, most speculations on the internet appear to suggest that Space Zoom will finally bring a high range optical zoom into Samsung phones. This, in turn, might use periscope lens-based optical zoom technologies that the likes of Huawei and OPPO have used in their devices so far.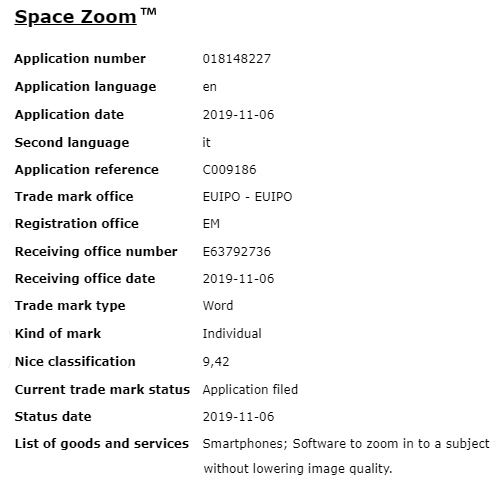 In hybrid zoom, high range optical zoom lens is paired with image superimposition, multi-shot photography and sensor crop to offer zoom range of up to 50x (seen in the Huawei P30 Pro). In these techniques, the optical lens creates a higher resolution base in comparison to a lower range lens, coupled with which the camera algorithms impose multiple images and fill in greater details, to make up for the lack of pixel density that occurs when the sensor crop is put in effect during digital zoom. Such techniques have been proved effective, and while there is some degree of detail loss, the overall production quality of photos is still quite admirable.
It remains to be seen if Samsung introduces 'Space Zoom' with its upcoming range of flagships, beginning with the Samsung Galaxy S11 lineup, that is expected to launch at the onset of 2020. Other technologies such as 5G connectivity should also become more standard, making the Galaxy S11 lineup quite an interesting device to follow.