"The Samsung Galaxy S11e smartphone will have a 3,730mAh battery, up from the 3,100mAh capacity of the S10e, according to a certification site listing"
Samsung Galaxy S11 series is speculated to launch on February 18th 2020, ahead of MWC 2020 conference. The flagships are said to include a new 108MP primary sensor, which will succeed the existing sensor that is used on Xiaomi smartphones. Now, the battery capacity of the Samsung Galaxy S11e model has been revealed, showing the handset will have a much bigger battery than that its predecessor. A Samsung battery with product code EB-BG980ABY has appeared on the Safety Korea website, and it also contains the photo of the actual battery. The 'G980' in the product code matches with the model number of the phone. The Galaxy S11 series will have model numbers in the SM-G98xx range, in-line with SM-G97xx for the Galaxy S10.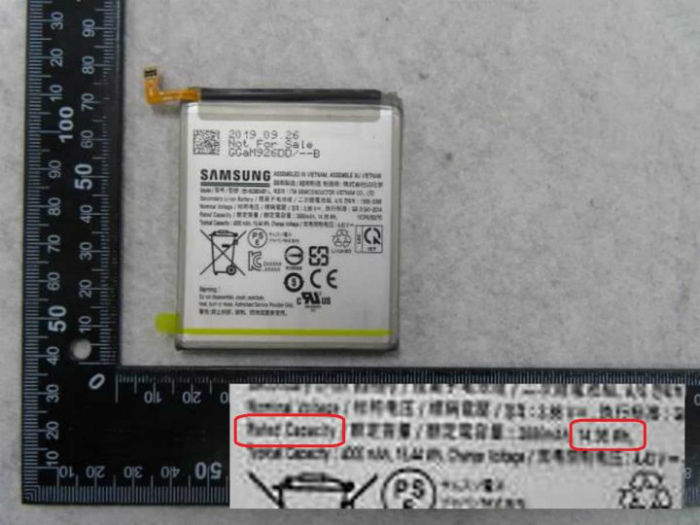 The Galaxy S11e is expected to come with 14.36 Wh battery capacity, as mentioned in the Watt Hour unit. Smartphone batteries usually operate at 3.85 volts, and this possibly means it should have a capacity of 3,730mAh. If that indeed turns out to be the actual rated battery capacity, then the Galaxy S11e should have a typical capacity of 3,800 or 3,900mAh capacity. Considering the Galaxy S10e has just a 3,100mAh battery, this is a significant upgrade.
Since all the Galaxy S11 models are expected to have 5G support next-year and it drains a substantial amount of battery, this could be the reason for a bigger battery upgrade even on the base Galaxy S11e. Since we're still months away from lunch, things might change a drastic turn, and we suggest you take this with a pinch of salt until an official announcement is made.
Samsung Galaxy S10e Video