Samsung Galaxy S20 series offers many game-changing features. No other smartphone in the market comes close to offering the same level of performance and speed. A true-blue flagship series, the line-up comprises the Galaxy S20, Galaxy S20+, and the super-premium Galaxy S20 Ultra, with many industry-first features to boast of. So if you are looking for a powerhouse that delivers super-fast and reliable performance through the day, with both hardware and software designed to give you the best smartphone experience, you don't need to look any further. In fact, the 7nm chipset and the LPDDR5 RAM can handle any task or app you throw their way, and will make you forget about the glitches and lags that plague so many other Android phones. This gaming and performance beast is complemented by an immersive display, a battery that never runs out, and a superlative camera experience, all of which combine to make the Galaxy S20 series your best bet for a premium smartphone experience.
So, let's take a look at some of the features that make the Samsung Galaxy S20 series a game-changer in the flagship smartphone segment.
Class-leading performance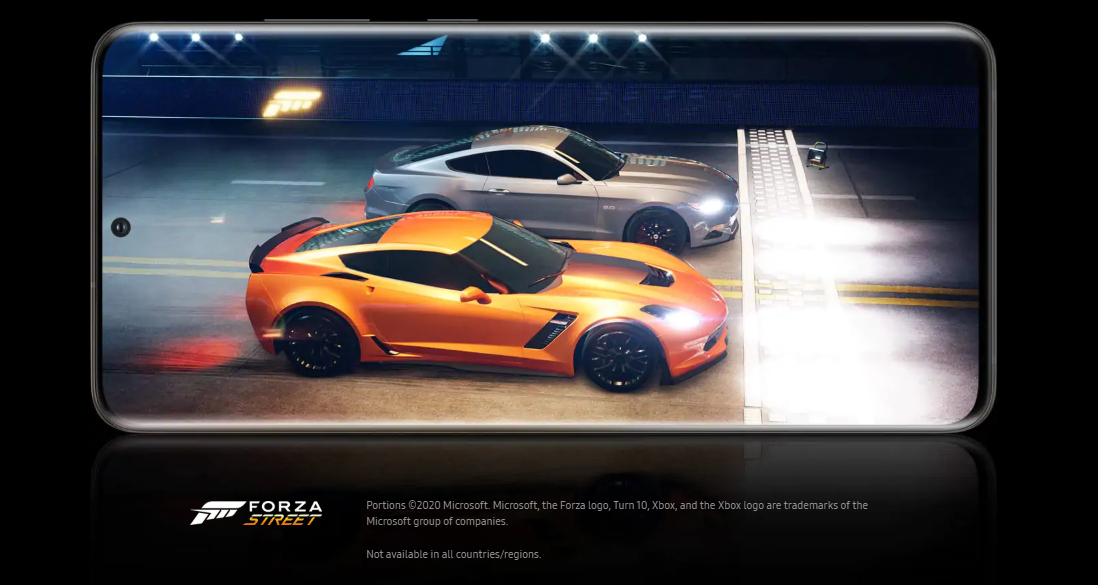 Samsung Galaxy S20 series packs the latest Exynos 990 chipset, which is made using the 7nm fabrication process and features an octa-core CPU, industry-leading graphics, a dedicated dual-core Neural Processing Unit (NPU) for on-device machine learning, advanced image processing, and blazing-fast connectivity. Starting with the octa-core CPU, the Exynos 990 SoC (System on Chip) has two custom Exynos M5 cores to handle all the high-performance, resource intensive tasks, while the two Cortex A76 and four Cortex A55 cores handle all the other applications. The chipset ensures that the Samsung Galaxy S20 series delivers performance improvement of as much as 20 percent than the Galaxy S10 series.
When it comes to graphics performance, we should see significant improvement thanks to the Mali-G77 GPU (Graphics Processing Unit) in MP11 configuration. What makes these CPU and GPU gains even more impressive is the fact that the Exynos 990 chipset of Samsung Galaxy S20 promises to deliver these improvements while reducing power consumption! This means you can be assured of uninterrupted performance when you buy the new Samsung flagship phones, whether it is the Galaxy S20, S20+, or the S20 Ultra.
Another point to note with the performance is that the smartphones come with the superfast LPDDR5 RAM. This upgrade in technology will allow the smartphones to transfer data 1.3 times faster than the older LPDDR4x memory. In a real-world scenario, this should translate to more dynamic gameplay, ultra-high resolution graphics, and faster user experience – all thanks to the LPDDR5 RAM. And there's plenty of RAM to go around too! Both the Samsung Galaxy S20 and S20+ come with 8GB of RAM, while the top model in the line-up packs a mammoth 12GB of RAM, means you will never run out of memory on your phone, no matter how many apps you run.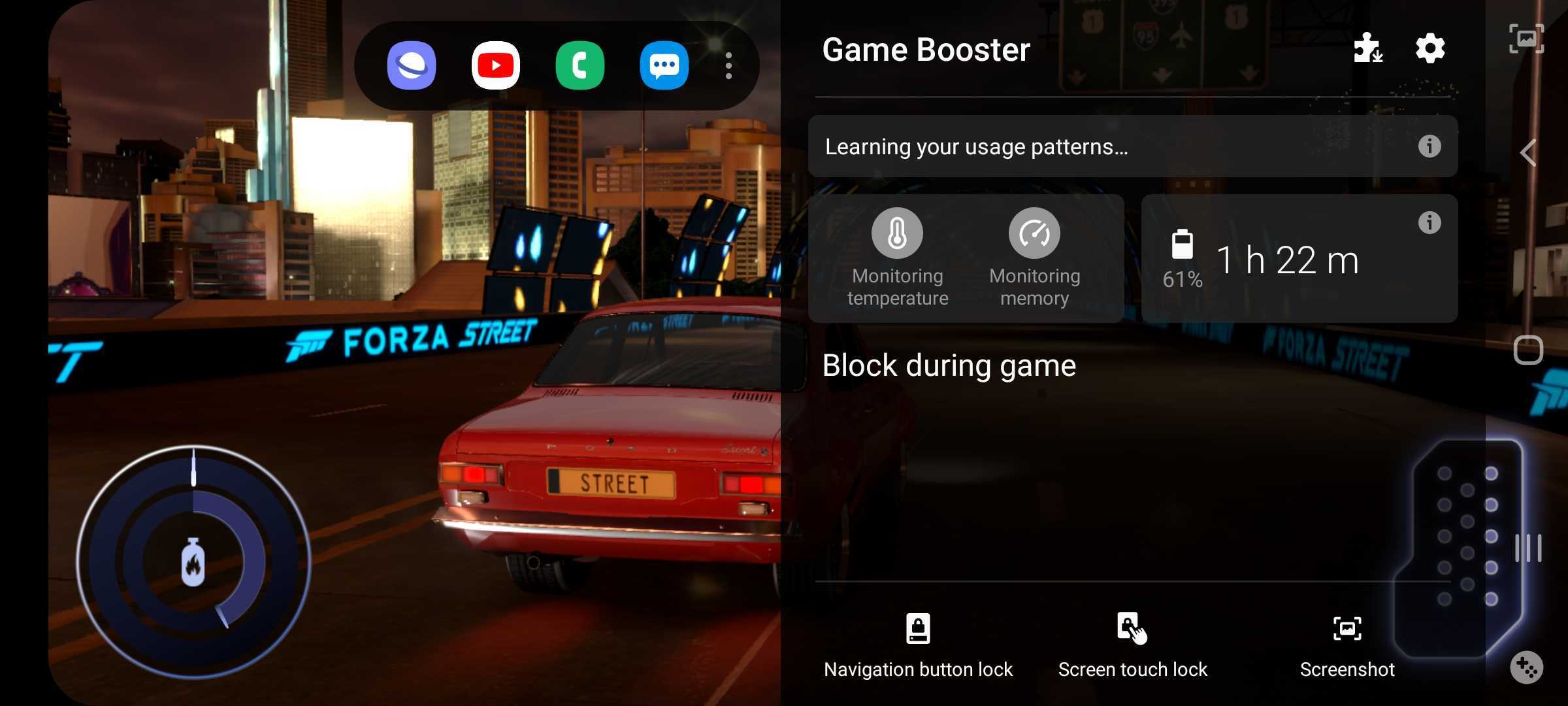 And if you are a gamer, the Galaxy S20 series will end up being your favourite companion in your quest. The smartphones come with a pre-installed Game Booster that promises to make your gaming experience more immersive than ever before. Game Booster also helps optimise the gaming experience by keeping a track of your phone's RAM usage and the temperature. Moreover, it allows you to disable notifications to make sure your high-intensity gaming sessions are not interrupted by unwanted calls or texts. It even disables the Edge panel and Bixby to ensure that the visuals on your Samsung Galaxy S20 display are not disturbed.
The Galaxy S20 devices also come with a unique feature that allows consumers to keep up to 5 apps of their choice running in the background and resume them exactly where they left off. This is a dream for gamers and entertainment lovers alike!
A captivating display experience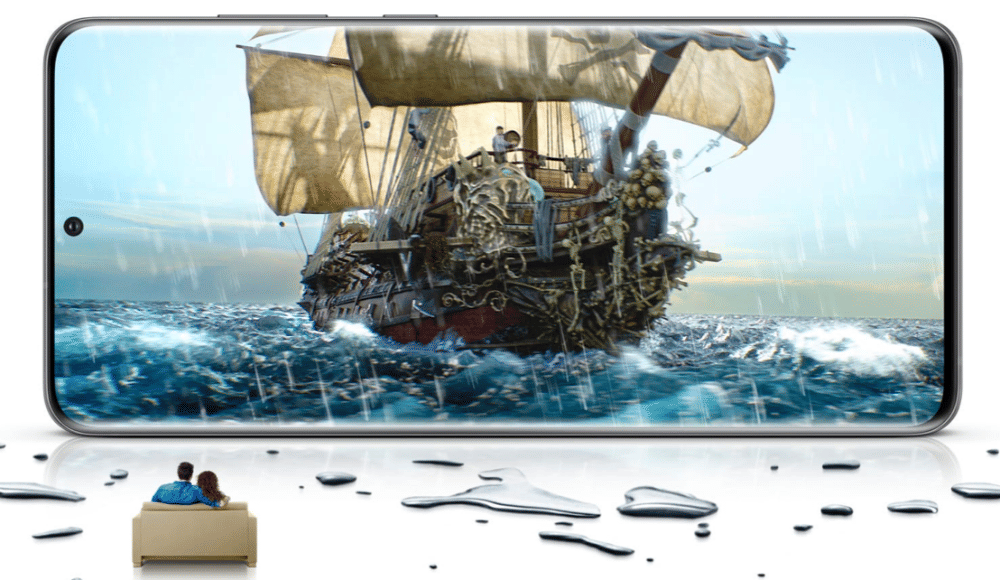 You will be hard pressed to find a smartphone that comes close to the Samsung Galaxy S20 when it comes to the display experience. The Galaxy S20 Ultra is especially noteworthy in the display department as it has received the highest A+ rating by DisplayMate, the world's leading authority on display quality. All three smartphones in the series feature QHD+ (1,440×3,200 pixels) resolution, which means they can deliver vibrant images and crisp text. What really takes the cake is the 120Hz refresh rate that's twice as fast as most smartphones in the market and makes sure the transitions appear super-smooth. Trust us, once you've experienced a 120Hz display, it's very difficult to settle for anything less. The gaming experience is also elevated thanks to the lower latency. The displays are quicker even in registering your touch because of the 240Hz touch response rate.
And all this is offered in a Dynamic AMOLED 2X package – the displays on all three smartphones are rated the highest for colour accuracy and are HDR10+ certified for cinema-grade colour and contrast. Moreover, they are easier on the eyes thanks to the reduction in the amount of blue light they emit. Of course, there's no notch anymore as Samsung is using the Infinity-O Display with a centre-aligned punch-hole to house the selfie camera. And regardless of the screen size you prefer, Samsung has you covered – the Galaxy S20 has a 15.83cm display, the Galaxy S20+ sports a 16.95cm panel, and the Galaxy S20 Ultra tops the series with a 17.44cm screen. But if you are worried about the phone being too big to handle, worry no more – all three smartphones have tall, 20:9 aspect ratios and thin bezels all around to ensure they don't feel unwieldy in your hand.
The fact that the Samsung Galaxy S20 Ultra display has been rated as "indistinguishable from perfect" by DisplayMate, speaks volumes about the smartphone's viewing quality. So whether you love streaming Netflix on your phone or playing PUBG, Samsung Galaxy S20, S20+, and S20 Ultra will definitely be your top choices!
A battery that lasts long, really long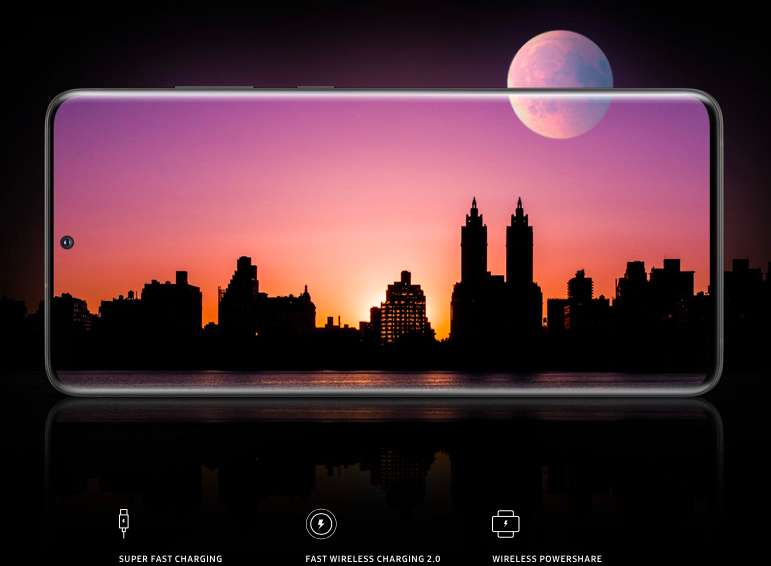 Irrespective of whether you are a power user, a gamer, a road warrior, or a casual user, you will definitely want a smartphone with a battery that lasts long. To meet that end, Samsung is using a powerful 4,000mAh battery on the Galaxy S20 and a bigger 4,500mAh cell on the Galaxy S20+. And if you want to go all out, then there's the Galaxy S20 Ultra with a mammoth 5,000mAh battery that easily covers you for more than a day. And the Adaptive power-saving technology from Samsung makes sure that your phone learns your usage patterns to save power and to deliver more life on every single charge.
While the big batteries will last long, charging them in a jiffy won't be a problem either. The Samsung Galaxy S20 and S20+ come with support for 25W Super Fast Charging tech to quickly charge your smartphone so you can hit the road. And the biggest model in the series tops even that as it offers support for the crazy-fast 45W Super Fast Charging tech, meaning you spend more time on your phone and less time stuck to the charger.
But the surprises don't end there. All three smartphones feature 15W Fast Wireless Charging 2.0 using a compatible Qi-certified wireless charger such as the Samsung Wireless Charger Duo Pad. What's more, you can even use the phones as a powerbank and charge other devices wirelessly using the Wireless PowerShare reverse wireless charging feature. This is perfect if you are carrying the Galaxy Buds or Galaxy Watch devices with you, you can leave all the extra charging cables behind.
Cameras that capture your world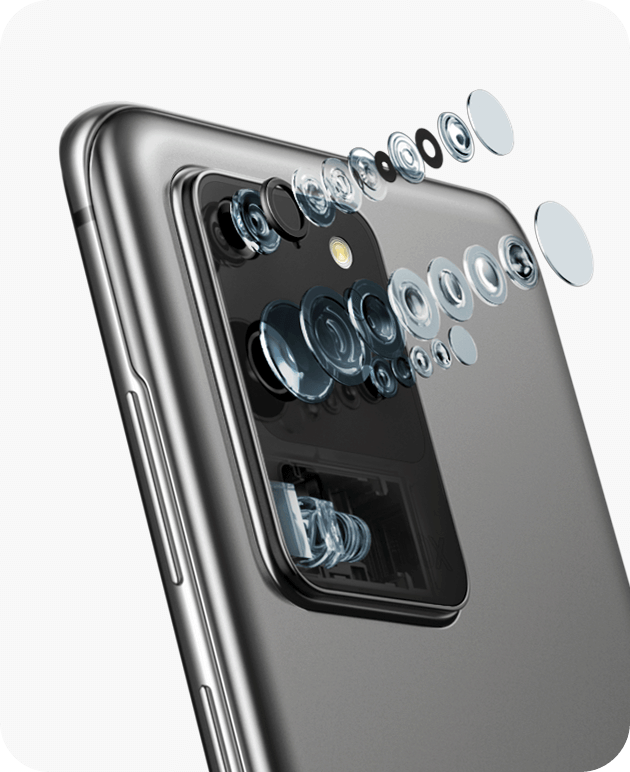 Samsung's flagship smartphones have been known for top-notch camera performance for years now, but the Galaxy S20 series takes that up several notches in a single generation. All three smartphones come with innovative features such as Single Take and 8K video recording. Single Take is particularly interesting – it uses the multiple cameras on your phone to capture the same scene from a variety of views. So you won't just get the video you intended to shoot – you will also get a wide-angle shot, a monochrome photo, a hyperlapse video, a boomerang video, and so much more from the same scene. So if you are ever confused about what type of video or photo to take, Samsung Galaxy S20 will have you more than covered.
Then there's 8K video recording. Samsung Galaxy S20, S20+, and S20 Ultra are the world's first smartphones that are able to capture videos in the mind-boggling 8K resolution. The videos are crystal clear and there's not even a hint of graininess in there – capture your world as you see it, truly! And the magic doesn't end at just recording the ultra-high-resolution videos. If you like a particular moment while shooting the 8K video, you can even capture a 33MP still photo of it thanks to the 8K Video Snap feature.
Amongst these three smartphones, the Samsung Galaxy S20 Ultra, of course, takes the cake with the world's first 100X Space Zoom and the 108MP camera. The former lets you zoom into your favourite part of the scene from far away, while the latter allows you to capture everything around you in life-like detail. The Samsung Galaxy S20 and S20+ offer 64MP shots and 30X Space Zoom too, so you have the perfect tool to capture amazing photographs.
Samsung Galaxy S20 is priced in India at ₹70,499, while the Plus model can be yours for ₹ 77,999. And if you want to go for the top-end Galaxy S20 Ultra, it will cost ₹ 97,999. The new performance champs can be purchased both via major e-commerce sites as well as offline stores. And to make your purchase even more lucrative, Samsung is offering Galaxy Buds+ at ₹3,999, or HDFC Bank cashback up to ₹6,000, or upgrade bonus up to ₹5,000. There are also tie-ups with non-banking financial organisations to offer no-cost EMIs to customers in order to make their purchases affordable.
And the benefits don't end here! Buyers of the loaded new Galaxy S20 series smartphones also get free access to YouTube Premium for four months. And there are telecom freebies too – thanks to Samsung's tie-ups with Jio and Airtel, buyers of the new flagship smartphones can get double data benefits from these operators!
With offers and deals like these, it will be hard for you to wait further to get the new Samsung Galaxy S20, your next flagship smartphone. With a game-changing combination of chipset, RAM, and battery, all your tasks and gaming will be a breeze on the Samsung Galaxy S20 series smartphones! So log on to Samsung.com, Flipkart, Amazon, or contact your local dealer to get your hands on the most power-packed smartphone of 2020 – a gaming and performance beast that can take your experience to the next level.