Highlights
The Samsung Galaxy S20, S0 Plus, and S20 Ultra prices in India have been cut official in offline stores
However, these prices are not available in online stores at the moment
The lineup now starts at Rs 49,999 after the offline price cut
In light of the upcoming Samsung Galaxy S21 launch, the South Korean giant has slashed the prices of the outgoing flagship series, ie. Galaxy S20. We've received information about price cuts on Samsung Galaxy S20, Galaxy S20 Plus, and Galaxy S20 Ultra from our offline retail sources. The new prices are currently only available at offline retail stores but may soon go live at online stores as well. The Samsung Galaxy S21 launch is just around the corner, and it appears that Samsung wants to clear the remaining stock of the Galaxy S20 series to make room for the new phones. The current Galaxy S20 lineup still comprises excellent flagships with the latest and greatest hardware. With the new price cuts, you can save a lot of money on these phones.
Samsung Galaxy S20 price cuts in India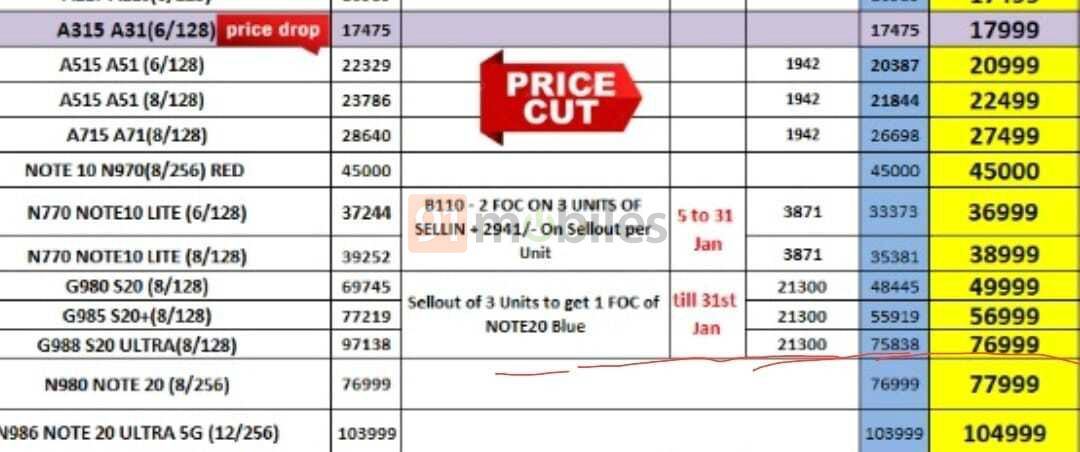 As per our offline retail sources, the Samsung Galaxy S20, Plus, and Ultra prices have been slashed by as much as over Rs 15,000. The Samsung Galaxy S20 price in India is Rs 49,999, down from the official price tag of Rs 59,499 for the sole 128GB + 8GB configuration. Then there's the Plus model that now costs Rs 56,999 instead of Rs 72,990, a massive price cut of Rs 15,991. Last on the list is the Samsung Galaxy S20 Ultra that now has a price tag of Rs 76,999, a Rs 10,000 cheaper than the MOP of Rs 86,999. As mentioned earlier, the offer seems to be applicable only at the offline stores for now, as we haven't seen any price changes online.
It also appears that the Samsung Galaxy S20 series price cuts in India will only be available till January 31st. However, going by similar price cuts in the past, we can expect these prices to last indefinitely or fall even further. It's likely that the company will also bring these offers to online stores once the Galaxy S21 series is available for purchase. If you're planning on purchasing a Galaxy S20 smartphone, then you should try your local brick-and-mortar store for a great deal.
Interestingly, while these price cuts are not available on the likes of Amazon.in and Flipkart, the Samsung Galaxy S20 Plus price in India is Rs 54,999 on the official Samsung website. This price tag makes the handset the most affordable on the Samsung e-store compared to other e-commerce sites as well as offline channels.