Samsung unfolded a new chapter in the Galaxy story on February 11th in San Francisco. That was the day the South Korean giant introduced us to the Galaxy S20, Galaxy S20+, and Galaxy S20 Ultra, three devices with features that are miles ahead of any premium smartphone. In fact, it won't be a stretch to call the new Galaxy S series models the biggest leap in camera tech we have seen in a while. The S20 Ultra, especially offers a set of mind-boggling camera specifications that can give even professional cameras a run for their money. The Galaxy S20 and S20+ devices too offer the best camera features you can expect on a smartphone today, from 30x zoom to 8K videos and a quad-camera setup. These camera aspects, combined with state-of-the-art hardware and top-notch software, offer consumers a smartphone experience unlike any other.
A slew of firsts in the camera department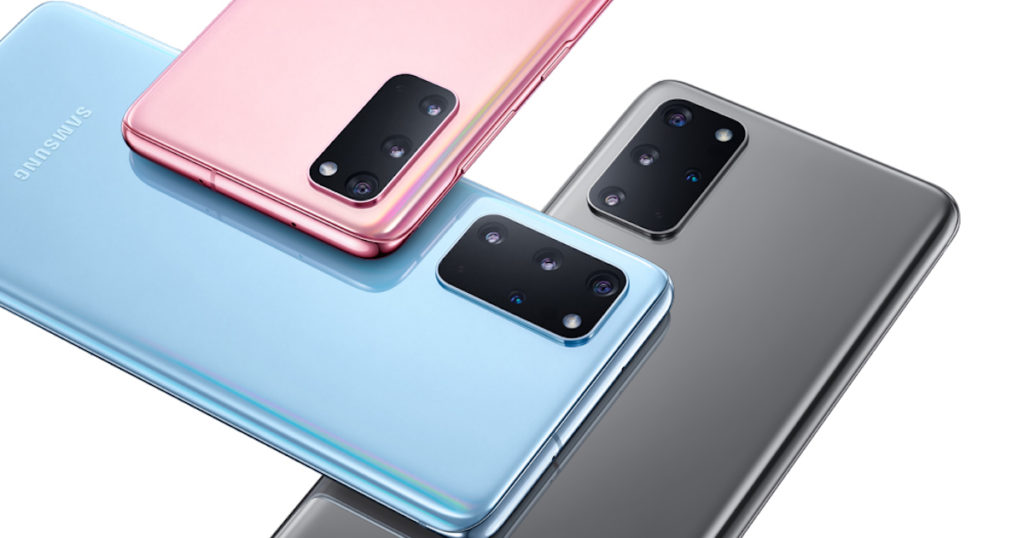 With the new smartphones, Samsung has gone all out in the camera department. There are so many industry-firsts on the phones that you won't be able to keep track of the new and excellent camera features at your disposal! These are some of the many Samsung Galaxy S20 features that iPhones and OnePlus phones probably won't be able to offer anytime soon.
Revolutionary Triple Camera brilliance
The Galaxy S20 & S20+ ship with an advanced 64MP Telephoto Camera that's equipped with OIS. It's accompanied by a 12MP Wide Camera, which also supports OIS, and even offers dual pixel technology. The third camera is another 12MP sensor that's paired with an ultra-wide lens, and as if that much variety wasn't enough, the Galaxy S20+ also comes with an additional 3D ToF camera to render rich AR experiences.
Space Zoom

The combination of the first two cameras come together on the Galaxy S20 series phones to offer Samsung's new Space Zoom technology. This feature takes advantage of the high-resolution 64MP sensor to offer a whopping 30x zooming capability, so you can get incredibly close to faraway subjects without moving an inch.
8K video recording


These Samsung phones are also the world's first handsets capable of capturing 8K videos that offer stunning detail like never before. These are the only smartphones in the world to capture 8K footage at 24fps – that's 16 times the resolution of a standard 1080p clip. While this alone is a huge deal, Samsung hasn't just stopped at that. Its incredibly impressive 8K Video Snap feature allows you to capture crisp 33MP still photographs right from these 8K videos with just one tap. Imagine shooting a video and spotting a shot that's just right – with 8K Video Snap, you will be able to get a high-res image in a single tap. This is a sure-shot solution for when you're confused about whether to grab a photo or a video of a particular situation, since now you can have both without compromising on either. Samsung is also building an 8K ecosystem for consumers to shoot, share and view their 8K content. Consumers can upload their 8K content to YouTube or share their videos to 8K Samsung TVs with a simple tap, thanks to the 'Tap & Share' feature.
Bright Night Mode
With these phones, you also get the Bright Night mode, which is perfect when you're in low-light environments. It's almost magical to see this mode in action, as it turns incredibly dark shots into well-lit Instagram-worthy images within seconds. The 12MP camera onboard this phone already has a wide f/1.8 aperture lens, which helps in adding more light to your photographs. But what Bright Night does is that it captures multiple photos at once and merges them into one to reduce the blur and noise.
Single Take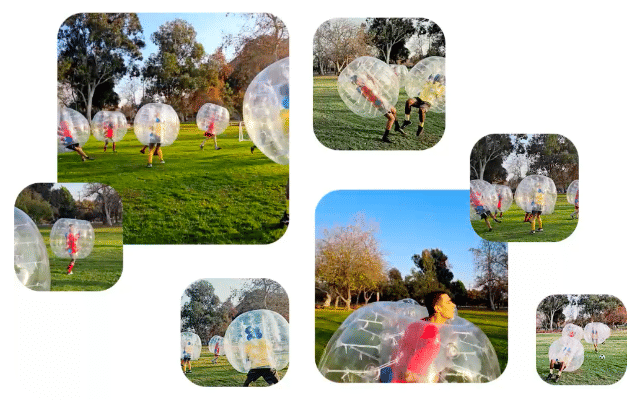 Another industry-first feature onboard the Galaxy S20 series is Single Take. It's a unique photo/video mode that presents you with a variety of takes of the same shot. You only need to tap and hold the shutter button for up to 10 seconds, and with the help of AI, this mode will capture everything from multiple photos, videos, and boomerang-style clips to even time-lapses. The beauty of this feature is that you can get multiple perspectives of the same scene, so you never know when you might discover something new with the different photos and videos of the same shot.
Performance that slays the competition
The India models of the Galaxy S20 series ship with the Exynos 990 chipset at their hearts. Built on the 7nm EUV process, this SoC offers the benefits of a 2.73GHz octa-core processor and Mali-G77 MP11 GPU as well as an advanced built-in NPU. You can expect this setup to set records in benchmark tests. This AI-focused chipset has, moreover, been paired with 8GB of RAM. That's more than enough memory for swift multi-tasking, no matter how heavy your apps and games are. The chipset also comes with LPDDR5 RAM that lets you choose and keep up to 5 of your apps running in the background and resume them at any time from exactly where you left off.
As far as storage goes, 128GB is standard for both the Galaxy S20 and S20+. But as you would expect from a Samsung flagship, a microSD card slot with support for an additional 1TB worth of space has also been added into the mix. That's more storage than any iPhone can deliver as they max out at 512GB and, of course, more than what any current OnePlus phone can offer since they are limited to just 256GB of storage.
The best smartphone display experience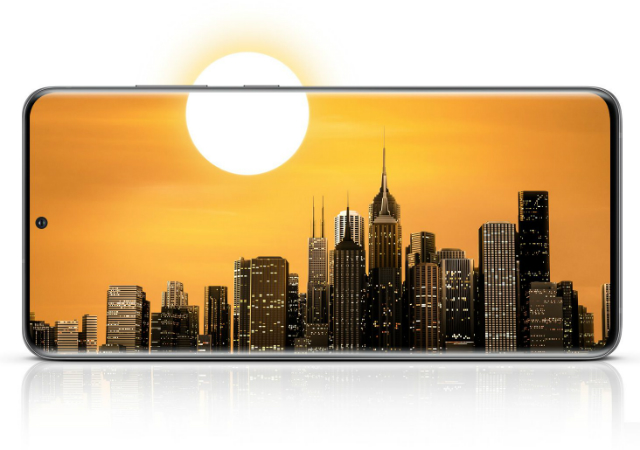 Samsung calls its fresh new display the Dynamic AMOLED 2X panel. It's a gorgeous Quad HD screen that excels at rendering crisp, bright, and vividly-coloured visuals. Moreover, it's also HDR10+ certified, which makes a big difference to its overall immersive nature by making the colours punchier and adding more depth to the picture through subtle gradations.
More importantly, while OnePlus phones nowadays offer 90Hz refresh rates and iPhones are still stuck on 60Hz, the Galaxy S20 series has taken the 120Hz leap with its Dynamic AMOLED 2X display. The Galaxy S20 and S20+ also feature 240Hz touch support, which is great news for pro-gamers. Seamless transitions and ultra-smooth scrolling await you on this panel, not to mention the extremely fluid gaming experiences. The Galaxy S20 sports a 6.2-inch screen, while the Galaxy S20+ carries a 6.7-inch display. Thanks to their exquisite Infinity-O Display, these screens leave little space for bezels on all four sides, leading to new levels of immersion. These displays moreover, also boast of best-in-class 20:9 aspect ratio, which not only contributes to their immersive nature but also makes the smartphones easier to hold and operate using one hand.
Large batteries with fast charging support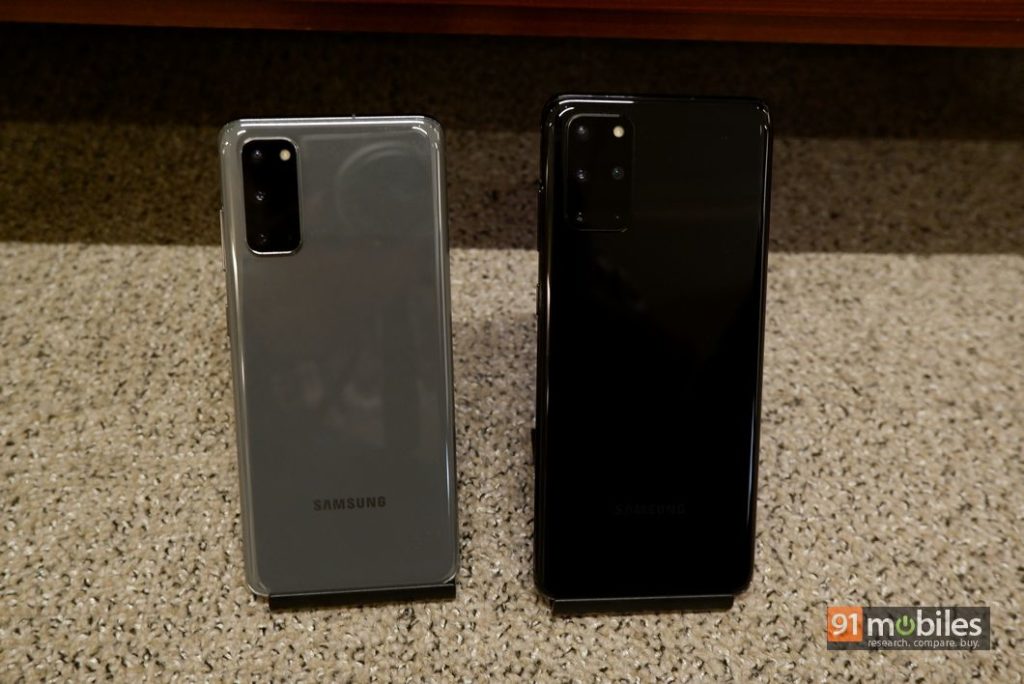 While the Samsung Galaxy S20 ships with a 4,000mAh battery, its Plus sibling is home to a 4,500mAh cell, so you can easily expect all-day battery life from these devices. And helping this happen is an Intelligent Battery Management feature that adjusts according to your daily usage. Moreover, with multiple modes to choose from, you will be able to make sure the battery lasts longer when the charge dips too low.
And talking about the battery running low, it's a real nuisance when you have to spend hours charging your phone. To speed things up, both Samsung Galaxy S20 and S20+ support 25W Super Fast Charging tech, in addition to 15W fast wireless charging. One unique feature that really sets Samsung apart from iPhones and OnePlus handsets is Wireless PowerShare, which allows you to charge other devices like earphones or smartphones wirelessly by placing them on the back of the Galaxy S20.
The Samsung Galaxy S20 and S20+ are the kind of devices that instantly convince you to upgrade to them, no matter which smartphone you're currently using. If you're a camera enthusiast, you'll love the fact that they come with such advanced features as Space Zoom, Bright Night, Single Take, 8K video recording support, and much more. And despite these extremely impressive camera features, they in no way compromise on other aspects like the display, hardware, and battery life.
Durability and Security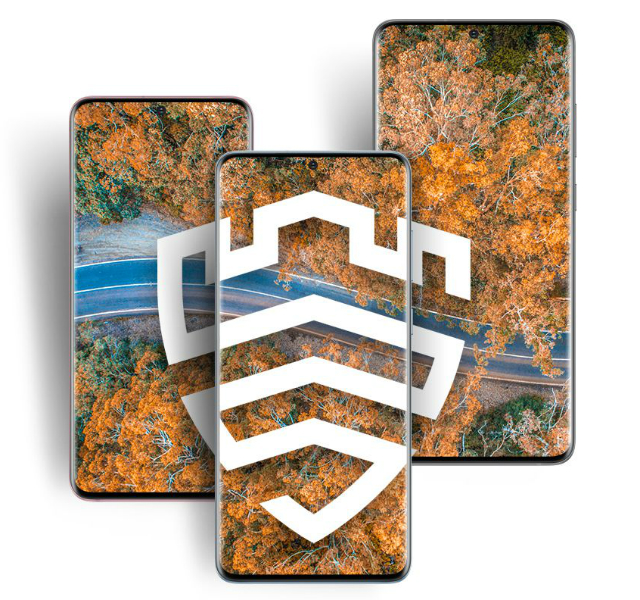 The Galaxy S20|S20+ are protected by durable Gorilla Glass 6 on both sides and IP68 water and dust resistance. They also come with Samsung Knox, a multi-layered defence grade security platform that protects your personal data from the chipset up.
Price, availability, and offers
Samsung Galaxy S20, Galaxy S20+ & Galaxy S20 Ultra is available for pre-book in India through Samsung.com at ₹66,999, ₹73,999 & ₹92,999 respectively. The lucrative pre-booking offer which ends 9th Mar gives benefits up to ₹15,000 which includes a great discount on the newly released Galaxy Buds+. Moreover, buyers will get 4-month subscription to the YouTube Premium service, along with no-cost EMIs for up to 9 months and double data offers for up to a year with Jio, Airtel, and Vodafone.
These offers make the deal so much sweeter that pre-booking the Samsung S20 Series seems like the most obvious thing to do, so make sure you make the most of these offers and pre-order the smartphone of your choice by March 9th, the last day for pre-bookings!