"Samsung Galaxy S20 Ultra is a beast of a smartphone and comes with a bunch of interesting features to justify its high price tag"
Samsung has officially launched the Galaxy S20 series of smartphones, and the highlight of the bunch is its top of the line flagship, the Galaxy S20 Ultra. The souped-up top model has a lot going for it, but you'll also need to pay a lot of money for the phone to get your hands on it. The Samsung Galaxy S20 Ultra (first impressions) price starts at $1,399 (~Rs 99,700) and goes up to a whopping $1,599 (~Rs 1,14,000) for the 512GB storage variant. In a bid to justify its hefty price tag, Samsung has packed a whole bunch of flagship-grade features into the phone, some of which are stand-out offerings and are unique to the phone — even considering the lofty standards set by flagship smartphones of today. With this in sight, here's looking at five unique features that the Samsung Galaxy S20 Ultra comes with.
1. 16GB RAM
16GB RAM on a smartphone certainly seems like overkill right now, and it probably is. Arguments have already surfaced to prove that 12GB of RAM is more than enough for a smartphone and that the Galaxy S20 Ultra will not really feel any different from a flagship smartphone with, say, 8GB of RAM. However, while those arguments may be true, it is important to note that the Galaxy S20 Ultra is attempting to offer users an "ultra" experience. For instance, it wants its users to be able to switch between taking 108-megapixel photos to playing Fortnite absolutely seamlessly, with a bunch of social media, productivity and music apps running in the background, and it is here that the Galaxy S20 Ultra might be able to stand out, because of the massive amount of RAM at hand.
It also adds a level of future-proofing to the smartphone, although that is yet another debatable topic by itself. To be absolutely clear, apps that already run smooth as silk on a flagship phone will not run any smoother on the Galaxy S20 Ultra. However, you may be able to run more such apps in unison, which is what an overkill experience is all about. Add AR, VR, and other futuristic applications to the mix, and Samsung Galaxy S20 Ultra is a smartphone that is up to the challenge.
Talking of simultaneous apps being run, Samsung has introduced a new feature called 'App Pinning' on the Galaxy S20 Ultra. With App Pinning, Galaxy S20 Ultra users will apparently be able to "pin" up to five such apps to the memory of the phone, which instructs it to keep them running smoothly at all times, even when they are running in the background. This would come handy if you are a social media manager, and have practically all social media apps on your phone, and do not wish them to refresh every time you get back to them a few minutes later.
2. 108MP camera with Nona Binning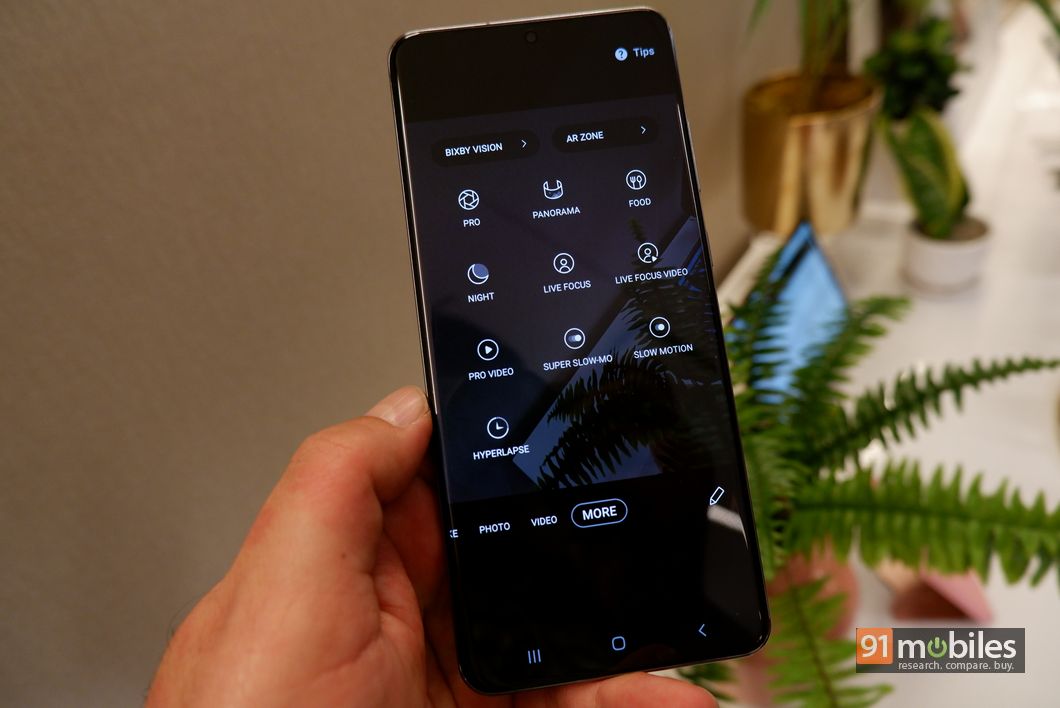 The 108MP primary rear camera sensor on the Galaxy S20 Ultra is yet another standout feature. For this, Samsung has used the ISOCELL Bright HM1 sensor, which is slightly different from the HMX sensor that is used in the 108-megapixel camera on Xiaomi's Mi Note 10. Here, Samsung offers an individual pixel size of 0.8-micron and combines them into binned 3×3 pixel arrays, which is called Nona Binning. This essentially combines nine pixels into one, hence offering a combined pixel size of 2.4-microns — arguably the largest effective pixel size seen in a smartphone till date. This has multiple advantages.

For one, when shooting in conditions with plenty of light around, the Samsung Galaxy S20 Ultra camera can theoretically shoot super-sharp photographs in the 108-megapixel mode, which helps it capture super intricate details thanks to the ultra-high resolution. However, in low light, the small pixel size would have resulted in noisy images and dim overall brightness. This is where Samsung's Nona Binning technology comes in. By binning nine pixels into one, Samsung is combining data from nine small and noisy pixels into one large and clean pixel. This, technically, gives Samsung the best of both worlds, wherein users get the power of ultra high resolution when the lighting conditions are apt. When they aren't, Samsung's camera will intelligently judge the situation and combine the pixels to still offer a detailed, well lit 12-megapixel photo that is pixel binned.
3. 100x hybrid 'Space' zoom
The marquee camera feature of Samsung Galaxy S20 is its 100x hybrid zoom capability, which the company calls 'Space Zoom'. This is being achieved by a combination of optics, sensor cropping, pixel binning, and processing power to generate what Samsung claims is nearly at par with optical performance.
What the brand is doing here with the Samsung Galaxy S20 Ultra is that it is using a 'folded' telephoto lens to offer 4x optical zoom, flat out. Between 4x and 10x focal range, the camera combines a crop on the telephoto sensor, coupled with pixel binning to generate a result that can look close to intact or uncompressed quality. Beyond this, it further crops on the sensor, as well as bins pixels and, takes information from the main 108-megapixel sensor to fill in more information in still shots. This is combined with the processing ability of the Samsung S20 Ultra processor, coupled with ample RAM, and a fast storage medium to record it in.
4. 8K video recording
Samsung Galaxy S20 Ultra offers up to 8K video recording. With this smartphone, not only can you record videos at full 8K resolution at 24 frames per second, you can also stream them directly to Samsung's 8K QLED TVs (provided you have one lying around at home). If you are a YouTuber, you will be able to upload the videos directly to YouTube thanks to the brand's partnership with the video platform.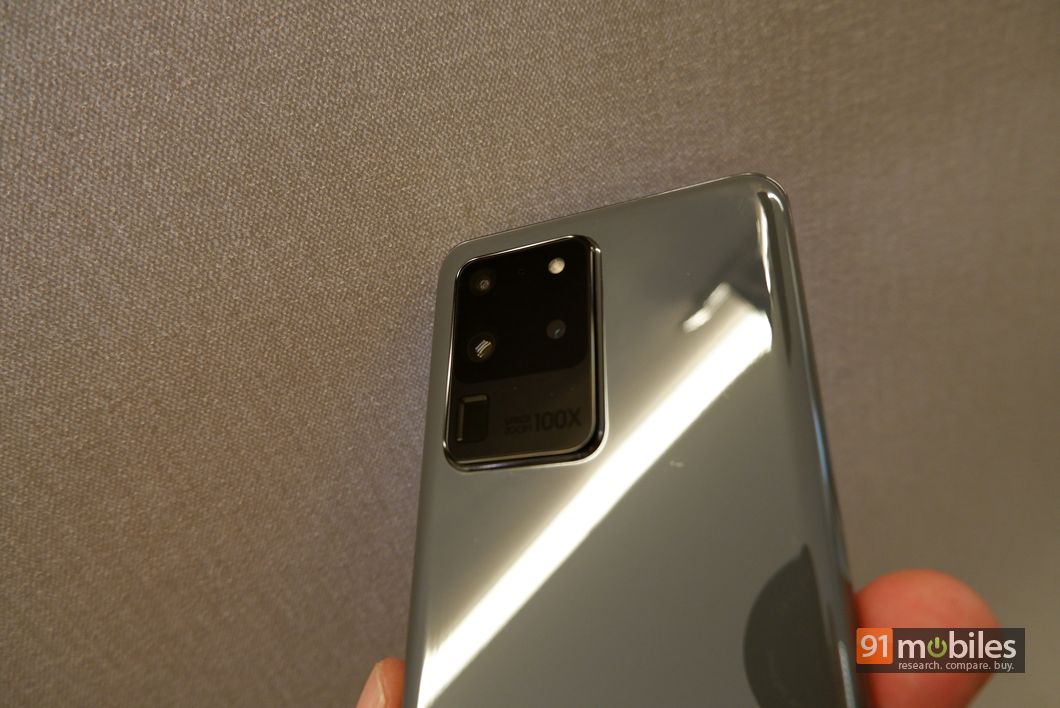 To enable this, Samsung Galaxy S20 Ultra features the 108-megapixel primary camera mentioned above, underneath an f/1.8 lens. This is further combined with a 48-megapixel sensor paired with an f/3.5 telephoto lens, and a 12-megapixel sensor paired with an f/2.2 ultra-wide-angle lens. The primary and the telephoto cameras also come with optical stabilisation, and the entire setup is supported by a 3D Time of Flight (ToF) sensor to aid depth gauging.
5. 40MP selfie camera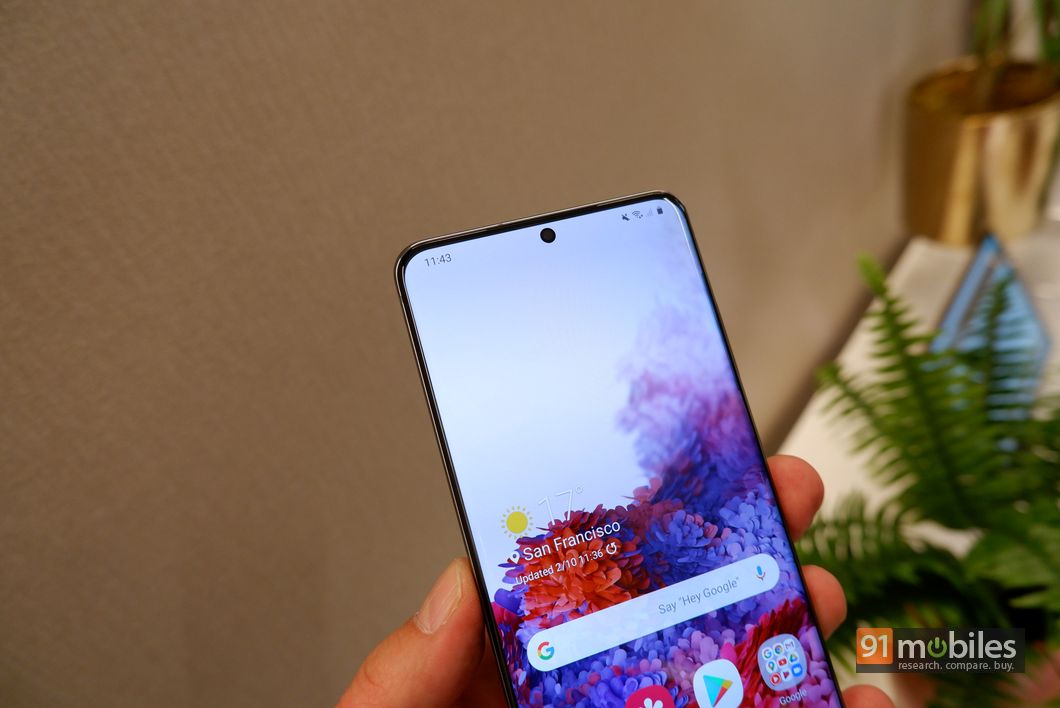 Even the selfie camera of the Samsung Galaxy S20 Ultra sounds extreme on paper. Samsung offers a 40-megapixel sensor in its punch-hole front camera that uses quad pixel binning technology to offer 10-megapixel photographs. This potentially allows Samsung to offer selfies that are sharper and more detailed than you would see on any smartphone on sale right now. It is also the highest resolution camera in the world right now, taking over from the 32-megapixel sensor we saw on many smartphones last year.