"Here's what you get with the new Samsung Galaxy S7 and S7 edge"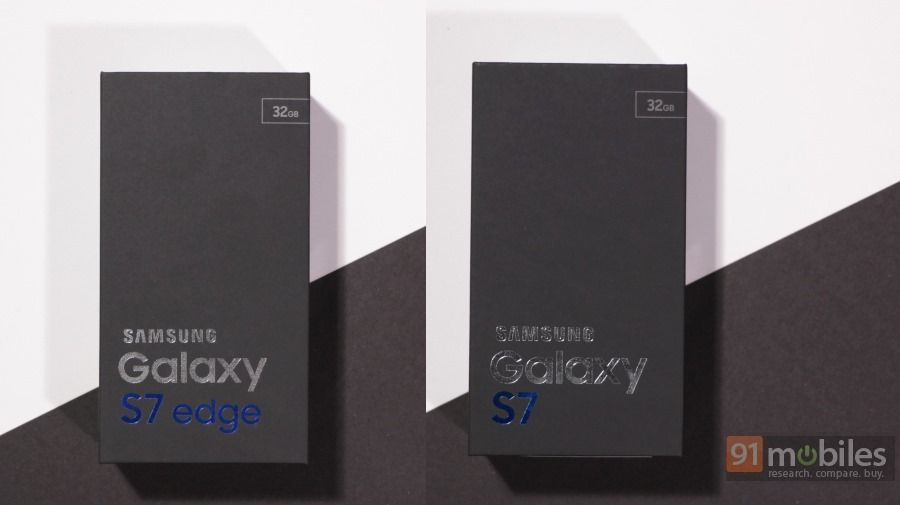 Just a day before MWC 2016 kicked off, Samsung grabbed all the limelight by launching its flagship Galaxy S7 and S7 edge smartphones. The devices feature 2K always-on displays, Exynos 8 CPUs, 4GB of RAM and fingerprint sensors. To everyone's surprise, the brand went for a hybrid dual-SIM slot configuration, giving users an option to expand the storage. Last week, Samsung launched both the Galaxy S7 (first impressions) and S7 edge (first impressions) in India for Rs 48,900 and Rs 56,900 respectively. We've just got the devices in our labs, and before we begin running our tests on the new Samsung Galaxy S7 and S7 edge, we thought it apt to offer you a first look at the box contents of both the smartphones.
Samsung has paid attention while crafting the retail boxes of the Galaxy S7 duo, as the devices ship in smart black cardboard boxes, which have a fabric-like feel to them. The box carrying the Galaxy S7 edge is bigger than the one carrying the S7, due to difference in screen sizes. Since luxury translates to bling for a lot of people, the front of the boxes feature the device names etched in glitzy shades of silver and blue. The boxes can be opened by lifting off the magnetic flap cover.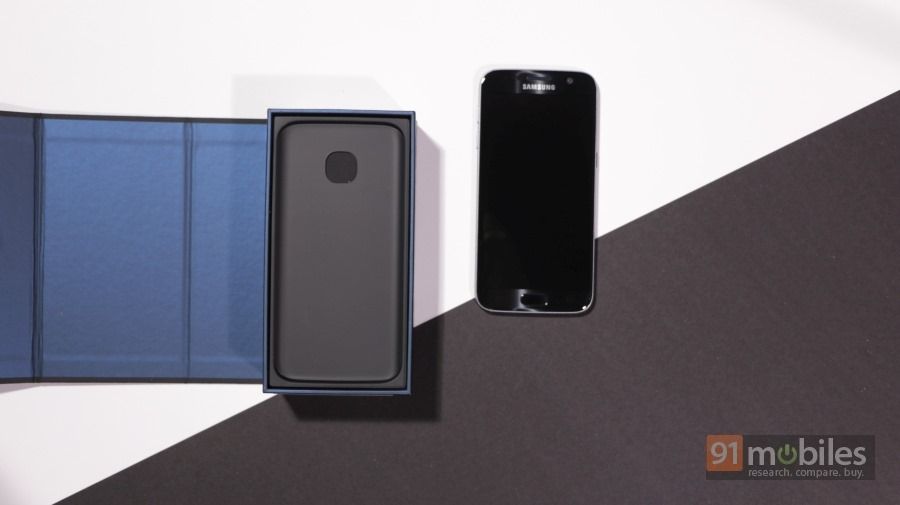 Apart from the midnight-blue insides of the box, you'll see the smartphones resting on top of black plastic trays when you open the boxes. The box contents remain the same for both the Samsung Galaxy S7 and S7 edge.
You get all the necessary documentation secure in thin black cardboard packaging…and with it, a SIM ejection tool. Beneath the documentation, you get a 2-pin 2A wall charger with Adaptive Fast Charging tech, a USB cable, a USB OTG adapter and a small plastic box carrying a pair of in-ear headphones, with spare ear-buds.
While you read this, both the Samsung Galaxy S7 and S7 edge are going through our review gauntlet, so keep watching this space to know if the premium phones justify their price tags.

Related reads: Battle royale: Samsung Galaxy S7 vs S7 edge vs LG G5 | Samsung Galaxy S7 vs Galaxy S7 edge vs Galaxy S6: what's different?