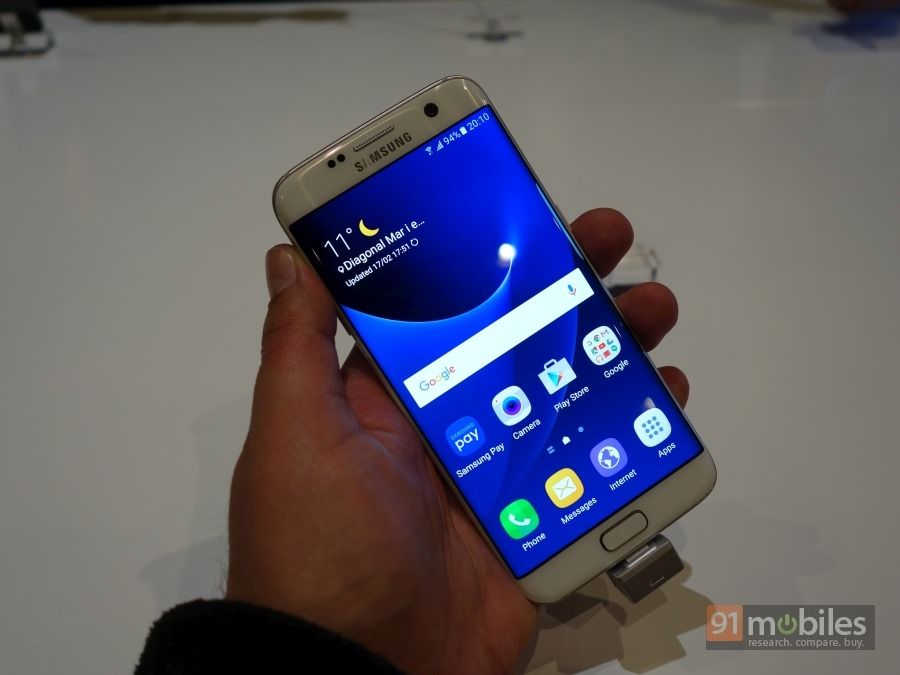 "The Galaxy S7 edge picks up from where its predecessor left off and takes things to a new level"
MWC 2016 hasn't even kicked off officially yet, but the pyrotechnics have already begun. Samsung is again trying to steal the thunder away from rivals and has just taken the covers off its latest flagships, the Galaxy S7 (first impressions) and S7 edge… not that we didn't have any inkling of what these would be bringing to the table. A bunch of leaks prior to the official launch had already revealed quite a few features and specs, and we'd seen enough images that indicated Samsung won't be breaking the mould in terms of design for its latest offerings. And most of them did turn out to be true. While the pair don't look much different as compared to the brand's 2015 flagships, it does look like Samsung has taken feedback from users and reviewers quite seriously and addressed most of the concerns that were pointed out last year… bringing back a few features that the S6 family missed out on.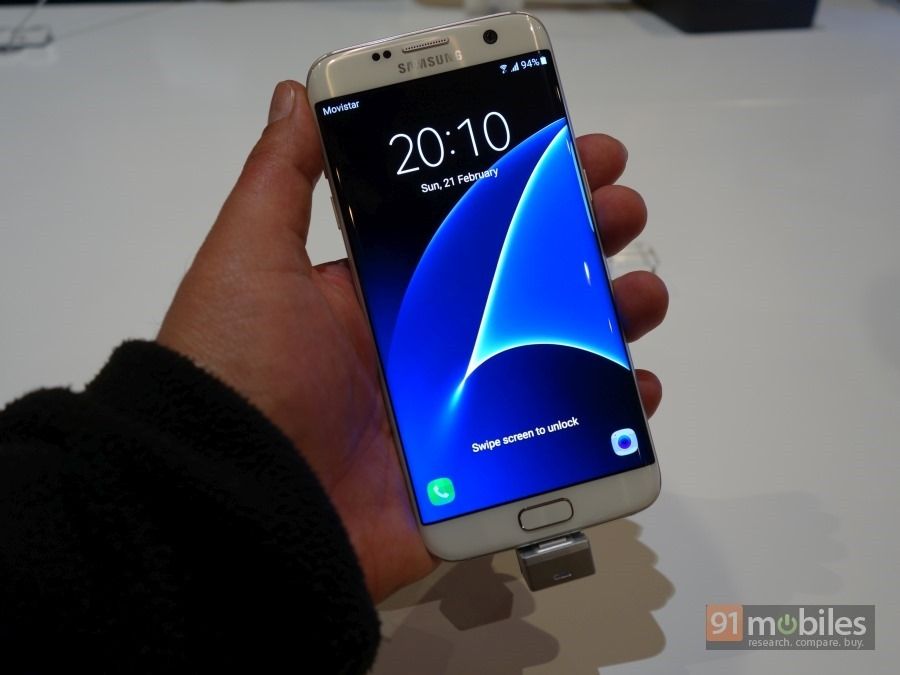 The microSD card slot for instance, skipped in the S6 series, has made its way back to the S7 range, addressing a key paint point for users. The Galaxy S5 (review), which came out back in 2014, was one of the first flagships from Samsung that was waterproof, and this is another feature that's now boasted by both the S7 and the S7 edge. The two are IP68 rated for water and dust resistance, and this certainly bodes well for the pair. Battery capacity has been boosted as well, taking care of another issue that most reviews of the previous-gen model highlighted.


We got a chance to play with the new Galaxy S7 duo, and after caressing its curvy body for a fair bit, here we'll be talking about the S7 edge.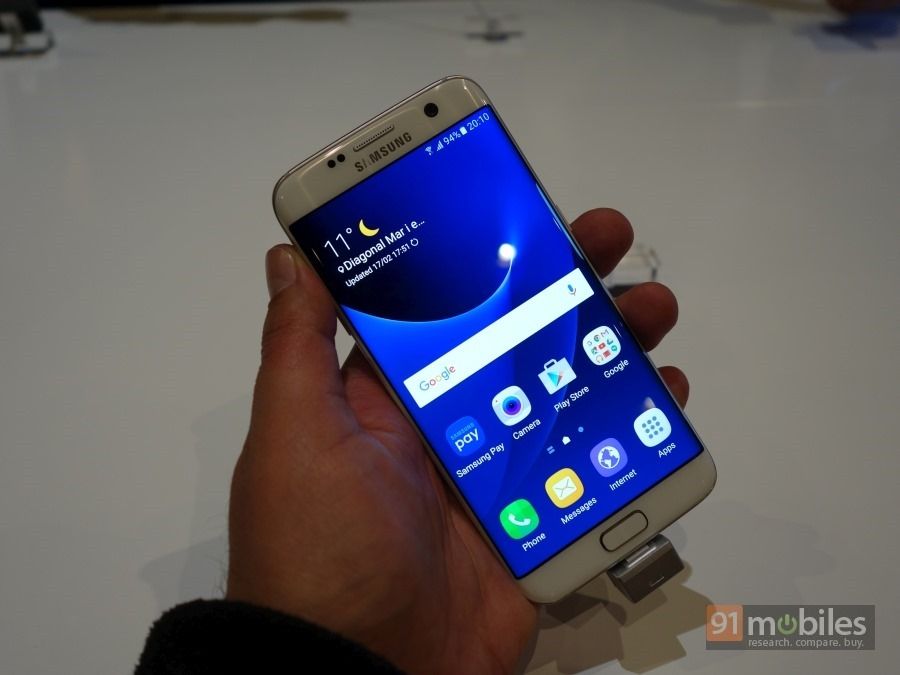 Looks-wise, you probably won't be able to tell the difference – the S7 edge looks almost the same as the S6 edge (review) and edge+, featuring the same metal and glass body, and rocking a screen that's curved on both sides. There's a metal frame running around the edges, while the front and back are both glass. The S6 edge was one of the sexiest-looking phones last year, and while its successor doesn't do much to increase the style quotient, it does look rather fetching.
In terms of screen size, the S7 edge falls somewhere between the S6 edge and the edge+ models which sported 5.1-inch and 5.7-inch displays respectively. The latest flagship comes with a 5.5-inch Super AMOLED screen that rocks a resolution of 1,440 x 2,560 pixels, and as expected, seems extremely crisp, vibrant and responsive to touch. On offer is an always-on mode that keeps some portion of the screen on at all times to display the clock, calendar or notifications.
Up top are the usual elements – the earpiece, sensors and front camera, while the oval home key sits below, flanked by backlit navigation keys for back and recent apps.
The left spine is home to a pair of volume keys, while the right is where the power button is located. The bottom holds the speaker, micro-USB port and headset socket, while top has an ejectable tray that gobbles up a nano-SIM and a microSD card.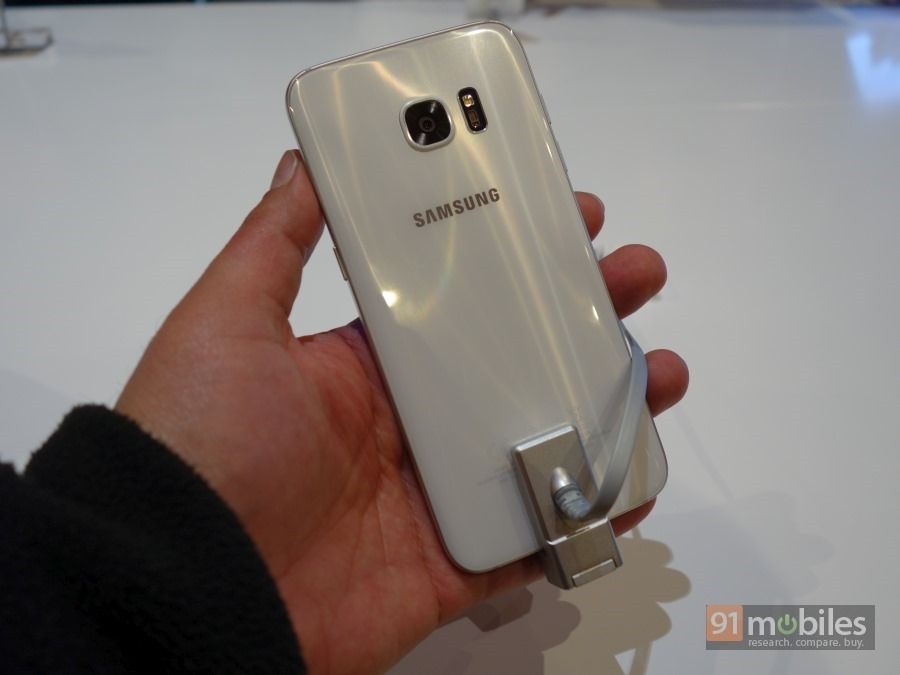 The rear, which is also clad in glass, holds the camera lens and the flash, with Samsung branding in the middle and regulatory info printed down below.
With a factory-fresh Snapdragon 820 or Exynos 8890 octa (depending upon region) handling performance along with 4 gigs of RAM, smooth usage is a given. And indeed, our brief usage didn't indicate otherwise – the phone does promise steroidal performance. The battery is now rated at 3,600mAh, up from the S6 edge's 2,600mAh and the S6 edge+'s 3,000mAh packs, so hopefully, the S7 edge shouldn't make you run to a power source in the middle of the day. Wireless charging is on offer again, and so is fast charging. A new cooling system promises to keep heating levels in check.
The S7 edge comes in 32GB or 64GB storage variants, and you can pop in microSD cards up to 200 gigs in capacity if you wish. Our 32GB demo unit had a little over 21GB free when we checked it out. Connectivity options abound, so you get everything from NFC to ANT+, and all the other usual stuff.
Now the Samsung Galaxy S6, S6 edge, S6 edge+, along with their Note sibling, the Note5, shot beautiful images with their 16-meg shooters, but with the new S7 range, the brand has changed tact. While it has reduced the megapixel count to 12MP for the primary shooters, it's added dollops of new camera tech and promises that the S7 and the S7 edge shoot pics you'd be proud of. F/1.7 aperture size, the new Dual Pixel tech and optical image stabilisation come together and promise photographic masterpieces regardless of time of day or lighting conditions.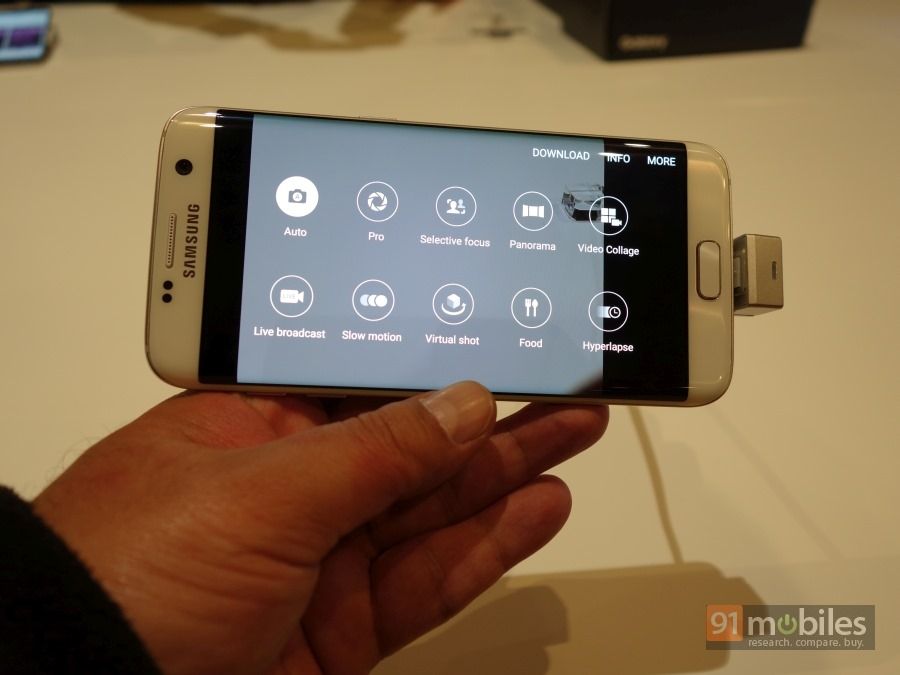 While the camera interface hasn't changed much, there are new features like a Motion Panorama that claims to offer immersive panoramas. Focussing and shooting speeds are also claimed to be much faster, and quick test shots we captured during our hands on indicate that Samsung isn't off the mark there. While an extensive test would reveals how worthy these new shooters are, we'll be extremely disappointed if these new phones aren't among the best smartphone cams of this year.
The software platform is Android Marshmallow (we'd have expected nothing less), covered by TouchWiz. There's minimal bloatware, but Samsung being Samsung, it has upped the ante feature-wise. The Edge UX, which is basically the panel that slides out from the side of the curved display, has gotten more feature-rich and allows you to do much more. The features include a panel called Apps edge that lets you pin your fave apps, Tasks edge that allows you to add shortcuts to tasks like clicking selfies, compose messages etc, and People edge that shows favourite contacts, along with other third-party panels such as one from Yahoo! News. All these are very customisable in terms of what they display and how they display it, and you can even change the position and transparency levels of these overlays.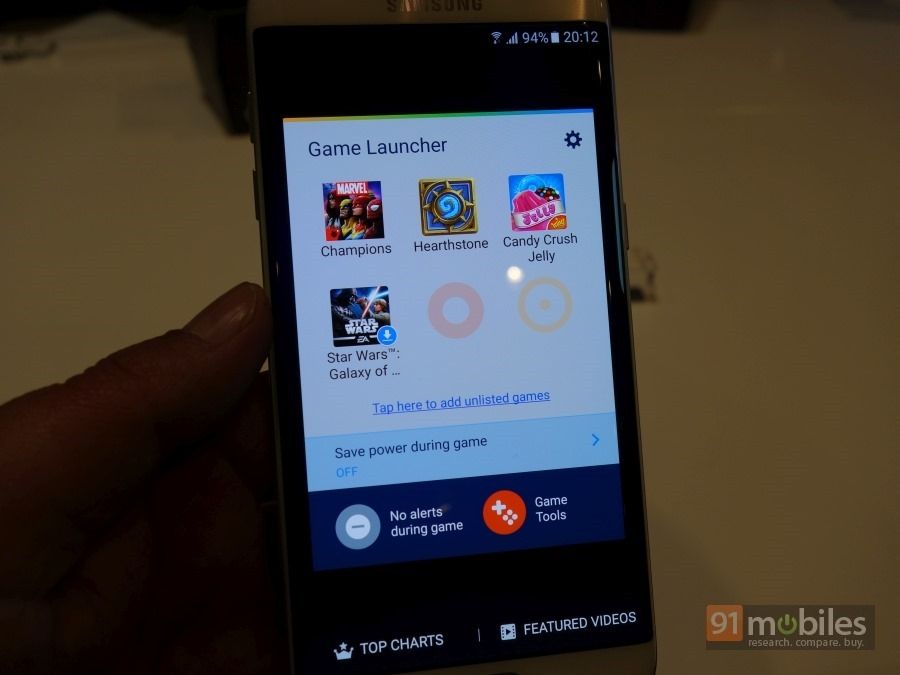 Yet another new functionality is something called a Game Launcher, which is targeted towards those who don't like their mobile gaming experience to be marred by trivial things like notifications or other 'insignificant' things smartphones usually keep buzzing with. With the Game Launcher, you can choose to minimise notifications and even record your screens while gaming.
The staple offerings like S Health and other Samsung apps are there of course, and you'll also find a folder with a few apps from Microsoft.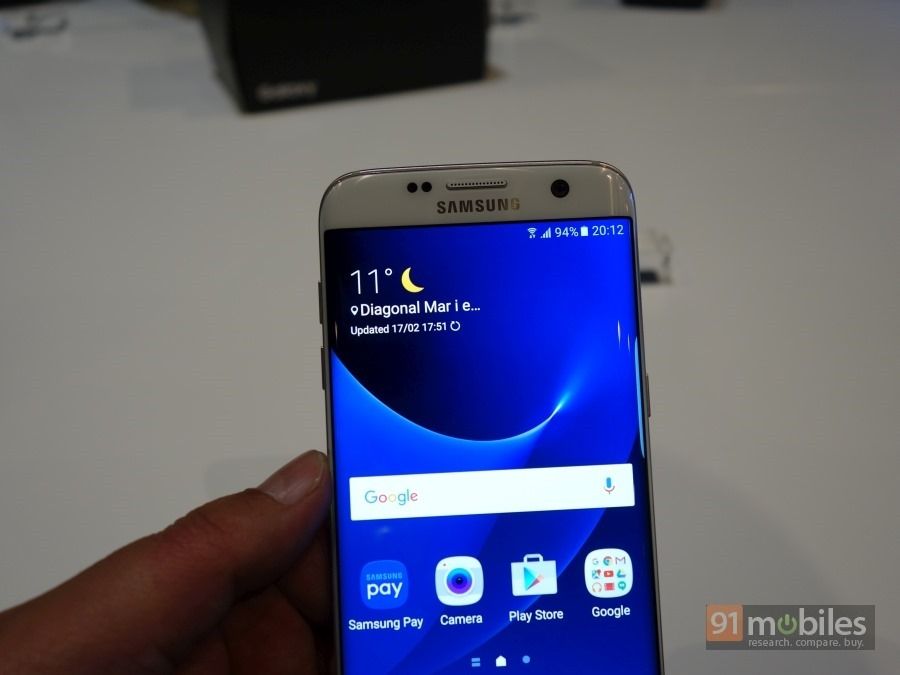 When it comes to premium flagships, Samsung is hard to beat, and with the Galaxy S7 edge (and its smaller, not-so-curvy sibling the Galaxy S7), it looks like the brand is aiming to please. It's kept the design language the same, but added the stuff that matters – not just to its fans, but others as well. Storage expansion is undoubtedly useful, but imperviousness to dust and water is extremely handy too. Sexy looks, loaded innards and useful features, along with promising goodness at the very basic level (referring to performance, camera quality and battery life), the S7 edge is looking like a scorcher. MWC 2016 is just starting, and we're sure we'll see more firework from different brands, so do keep your eyes peeled for our detailed coverage.