With many of us staying indoors, entertainment has assumed a new level of importance at home. Moreover, easy availability of affordable, high-speed home broadband, combined with the soaring popularity of streaming services that offer excellent content means one needs a proper device in hand. And to best experience TV shows, movies and videos, a large-screen tablet makes a lot more sense. Enter the Samsung Galaxy Tab A7, a tablet that promises an immersive visual and aural experience, everything you need for entertainment.
The Galaxy Tab A7 has everything that you're looking for. It's not only got impressive hardware specs and a thoughtful design, but it also provides great performance, which leads to the ultimate entertainment experience. Besides, the Galaxy Tab A7 has a huge battery as well, which ensures that your content consumption is never interrupted by the low battery notification. Thanks to 15W fast charging support, that big battery can be charged up pretty quickly too. Let's delve deeper into its features to know exactly how you can benefit from the new device.
Guaranteed to satisfy your entertainment needs

Samsung Galaxy Tab A7 packs a massive 26.31cm (10.4″) WUXGA+ display that guarantees an immersive experience. The screen renders vivid colours and offers sharp details, while also delivering great viewing angles, thanks to its IPS nature. All this adds up to give you a theatre-like experience from the comfort of your bedroom.
The Galaxy Tab A7 is also equipped with quad stereo speakers placed on all four corners of its body. What's noteworthy here is that these speakers feature Dolby Atmos surround sound, which allows them to provide theatre-like sound quality for whatever you're watching. This combination of excellent visuals and superior audio quality does wonders to the entertainment experience that the tablet offers.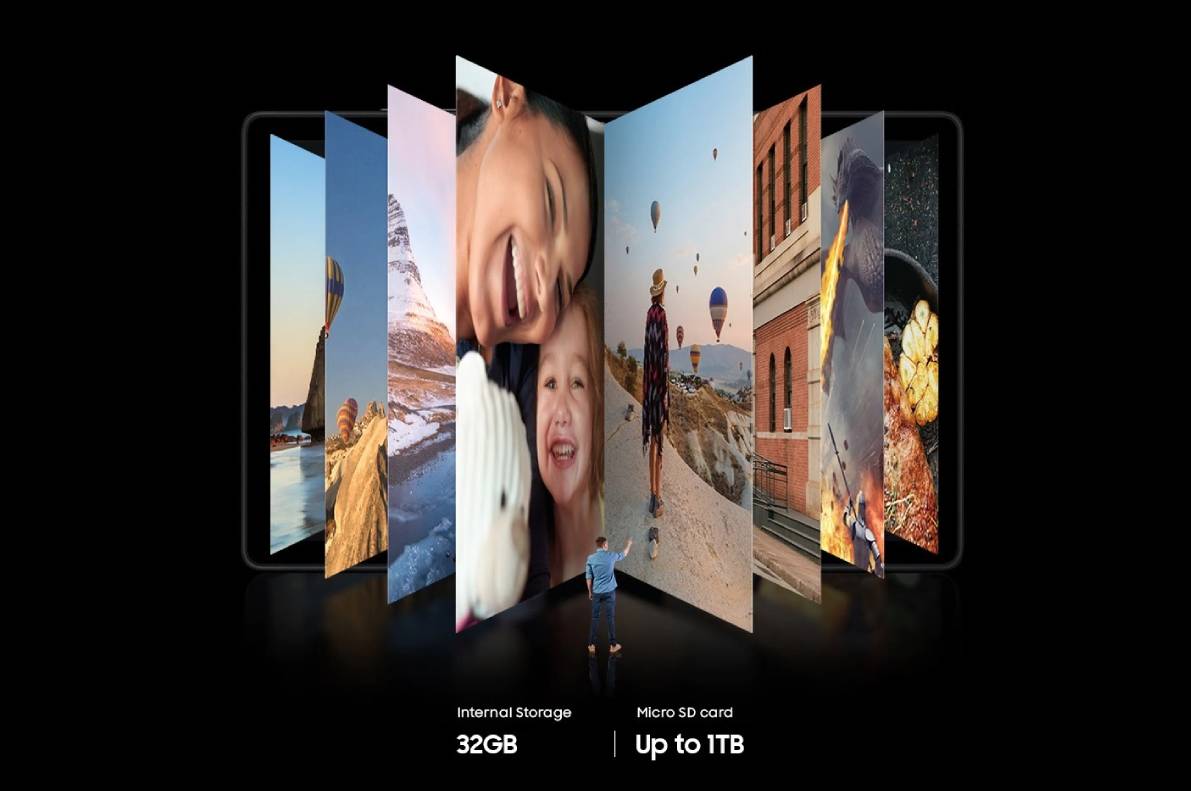 Thanks to its large and vibrant display, Samsung Galaxy Tab A7 is the best device to view photos and videos. That's why it comes with 32GB of in-built storage expandable up to 1TB with a microSD card. This will give ample space for all your videos, photos, files, etc. that you might want to take with you wherever you go!
Super-smooth performance
The Samsung Galaxy Tab A7 utilizes an Octa-core processor paired with 3GB of RAM that can offer powerful performance to run your applications, games or anything you like. The powerful GPU helps the tablet render fluid high-resolution visuals efficiently. Overall, this leads to a smooth usage experience that's lag-free. What also helps its high performance is the tablet's sleek design. It's just 7mm thick and 477gms in weight. You can keep holding the tablet for long hours without experiencing strain on your hands. This is also great for when you feel like watching a movie or two while leaning back. The unique shape of the tablet helps it deliver a comfortable grip.
Battery that goes on and on
Long battery life is essential to a great tablet experience, and that's another area where the Galaxy Tab A7 excels. Thanks to the massive 7,040mAh battery of this device, you can watch episode after episode of your favourite TV series without reaching out for the charger. This makes the battery more than enough to handle all your video streaming and gaming for the day off a single charge. What's more? You can pair it with 15W Fast Charging that will quickly make your battery 100% in no time.
Now you know it isn't called the entertainment powerhouse for nothing. All these factors make the Samsung Galaxy Tab A7 a no-brainer for those who are looking for a tablet to satisfy their entertainment needs. The tablet is available in Wi-Fi model as well as in LTE model in Dark Gray, Silver and Gold colour options starting at Rs. 16499.
Samsung has also curated a list of offers on the tablet. A 10% cashback can be availed on it as part of the #RewardYourself festive offers from Samsung. Plus, a 50% discount is available on Samsung Care+, which enhances the product's warranty by adding accidental & liquid damage cover.
Overall, if you're looking to be entertained, the Samsung Galaxy Tab A7 is among your best options right now. It blends a sleek, stylish design with a large, vivid display, smooth performance, long battery life and immersive audio into one single device that should prove to be a worthy companion.