"The Galaxy Tab S6 Lite will be a watered-down version of the flagship Tab S6, and will likely have a price tag similar to that of an entry-level iPad"
Samsung appears set to launch a new variant of its premium Android tablet lineup, dubbed the Galaxy Tab S6 Lite. The device has appeared on Thailand's NCC certification database, essentially confirming its presence as well as the name under which it will be launched. While the listing does not talk about any key specifications of the device, it does reveal a couple of interesting things in terms of Wi-Fi connectivity and USB port. However, it does not confirm the Bluetooth version onboard the tablet.
As per the listing, the Galaxy Tab S6 Lite appears to be certified for working on both 2.4GHz and 5GHz Wi-Fi bands, which will be a good feature if the tablet is launched at the very budget end of the pricing range. Furthermore, the NCC listing specifies that the Samsung Galaxy Tab S6 Lite uses the TA50JWS adapter and DR140AWE USB cable for charging purposes. A quick search of the two products reveals that while the adapter in question is a standard Samsung travel adapter rated for up to 9W charging speeds, the cable uses a USB-C port, which certifies the tablet to feature a USB-C port on it.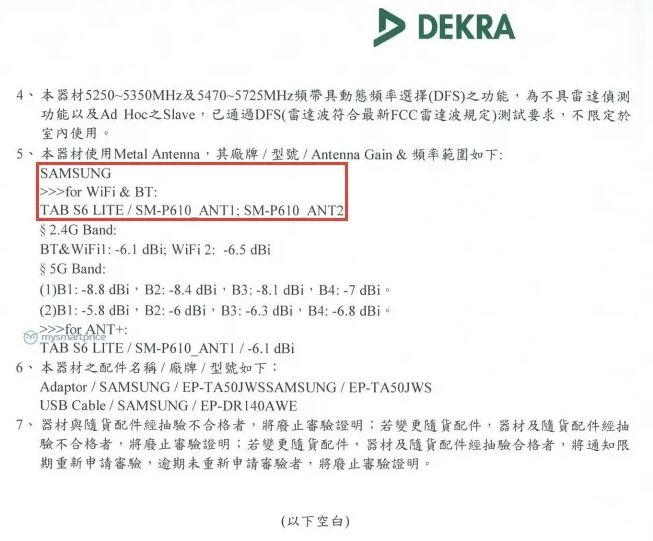 Samsung Galaxy Tab S6 Lite is codenamed SM-P610 and, in terms of specifications, is expected to run on the Exynos 9611 chipset coupled with 4GB RAM and 128GB of native storage. It is also tipped to feature support for the S-Pen stylus and house stereo speakers on its chassis. The Tab S6 Lite was also spotted on the Bluetooth SIG certification site, where it was seen to come with Bluetooth 5.0 support. So far, neither the display type, size, and resolution nor the battery capacity has been revealed.
In comparison, the Samsung Galaxy Tab S6 was a flagship product, powered by the Qualcomm Snapdragon 855 SoC, with up to 8GB RAM, 256GB native storage, a 10.5-inch AMOLED display and a 7,040mAh battery to boot. The Wi-Fi only version is priced onward of Rs 52,999 in India, while the Wi-Fi + LTE version is priced onward of Rs 59,999. The NCC certification for the Samsung Galaxy Tab S6 Lite does not talk about the presence of LTE connectivity, which makes its budget bearings even more realistic.