The Samsung Galaxy Tab S7| S7+ are undoubtedly the finest Android tablets available in the market right now. Whether it be superior multitasking during your work hours or ultra-smooth performance when you play, the new Samsung Galaxy Tab S7| S7+ comes with features that will blow your mind. The massive displays, huge batteries, remarkable S Pen features, the revolutionary DeX mode, and so much more make these two tablets the best devices to get for work and play. Let's have a look at the features that make this possible.
Amazing performance

Samsung has redefined the Android tablet market yet again with the new Galaxy Tab S7| S7+. The new range features make them the most advanced Android tablets yet, courtesy the superfast 3.09GHz octa-core Qualcomm Snapdragon 865+ processor with 5G support. This tried and tested flagship chipset enables ultimate multitasking, allowing you to work on several apps at the same time without any sort of lag or stutter. You get up to 25% faster performance and up to 36% faster graphics performance than any other Android tablet out there!
All of these numbers also matter when you use the Samsung Galaxy Tab S7| S7+ to play or create content for your blog. You can make use of the ultra-fast graphics chip to run any high-end creativity apps out there, whether it's Photoshop Express, Canva Pro, etc. With the best internals on an Android tablet, the Galaxy Tab S7| S7+ lets you run high-end mobile games without any lags.
Smoothest display on a tablet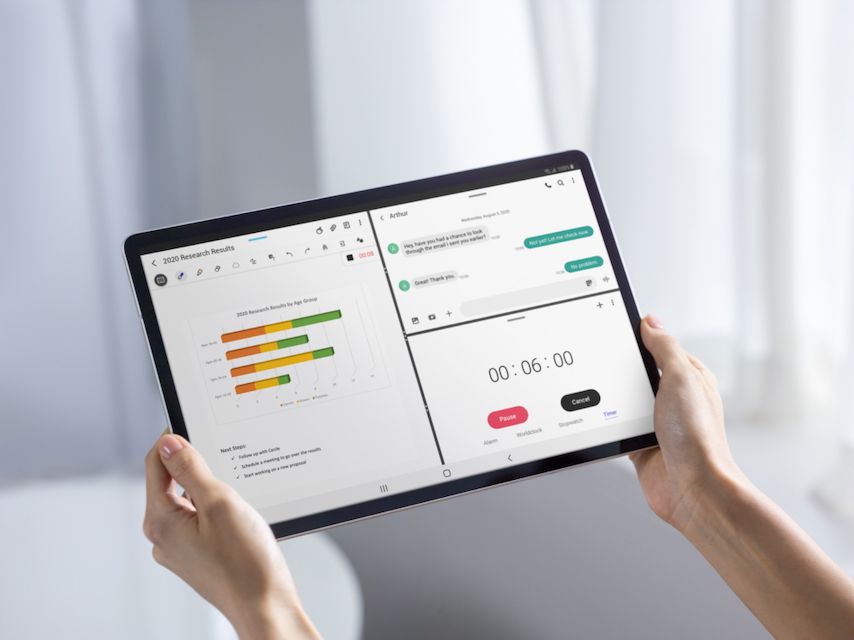 One of the biggest highlights of the Galaxy Tab S7| S7+ is the gorgeous display on offer. You get a 120Hz Super AMOLED display on the Galaxy Tab S7+, which features a spectacular WQVGA+ resolution with HDR10+, NTSC colour range, and proprietary SGS Eye Care certification that ensures you get the crispest picture quality without putting a strain on your eyes. The refresh rate of 120Hz (first time on an Android tablet) gives you smoother transitions while you scroll, making it a delight to use. This is best experienced when playing multiplayer games like Fortnite and Call of Duty, where you can see the impact that this sort of super-smooth display has to offer. The two tablets also have a smart battery saving feature that intelligently adjusts the refresh rate based on the content so you can save battery as you use the device.
S Pen is mightier than the sword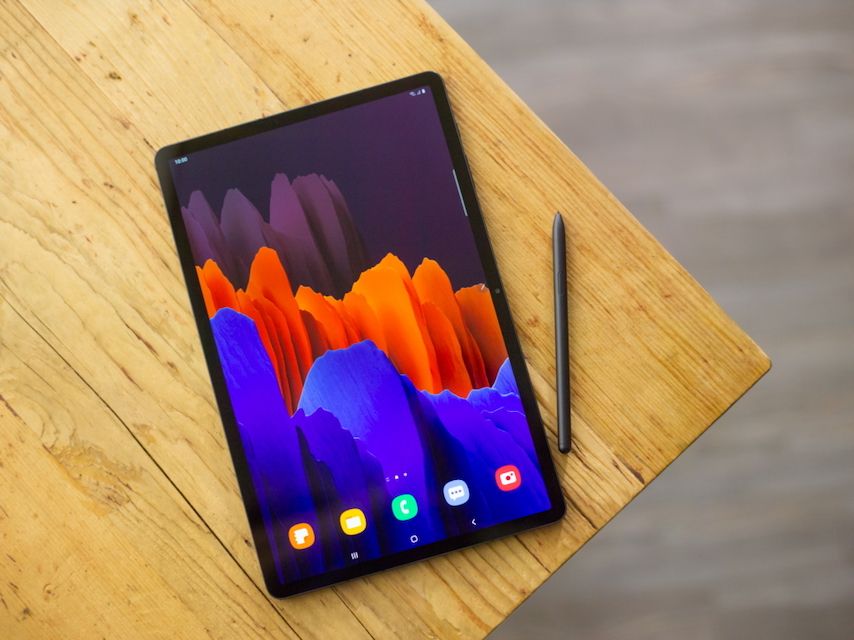 With screen sizes going up to 12.4-inches, the Samsung Galaxy Tab S7+ can give you a PC-like experience with the portability of a lightweight tablet. You can create up to three large split-screen windows, whether vertically or horizontally, and use apps simultaneously to get your work done faster and more efficiently.
The new Samsung Galaxy Tab S7| S7+ comes with Samsung Notes which is a gamechanger in itself. You can jot memos, sign documents, write or draw straight on PDF documents in Samsung Notes. This is made possible by the most advanced S Pen, which offers the biggest leap yet in responsiveness thanks to the ultra-low latency. You get a highly realistic writing experience, which won't make you miss your notepad for even a second. This new and improved S Pen comes in box with the Galaxy Tab S7| S7+ and magnetically attaches to the back of the tablet when you are done with your work.
The new S Pen also does wonders for your creative side. Just bring out the S Pen, open up the sketching app, and draw like you would on a real-life canvas. The results are astonishing, and you can share your artwork with the world in just a few taps.
You can manage your workload with the advanced folder management feature. The new Galaxy Tabs also provide you with audio bookmarks to keep track of all the tasks you need to finish. Furthermore, the above-mentioned 3-window multitasking takes the experience of working on the new Galaxy Tab S7| S7+ to the next level.
The convenience of Wireless DeX
Samsung has also provided Wireless DeX support on these new Pro-grade tablets, allowing you to switch over to a larger TV display wirelessly with the help of just a key, no strings attached. Switch over to a TV screen when presenting a deck or during a video call, all using the superior computing power of the Samsung Galaxy Tab S7| S7+. Wireless DeX is also a great tool to have when you want to indulge in some heavy mobile gaming. And the powerful processor makes sure that your game runs lag-free.
Other features that complement the performance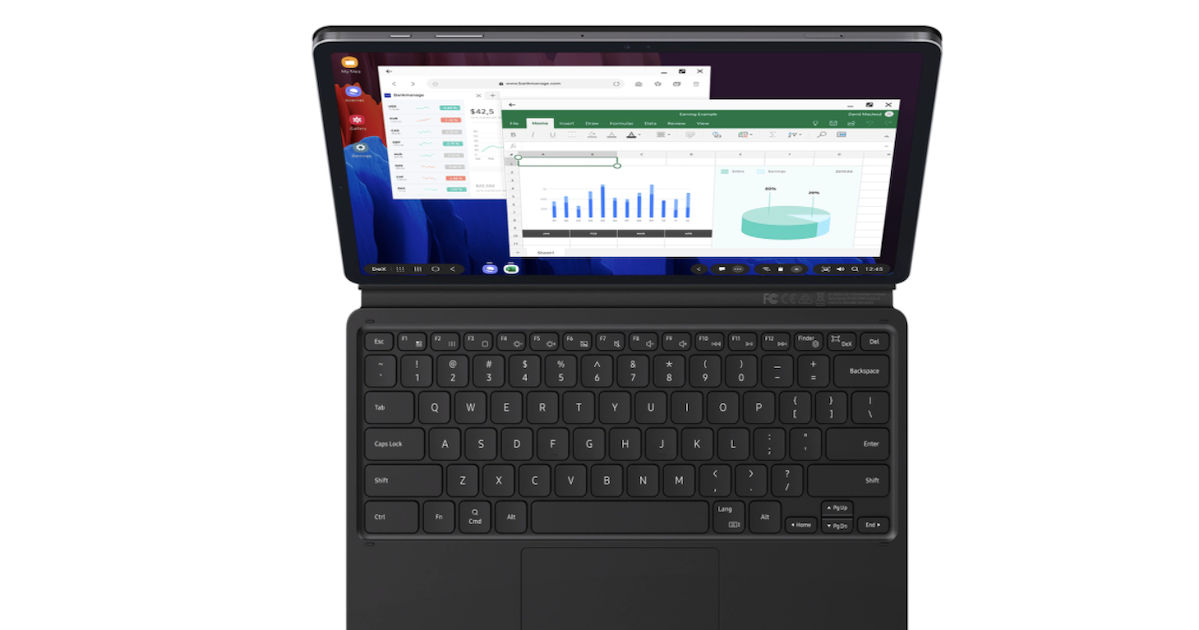 Not just flagship hardware and software, the Samsung Galaxy Tab S7+ comes with a massive 10,090mAh battery to help you make the most of the tablet without having to run for the charger. You get up to a whopping 15 hours of video playback on the Galaxy Tab S7 and up to 14 hours on the Galaxy Tab S7+. And even when you put these tablets on charging, they will be back in action within minutes thanks to the ultra-fast 45W charging support.
Sold separately is the revolutionary Book Cover Keyboard that holds the Galaxy Tab S7| S7+ at an angle of up to 165 degrees. Thanks to the free stop hinge, you can find the perfect angle for things like messaging, gaming, streaming, and more. You get a massive trackpad and a 63% larger keyboard overall when compared to its predecessor, the Galaxy Tab S6. All of these features combine to offer you a PC-like experience such that you won't miss your laptop at all.
Available now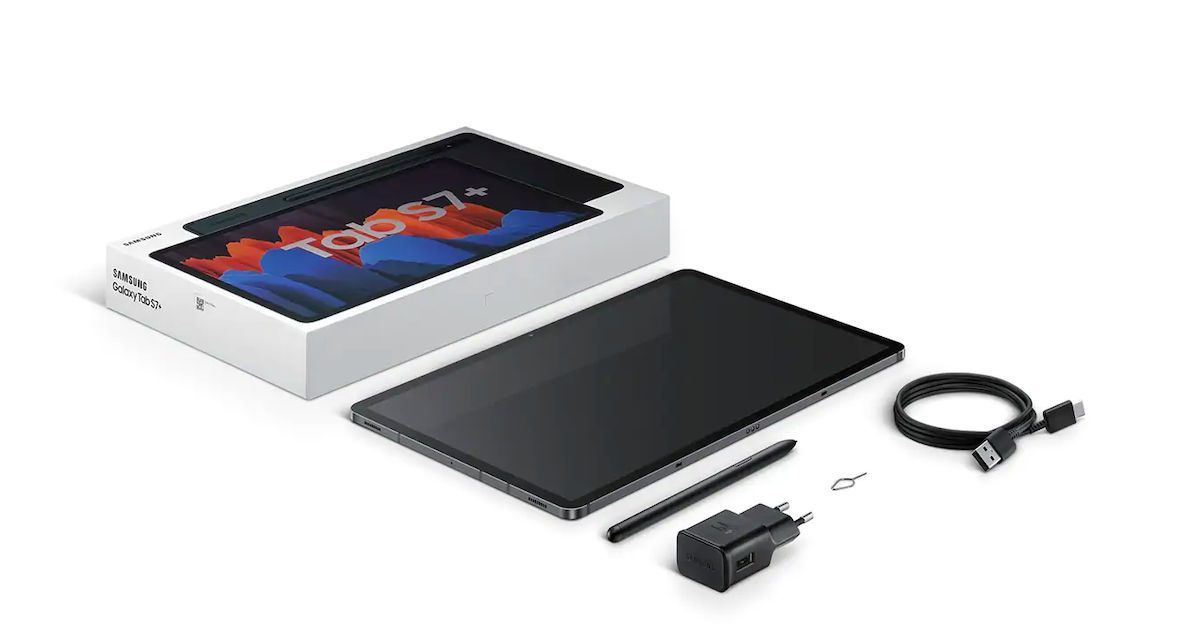 With top-of-the-line specifications, the smoothest display, powerful S Pen, and superb accessories, the Samsung Galaxy Tab S7| S7+ are truly the best Android tablets money can buy. The Tabs are available for purchase in India starting at Rs 50,399.
As far as offers are concerned, Samsung has festive offers going on to make the deal sweeter for you. You get 10% instant cashback and a 50% discount on Samsung Care+ accidental and liquid damage for a year and free YouTube Premium subscription for 4 months. If you are looking to get yourself the exciting Keyboard cover as well, Samsung gives you a Rs 10,000 discount when you buy a new Galaxy Tab S7 or S7+ during the festive season.
If you are in the market looking for a powerful device that is capable enough to manage your advanced work and play lifestyle, we can name two: the Samsung Galaxy Tab S7 and Galaxy Tab S7+! Check out more details about the two tablets on Samsung.com!