"Samsung claims that the handset packs a 'glass' display, which gets scratched as easily as plastic"
Samsung Galaxy Z Flip was launched last week with a unique "glass" technology that folds in half. The glass protection for the Galaxy Z Flip suggested better durability and protection against scratches and dents as compared to previous foldable phones with plastic screens. However, Zack Nelson from JerryRigEverything has revealed in his Galaxy Z Flip durability test that the apparent 'glass' screen can get scratched as easily as plastic. In the video, the YouTuber begins by scratching the Samsung Galaxy Z Flip's screen with Mohs hardness picks that started leaving marks far earlier than actual glass would.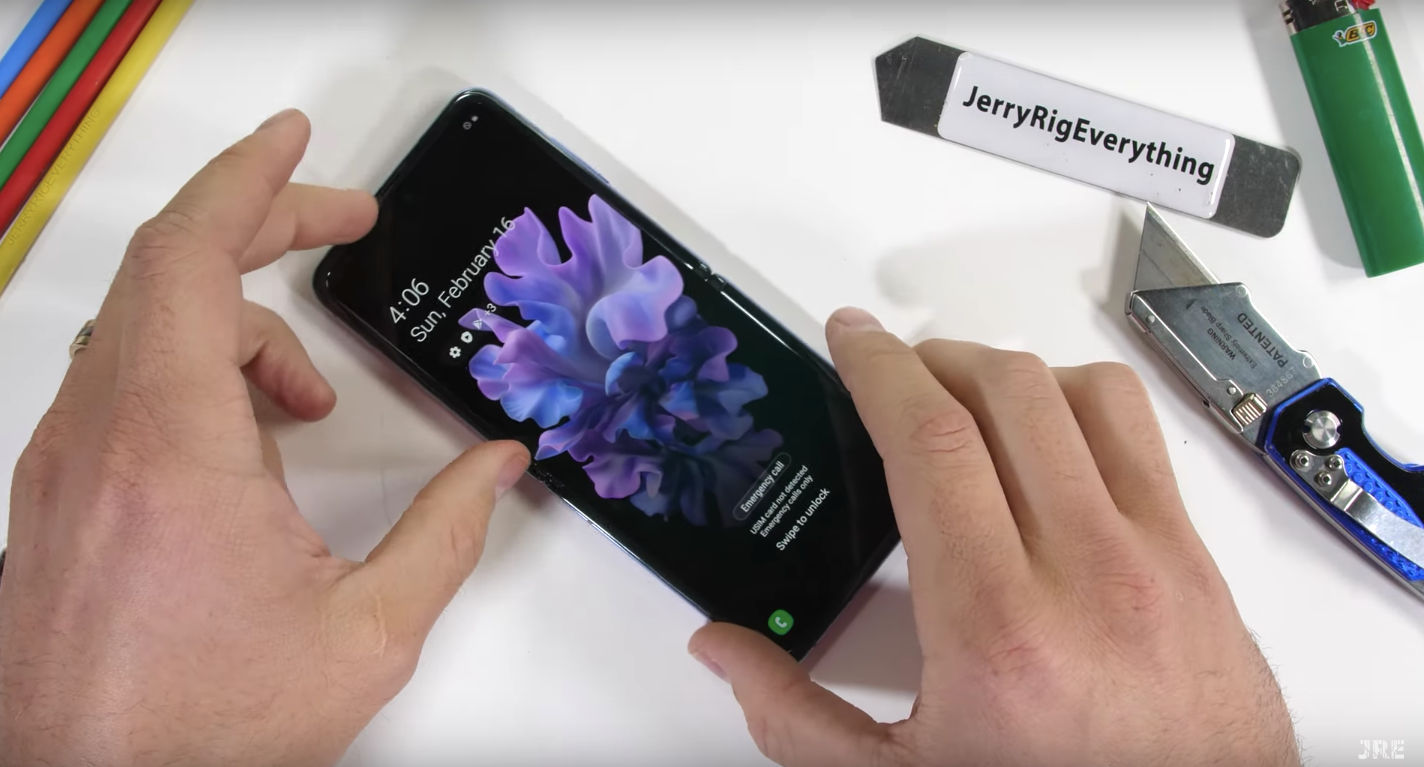 The Samsung Galaxy Z Flip's foldable glass screen started showing "scratches at Level 2 with deeper grooves at Level 3," which is in line with the plastic displays of the Samsung Galaxy Fold and the Moto Razr 2019. The display is also prone to marks from fingernails that shouldn't have been the case if Samsung was using real glass. According to Nelson, the vendor could be using a hybrid plastic polymer with microscopic bits of glass with it on the handset that seems to be more fragile than modern smartphone's glass which tend to show "scratches starting at a level 6, with deeper grooves at a level 7."
Samsung responded to the video in a statement to The Verge, claiming that the Galaxy Z Flip comes with an Ultra-Thin Glass to provide a "sleek, premium look and offer an immersive viewing experience." The company also revealed that it'll offer a Fold-like one-time screen replacement for $119 (~Rs 8,500) and that you can also get a free one-time application of a screen protector at "select" Samsung and UBreakiFix locations.
The heat and bend test on the Galaxy Z Flip didn't fare well either. The handset's glass on the back panel shattered upon folding it on the opposite direction, while the screen, though recovered, was left with burn marks after heating it for 15 seconds. In light to this story, a Samsung spokesperson said that the handset uses "first-of-its-kind UTG technology (which) is different from other Galaxy flagship devices. While the display does bend, it should be handled with care."
Samsung Galaxy Z Flip Video