With last year's Galaxy Fold, Samsung pioneered a completely new smartphone category – a device with the world's first 7.3-inch Infinity Flex Display that could be folded into a compact device with a Cover display measuring 4.6 inches. With the Galaxy Z Fold2 5G, that journey of innovation is moving even further. The Samsung Galaxy Z Fold2 5G smartphone, quite literally, is the epitome of innovation. The third-generation folding phone improves upon its predecessor in several massive ways by incorporating a wide variety of design overhauls and vastly improves the overall user experience thanks to the superior tech it packs.
Samsung Galaxy Z Fold2 5G is meant for those demanding the foldable form factor without compromising on the latest and greatest tech the smartphone industry has to offer. Let us take you through the superior tech the Galaxy Z Fold2 offers and how that adds value to your smartphone experience.
Bigger screens than ever before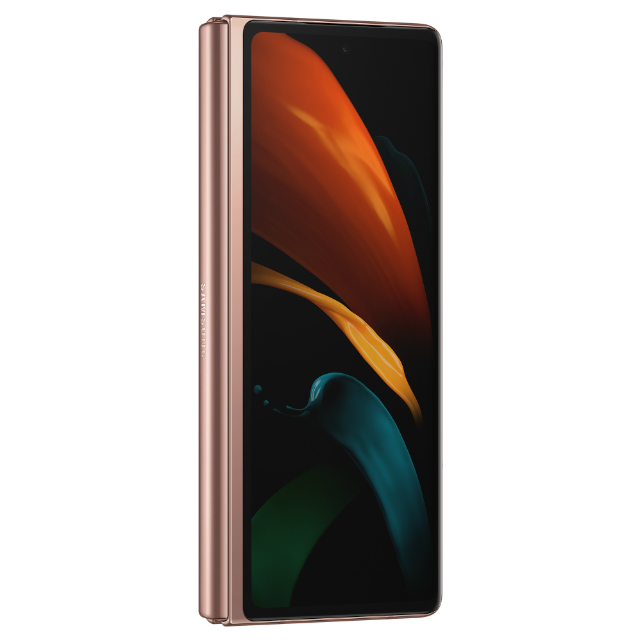 The Galaxy Z Fold2 ships with two Infinity-O displays – first there's the Cover Screen for completing quick tasks without unfolding the screen and then there's the much bigger Main Screen that you can access by unfolding the phone.
The Cover Screen on the Galaxy Z Fold2 5G is 35 percent bigger at 6.2-inches, meaning more room to play around even while you go through most quick tasks. This immersive display Super AMOLED display with HD+ resolution and 25:9 aspect ratio leaves very little room for bezels as it reaches edge to edge. The Infinity-O design of the panel keeps the design elegant while also fitting in a 10MP Cover Camera quite conveniently. It doesn't, in any way, deserve the tag of a 'secondary display' when you use the Galaxy Z Fold2 5G, the Cover Screen will give you everything you need to complete quick tasks without opening up the device. No compromises.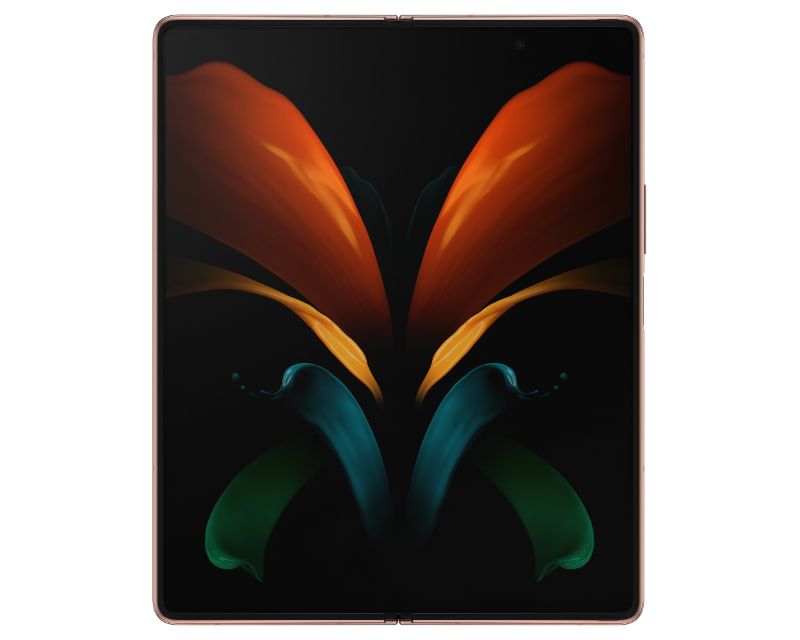 As for the Main Screen, it's a 7.6-inch Dynamic AMOLED 2X display with a super-wide 22.5:18 aspect ratio, HDR10+ support, and 120Hz refresh rate. And this dynamic display has been optimised to work with varying refresh rates, from 11Hz to 120Hz, so that you get the best viewing experience without sacrificing battery life unnecessarily. Additionally, the new 7.6-inch Main Screen display reduces blue light emission to protect your eyes when you use the Galaxy Z Fold2 for long hours.
Unfolding the phone paves the way for the tablet-sized screen that provides you with infinite possibilities on your fingertips – there's more room that ever for everything you love, whether it's gaming, watching videos, video calling, and so much more. When you unfold this smartphone, any app that you had open on the Cover Screen immediately adapts itself to the Main Screen in a seamless manner.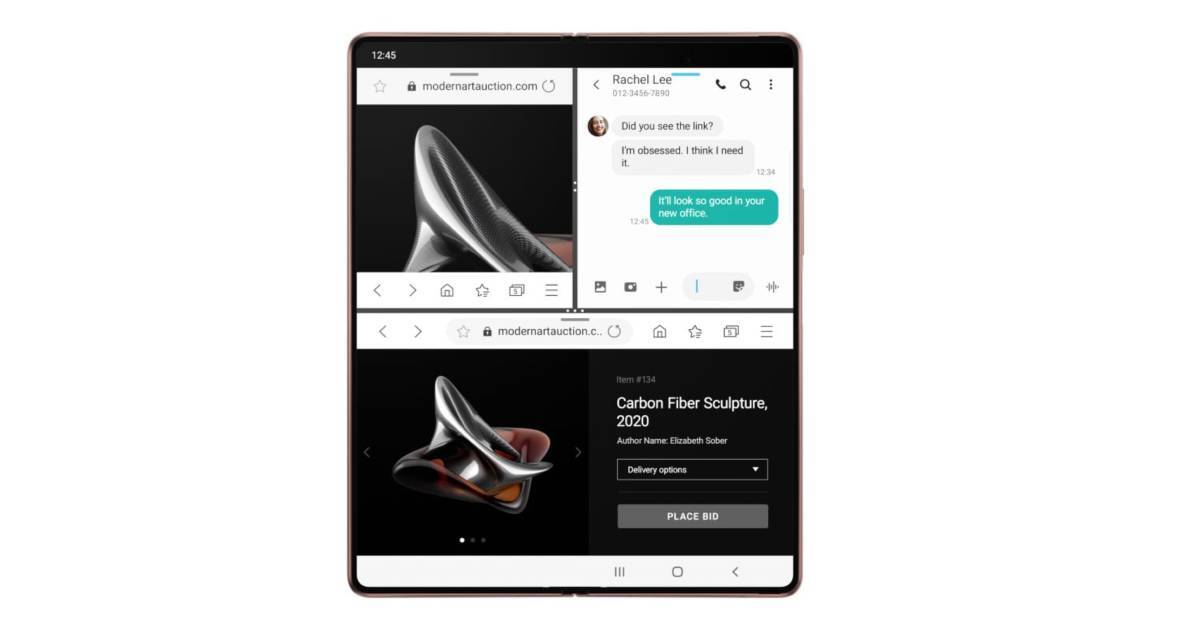 An excellent application of the dual-screen experience can be experienced when you're clicking selfies. The Flex Mode camera lets you use the flexible display to capture photos and videos from various angles, something no other smartphone can achieve without specialised equipment. Pick any angle you like and the Galaxy Z Fold2 will capture it perfectly for your next vlog. Then there's the Dual Preview feature. It can turn both the Cover and the Main screens into the viewfinder when you take photos using the triple rear cameras. This allows the subjects to adjust poses and appear their best for their next Instagram photo!
Despite so many technologies and features packed into it, the Samsung Galaxy Z Fold2 is still just 16.8mm thick, making it easy to carry it around in your pocket. All this means you get the best display experience in the largest screen size the industry has to offer, in a package that is not only easily pocketable but also easy to grip.
The fantastic Hideaway Hinge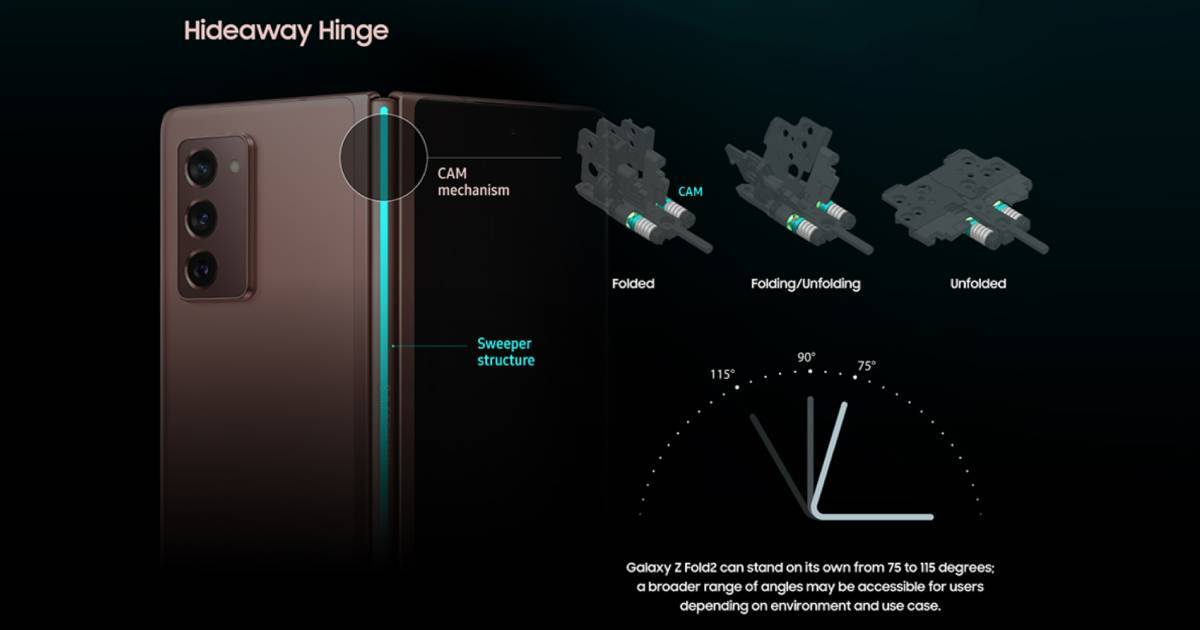 Samsung has introduced with the Galaxy Z Fold2 a completely revamped Hideaway Hinge design. Not only does it allow the phone to fold smoothly and stand on its own at different angles, but thanks to its strong and sturdy nature, it also enables the device to offer the wonderful Flex Mode. The Hideaway Hinge uses a dual CAM mechanism with a Sweeper structure – this means that the folding motion is not powered by just magnetism anymore but relies on the robust CAM mechanism to keep the display propped up whenever you need it to.
The Hideaway Hinge, as we said, is responsible for the Flex Mode, which allows the device to stand on its own from 75 to 115-degree angles. This is excellent for multi-tasking and Samsung has introduced enough UI changes to make the most of this mode and establish Samsung Galaxy Z Fold2 as the most advanced smartphone out there. So, for instance, when you're watching a YouTube video in Flex Mode, it will be played on the upper half, while the comments will get displayed in the lower half. While using the rear cameras in Flex Mode, the phone displays controls and previous image previews on the bottom half, while the viewfinder is present on the top half.
Samsung Ultra-Thin Glass defies physics
The Main Screen of the Samsung Galaxy Z Fold2 is made of Ultra-Thin Glass, an OLED panel that can fold without breaking. This glass sheet is only 30-microns thick and is produced using an intense process that enhances its flexibility and durability – this translates to a physics-defying glass that is thin enough to bend but sturdy enough to not take any damage after repeated folding and unfolding. Underneath the glass rests Dynamic AMOLED 2X display, which offers the ultimate immersive experience. Samsung provides added protection to the Ultra-Thin Glass with a plastic layer that doesn't allow day-to-day scratches to affect your user experience.
Ultimate performance
Samsung Galaxy Z Fold2 is a transformative smartphone, one that packs more than enough power to deliver an experience that's a cut above the rest. The Qualcomm Snapdragon 865+ chipset, 12GB of RAM, and ultra-fast 512GB UFS 3.1 storage mean you have all the computing power you'll ever need, right on your fingertips. And like all Samsung flagships in recent times, the Galaxy Z Fold2 also comes with 5G support. The ultra-fast connectivity standard is still to make its way into India, but its inclusion in the phone's offerings is one more thing that makes the device future-proof.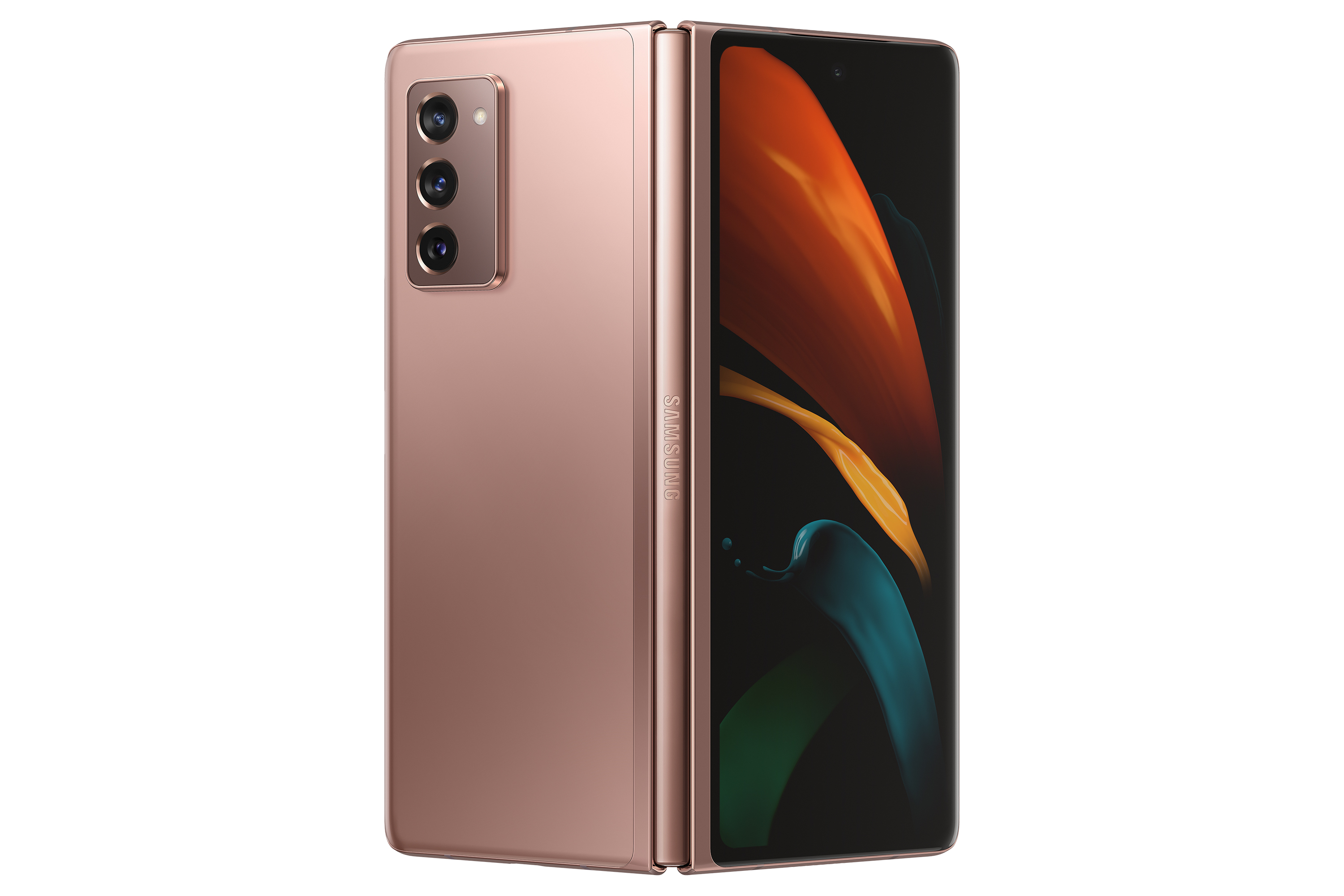 With advancements and refinements like these, Samsung Galaxy Z Fold2 5G stands in a league of its own and delivers a user experience like no other smartphone. The technology it packs is miles ahead of the competition and the user experience is delivers is truly transformative. There is truly no other smartphone that comes anywhere close to offering an experience remotely similar to that of the Galaxy Z Fold2. And it can be yours now via the official website, with the price set at Rs 1,49,999 for the sole 12GB + 512GB configuration. Add to that the host of services What makes the smartphone an even more attractive proposition.
Samsung Galaxy Z Fold2 comes with the Galaxy Z Concierge service, which provides 24×7 assistance to buyers of this ultra-premium smartphone as well as Samsung Care+ protection against accidental and liquid damage for a year. You can also get the Microsoft Office 365 productivity suite at a steeply discounted price of just Rs 4,099, along with free access to YouTube Premium for four months and Rs 2,000 off on anything you buy from the Samsung Shop app. You can also avail no-cost EMIs starting at just Rs 12,499 per month!
So, head online today and make the Galaxy Z Fold2 5G yours to experience the best of smartphone tech the industry has seen so far.
Click here to buy Samsung Galaxy Z Fold2
*Galaxy Z Fold2 is 5G Ready. Compatibility dependent upon 5G network availability in India.