Samsung has revolutionised the way we use premium smartphones, especially with its new Galaxy Z Fold2 5G. The world's most advanced foldable smartphone is now available in India, and offers a superior design, foldable mechanism, flagship specifications, and stellar cameras in a package that only Samsung can provide. I got a chance to give the Samsung Galaxy Z Fold2 5G a try and check out its several multitasking innovations including app continuity, multi active window, and a lot more. Here are my thoughts on how the Galaxy Z Fold2 5G is positioned as one of the most premium smartphones to buy in India right now.
Seamless continuity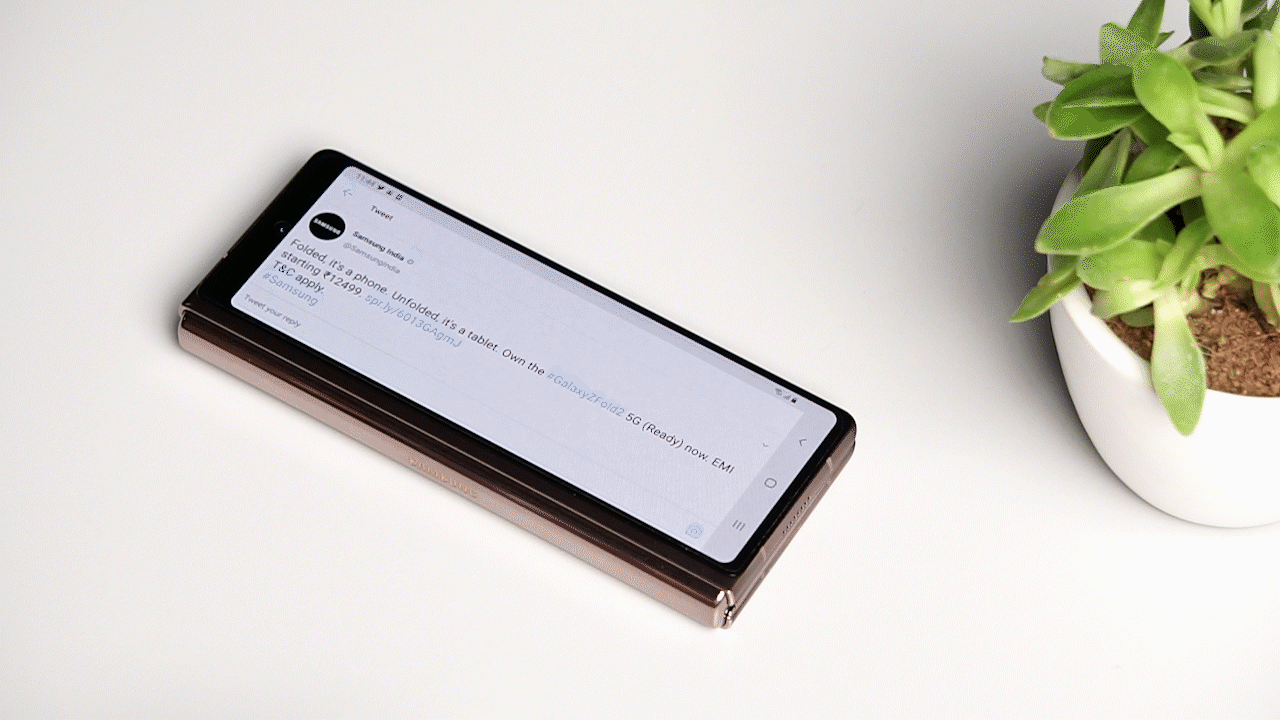 App Continuity is one of the best features of the Samsung Galaxy Z Fold2 5G. You can easily switch between the smaller Cover Screen and the large main screen without disrupting your app experience. Most major apps have been optimised to support App Continuity, which gives you a fluid user experience.
You get a sufficiently large 6.2-inch Cover Screen on the front, which makes checking notifications and replying to messages a delight. In fact, in my experience, scrolling through timelines on my favourite apps, Instagram and Twitter, on the Cover Screen was a great experience as well, making it highly usable in day-to-day activities.
However, the true experience of using the Galaxy Z Fold2 5G comes from browsing and streaming content on its massive 7.6-inch tablet-like display on the inside. The power of having a massive display in the form factor of a regular smartphone, I believe, is the true value of owning the Galaxy Z Fold2 5G.
App Continuity allows you to enjoy the best of both worlds. When on the go, I was able to perform actions from making and taking calls to replying to my messages and even checking the number of retweets on my Twitter account. But when I was in a cab or waiting for someone, I fired up the main screen to enjoy the tablet-like experience, without interrupting any of the actions in the apps I was using.
Laptop-like multitasking in a compact form factor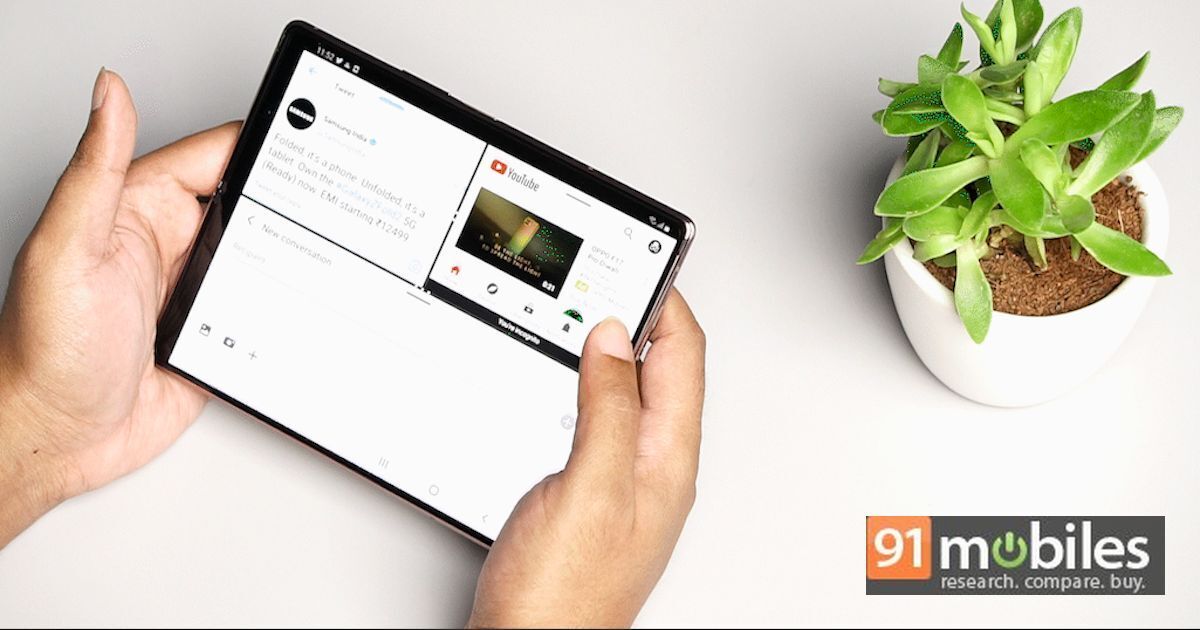 But what really takes the multitasking experience to another level is the presence of the multi active window feature. It lets you access not two, but three apps simultaneously on the bigger, main screen! I put this feature and App Continuity to the ultimate test by opening up the Twitter app on the Cover Screen, unfolding and switching to the main screen, opening up YouTube and Messages apps in two separate multi windows, and using all of them simultaneously.
I was pleasantly surprised to see how smoothly all of these actions took place, without causing any sort of stutter or frame rate drop on the Samsung Galaxy Z Fold2 5G. This is the first time that I am able to watch YouTube videos while replying to my followers on Twitter and checking for the latest texts in my Messages app. Truly magical considering you get laptop-level performance and multitasking on a foldable smartphone!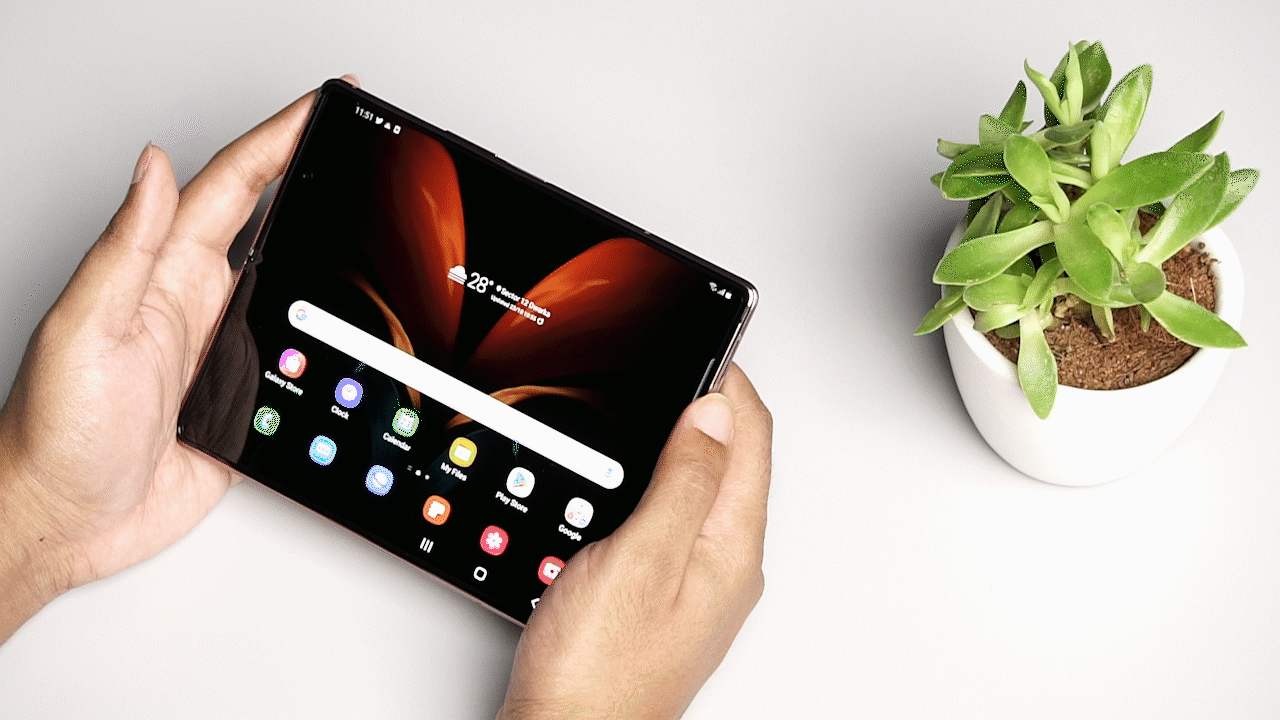 After being impressed with these multitasking capabilities, I decided to turn things up a notch. Using the advanced App Pair feature on the Galaxy Z Fold2 5G, I linked the Twitter, YouTube, and Messages apps as a shortcut on the Edge screen. This is a very nifty way to access them as you don't need to open all three apps each time and position them individually. You can just fire up the Edge screen, choose this preset App Pair, and watch as all three apps open up in a jiffy, bringing you right where you left them.
One nifty feature that Samsung has added to further enhance the multi window experience is Split Screen Capture. When in multi window mode, with 2 or 3 apps open simultaneously, you can take a screenshot like you normally would and the smartphone instantly divides it into the number of apps that are active. So, you just drag the Twitter screenshot and send it to someone on the Messages app by dropping it there. With this level of innovation, Samsung has ensured that all your use cases are covered by the Galaxy Z Fold2 5G. It is offering an ultimate ease of usage on this foldable smartphone from the future.
An ultimate camera experience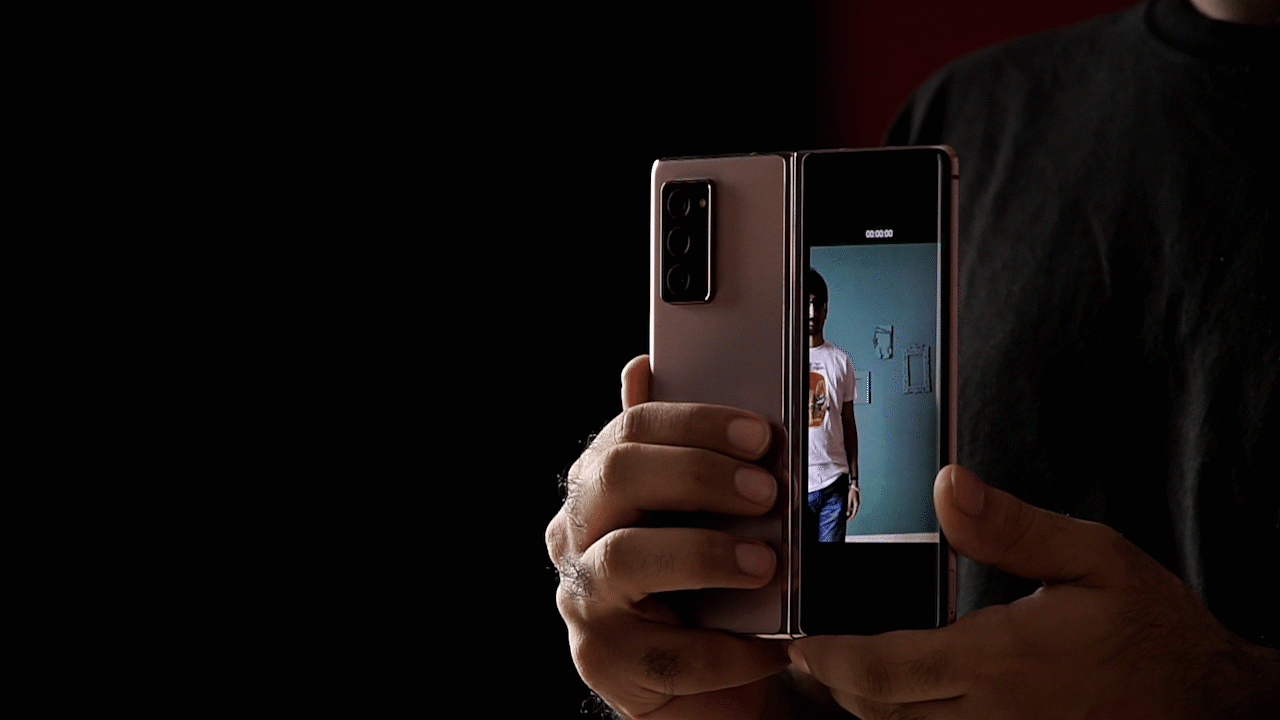 Much like its multitasking capabilities, the camera experience on the Galaxy Z Fold2 5G is revolutionary too. You get a grand total of 5 superior cameras, with 3 on the back of the smartphone, one on the inside of the main screen, and then one on the Cover Screen. The best part about this camera setup is that it allows you to take clear selfies from both the Cover Screen as well as the main screen, using two equally brilliant shooters.
Both of these selfie cameras are of the punch-hole kind, which allows you to have an immersive experience while getting the best camera optics. I took a lot of selfie shots from the camera on the Cover Screen, while easily switching to the one on the main screen for my group selfie sessions. The 7.6-inch screen is so gorgeous that you can actually use its selfie camera as a mirror before your virtual meeting, too!
And if one is being creative, as I was while testing the Galaxy Z Fold2 5G, you can also take some gorgeous rear cam selfies using the Dual Preview mode with the triple camera setup at the back. Just unfold the smartphone, face the Dual Preview on the Cover Screen towards you, and click the best selfie by tapping the easily accessible shutter button on the main display. Dual Preview is also useful when capturing someone else. They can get a preview of what the shot and its framing look like, and get the shot they prefer. This feature really made it so convenient to capture photos of my camera conscious brother who approved all the shots in the first take!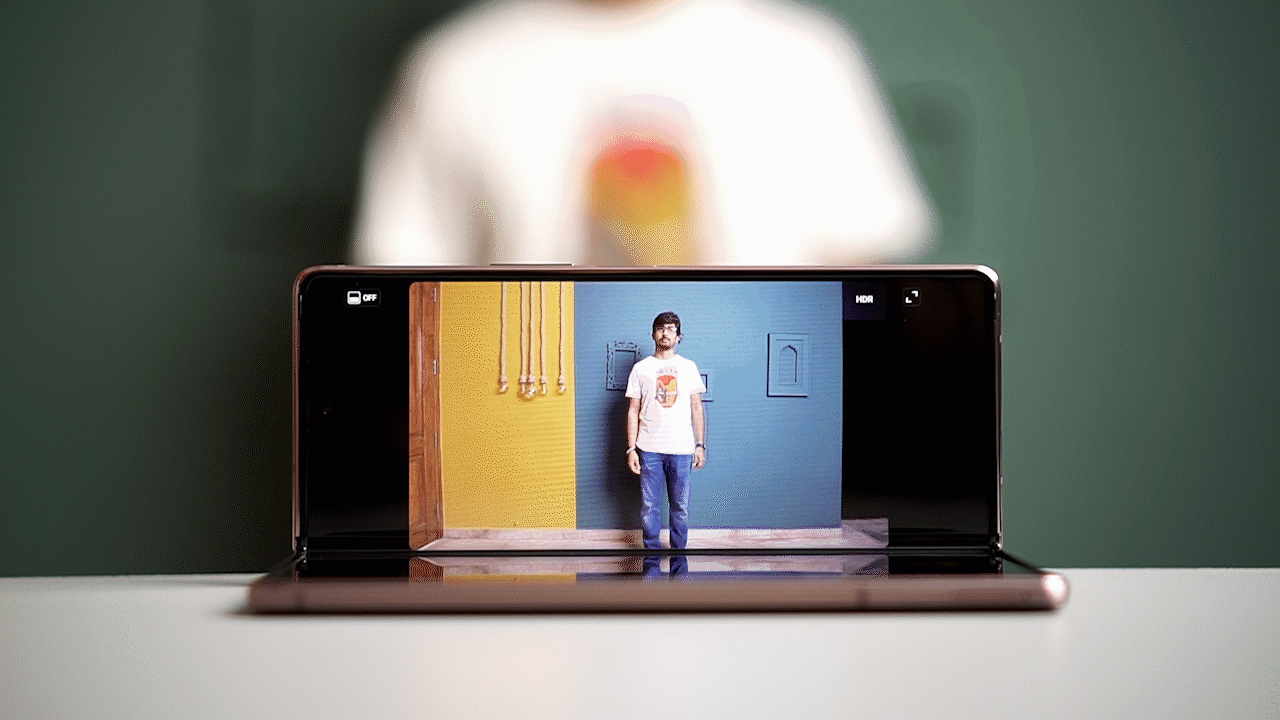 Before I forget, just because of the sheer features on offer, let me also talk about auto framing. For the premium smartphone that this is, you get professional video camera-level features on the Galaxy Z Fold2 5G. Auto framing is one of them. The rear cameras will use this technology to shift the view and focus only on the subject in the video. If it's one person who is in the video, it will follow the motion to keep you centered. And it can also give you a wider or closer shot depending on the number of people in the video. I tried it out and the results were tremendous. You get a pro level of focus and clarity with a smartphone camera that is miniscule in size compared to the large lenses on professional video cameras. This advancement is owed to the R&D efforts from Samsung that employs the best resources to keep bringing its customers futuristic features that work just like you would want them to.
Available now with exclusive offers
All of these features on the Samsung Galaxy Z Fold2 5G can be yours at an attractive price of just Rs 149999, which can be divided into easy no-cost EMIs starting at just Rs 12499 per month. It is available in Mystic Bronze and Mystic Black colour options, both of which give you the most premium feel on a smartphone.
The Galaxy Z Fold2 5G is now available in India via Samsung.com and leading retail stores. As part of an introductory offer, you get access to 4 months of free YouTube Premium membership and 22 percent discount on Microsoft Office 365. There is also an assured 5 percent cashback up to Rs 1000 when you pay using OlaMoney Postpaid+. Samsung Galaxy Z Fold2 5G comes with the Galaxy Z Concierge service, which provides 24×7 assistance to buyers of this ultra-premium smartphone as well as Samsung Care+ protection against accidental and liquid damage for a year. So, if an ultimate foldable smartphone with superb multitasking and flagship camera features is on your wishlist, the Samsung Galaxy Z Fold2 5G should be in your cart!