"Samsung has applied a patent for the Galaxy Tab with a foldable screen with the EUIPO and WIPO"
After the world's first foldable smartphone, Samsung seems to be prepping to launch its tablet with a foldable screen. A patent listing has surfaced on European Union Intellectual Property Office (EUIPO) and the World Intellectual Property Organisation (WIPO) database, revealing Samsung's upcoming Galaxy Tab with a flexible screen. Like the company's Galaxy Fold, the tablet in question is also expected to fold in half. It'll, however, reportedly feature a clamshell design, with a hinge at the back panel that'll swing vertically from top to bottom instead of horizontally.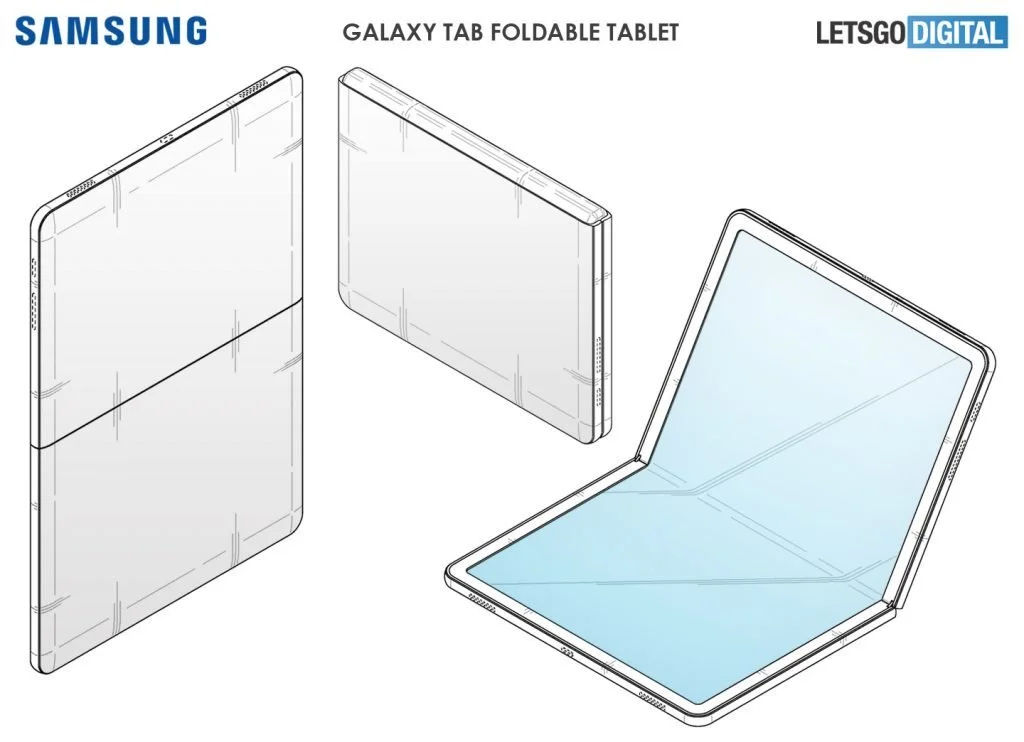 As reported by LetsGoDigital, the foldable Samsung Galaxy Tab will have a slightly bigger form factor than the Galaxy Fold, which sports a tablet-sized 7.3-inch screen. Furthermore, the edges of the tablet seem sharp instead of curved, with the power button and volume rocker on the right spine. The left edge is not visible but we can tell you that the bottom edge appears to house speaker grill with charging port – just like the current-gen Samsung Galaxy Tab S6. There will be a couple of speakers atop the tablet as well, as per the report.
That's all the information we can divulge at the moment. A tablet with a foldable screen seems to be an interesting proposition as it makes devices that are expected to make replace laptops compact enough to carry in their pockets. We expect to learn more about the foldable Samsung Galaxy Tab in the near future when the device gets into mass production. We hope the tablet will be more durable than the Galaxy Fold smartphone, which was relaunched in September after the design failure from earlier this year.