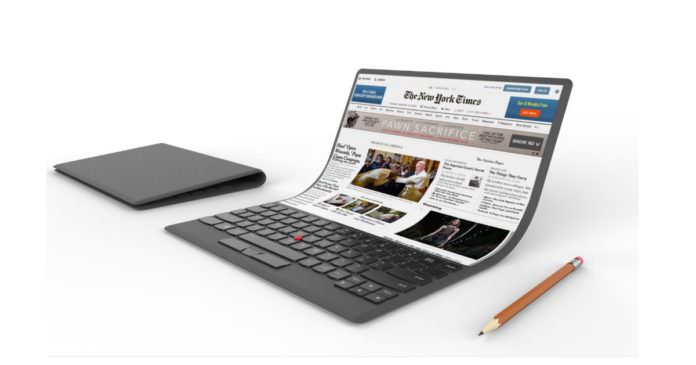 Taking their flexible display plans beyond smartphones, Samsung is now developing a foldable display laptop, the company confirmed yesterday during a launch event in Korea. Lee Min-cheol, Samsung's Vice President of marketing for PCs, said that a new form factor for laptops is in the works and it will be of practical value to the user, rather than being an unfinished piece of technology. These laptops will leverage technologies found in flexible displays, which are currently being developed for smartphones and tablets.
"Like foldable smartphones, Samsung is collaborating with display makers to develop laptops with foldable displays that will not just simply fold in and out but create new value and user experience, amid the changing market trends for laptops," he said at the event. The idea is to provide a powerful laptop without compromising on portability. Foldable displays will allow users to have a smaller footprint during travel to enhance portability, otherwise they'll be able to open it up into a large screen and use it as a workstation, if they so desire.
Lee Min-cheol didn't say anything regarding a possible release date but considering that Samsung is going to unveil a foldable smartphone by the end of this month, the release of such a laptop can't be far away. And it's not just Samsung, other companies such as Microsoft and Intel are also working on such laptops. In fact, Microsoft's Project Andromeda has been covered quite extensively by the media. It is believed that Microsoft has reconsidered its strategy for Project Andromeda and is now going with a new hinge design and a single flexible display that can fold compared to the earlier dual-screen design which had to be shelved.