From launching well-rounded, well-priced smartphones, to making sure even its premium flagships can reach the masses, Samsung has been pulling out all the stops to give a tough fight to its rivals. This has been apparent in the analyses of our previous surveys as well, and the latest study we just wrapped up also indicates that the South Korean brand is surging ahead on many fronts. We're back with the 2020 edition of the Great Indian Smartphone Survey, and the first installment of the insights evaluation process takes a closer look at Samsung's apparent resurgence.
Samsung overtakes OnePlus on brand loyalty
The survey we just conducted throws up a bunch of data points that show how Samsung is pushing ahead. We'll be covering them here one by one, but first up is really the biggie. While OnePlus has been the chart-topper when it comes to brand loyalty in the past, it seems to have now been overtaken by Apple and Samsung this time. Just to be clear on what we mean by brand loyalty, it's the percentage change in the number of users who want to buy their next phone from the same brand as the one they're using currently.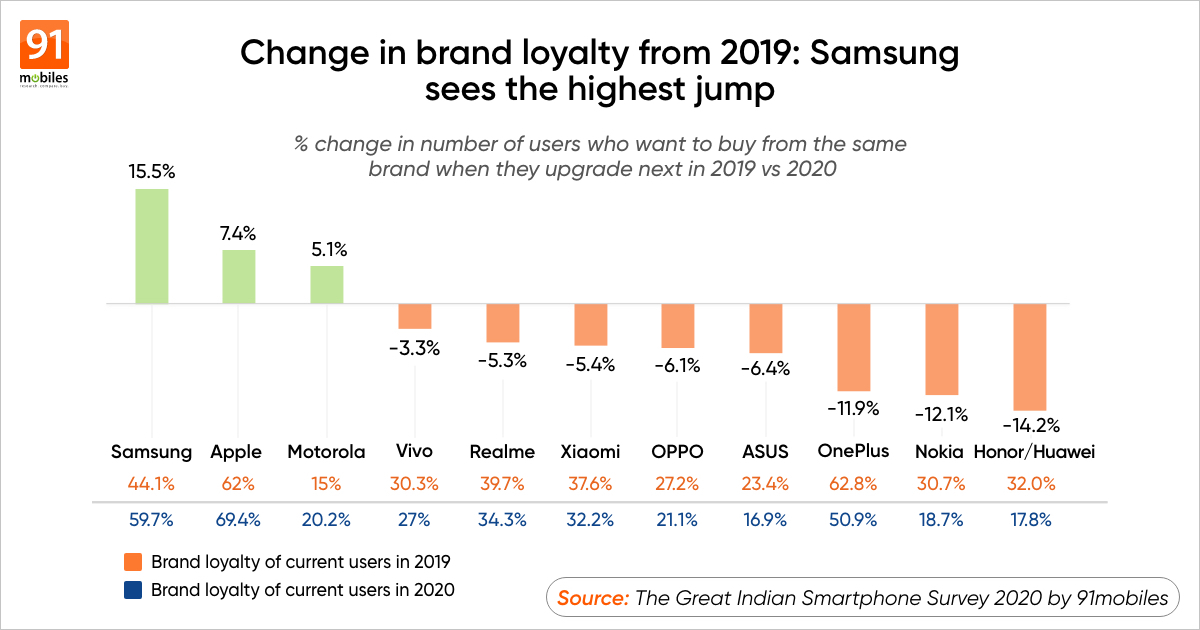 If we look at the percentage change between the data from 2019 and 2020 surveys, Samsung's jump in brand loyalty is the biggest. This means that a significantly bigger chunk of current Samsung users have said that they would choose a Samsung phone whenever they upgrade next. So the brand is definitely doing something right. Of course, the foundation of that positive sentiment is still a compelling range of smartphones. This year, Samsung has launched quite a few. There's the new F series that deserves a mention, but even in its existing range of M, A, S, and Note portfolios, there are quite a few noteworthy ones. Such as the Galaxy M51, the first mainstream smartphone to boast a 7,000mAh battery, or the Galaxy A51 that ticks most boxes in the mid-range. Samsung also added some new privacy-focussed software features in its Galaxy A51 and Galaxy A71 in an effort to appeal to the millennials.
Then there are programs like Samsung's Galaxy Assured and Galaxy Forever, that should have benefitted the brand quite a bit, and helped in terms of keeping users within the fold, no pun intended. Galaxy Assured is a buyback program for Samsung flagships, while Galaxy Forever makes owning premium Samsung phones much easier on the wallet, and includes a built-in upgrade scheme too.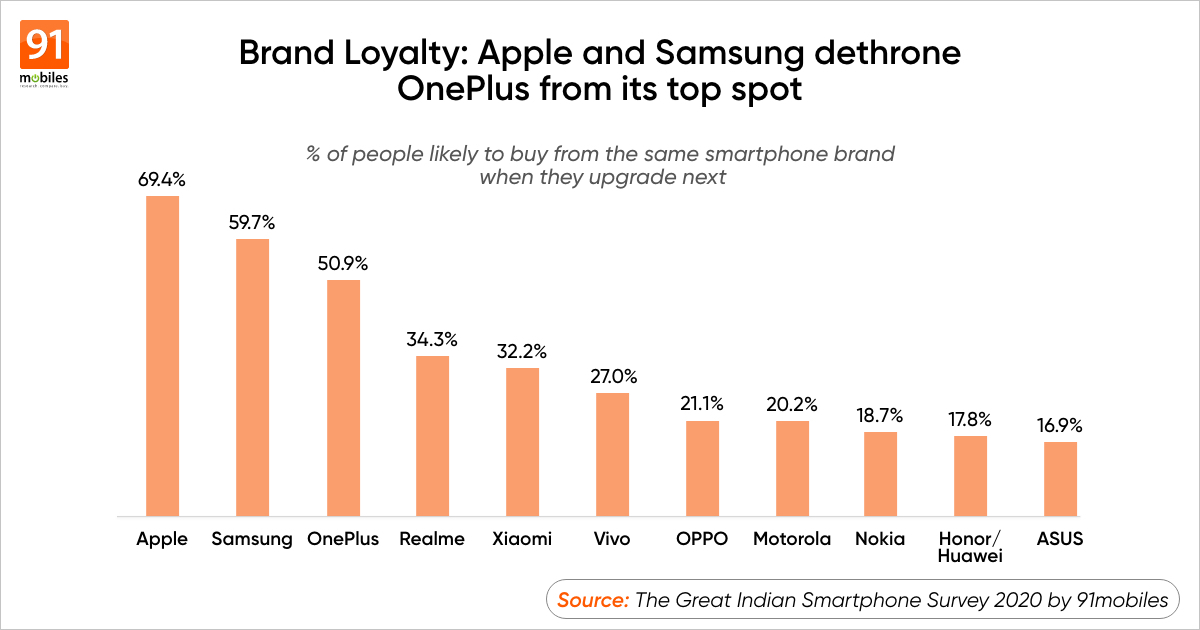 Do note that as far as brand loyalty is concerned, Apple is still higher than Samsung in absolute terms (as per survey data), but Samsung's jump is the highest when last year's data is compared to the most recent numbers.
With the point on brand loyalty covered, let's look at the other areas where Samsung has shown evidence of strong growth, using data points unearthed from the Great Indian Smartphone Survey 2020.
Samsung now occupies top spot in ownership share
Looking at the percentage share of the smartphone brands currently owned by survey respondents, Samsung sits at the top spot with a share of 27.2 percent. The South Korean brand has beaten arch-rival Xiaomi, which now occupies second place with a share of 20.2 percent. The scenario then, has reversed compared to last year's survey data, which showed Xiaomi on top, with Samsung appearing second.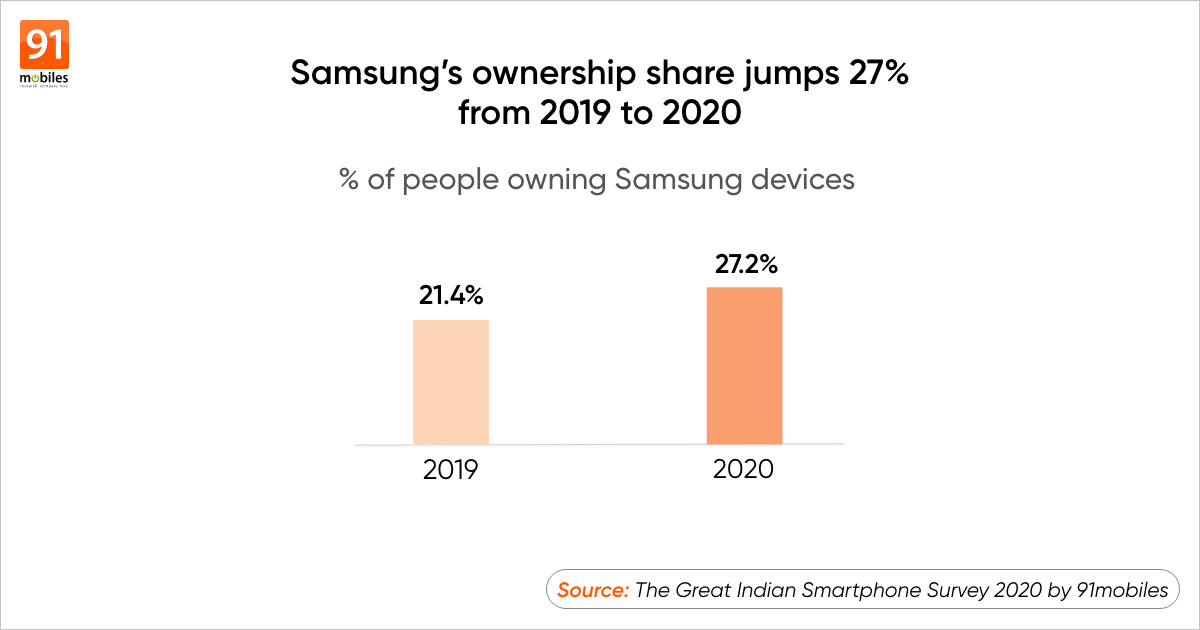 On a related note, Samsung's ownership share has jumped a whopping 27 percent as compared to last year, moving up from 21.4 percent in 2019 to 27.2 percent in 2020.
Samsung tops the charts in terms of future ownership share too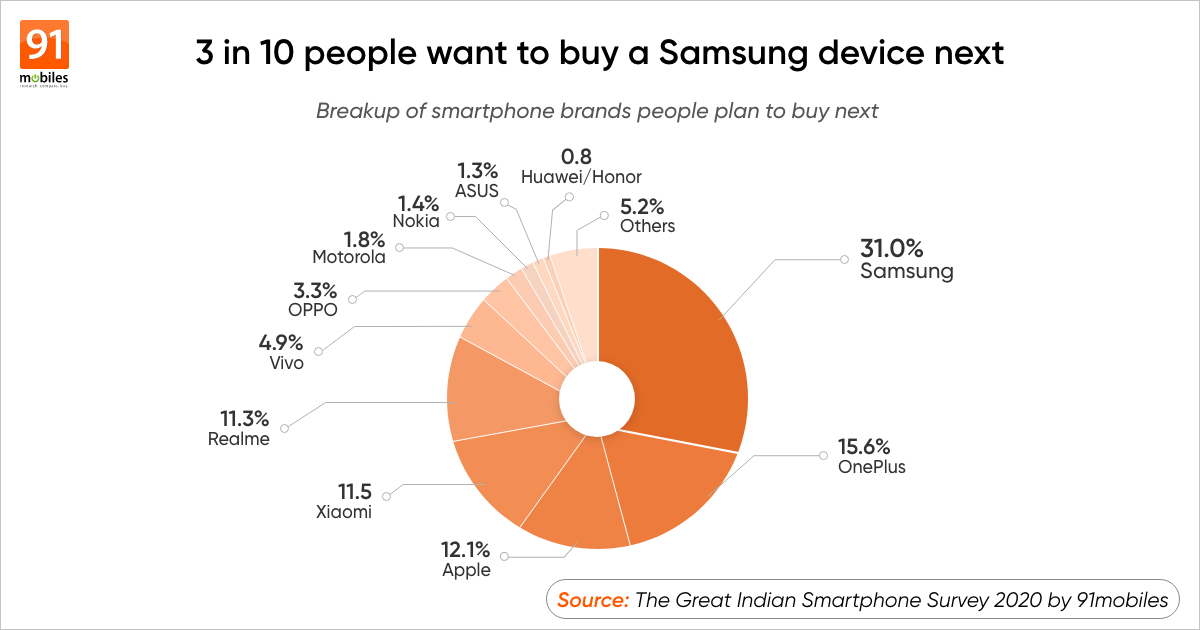 We asked users which smartphone brand they'd like to buy next, and a significant 31 percent respondents voted in favour of Samsung. In fact, with this 31 percent, Samsung tops the charts by a big margin, since OnePlus is seated a distant second with a share of 15.6 percent. Samsung's efforts across the board – charting out its product and pricing strategy, software features and updates, initiating plans and programs that compel people to buy its phones, and others – seem to be bearing fruit. In fact, the point regarding 3 in 10 people wanting to buy a Samsung smartphone also has a lot to do with data on how satisfied users are with their current devices. And that's another area where Samsung is scoring high.
A large chunk of Samsung users are satisfied with their phones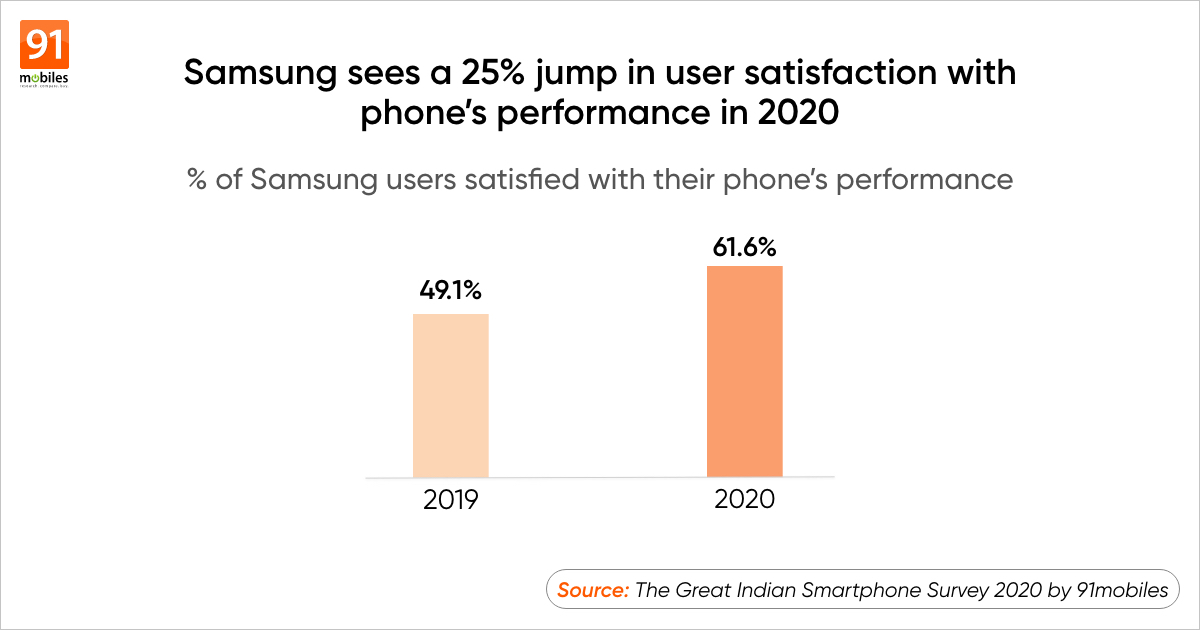 Let us first consider the data on the percentage of users who're satisfied with their phone's performance. Samsung has seen a 25 percent jump in user satisfaction in this aspect, with 61.6 percent Samsung users saying they're satisfied with their phone's performance this time. In 2019, the same figure stood at 49.1 percent. In a similar fashion, the percentage of Samsung users satisfied with their phone's battery has jumped by 20 percent, landing at 59.5 percent this year.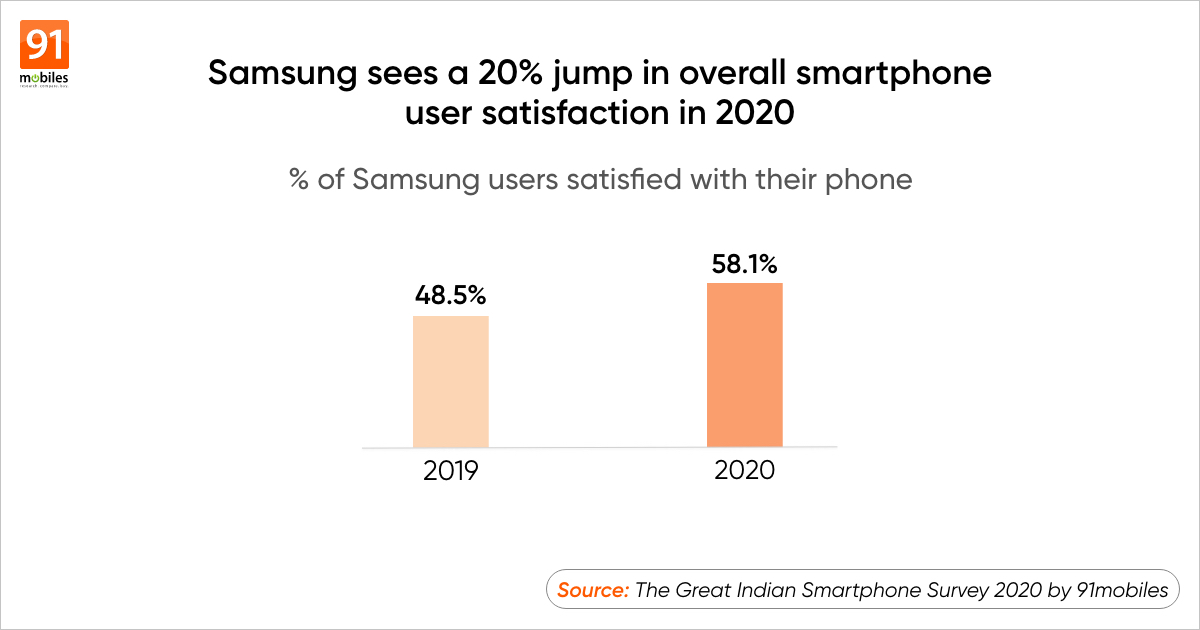 These are all important points, and contribute towards the 20 percent jump Samsung has seen in overall user satisfaction this time. While in 2019, 48.5 percent users had said they're satisfied with their Samsung phone, that number stands at 58.1 percent in 2020.
There are a bunch of factors that could have contributed to this growth in user satisfaction. For one, Samsung's One UI has evolved into a polished, comprehensive, and feature-rich Android platform. Of course, that's not something that can be attributed to just last year alone, but has become quite evident over the past few years. More recently though, the brand does seem to have improved on the value proposition its phones offer. The Galaxy S10 Lite and the Galaxy Note10 Lite that launched early this year are both excellent examples of this. As far as the growth in user satisfaction related to the battery is concerned, most M series devices and the sole F series smartphone are proof of how the brand has ensured high battery capacities in its affordable offerings. Of course, these high battery ratings (usually upwards of 5,000mAh) translate into good battery life in real usage as well, and no doubt have contributed to the growth in user satisfaction as well.
Overall, Samsung seems to be in an enviable position in the Indian smartphone market, judging by these insights from the Great Indian Smartphone Survey 2020. It seems to be closing the year on a high, and if the positive response received by recent launches like the Galaxy S20 FE and the innovative Galaxy Z Fold 2 are any indication, things are looking good for 2021 as well. Stay tuned for more insights from our survey.