"The Samsung patent shows the flexible display will unfold to reveal the notch with selfie camera, earpiece, and the sensor suite"
A new patent granted to Samsung shows a smartphone with a flexible screen that stretches out to give the user a bigger display in a relatively smaller body. The description of the patent, filed with the US Patent and Trademark Office (USPTO), mentions this design will allow for a smartphone that has a 16:9 display in standard mode but have a larger display with 18:9 aspect ratio when the display is stretched fully. We have seen a similar design earlier too — that one showed the smartphone's top edge would pop out to accommodate the bigger display panel. However, in the new design, the flexible screen will stretch from the bottom edge to roll out to its full size.
In the accompanying images, the Samsung patent application shows the smartphone will have a large, flexible display. While most of the display will be visible when unfolded, there will still be a portion — which includes the notch, the selfie cameras, and the sensors — that is rolled up behind the screen. This means that when the display is not stretched fully, the screen will not show the earpiece, selfie sensor, etc. This can provide a more immersive experience while watching videos, reading text, browsing, etc.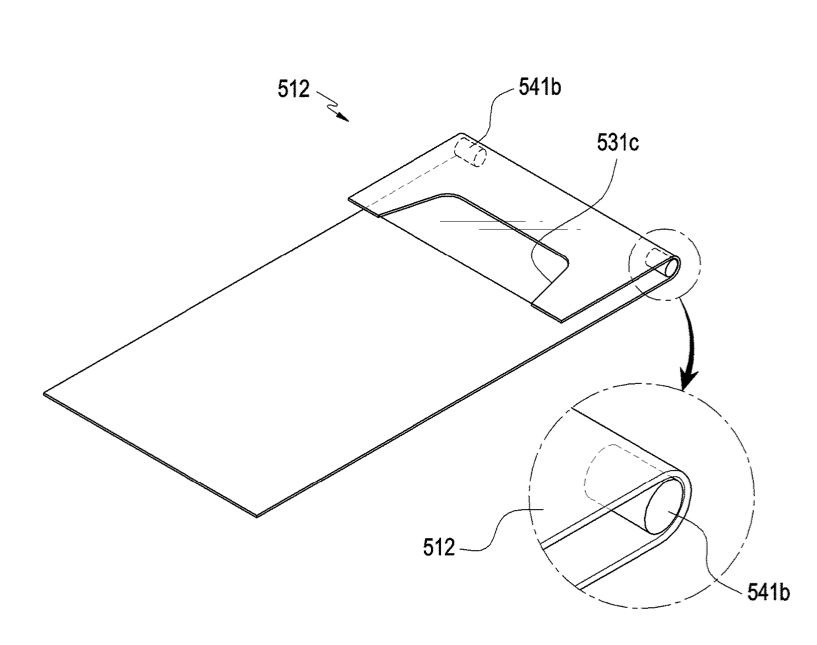 When the user will get a call or wants to take a selfie, the phone's screen will stretch out to its full length, revealing the notch that houses all the sensors. The flexible display unrolls thanks to a swivel mechanism that is placed towards the top. However, it is not clear whether the rollout mechanism will operate – automatically when it detects, for example, the camera app being opened, or using a dedicated key. The entire setup — from the display to the swivel mechanism — is enclosed in a back panel covers the frame on the left and right sides too.
There is no confirmation that such a design will make it to the market, of course, but it is one of the more obvious applications of flexible displays. With smartphones becoming more unwieldy every passing day, such a design will help keep phones pocketable but still allow for a bigger screen whenever required. There will always be a question mark over the longevity of slider, pop-up, and swivel mechanisms, but even those have become quite durable over the past few years.