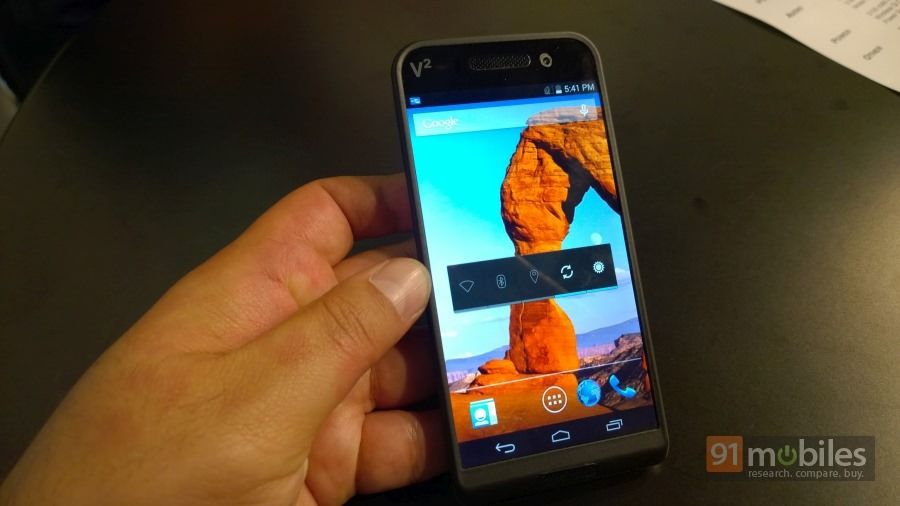 "The word 'loaded' falls short when it comes to describing the Saygus V2"
'Loaded' is one our favourite adjectives when it come to describing smartphones with powerful specs. But then, it does seem to fall short when we talk about the Saygus V2 (pronounced V-squared). Powerful flagships and devices with top-of-the-line hardware and crammed specs all cringe and drop into the shadows in shame when the Saygus V2 makes an appearance.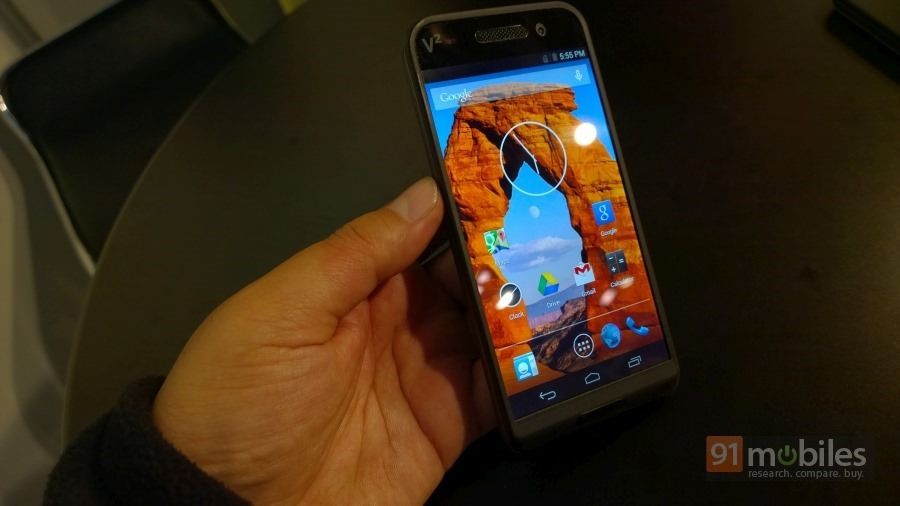 A look at the spec sheet is enough to explain why it's referred to as the superphone. Inside ticks a quad-core Snapdragon processor clocked at 2.5GHz, mated to 3GB of RAM and 64GB internal storage, while the screen is a 5-inch display offering full HD resolution and layered with Corning Gorilla Glass 4. So what's the big deal? These specs aren't unique by any means, since many recent flagships boasts the same, and even more. Well, how about dual microSD card slots, with each supporting up to 128GB? That means you could have up to 320GB storage on the Saygus V2 counting the 64GB it already has. 320GB local storage on a phone is more than some laptops, and means you'd have space for all your videos, music and pictures, and then some more.
The device sips power from a removable, 3,100mAh battery, and it wouldn't be unreasonable to expect wireless Qi charging from a smartphone that has almost everything. It offers exactly that, and there's a power-saving chip that claims to boost battery life by up to 50 percent.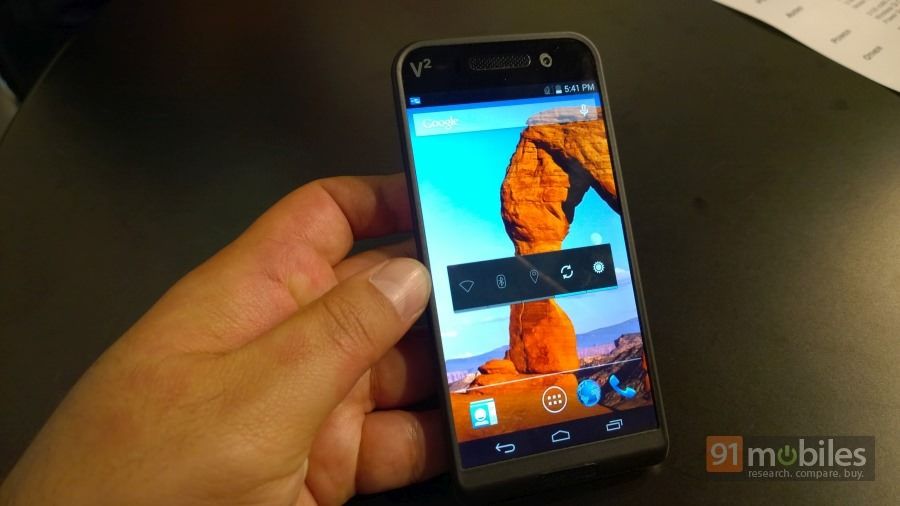 All the connectivity options are there, including support for both CDMA as well as GSM LTE, NFC, video-out via MHL, dual-band Wi-Fi (with support for the latest ac standard), Bluetooth 4.0 LE, and an infrared transmitter, but that's not all. The Saygus V2 is the world's first smartphone to feature wirelessHD (aka WiHD), a new standard that uses the 60GHz spectrum to beam content such as videos and games sans wires to a compatible dongle, which when connected to a large-screen television, offers a lag-free entertainment experience.
The monster of a device saw first light of day at this year's CES, but we got a chance to go hands on with it at MWC, and you should read what we have to say. We'll be exploring the design and some of the other features alongside.
Clad in metal and sporting a Kevlar back, the device feels solid, and well, bomb-proof – that's the only way to put it. Wondering what's happen if you drop the device into water? Nothing, since it's IPx7 certified for waterproofing.
The front features the edge-to-edge 5-inch full HD display, along with a rather large speaker at the bottom. Truth is, the Saygus V2 boasts stereo speakers and three microphones (for noise cancellation), and the speakers and the mics are powered by Harmon Kardon.
On top, you'll find the earpiece, sensors and the front camera. You may have heard about selfie-centric smartphones, but this handset is in a slightly different league. Not only does its front shooter offer a high megapixel count of 13-megapixels, it even supports autofocus and optical image stabilisation. Read again – we're referring to the front camera… and not the primary one. So you may be wondering what the primary shooter has to offer. The answer is – a 21-megapixel sensor, complete with autofocus, optical image stabilisation, and a dual-LED flash. There's nothing on the left, while the micro-USB port and headset socket are both placed at the bottom. The top holds the infrared transmitter, and one of the noise-cancellation microphones.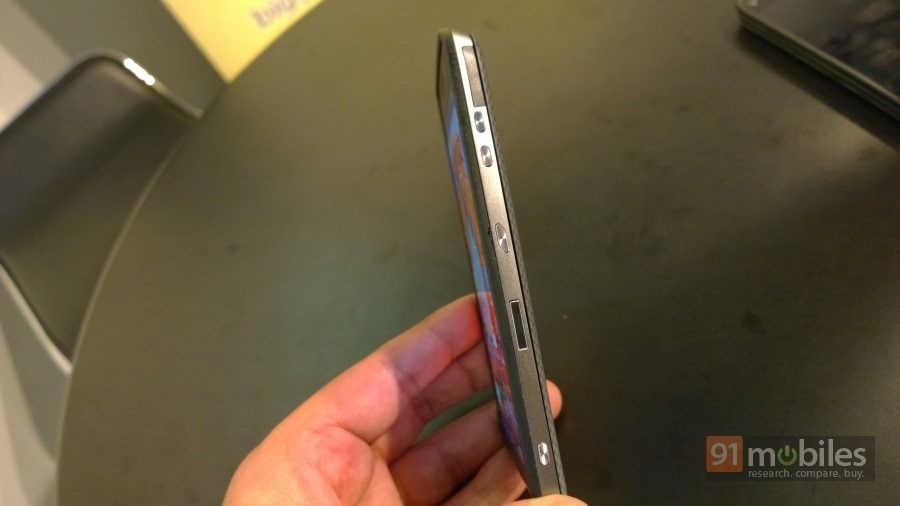 The right spine is where all the action is, and this is where you'll find a transmitter for the aforementioned WiHD functionality, separate volume keys, a power key, a biometric fingerprint sensor (you didn't think they'd leave this out, did you?), and a dedicated shutter key for the camera. Notably, all keys are clad in metal.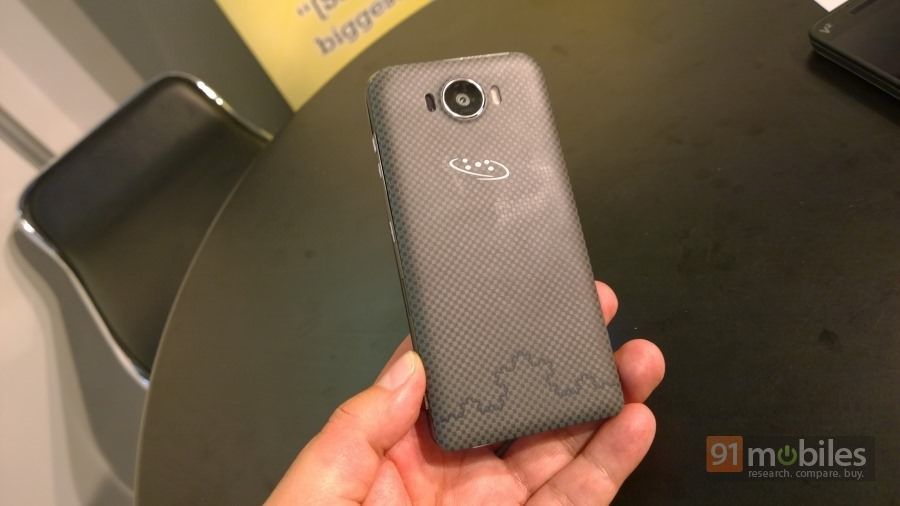 Switch to the rear, and you'll see the back finished in carbon fibre.. our demo unit was a staid grey, but you can also get one in white or pink. The top houses the camera and flash, and you'll also see a symmetrical pattern down below. While you could easily mistake it for something the design team did for boosting aesthetics, the fact is that it's actually a fractal antenna that boosts connectivity.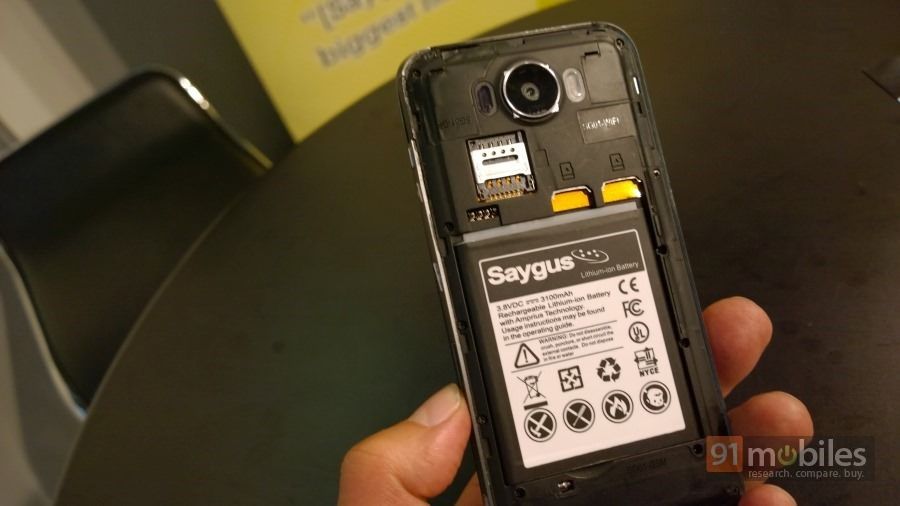 Prying the real panel open gives you access to the removable battery, along with the SIM slot and the dual microSD card slots.
There's little to talk about software, as the Saygus V2 runs stock Android, the KitKat variety to be precise. Saygus founder Chad Sayers tells us that the Lollipop update should come sometime, and that they're even trying to include support for Sandisk's new 200 gig microSD card. That means you could potentially get 464GB of storage (that's almost half a terabyte) on the device… and just thinking about that makes us go weak in the knees.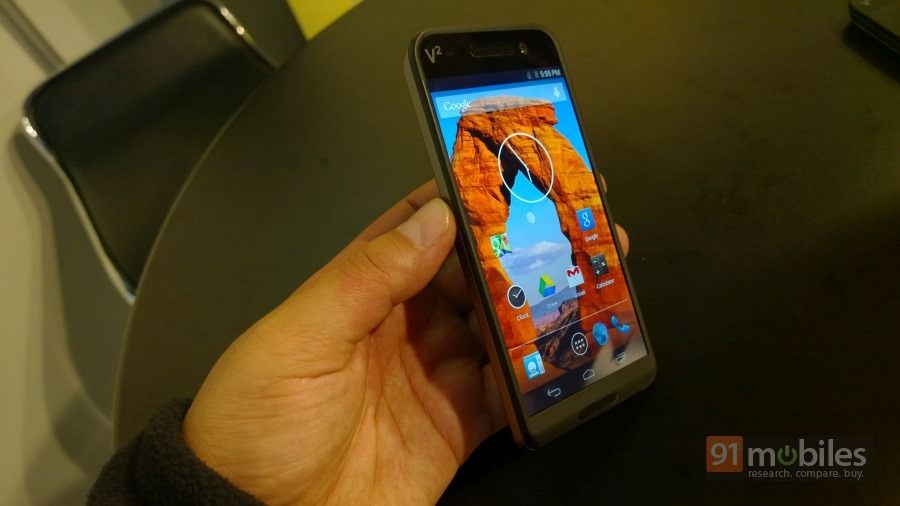 So now it boils down to cost and availability. A simple glance at the specs and features we mentioned above would lead anyone to think that the price tag would touch the sky. But no, the brand has priced the device at a reasonable $599 (roughly Rs 37,500)… which is similar to or marginally lower than what premium flagships cost these days. The company is accepting pre-orders on its website, and will start shipping the device globally in a few weeks. Now we don't really know about you, but when we first read about the Saygus V2, it seemed like a dream. After seeing it in the flesh and having played with it briefly though, we can vouch for the fact that it's real.. and we're waiting for it to come to India so we can call it our own. The reviews can follow.