"The Sennheiser IE 40 Pro entry-level stage monitors provide up to 26dB ambient sound insulation, while pushing sound pressure level up to 115dB"
Sennheiser has introduced its latest entry-level professional in-ear monitors, the Sennheiser IE 40 Pro. As with Sennheiser's professional audio range, the IE 40 Pro unsurprisingly claims neutrality of sound, which is crucial on stage and in studios. It also happens to highlight the warm sound signature of the professional IEMs, which hints at stronger low frequency and lower-mid frequency performance.
The Sennheiser IE 40 Pro uses the familiar combination of dynamic transducers driving the audio, paired with Neodymium magnets to produce claimed total harmonic distortion levels of less than 0.1 percent (at 1kHz audio frequency, 94dB sound output). The combination of drivers also produces peak sound pressure level of 115dB (at 1kHz audio frequency), which is higher than what non-professional in ear headphones are able to achieve. This, too, is essential for use in professional requirements, which require a higher sound level for recording precision purposes.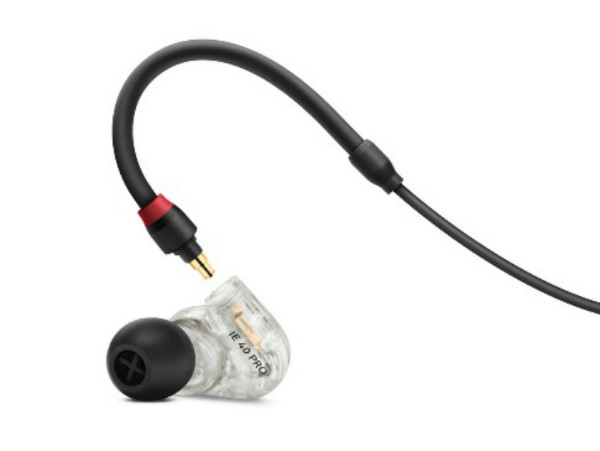 One of the most important purposes of professional in ear monitors is the on-stage audio insulation, and being the entry segment offering of Sennheiser's new IE Pro lineup of earphones, the Sennheiser IE 40 Pro claims ambient noise attenuation of up to 26dB on stage, which is fairly decent for its price. The other specifications are standard, and in line with what you would expect from earphones of this nature. It produces frequency response of 20Hz to 18,000Hz, along with circuit impedance of 20Ω, to even suit usage via mobile devices.
For professional usage, pairing the Sennheiser IE 40 Pro with a pre-amp adapter will enhance its overall capabilities to professional levels. The German audio makers also claim a patent-pending cable ducting mechanical design that has reportedly been implemented with these IEMs in order to minimise damage due to rough handling, as well as improve overall ergonomics. It provides three memory foam eartip sizes, and further states, "As the length of the human ear canal varies, the earphones' 'sound tunnel' has two rest positions to attach the ear tips to. Thus, ensuring perfect sealing has the added benefit of providing powerful bass reproduction."
The Sennheiser IE 40 Pro is priced at Rs 9,900, and is available to buy across online and offline stores. Sennheiser will also be bringing the more expensive, better equipped brethren of the IE Pro lineup, the IE 400 Pro and IE 500 Pro, to India, in the coming months.