Highlights
The sub-Rs 20,000 price segment in India has quite a few compelling smartphones, many of them powered by MediaTek chipsets
MediaTek SoCs are strong in performance, and help drive other aspects like displays, cameras, battery life, connectivity etc
While the best smartphone features are still limited to the premium segment of the market, we have seen some of the important features trickle down to the affordable and budget segments. In fact, the price-sensitive smartphone market offers extremely capable smartphones at less than Rs 20,000, filled to the brim with features that were found only in premium smartphones till just a few months ago. This means you won't have to spend a fortune to get the experience of, say, a premium gaming smartphone or an immersive display to watch your favourite Netflix show. The sub-Rs 20,000 price segment has quite a few compelling smartphone options, including the recently-launched Realme 6, the powerful Redmi Note 8 Pro etc. And not surprisingly, many of them come powered by MediaTek chipsets. In fact, we found that MediaTek chipsets offer a good mix of performance and efficiency, and enable quite a few helpful features. So, if you are in the market for a high-performance phone within Rs 20,000, here are eight key things that should always be kept in mind.
Design
While looks are subjective, design is among the most important criteria people have while purchasing a smartphone. Thankfully, the sub-Rs 20,000 segment nowadays has a number of great-looking phones, with most of them maintaining a slim form factor. What's appreciable is that despite the full-feature chipset, the 12nm fabrications of MediaTek processors enables slim form factors and enables manufacturers to design sleek, svelte devices.
Photography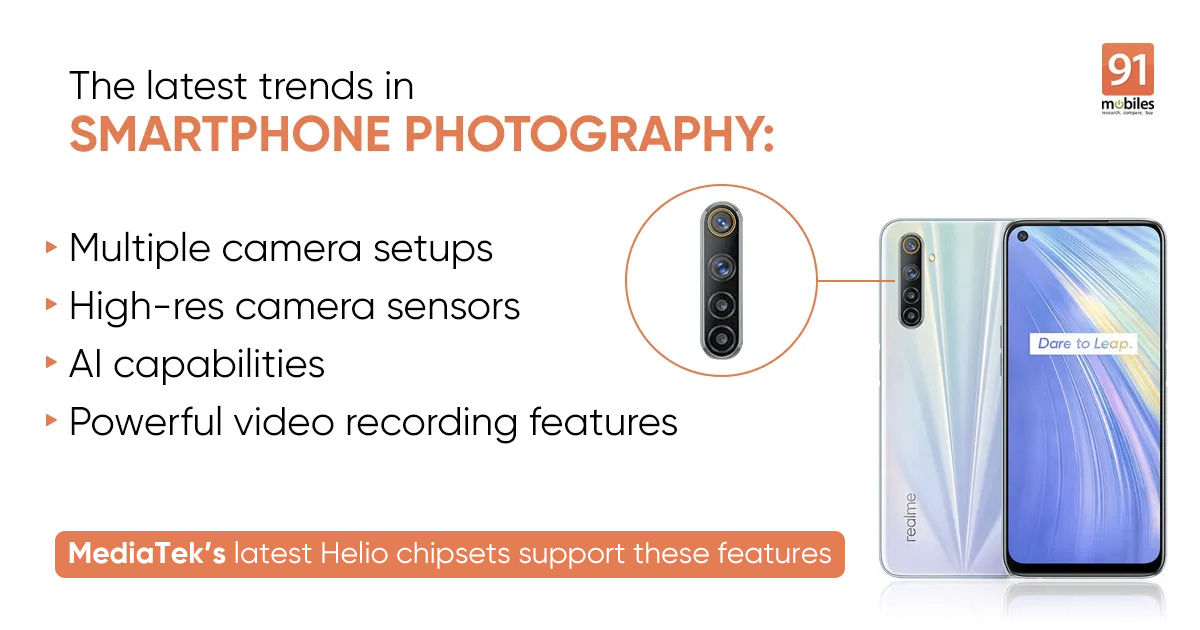 Smartphone photography is perhaps one of the most popular aspects in this segment and here too, MediaTek-powered devices lead the pack. The MediaTek Helio G90T, despite being a gaming processor, is compatible with up to 64MP camera sensors and supports quad-pixel binning technology for better low-light performance. The chipset's multi-camera framework is already in place to accommodate devices with quad-camera layouts. Videos captured by such an image processor can also be shot at up to 240fps, hence offering slow motion videography, burst photography, and other pro-grade camera features that can rival flagship devices from premium price ranges. Even in the MediaTek Helio G70 SoC which is designed for affordable phones, the Image Signalling Processor (ISP) enables fast frame rate HDR videos and dual camera layouts. The secure ISPs of the MediaTek chipsets also allow for facial recognition on budget smartphones.
Performance
At a price point of under Rs 20,000, which incidentally is the most in-demand smartphone category in India, users will get options such as the Redmi Note 8 Pro, Realme 6, and the Realme C3. These devices run on powerful processors by MediaTek, which ensures they offer not only excellent everyday performance but also deliver the experience expected from a premium gaming phone. This is made possible thanks to the MediaTek HyperEngine, which capitalises on the overall core clock speed to boost processor speeds during high workloads. The MediaTek Helio G70 and G90T chipsets can also preemptively do resource management in order to ensure that the user experience is smooth and uncluttered while gaming. These smartphones also feature the MediaTek NeuroPilot tech, which brings the power of AI to the affordable smartphone segment and helps improve performance further.
Display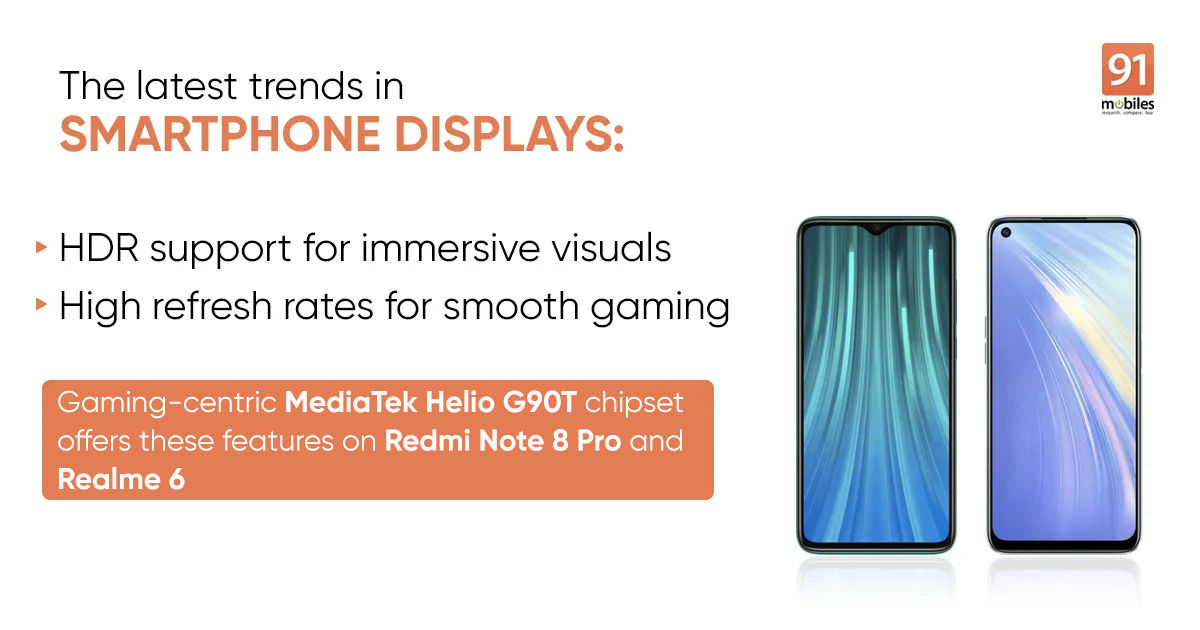 When it comes to the smartphone displays in the sub-Rs 20,000 segment, many may feel that most smartphone displays are pretty standardised, with full HD+ resolution common above Rs 10,000 and HD+ seen under the Rs 10,000 price point. However, the quality of these displays is a significant matter. When you go for buying a phone within these prices, be sure to check if it can support HDR (High Dynamic Range) video playback. The other major important factor is the support for fast refresh rate on displays, meaning that your phone display should offer 90Hz refresh rate, which can be essential for a smoother gaming experience. Interestingly, the Realme 6 smartphone, powered by the MediaTek Helio G90T processor, is one of the most affordable smartphones that offer a 90Hz display, making it a great choice for anyone looking for an immersive smartphone display under a budget of Rs 20,000.
RAM and storage
With our ever-growing multitasking needs, smartphones under Rs 20,000 now come with 8GB RAM as standard, while at least 64GB of storage is also in order. But serious buyers would look beyond just specs and go into the technologies involved here too. For example, they should make sure the chipset powering the smartphone uses the LPDDR4X memory standard for the RAM and the smartphone has UFS 2.1 storage. These are crucial to have in a modern smartphone since faster memory and storage modules automatically make the phone work faster, therefore making the user experience more seamless.
Battery
A long-lasting battery is essential for any smartphone, and we are seeing the batteries in the budget and affordable segments grow bigger with every passing launch. And while the battery capacity might not be a problem in the sub-Rs 20,000 segment, the option to charge a huge cell is certainly an issue. That's where fast charging comes in. Buyers should make sure to go for smartphones that support fast-charging tech.
MediaTek-powered smartphones such as Realme 6 offer fast-charging speeds as high as 30W in this segment, which was unheard of under Rs 20,000 till only a few months ago
Connectivity
While 5G is yet to find a footing in India, all smartphones under Rs 20,000 are 4G-compliant. However, it is important for buyers to gauge the exact modem performance details of a phone's processor in order to understand how well it might fare in terms of network reception and Wi-Fi abilities. For example, the MediaTek G90 series chipsets come with Cat.12 LTE WorldMode modem, which supports gigabit-class (1Gbps) internet access on smartphones. More importantly, it is also compatible with telecom networks in most countries, making it a great device for frequent travellers. It also comes with dual-band Wi-Fi support, so you can get great wireless signal reception on both 2.4GHz (long-range) and 5GHz (short-range) Wi-Fi bands.