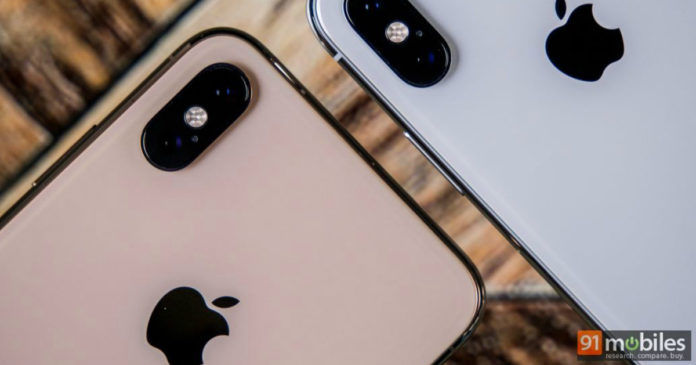 "According to a market research, the Indian smartphone market will sell 13 percent more devices in 2019, accounting for 149 million devices and an overall rise in prices."
Despite global decline and particular slowdown in the larger, developed electronic markets, the Indian smartphone market is reportedly set to grow by 13 percent year on year, in terms of number of smartphones sold in 2018. According to market research firm techArc, an estimated total of 149 million smartphones are expected to be sold in India by the end of 2019, while also denoting a shifting paradigm in terms of the most popular price band of activity.
The report states that the uber-premium, flagship range of smartphones, priced above Rs 50,000, will see maximum comparative growth year on year. This segment is predicted to grow by 26 percent in terms of volume contributions to sales, and account for 9 percent of all smartphones sold in India in 2019, as against the 8 percent of the approximately 132 million smartphones that were sold in the country last year. In terms of absolute figures, smartphones priced above Rs 50,000 are expected to sell 13.4 million units in 2019, up from 10.5 million units that the segment is estimated to have sold in 2018.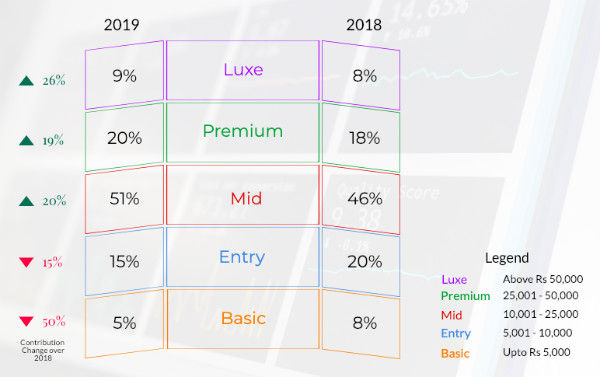 Furthermore, the report also estimates a steady decline in the market share of smartphones priced below Rs 10,000. While devices below Rs 10,000 accounted for 28 percent of all smartphones sold in 2018, the same is estimated to account for only 20 percent of the market in 2019. Sub-Rs 5,000 smartphones, as a result, are expected to see a 50 percent decline in sales in 2019. While this is certainly a sign of the increasing spending power of the average consumer in the country, it also shows the evolving nature of the market.
With better feature sets now available in smartphones, individuals are being steadily attracted by more premium offerings that offer a little extra over the very basic smartphones. Furthermore, the increased life span of devices also mean that users do not mind spending a little more than the bare minimum amount on smartphones. The increased importance of smartphones in everyday life, coupled with almost ridiculously affordable 4G data and features such as dual-camera and full-screen displays are also contributing to greater sales of premium and flagship smartphones.
The increase in smartphones sales through 2019 is expected as a result of device cycle refresh in this year. With 4G networks expanding majorly in 2015 and 2016, it will be three or four years since many users would have already used the same device, and that, techArc believes, will call for more buyers of 4G-enabled premium smartphones. It also refers to these devices as "experiential" smartphones, or ones that contribute strongly to the overall experience of usage.