There's good news for Smartphone users that Sony launched its external batteries for smartphone devices. As you can see in the photos posted below they look very slim. Sony launched external batteries with USB connecting option. So you can charge any USB connecting smartphone with these batteries. These batteries are called Sony CycleEnergy external batteries. As the press release says on Sony's JP site there are options of external batteries from 3500 to 7000 mAh.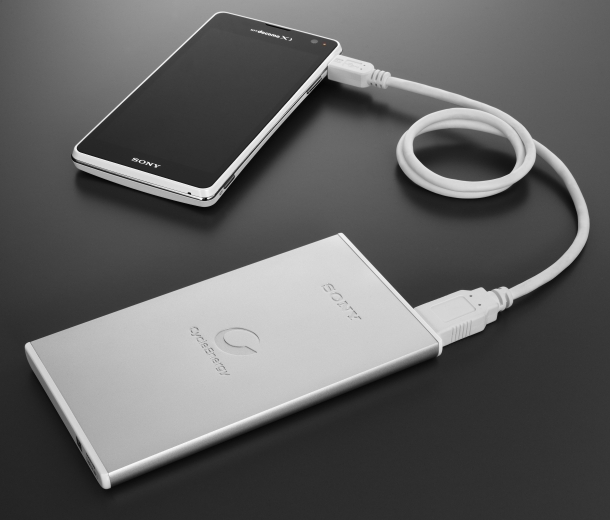 Sony claimed that 3500 mAh battery will provide full and a half more charge for most of the smart phones available in the market these days. Another external battery with 7000 mAh is said to provide 3 times charging of a regular smartphone. Sony didn't announced the Global availability of these batteries yet. They will be shipped to smartphone users in Japan first then Sony will announce them globally. Sony said these batteries will help you as a power source on the critical conditions when you run out of batteries of your Tablet and Smartphone. The 7000 mAh battery from Sony is weighted around 198 grams and measures 130.6 millimetres. Spokesman at Sony said that as the smartphone market is growing these days, so as the battery market will also get a growth. This is why these batteries are strength of Sony. The other external battery models from Sony are with 3500 mAh and 2000 mAh.

2000 mAh batteries come in different colour options and they look pretty good. Sony made these batteries using the laminated technology to reduce the size and increase the charging capacity. These batteries will go on sale in Japan with the price tag of 2,300 Yen to 7,000 Yen. So are you going to buy one of those when they arrive in markets around you!
Via