Highlights
PS5 standard edition price is USD 499, while Digital Edition costs USD 399 right now
iPrice predicts a price drop for both PS5 models in 2021
By November 2021, PS5 price could go as low as USD 345
PS5 prices right now are pretty typical for next-gen gaming consoles from Sony. This time around, the company has launched two versions of the PlayStation 5 – a standard version and a cheaper Digital Edition model. The PS5 price for the standard edition is $499 (around Rs 36,900) while the Digital Edition comes at $399 (approx 29,500). These prices may be out of reach for many people, which is why consumers may be waiting for a price drop next year before purchasing the console. A new report from iPrice, which is an e-commerce aggregator in Southeast Asia, claims the PS5 will see a price drop in 2021 based on the previous PlayStation 4 price trend.
Also read: PS5 India release in January 2021? Here's what Sony had to say about the launch date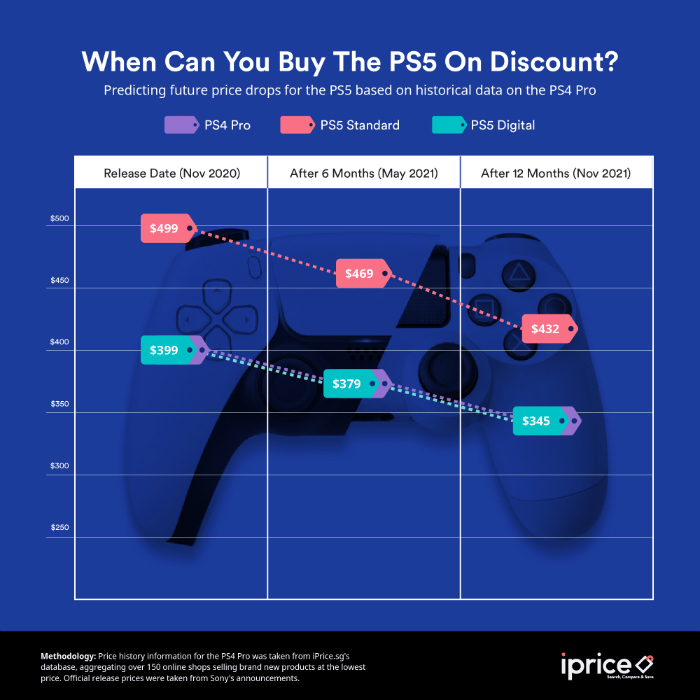 When is the PS5 price expected to be dropped in 2021?
iPrice is using PS4 Pro price of $399 for the report since it is the last PlayStation console to be released. It is predicting the same price dips for the PS5 Digital Edition and is extending it to the standard PS5 pricing as well. According to the data, Sony PS5 Standard Edition price may drop to $469 (approx Rs 34,700) by May 2021 and $432 (around Rs 32,000) by November 2021. The Digital Edition could drop to $379 (approx Rs 28,000) by May and $345 (around Rs 25,500) by November 2021. While the report is technically on point with the numbers, it misses out factually. Currently, there's a shortage of PS5 units globally, and might be a while before the supply and demand regularise. By the time things settle down, we doubt there would be any immediate price cut.
Furthermore, Sony is also said to be taking a loss of up to USD 170 per console sold to ensure fast shipments and this should definitely work against any future price cuts. It remains to be seen how far accurate the report from iPrice will be.
Don't expect PS5 price in India to drop anytime soon
What will be interesting to see is if the PS5 price drop prediction applies to the Indian market since the console is yet to release in the country. Based on the most recent report, the PS5 launch in India is only expected after January, which means it may be a while before we see and discounts on the prices. To recall, Sony announced the PS5 price in India is Rs 39,990 for the Digital Edition and Rs 49,990 for the Standard Edition and these prices are expected to remain the same through 2021.