Those who track and follow developments in the Indian smartphone market know it's a jungle out there, with wafer-thin margins, cutthroat rivalries, and a spec-obsessed user base that can get quite finicky. 91mobiles' Great Indian Smartphone Survey 2019 is an attempt to get inside the mind of smartphone users and to figure out whether these folks are satisfied with their brand of smartphone, the issues they face on a daily basis, the features they covet and the brands they want to migrate to next. With over 15,000 entries, this survey represents the true voice of the user. We already gave you a sneak peek at some of the insights we gained during this massive exercise, and now it's time for the full lowdown.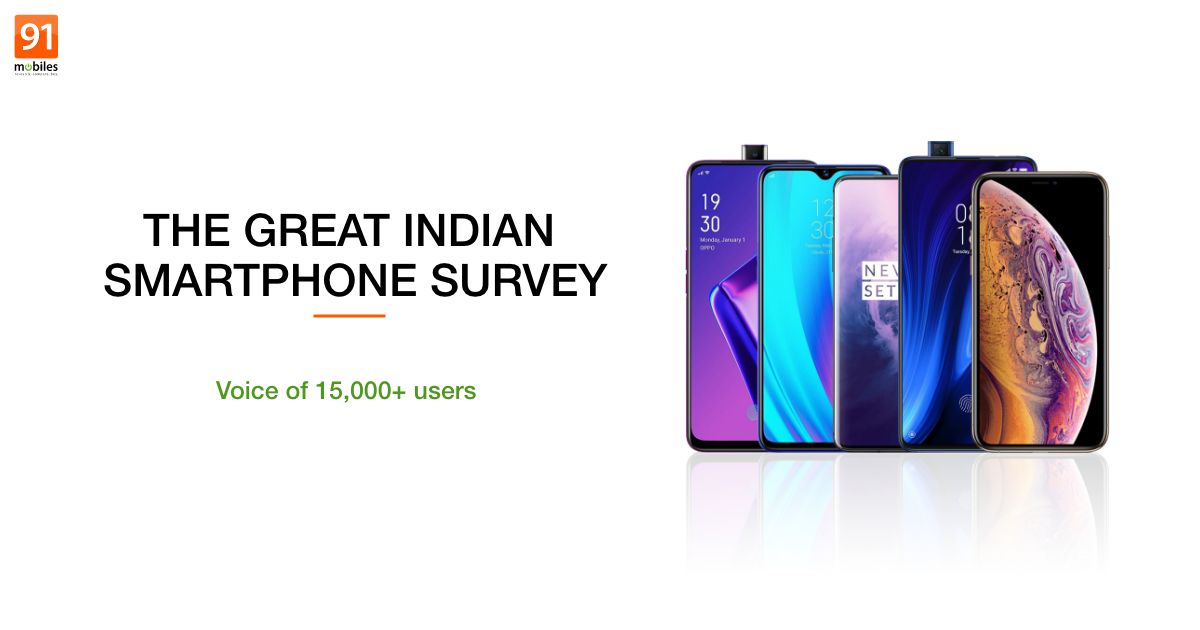 Trends in smartphone ownership
Breakup of smartphone brands people own currently
Looking at the split of smartphone brands used by respondents currently, we see that Xiaomi leads with a share of 23.6 percent, followed by Samsung with a share of 21.4 percent. This is indicative of the respective market share of these brands, and doesn't really come as a surprise. The real insights however, appeared when we compared this data with the set of numbers we collected during the survey we conducted last year. By comparing the data, we were able to ascertain brands that have improved in popularity this year, and those that have fallen out of favour.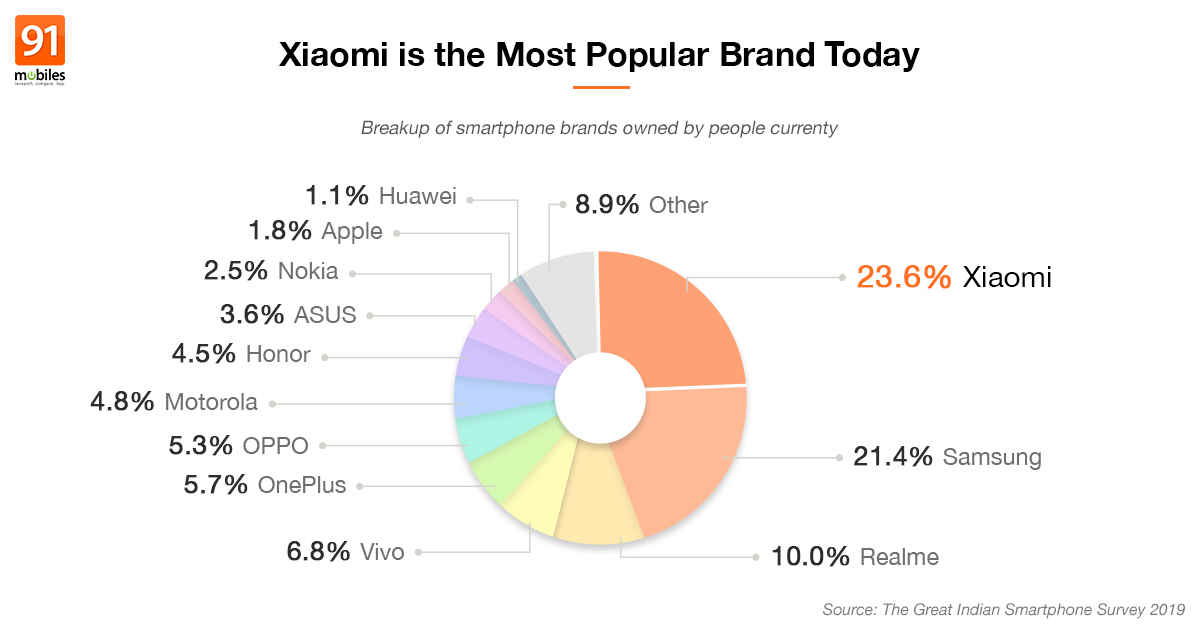 Smartphone brands with the highest gain in ownership share (from 2018 to 2019)
The numbers speak for themselves and there are no two ways about this – Realme is the brand that has defined convention when it comes to increase in popularity. From a measly 0.30 percent share in 2018, Realme now has a very impressive 10 percent representation among survey respondents, and that shows how quickly this brand has grown, and to what extent. Catering to the spec obsession of users in the affordable segment with devices featuring loaded configurations, attractive designs and even more attractive price tags, the brand is riding the popularity wave.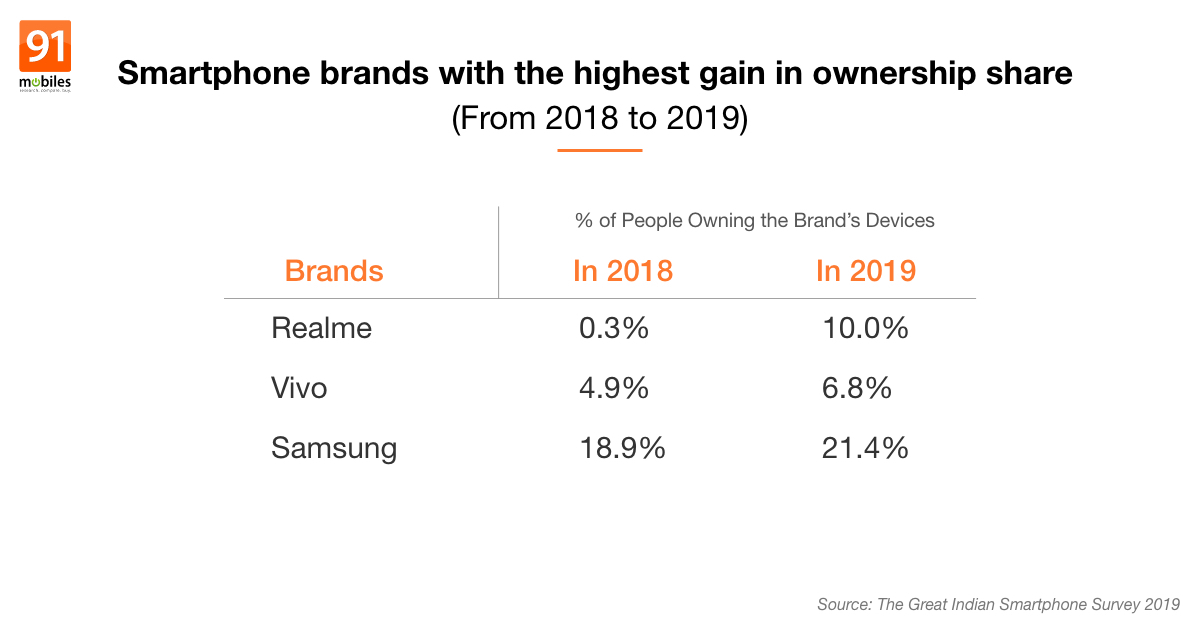 Then there's Samsung, which might have lost its market leader crown to Xiaomi in India, but is far from being down and out. The Korean giant has fought back hard, especially this year, marginally increasing its share from 19 percent last year to 21.4 percent in 2019 (based on survey data). Taking on the Chinese insurgents with its new M series that includes smartphones high on value and style, Samsung is taking the fight back to its rivals. It has also launched quite a few noteworthy devices in the mid range (with its A series) and made the right moves with its 2019 flagships in the S series and Note range as well.
Vivo is another brand that has shown increase in popularity. This mid-range brand played on aspects like design, cameras and specs and has been very aggressive this year in terms of launching new devices, following the latest smartphone trends and pricing the handsets well. The efforts seem to have paid off, with Vivo's share among our respondents growing from 5 percent to 7 percent.
Smartphone brands with the steepest decline in ownership share (from 2018 to 2019)
Among brands that dropped in popularity, Motorola, Honor, Nokia, Huawei and OPPO are the ones that draw attention. The reasons aren't hard to fathom. Honor just hasn't shown the same level of aggressiveness this year as compared to the past, and doesn't have many compelling new smartphones to offer. Its parent company Huawei getting hit by a US trade ban has further compounded issues, which could be the reason why Huawei is also seeing a drop. On the other hand, Motorola, which was once a favourite among those looking for bang for the buck, seems to have lost the plot when it comes to pricing its devices. In recent months, it has been trying to bounce back though, and has launched a few smartphones (One Vision and One Action) that seem reasonably good. But whether these handsets can pull users towards Motorola in swarms and hordes remains to be seen. Nokia and OPPO are seeing marginal drops as well, and for these brands, the reason could just be the fact that the competition has been much more aggressive.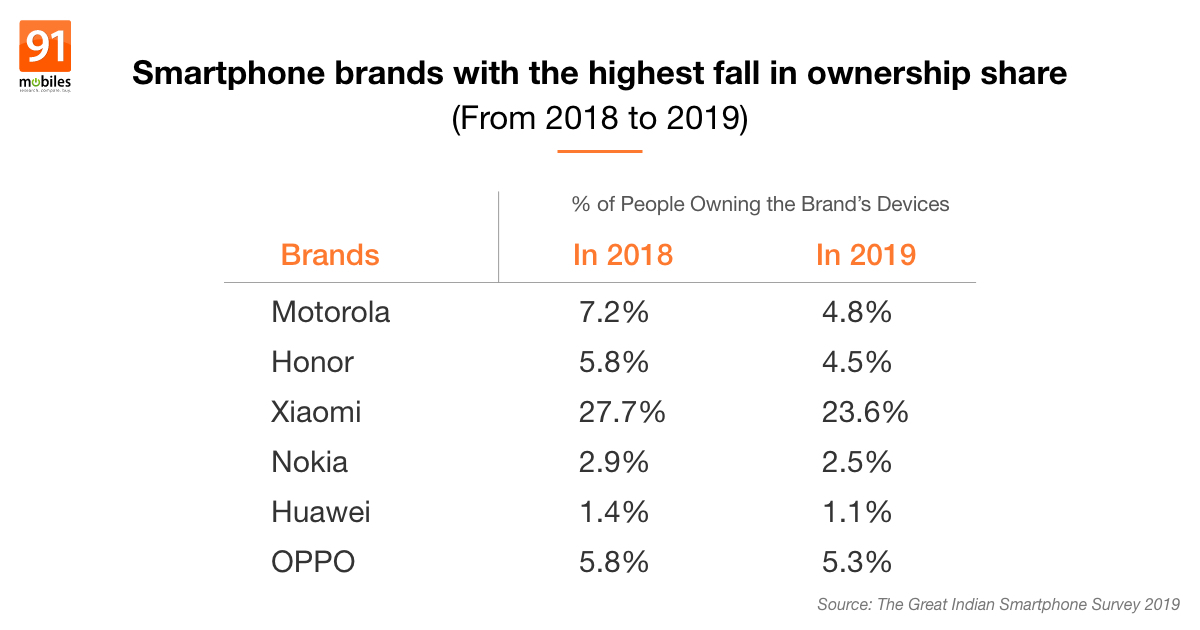 The big surprise here is Xiaomi. The numero uno brand seems to be dipping in popularity, with almost 28 percent respondents owning the company's devices in 2018 falling to 23.6 percent in 2019. While Xiaomi hasn't swayed much from its original promise of offering phones that score high on value, it seems it has been a little slow in adopting the latest trends. While the competition has been quick to launch phones with features like multiple rear cameras, in-display fingerprint scanners, pop-up selfie snappers and water drop notches, Xiaomi has been late to the party. Furthermore, aggressive competition from brands like Realme hasn't helped its cause either.
Breakup of smartphone brands people plan to buy next
We asked survey respondents about the smartphone brands they'd want to move to whenever they upgrade their handsets next, and the insights we got don't come across as very surprising. OnePlus stands out as the brand that's likely to take top position on the podium, with the data projecting a share of over 18 percent in the months to come. Clearly, the brand's strategy of offering flagship smartphones at relatively affordable prices, and its efforts in developing a strong community of fans and users, has paid off. OnePlus is followed by Samsung and Xiaomi, as expected.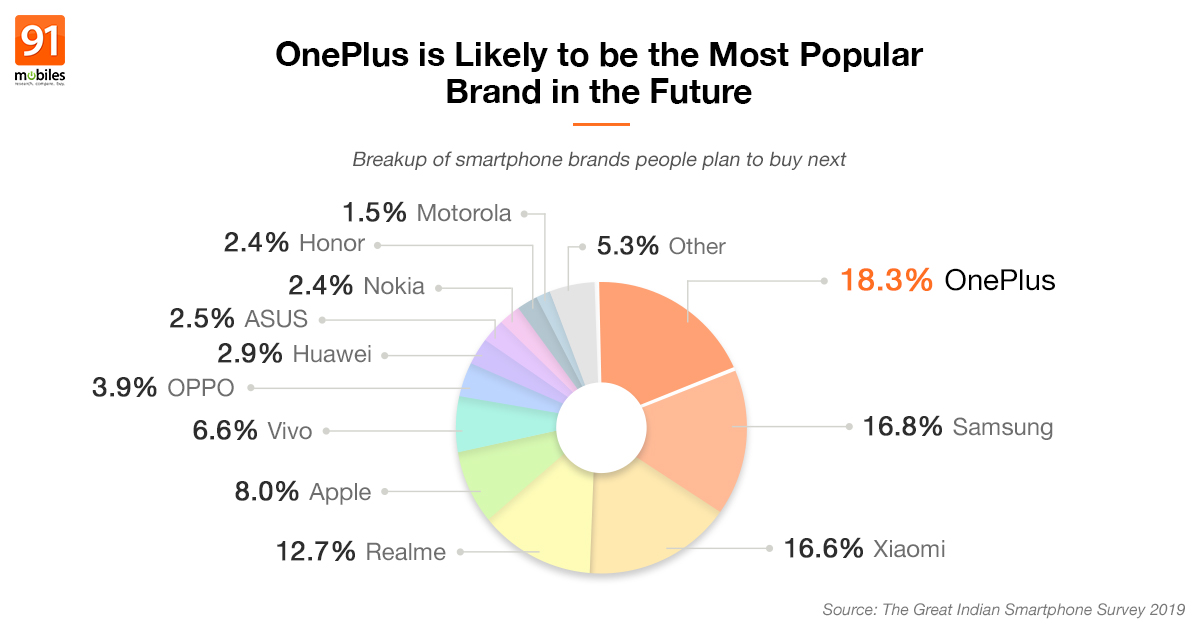 Realme appears as a surprise contended at number 4 though, but we already know how quickly it has been growing and expanding its user base.
How ownership trends might change in the future
When we compared the data on current ownership with the numbers on future ownership, we saw some pretty interesting trends. The comparison shows that OnePlus is the brand likely to gain the most users in the future, with the growth pegged at over 12 percent.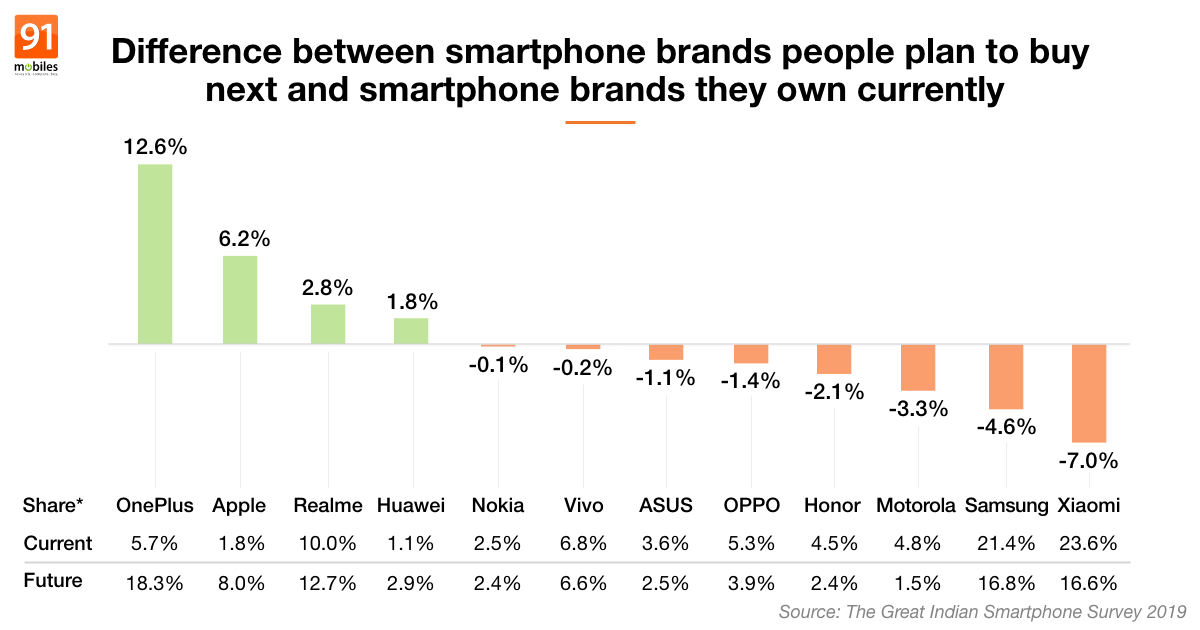 Apple, which has always been an iconic, aspirational brands for most, is also showing a healthy growth of over 6 percent. The other brands likely to see growth are Realme and Huawei. Brands like Honor, Motorola, Samsung and Xiaomi however, might see negative growth.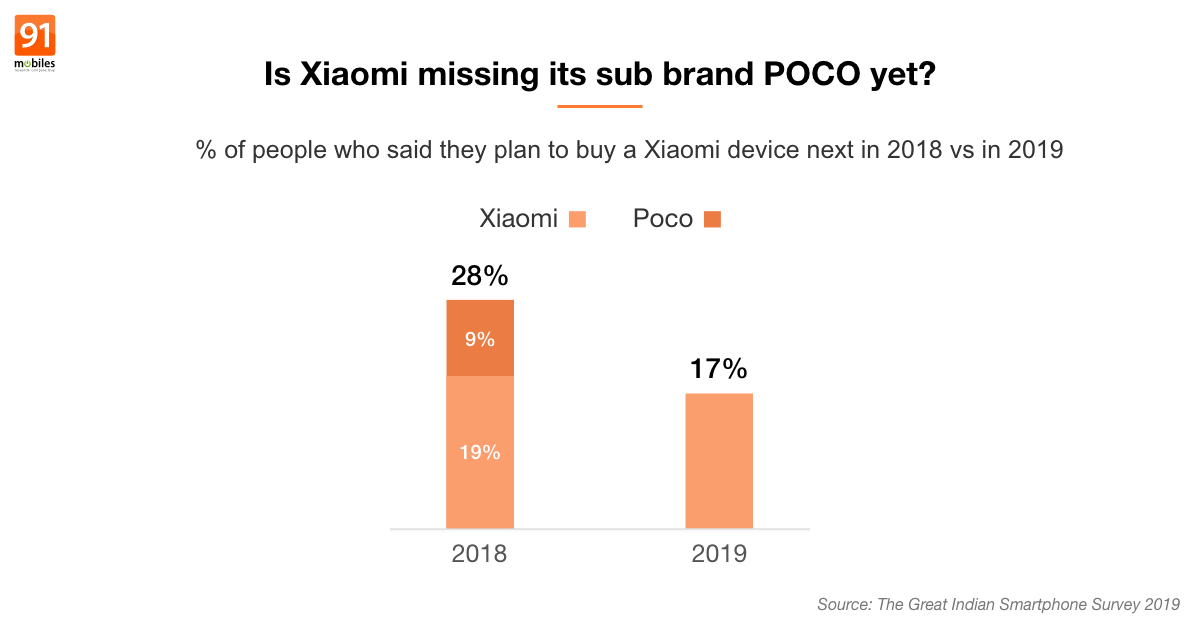 In Xiaomi's case specifically, it seems that prospective buyers are missing a successor to last year's POCO F1. As you might recall, Xiaomi launched a new sub brand last year in the form of POCO, with its debut offering, the POCO F1 challenging OnePlus' claim to the flagship killer crown. The POCO F1 however, is still the lone ranger in the sub brand's portfolio, with no signs of a successor so far. This is probably the reason why the percentage of folks wanting to buy a Xiaomi handset has dipped significantly from 28 percent last year to 17 percent this year. That figure of 28 percent from last year includes 9 percent who wanted to buy a POCO phone, so the reason for the lower number this year seems clear as night and day.
Smartphone features that users want
We asked users about the features they miss the most in their current handsets. Based on the responds, were able to draw up a list of the most coveted features, and waterproofing tops the list. Waterproofing of course, is a very handy feature to have, and provides peace of mind even if you're a careful user and unlikely to spill liquids on your phone. This feature is mostly available on premium flagship smartphones, and judging by our survey, is very much in demand with users in other segments as well, given then over 20 percent users voted in favour.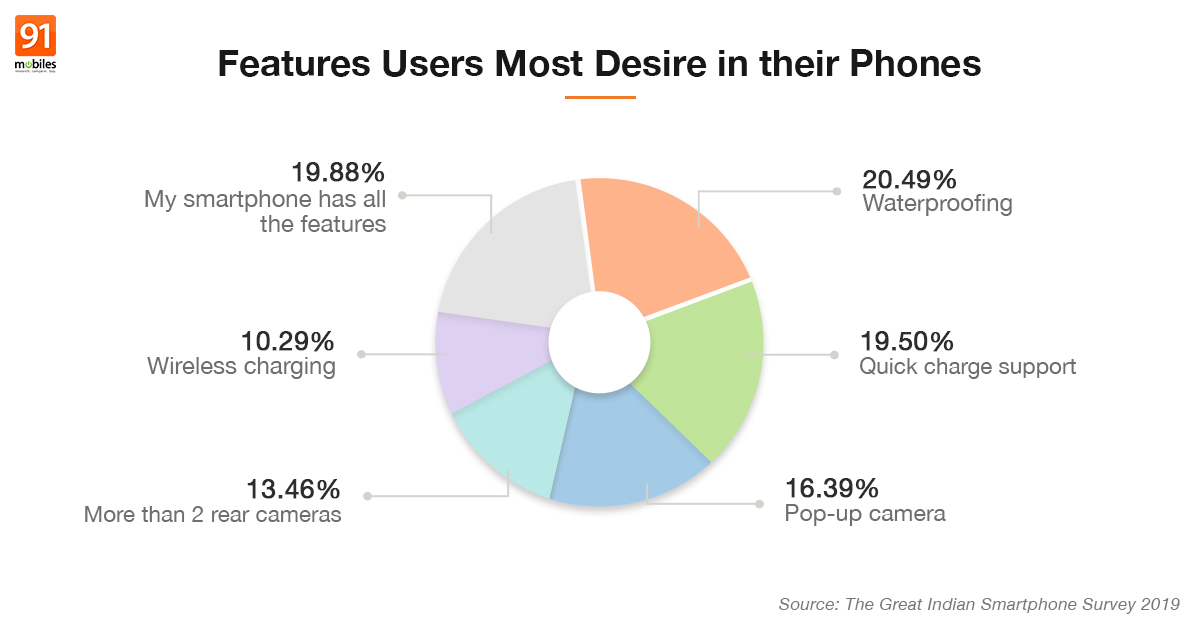 Quick charge support is also in demand, with 19.5 percent users voting in favour. The quick charge feature has now trickled down from flagships to mid-range and affordable phones, and hopefully, would get ubiquitous very soon. Next, over 16 percent users voted in favour of pop-up selfie cameras, so clearly, this is another feature users would like to see in their phones.
Demographic trends in brand preferences and ownership
How smartphone ownership stacks up within different age groups
As part of the survey exercise, we were also able to draw up insights on smartphone brands split across users in various age groups. In general, Xiaomi and Realme have a larger share among users in younger age groups. Over 33 percent of respondents below the age of 22 own Xiaomi handsets, while the same figure for Realme stands at almost 17 percent.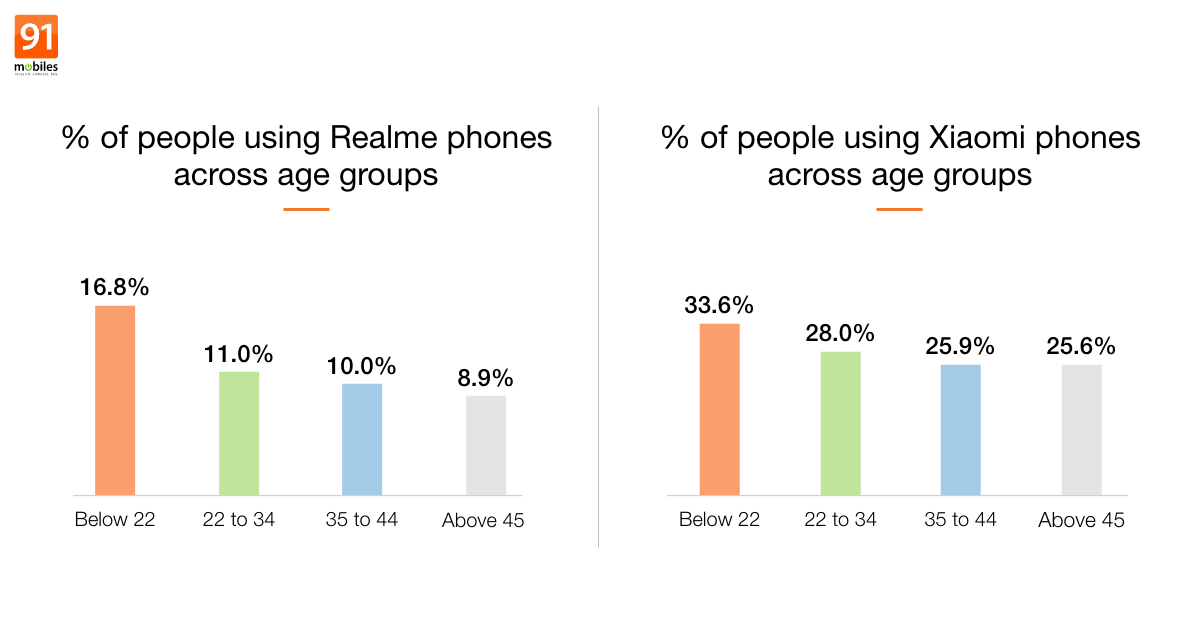 On the other hand, Samsung and OnePlus are more popular among people in older age groups, with 31.6 percent users in the age group of 45 and above owning Samsung, and over 8 percent owning OnePlus phones.
How smartphone ownership compares between genders
We also split ownership data across genders to see how brand preferences are divided between men and women. Among women, the two brands that definitely seem more in favour are OPPO and Vivo. For OPPO, the ownership share stands at 11 percent for women, versus 6.2 percent men. For Vivo, the figures are pegged at almost 12 percent women, and 8 percent men.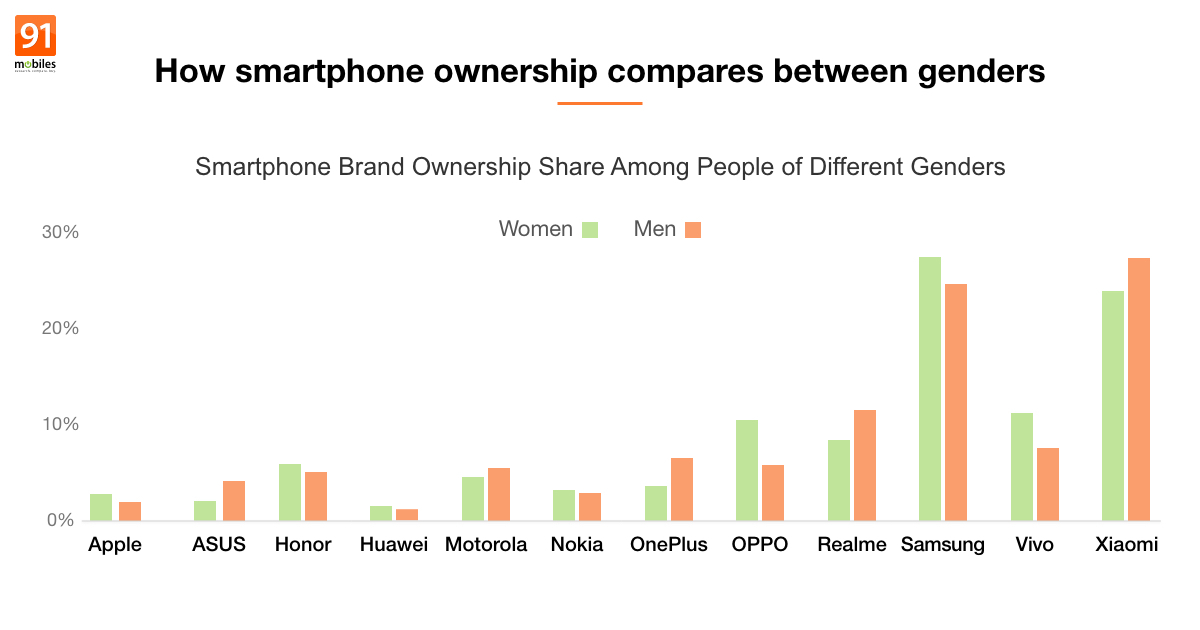 Men it seems, prefer ASUS, OnePlus and Realme. For ASUS, the ownership share is tilted heavily in favour of male users, with the numbers standing at 4 percent versus 2 percent of women. For OnePlus, the same numbers stand at 7 percent men against 4 percent women. And for Realme, it's 12.3 percent men versus 9 percent women.
User satisfaction
Overall user satisfaction with current smartphone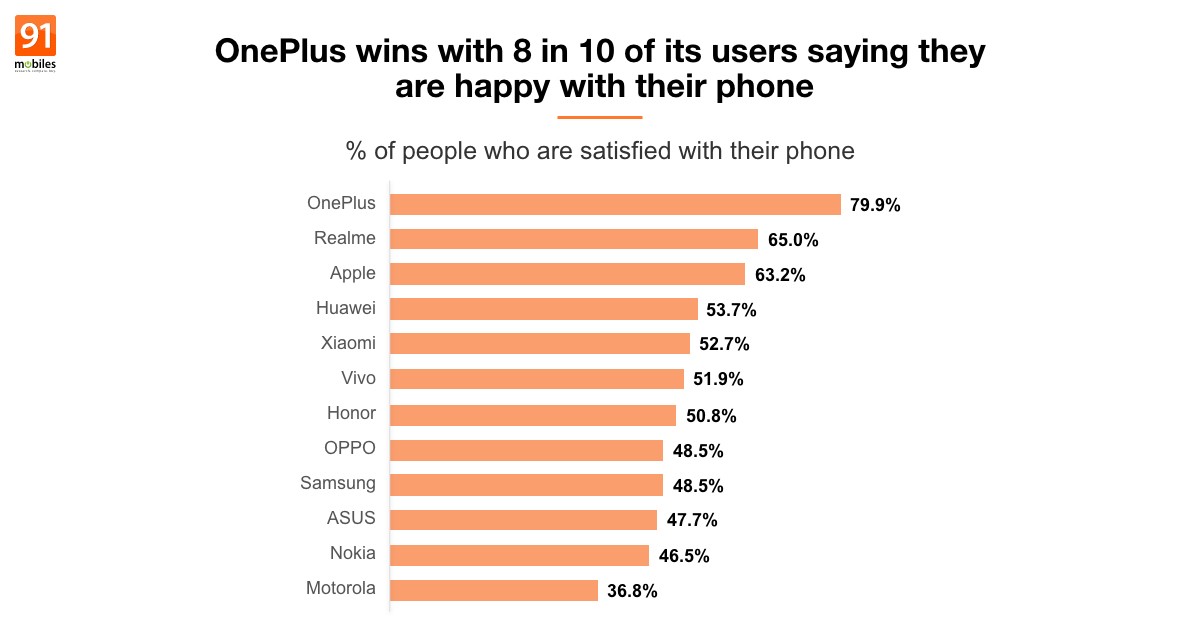 User satisfaction is of utmost importance for any brand, regardless of the product or service they might be selling. This metric is even more critical for smartphone companies, just because of the competition that exists in this industry and the vast array of options available across different price segments. It's OnePlus that takes the crown, with almost 8 in 10 of the brand's users saying they're satisfied with their smartphone. OnePlus is followed by Realme, with 65 percent users saying they're satisfied with the handset, while Apple, with over 63 percent users voting in favour, stands at the third position.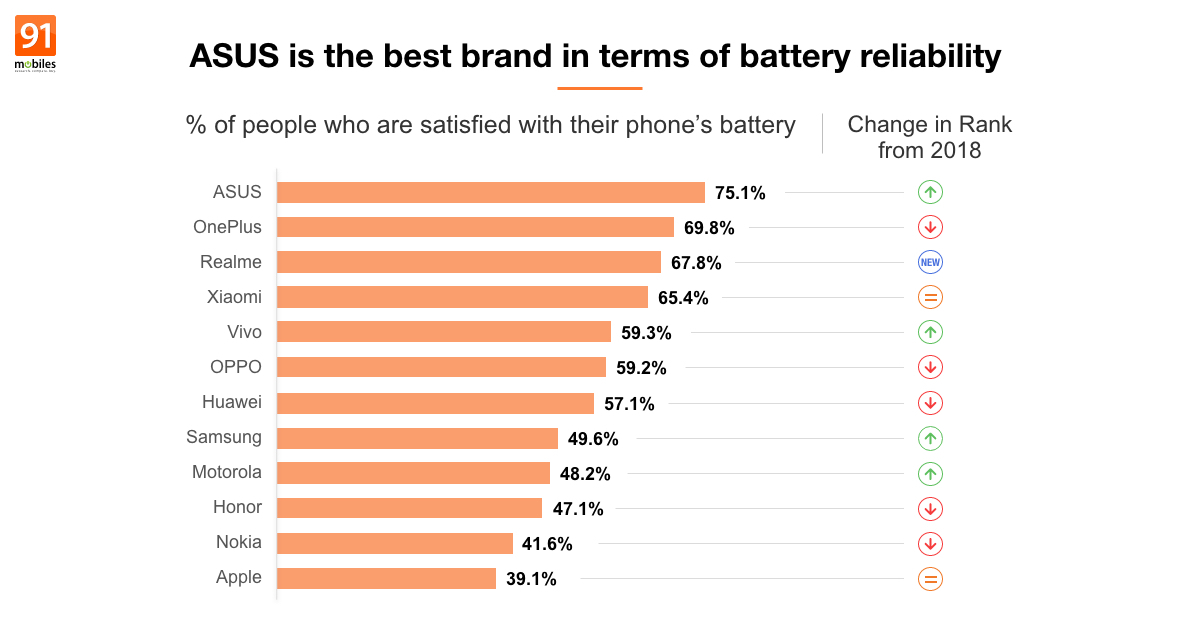 We also asked users regarding satisfaction levels with specific aspects of their current phone, and derived data points to highlight. Talking about satisfaction with battery for instance, it's ASUS that has been rated at the top, with over 75 percent users saying they're satisfied with the battery life offered by their ASUS handset. ASUS is followed by OnePlus (70 percent), and Realme (67 percent).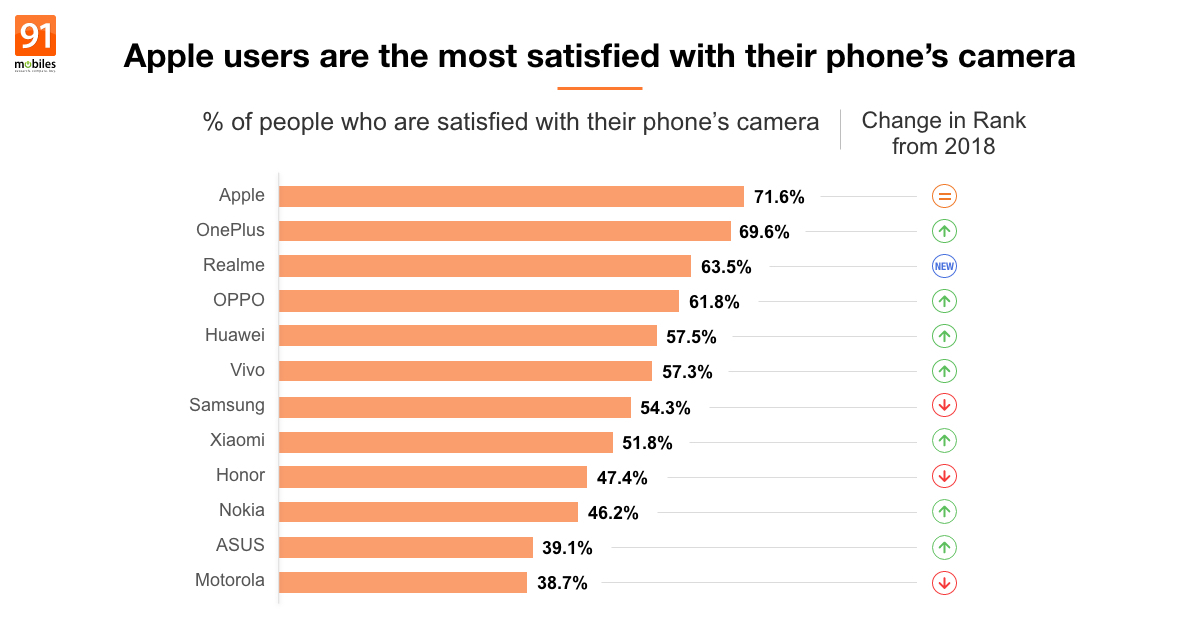 Coming to camera capabilities, it's Apple that has the highest number of satisfied users (72 percent), followed by OnePlus (70 percent) and Realme (63.5 percent). OPPO also has a high number of users satisfied with the camera prowess of their phones, with almost 62 percent users voting in the affirmative.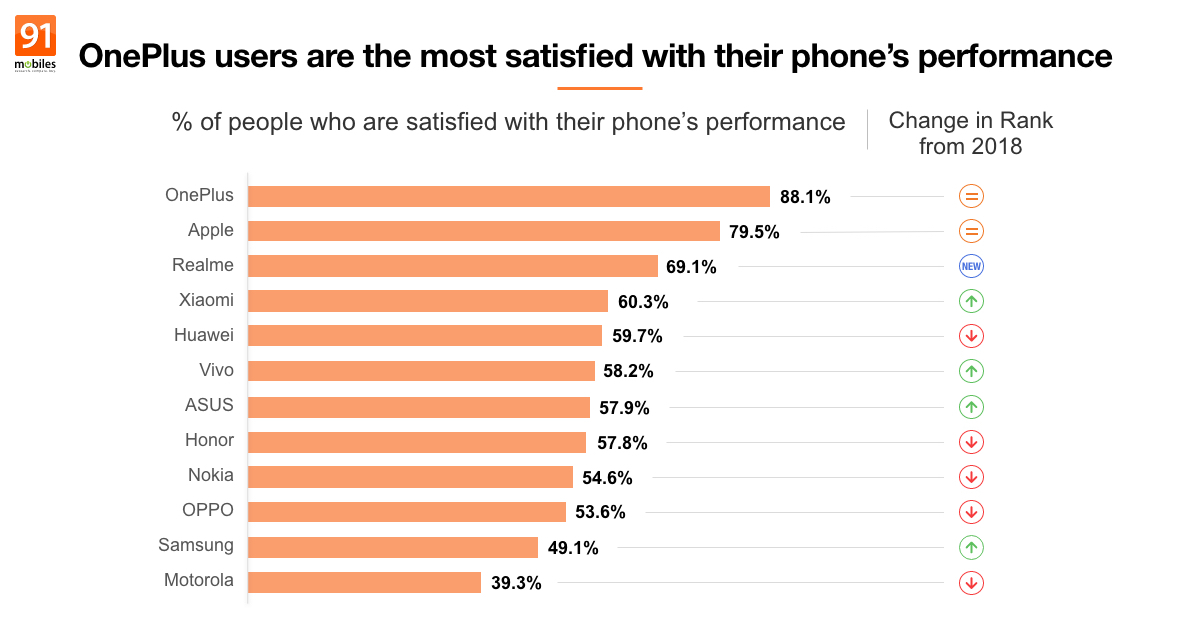 As far as pure performance is concerned, it's OnePlus that ranks at the top yet again, with over 88 percent users saying they're satisfied with the performance. Then there's Apple at almost 80 percent, and Realme at 69 percent.
Coming to display capabilities, OnePlus occupies the top spot with almost 83 percent of its users saying they're happy with their screens. Apple ranks second with over 75 percent satisfied users, and Samsung follows at third spot with 71 percent.
Software is a crucial aspect for a smartphone, but many tend to ignore it and look at only hardware specs instead. In terms of user satisfaction based on software, thanks to 86 percent of its users voting in favour, OnePlus comes up at the top spot again. Then there's Apple with 81 percent votes, and Nokia with 67.5 percent satisfied users. Surprisingly, Motorola ranks at the bottom of the list, which is strange since just like Nokia, most of Motorola's phones run the stock Android One platform.
Service quality
A whopping 55 percent survey respondents said they had to take their phone in for service at a service centre, which is a pretty high number if you ask us. Clearly, smartphone brands need to do a lot more when it comes to quality control. On a positive note, a large percentage of those who visited service centres rated their experience as very good or good.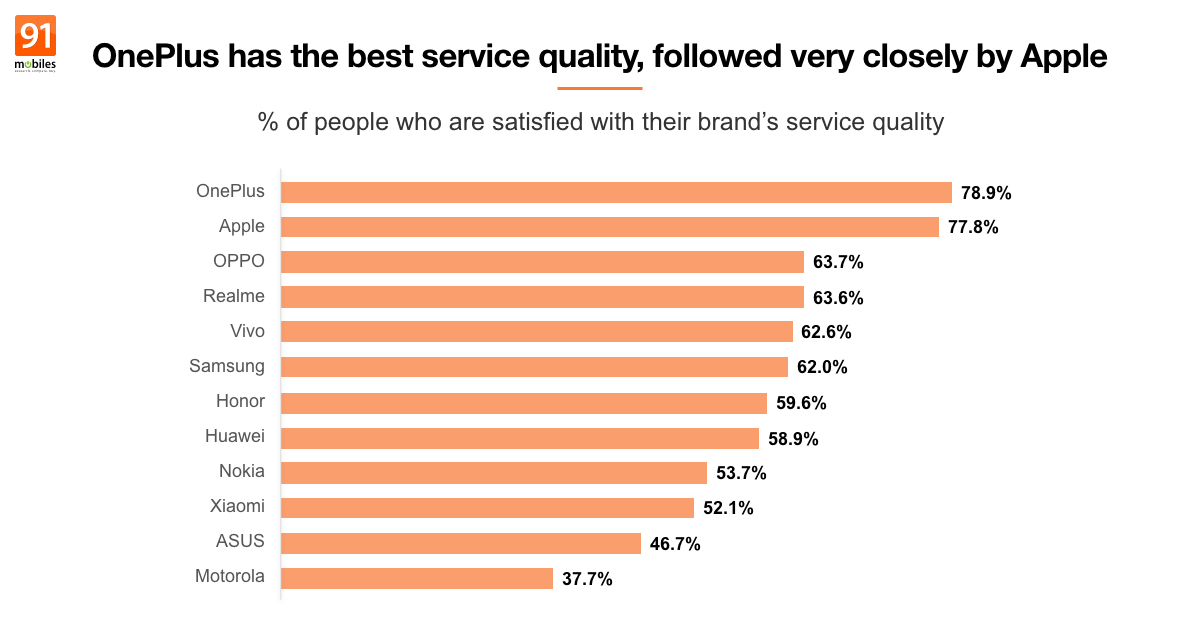 When the data on service quality was split by brand, it was OnePlus that took the lead with almost 79 percent users saying they are satisfied with the quality of service they received. Apple follows with 78 percent votes, while OPPO appears as the best mid-range brand in the list with 64 percent votes.
Brand loyalty among smartphone users
The most value for money brands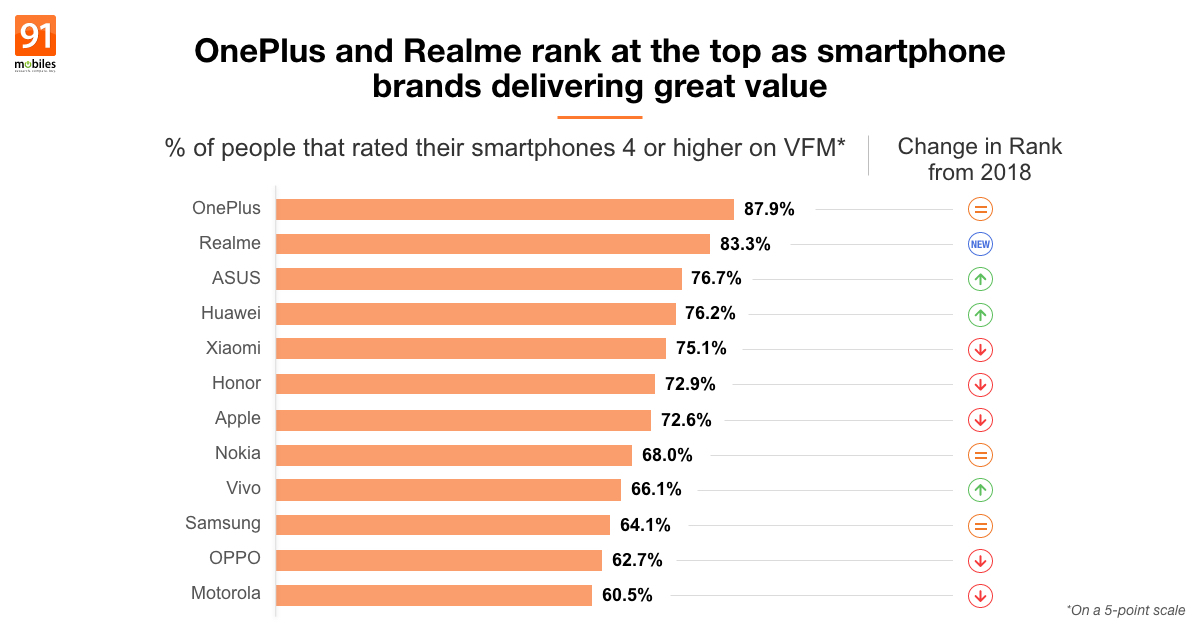 OnePlus and Realme, unsurprisingly, rank at the top as smartphone brands delivering great value. With almost 88 percent OnePlus users rating their phones 4 or higher (on a scale of 5) on value, the brand tops the chart. Focussing on user experience, and offering solid specs at reasonable pricing has clearly worked in its favour. Next up is Realme with 83.3 percent users rating it 4 or higher on value. Its high-specced, yet affordable phones are the reason behind this.
Brand loyalty

A loyal set of users are what most brands want, since these folks not only come back as repeat customers, but also spread the word and recommend the brand to others. In this all-important aspect, OnePlus leads yet again, with almost 63 percent of the brand's users saying they'll buy a device from the same company whenever they upgrade their phones next. Apple follows closely with 62 percent votes. Samsung leads as the brand that covers all price segments with over 44 percent votes.
Brands with the highest jump in customer retention

In 2019, a larger number of Huawei and Apple users said they plan to buy from same brand when they upgrade next, compared to the same figures from last year. In Huawei's case, last year over 18 percent of its users had said they'd buy from the same brand, whereas this year, that number has jumped to 32 percent. For Apple, the figure stood at 51 percent in 2018, but this year, 62 percent iPhone users have said they'd buy an Apple phone again, whenever they upgrade their daily drivers next.
Brands with the highest fall in customer retention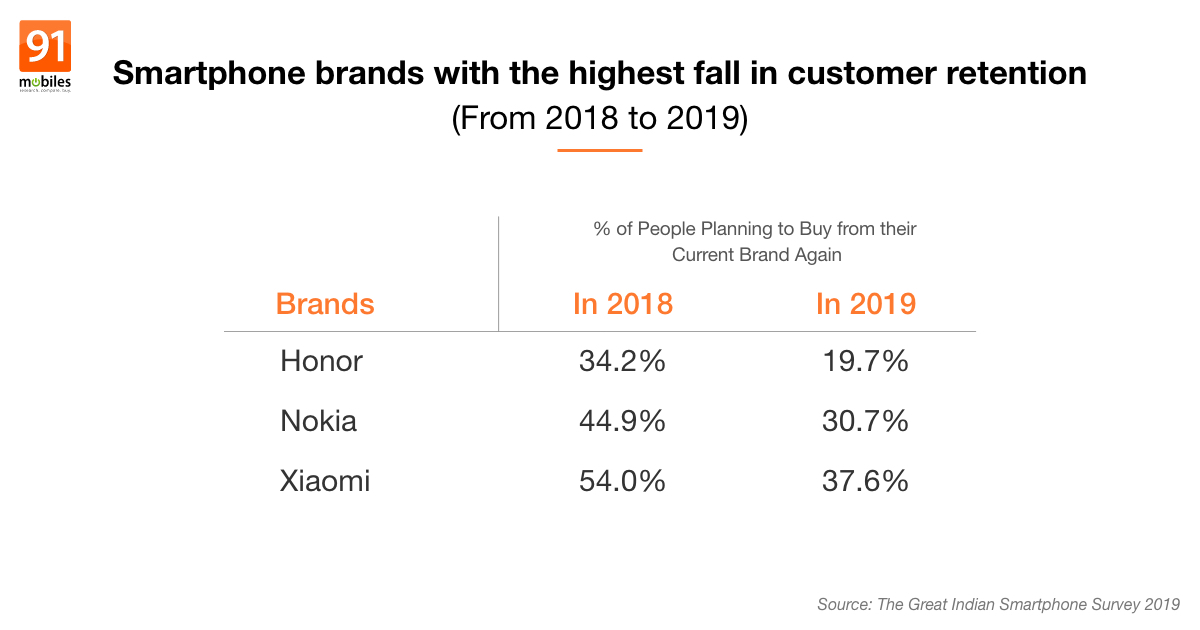 Things don't seem to be working out too well for Honor, as last year, over 34 percent of its users had shown interest in buying a smartphone from the same brand again. That number has dipped below 20 percent this year. Similarly, in Nokia's case, interest among its users in buying a Nokia phone again has dipped from 45 percent in 2018 to 31 percent this year.
Possibly due to lack of a suitable successor in Xiaomi's POCO range, and in part due to stronger competition, this Chinese giant seems to facing a dip too. 54 percent Xiaomi users wanted to buy their next smartphone from the same brand in 2018, but that number now stands at a little below 38 percent. Maybe Xiaomi needs to reconsider its strategy with POCO and make sure its offerings tick most boxes in terms of features and design.
So there you have it. Those are all the insights from our Great Indian Smartphone Survey 2019. For a full copy of the report, please write in to us at survey@91mobiles.com.