Smartphones are one of the most loved products in India, which is evident from the frequency of new launches every month and the number of times we upgrade our smartphones. In the past few years, with several new brands bringing exciting value-for-money offerings to the Indian market, smartphones have become omnipresent among all strata of society. In fact, it has been noted that customers are increasingly purchasing smartphones of higher value to get a better experience, which points towards a highly positive attitude towards smartphones. Customers are also switching over to popular e-commerce platforms and opting for convenient methods like product exchange and cash on delivery to get the best value for their money. We bring you some insights on how India is changing the way it shops for smartphones.
Premium smartphones for a premium experience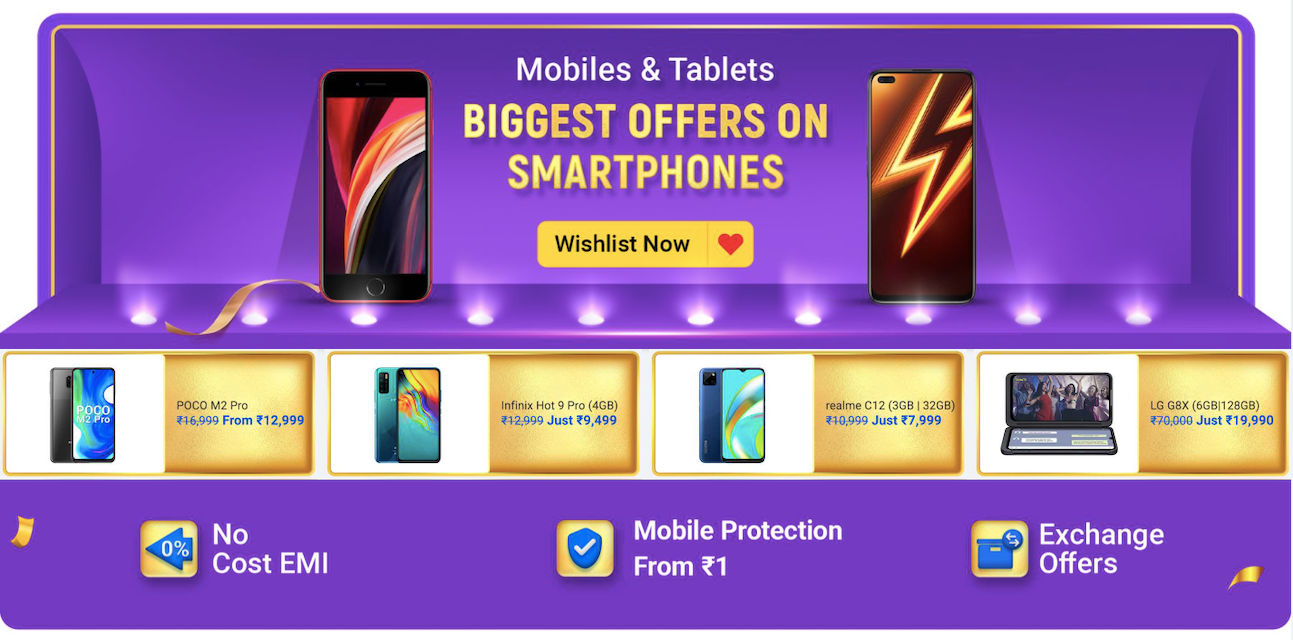 Starting off with an interesting statistic, it has been seen that the Average Selling Price (ASP) of smartphones increased 23 percent compared to last year. This means that if users were buying, on average, a smartphone priced at Rs 10,000 last year, they are now spending on an average of Rs 12,300 on buying smartphones this year.
The biggest upgrade has been seen in sales of smartphones priced above Rs 30,000, suggesting consumers are more inclined than ever to pay for more features and better performance. Therefore, it's no surprise that we have seen a surge in the launch of exciting and high-quality smartphones in this price segment in the recent past, including names like iPhone 11 Pro, Google Pixel 4a, iPhone SE, Motorola razr 5G, Samsung Galaxy S20+, Samsung Galaxy Note 10+, Motorola Edge+, Mi 10T, ASUS ROG Phone 3, iQOO 3, and realme X3 SuperZoom. These fantastic premium smartphones offer not just a premium user experience but are also at the bleeding edge of tech, with features such as a foldable display, 144Hz refresh rate, 108MP camera, Endless Edge display design, Snapdragon 865 chipset, gaming triggers, 100x zoom, and so much more!
Another big reason for this growth is the times we are living in now. Customers are spending more time online than ever before on their smartphones for purposes of e-learning, entertainment, and more, sitting in the comfort of their homes. All of these activities require smartphones that are powerful enough to handle multiple apps simultaneously. Thus, more premium smartphones — with improved displays, performance, battery life, and overall user experience — are fast becoming the choice for customers.
But it's not just the premium category that's growing, even smartphones priced from Rs 10,000 to Rs 20,000 saw a huge growth in sales on Flipkart. Smartphones in Rs 10,000-15,000 segment, including realme 7, POCO M2 Pro, realme Narzo 20 Pro, realme 7i, and Moto G9, are witnessing a big boost in sales due to their popularity among customers. Moving up, the motorola One Fusion+, POCO X3, and realme 7 Pro are popular choices in smartphones priced between Rs 15,000-20,000.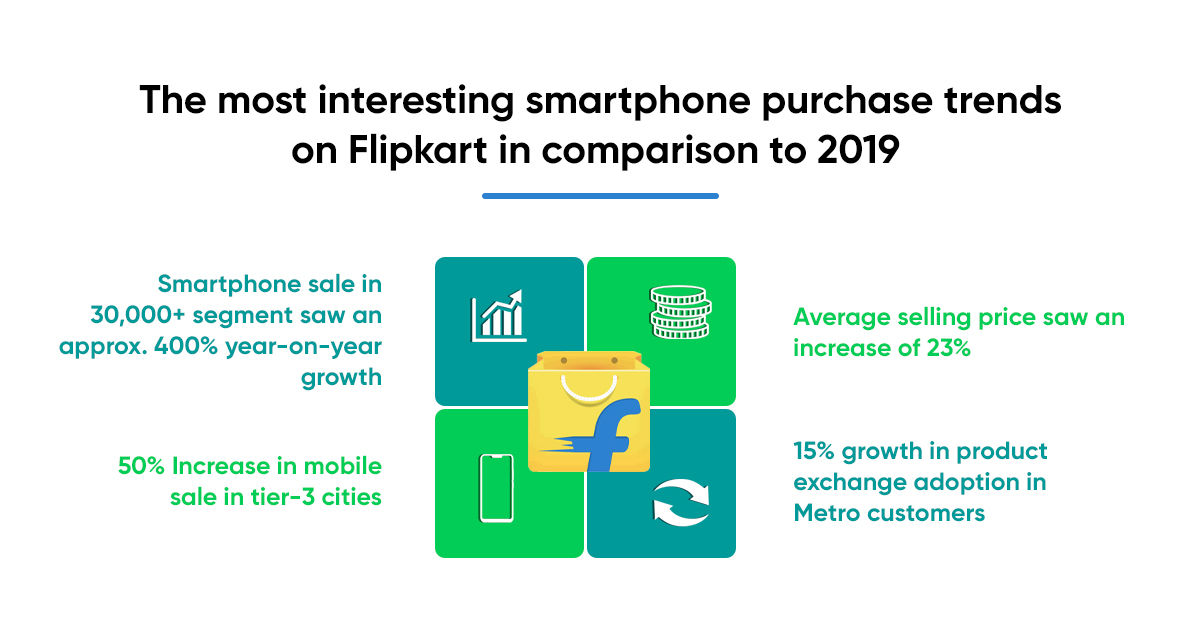 Surge in e-commerce sales
The COVID-19 pandemic prompted a big shift in smartphone purchase attitude. More people are now confident while shopping online than in brick and mortar stores. While this trend has been visible in the Indian market for the last few years now, the social distancing norms saw an incremental jump in consumers shifting to online platforms to fulfil their smartphone needs. This was, in a significant way, helped by Flipkart that has been consistent in making online smartphone buying more accessible.
There are various affordability levers available on Flipkart such as flexible no-cost EMI plans and convenient product exchange helping new customers come on Flipkart. In fact, things are looking extremely promising for Tier-3 cities which saw a massive 50 percent increase in mobile sales compared to last year.
Smart buyers on Flipkart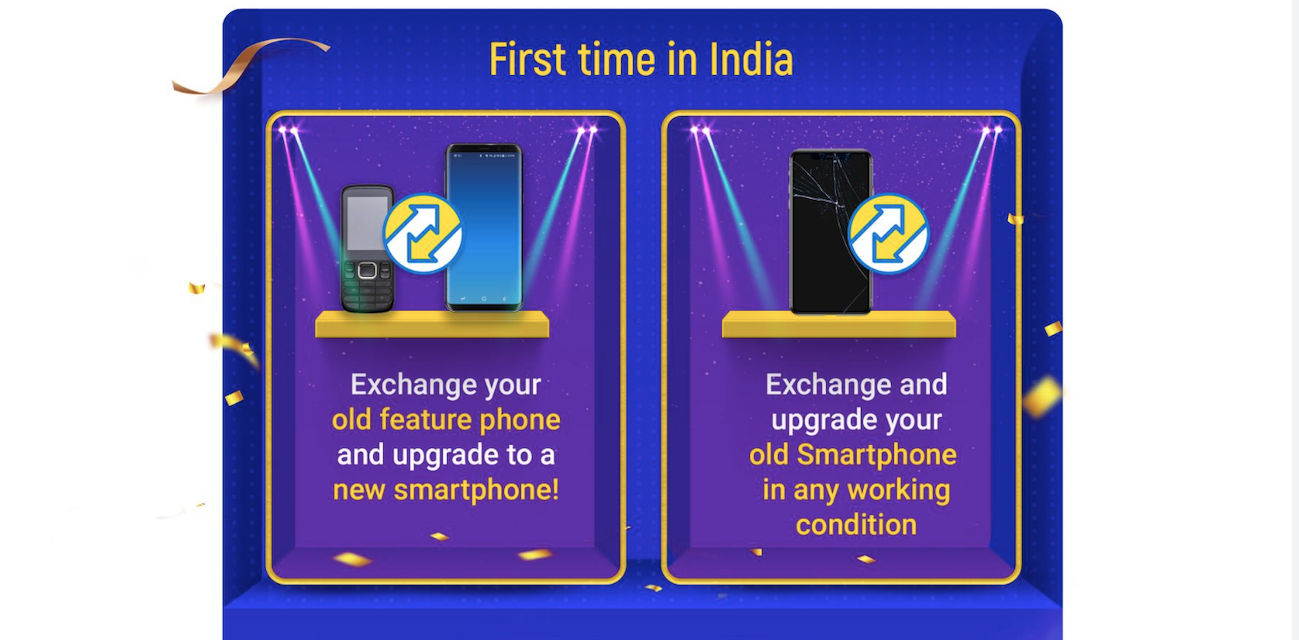 These affordability levers are being put to good use too by the consumers. Flipkart has indicated that customers on its platform are making smarter, more informed smartphone purchase decisions by using options such as product exchange, Cash on Delivery, and festive sales to get the highest value when upgrading their smartphones.
Customers in metro cities have seen a 15 percent increase year-on-year in adoption for product exchange, which shows that affordability is still a key factor in top tier cities. Users are rational and are striving to get the best features at attractive price points. One of the ways they are doing so is with product exchange on Flipkart, which allows users to get a good value for their existing smartphone and replace it for a new one in the most convenient way possible. With Flipkart supporting exchanges for any smartphone in working condition, even if it has a cracked screen, it is no wonder the exchange option is popular. The upcoming Big Billion Days festive season on Flipkart is expected to see a lot of additional exchange offers for those looking to upgrade their smartphone.
Despite the COVID-19 pandemic, Cash on Delivery (COD) remains the preferred option of payment for Flipkart customers. A lot of users in India aren't yet confident sharing their card details online, and for such people, Flipkart has flexible options to pay cash or card at the time of delivery. The online shopping platform saw a significant increase in the number of customers opting for COD as the mode of payment this year, compared to prepaid, when purchasing a smartphone.
Customers on Flipkart also took advantage of the Flipkart Plus membership much more than last year, with a 15 percent YoY growth. Flipkart Plus customers are entitled to benefits such as supercoins, faster delivery, superior customer support service, and early access to the Big Billion Days sale among other things. In fact, Flipkart Plus members will be the first customers to access the upcoming Big Billion Days sale, from October 15th itself.
Flipkart Plus members get the deals starting October 15th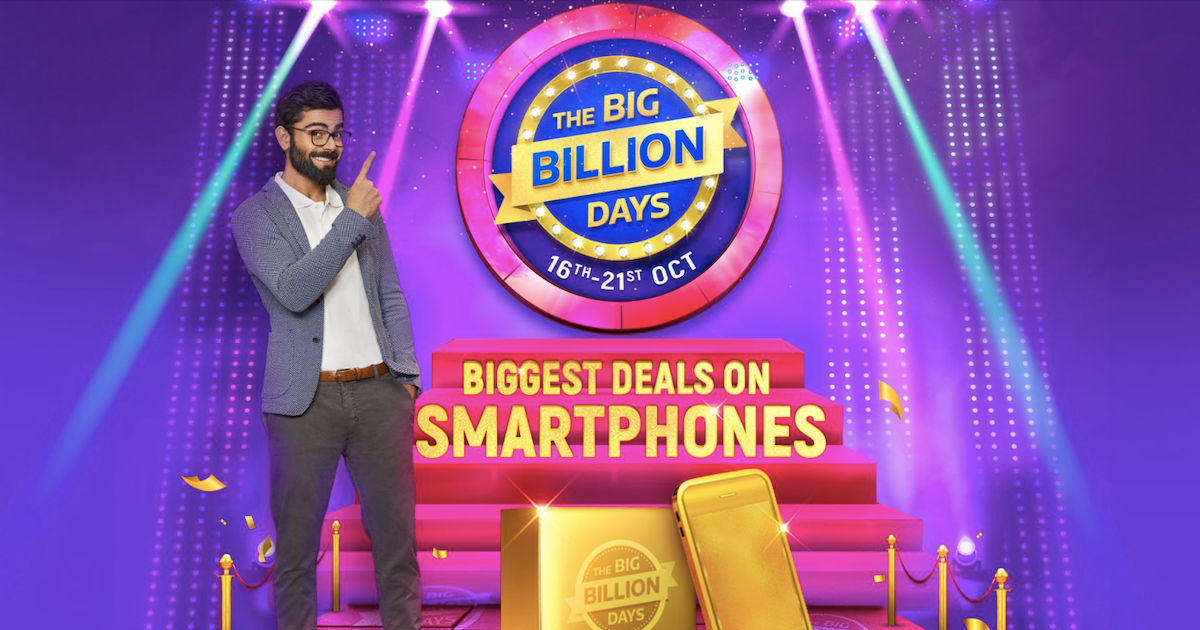 The most awaited e-commerce sale of the year, the Big Billion Days sale on Flipkart, is starting on October 15th this year for Flipkart Plus members, and October 16th for all customers. The festive season is approaching and a lot of you must be looking forward to snagging the latest smartphones at never-seen-before prices during the sale. Thanks to the above-mentioned affordability levers including product exchange and no-cost EMIs available on almost every smartphone model, you can expect to get the best bang for the buck starting October 15th. Adding to that, there will be several bank offers and a minimum Rs 750 off on exchange of all working smartphones. To make the deal even sweeter, Flipkart is introducing, for the first time ever, a 'Feature phone exchange program' that lets you upgrade from a feature phone to a smartphone conveniently. This will make smartphones even more accessible to Indians.
Check out the Flipkart store to find out what deals you can expect from the Big Billion Days sale that will take place on the Flipkart app and website from October 16th to October 21st. It's time to get the smartphone of your dreams at the most affordable price possible!