"The new messaging app by Instagram is a Snapchat clone of sorts, but with more emphasis on maintaining communication within a closed circle."
Threads from Instagram has been talked about for a while, and now, the app is finally live on iOS and Android across all regions. With a name that can easily lead you to stitching and sewing apps over the messaging service, the idea behind Threads is to create a hyper-connected world, where you are always in touch with your close friends, and always share information with them regarding what's happening in your life. Given it's a Facebook product, Instagram wasted no seconds to clarify that the app is "designed with privacy" in mind, among other stuff.
With Threads, Instagram users will sign up to a welcome screen that lets you choose a list of your close friends on the platform, provided you don't already have a list created for them since Instagram also lets you restrict Stories to close friends. Once done, you are welcomed with the camera app, which has layered circular icons to access all features. Threads will let you take quick photos and short video snippets, and share directly with your friends. To the bottom edge of the app, you can select as many as three quick access contacts, with whom sharing a photo or a video can be as quick as in three taps.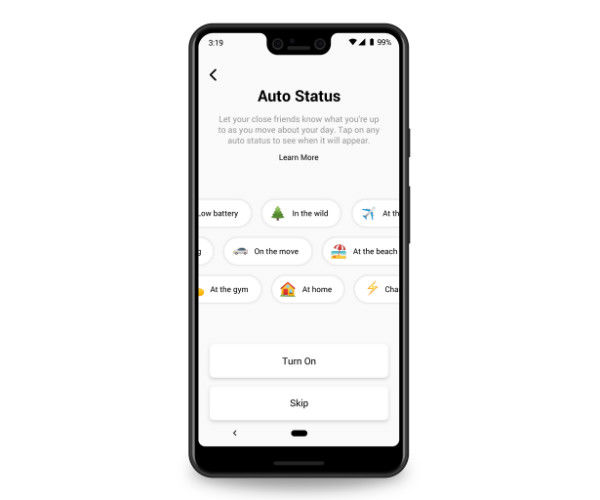 If you do not wish to share photos or videos, or cannot, you can also share text messages, Stories from the main Instagram app, or your Status. The Status can be from a range of templatised messages, or custom ones that better describe what you're up to (for instance, "Out on a blind date"). However, if you cannot be bothered by it, you can further opt for an Auto Status, which Instagram says will show your friends what you're up to, along with giving them an idea of where you are, without disclosing actual coordinates. For instance, if you're actually out on a blind date, the Auto Status might read your location to be registered as a coffee shop, and put up "At a coffee shop" as a status update, without revealing the location and coordinates of the coffee joint you're at. Furthermore, it is important to clarify that despite Threads, Instagram DMs will still remain as they were, and messages from your close friends will also appear in your DMs like every other Instagram message.
Privacy questions, as with everything Facebook, will certainly remain, especially with allowing access to location and letting the app decide how to phrase it. Apart from this, Threads from Instagram appears to be a new Instagram annexure that is targeted at the self-obsessed millenial crowd, or those who find value addition in always posting what they are up to, among close friends. While it certainly brightens up a group conversation if that's what your close friends list comprises, it remains to be seen if the format works for larger circles.