"OnePlus jumps on to the dual-camera bandwagon for the first time with the 5"
OnePlus has confirmed that its next flagship killer is due to land in India on June 22nd, 2017 and we're awaiting its arrival with bated breath. The global handset maker has created ample hype through its leaks and teasers, while the remaining job has been done by the countless rumours on the Internet. Considering that the brand has been working towards providing premium high-end specifications priced affordably, we are justified in our excitement to see what the brand brings to the table this year. Here are top 5 reasons, why we are excited about the upcoming OnePlus 5 launch.
OnePlus 5 goes in for the kill
We all know for the fact that OnePlus as a brand has built its reputation on its claim of manufacturing flagship killers, and every year it has managed to do just that. This year's flagship, the OnePlus 5 is arriving with all guns blazing, thanks to Qualcomm's flagship Snapdragon 835 chipset. The top-of-the-line hardware would make the OnePlus 5 one of the most powerful smartphones in the market that money can buy.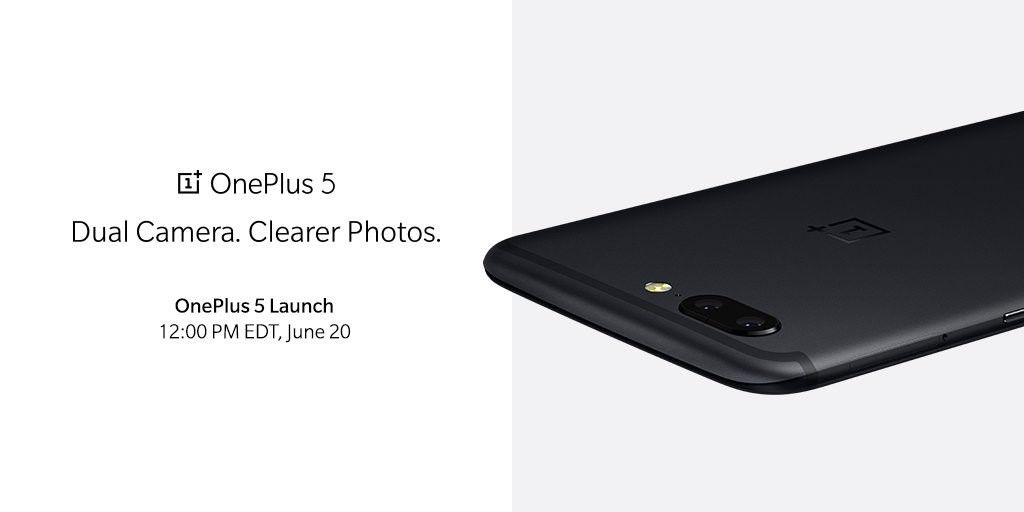 Double or nothing, OnePlus 5 gets a dual camera
Ever since the Apple iPhone 7 Plus arrived with its dual camera setup and others followed suite, it was expected that OnePlus will make the same feature available with its next iteration. Now, OnePlus has gone ahead and confirmed that the device will indeed feature a dual camera in a horizontal setup. The image shared in the tweet also shows the new positioning of antenna lines, which is quite similar to the iPhone 7.
Powerful photos tell powerful stories. #OnePlus5 pic.twitter.com/XE7ouCEnRV

— Pete Lau (@petelau2007) June 10, 2017
While there are tons of dual camera smartphones already in the market, what makes OnePlus 5 stand out is the fact that it has collaborated with DxO Labs to make sure its shooter offers good image quality. Considering the fact that DxO Labs is the ultimate benchmark for all sort of cameras, we can expect a brilliant snapper to come out of this collaboration.
Sleeker than before
From the get go, OnePlus has been blazing its own trail when it comes to the aesthetics of its offerings. From the sandstone finish on OnePlus One and 2, to the sleek and premium metal build of the OnePlus 3/3T, the brand's smartphones have always managed to come across as more premium than the price they command. One look at the image in that teaser, and you'd know that the all-new OnePlus 5 is sleeker and classier than ever before. The phone appears to be quite svelte with smooth edges.
Coming Soon. #OnePlus5 https://t.co/XWfMtBbOFg pic.twitter.com/HULFUiW6EB

— OnePlus (@oneplus) June 9, 2017
Come one and come all, anyone can attend the launch event this year
This year, OnePlus is going one step ahead with its customer-centric approach and inviting fans to attend the launch event to be held in Mumbai, if they wish to. The brand has listed an invite package on its website for Rs 999 and will open the sales for the same on June 12th, 2017. If you think that Rs 999 for just an invite is a money minting trick by the brand, we assure you that it is not. The invite box will get you a OnePlus 5 Launch T-shirt, Invite card, an exclusive OnePlus travel backpack worth Rs 3,990 and a pair of OnePlus sunglasses worth Rs 6,000. Also, once you receive the launch Invite, the brand will also add store credits worth Rs 999 to your OnePlus account. These credits will be valid for 3three days towards the purchase of OnePlus 5. Therefore, not only is the brand returning you the cost of the invite but is also offering goodies worth Rs 10,000. We are already sold!
Let's clear the CONFU5ION. This should make things 5IMPLE pic.twitter.com/BI4ykIlpjX

— OnePlus India (@OnePlus_IN) June 10, 2017
The promise of high value for money
It goes without saying that OnePlus as a brand has made it its mission to offer the best value for money handsets and its success is the testament to that. We cannot fathom why this year should be any different. Taking a look at the expected Boasting of the 5, if OnePlus prices it aggressively, it's going to have a winner on its hands. With features and specs better that high-end flagships devices from brands like Samsung and Apple, costing half the price… one cannot possibly ask for anything more.
OnePlus has already shown us that it is a brand that aims to make a difference in the smartphone market by making flagship features and specs available to buyers for prices which are quite affordable. The brand is now all set to gain more following with its new initiative of involving fans in its launch plans. While the global unveiling of the device is on June 20th, the smartphone will be launched on June 22nd in India and go on sale soon thereafter. See you in Mumbai?