The smart TV market in India exploded a couple of years ago, leading to a bevy of manufacturers entering the Indian market with a series of offerings that are as feature-rich as they are affordable. From streaming Netflix to responding to voice commands, these smart TVs cover all the features you'd need in your living room. Thanks to the built-in internet connectivity, these TVs also eliminate the need for you to buy additional gadgets like Chromecast or Fire TV Sticks to stream content. Today, we've gathered a list of some of the best affordable large-screen smart TVs that you can buy in India. As you go through the list, you'd notice that a large majority of them are powered by MediaTek chipsets, which doesn't really come as a surprise given how the chipmaker provides solutions across the board for TV manufacturers. In fact, over 70 percent of all smart TVs in the world are powered by MediaTek, which means there are about 2 billion such TVs out there. Let's check out some of the best affordable ones with large screens.
Motorola Revou 55-inch Ultra HD LED Smart Android TV with Dolby Atmos and Dolby Vision
(55SAUHDMG)

Fresh off the delivery chain, the Motorola Revou range has taken everyone by surprise this festive season. The 55-inch Revou costs Rs 40,999 on Flipkart and packs state of the art features. These include a 50W integrated soundbar, support for Dolby Vision and Dolby Atmos, built-in Chromecast, and much more. Running the show for this TV is the MediaTek MT9602 chipset, a high-performance SoC built especially for 4K HDR displays. The screen has a Smart Dimming feature that automatically dims darker areas to provide excellent contrast levels.
LG 55-inch Ultra HD LED Smart TV
(55UM7290PTD)

This smart TV option from LG is known for the wide viewing angles on its 4K resolution display. Apart from crisp visuals, it also specialises in delivering great audio, all thanks to its DTS Virtual X feature. And the fact that it's Bluetooth-enabled, allows you to use your favourite wireless earphones with it. It's powered by a quad-core processor and provides AirPlay 2 support for Apple devices. The software onboard this smart TV is LG's ThinQ AI, which comes with support for Google Assistant and Alexa, so you can issue voice commands to either of the two platforms. It can be bought now via Flipkart and Amazon at Rs 49,999.
Motorola ZX2 40-inch Full HD LED Smart Android TV with Dolby Atmos and Dolby Vision
(40SAFHDME)

Available at just Rs 19,999 via Flipkart, this 40-inch smart TV from Motorola is the perfect blend of style and substance. Its beautiful design is matched equally by its array of incredible features. The company has given its display the AutoTuneX+ treatment, which allows it to adjusts picture settings based on the content being shown. This is yet another smart TV option that's powered by the MediaTek MT9602 chipset, which boasts of MediaTek's AI-PQ (picture quality) and AI-AQ (audio quality) technologies that work in tandem to automatically improve picture and audio quality by real-time video optimisation. Just like the Revou TV from Motorola, this one too offers built-in Chromecast, Smart Dimming, and other useful features.
MarQ by Flipkart Innoview 43-inch Ultra HD LED Smart Android TV
(43AAUHDM)

Flipkart's own brand offers the MarQ 43-inch smart TV, which renders spectacular 4K visuals. Running the Android TV platform, it offers strong performance that's due to the MediaTek chipset that goes inside it. This TV features a premium design and offers distortion-free sound with its 20W speakers. It also comes with a special Picture Tuning mode that provides various presets with optimal combinations of brightness and contrast levels. Moreover, there's a dedicated Energy Mode that reduces the emission of harmful rays from the TV panel, so you can keep binge-watching your favourite TV show for hours on the trot without worrying about experiencing strain on your eyes. It's being sold on Flipkart right now for Rs 19,999.
Realme SLED 55-inch Ultra HD LED Smart Android TV
(RMV2001 SLED TV 55)

This TV is all about SLED technology. While traditional LED screens make use of blue backlight before creating the picture, SLED screens use red, green, and blue from the initial stage, thus providing a greater degree of colour accuracy and a wider gamut. This smart TV from Realme looks incredible thanks to its tiny bezels, while also boasting of incredible sound owing to its 24W speakers with Dolby Audio support. The TV is powered by a 1.2GHz quad-core MediaTek processor at its heart and runs the Android TV platform. There's a built-in Chromecast as well, which means you can mirror content from your smartphone and use Chromecast-enabled apps and games. All this at an alluring price of just Rs 39,999 makes it an irresistible proposition. This TV is available for pre-order on Flipkart and the Realme Store right now.
Mi TV 4X 55-inch Ultra HD Android LED TV

Priced at Rs 36,999 on Amazon and Mi.com, the Mi TV 4X is also a compelling large-screen option to consider. It sports a 4K HDR display that's enhanced by the company's Vivid Picture Engine. This smart TV makes use of a quad-core Amlogic processor and although its base software is the Android TV platform, that has been layered with Xiaomi's own PatchWall UI for a custom experience. Apart from offering pre-installed versions of all the usual streaming apps, it is also capable of arranging your cable TV content into a neat and accessible interface. Chromecast is built into this smart TV, while you also get powerful 20W speakers with Dolby + DTS-HD sound.
Worthy mention: OnePlus 55-inch Q1 Series 4K Certified Android QLED TV 55Q1IN-1

It might be priced higher than the other options in this list, but this OnePlus TV is a good choice for those looking for a feature-rich large-screen smart TV. It sports a superior QLED display, which is equipped with a feature called Gamma Color Magic for highly immersive picture reproduction. Plus, there's even support for Dolby Vision HDR, which grants the screen extraordinary colour, contrast, and brightness. The OnePlus TV delivers 50W sound output that's enhanced by Dolby Atmos. This smart TV is powered by the MediaTek MT5670 chipset which comes with a powerful quad-core CPU and a host of other technologies that are aimed at improving the experience you get on a 4K TV screen. The OnePlus TV Q1 runs the Android TV platform yet offers its own unique UI called OxygenPlay. This option can be purchased through Amazon and the OnePlus Official Store right now for Rs 62,900.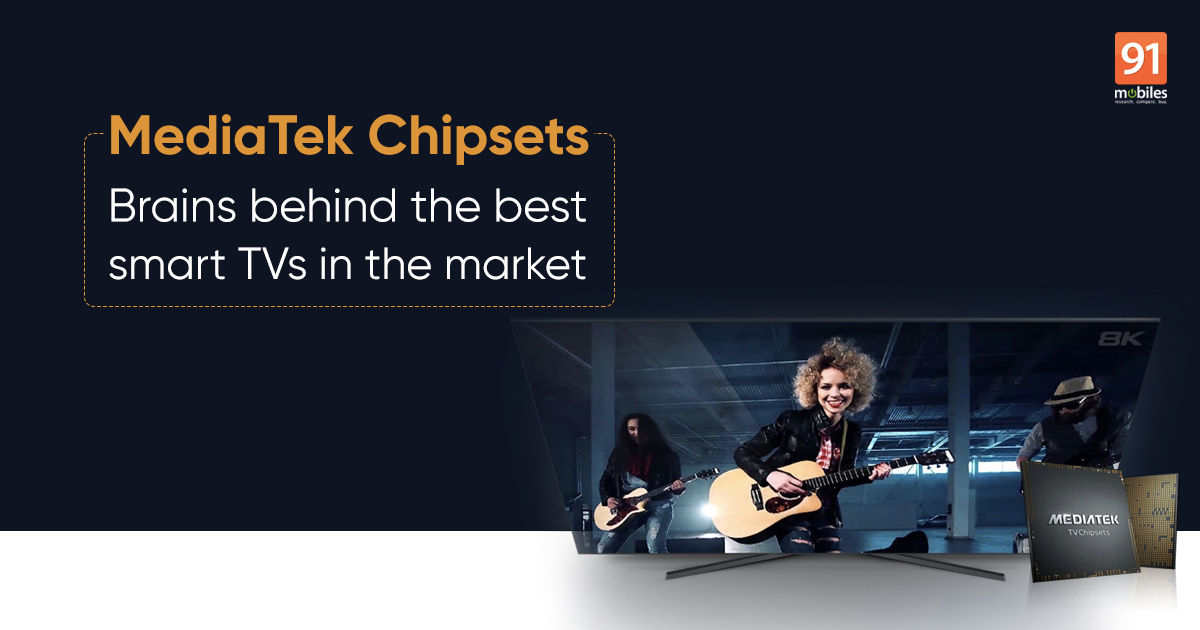 One thing that's clear from all these options is how the smart TV market is dominated by TVs with MediaTek chipsets inside them. The company has been manufacturing powerful SoC options for smart TV brands to take advantage of for quite some time now. The fact that MediaTek chipsets are equipped with high-grade processors and feature useful solutions for smart TVs has meant that TV manufacturers have embraced these chips wholeheartedly. The brand has chipsets for all price brackets, even 8K TVs for that matter. So when you're buying any smart TV with a MediaTek chipset inside it, you can rest assured that you're getting the best in terms of performance and features.