The year 2016 might have marked a peaking point for the fast-growing Indian phone market, but by no means it was able to put a brake on the efforts by homegrown companies. As with the past, the highest number of handset launches in 2016 were from the local players, while most international brands played safe with a couple of smartphones each in different price segments.
Related read: The number of phone launches in India fell for the first time last year
While some Indian brands have been affected by the Chinese incursion, Intex has been able to put a strong show against them. Just like the past few years, it sits at the top when it comes to the most number of phones launched in 2016. In fact, with 95 phones launched, it's well ahead of any other company, as Lava sits at the second place with 60 devices. Micromax – which has always been the most renowned phone brand from India – sits at the third position. Do note that most Indian brands are present in this list owing to the feature phones they launched in the entry-level segment.
Talking about the rest of the top 10 phone brands in terms of phone launches, then Reliance Retail's LYF brand has been quite aggressive. It debuted just last year, but in conjunction with Jio's aggressive push with Preview offers, the company launched as many as 31 devices. Let's take a look at the entire list.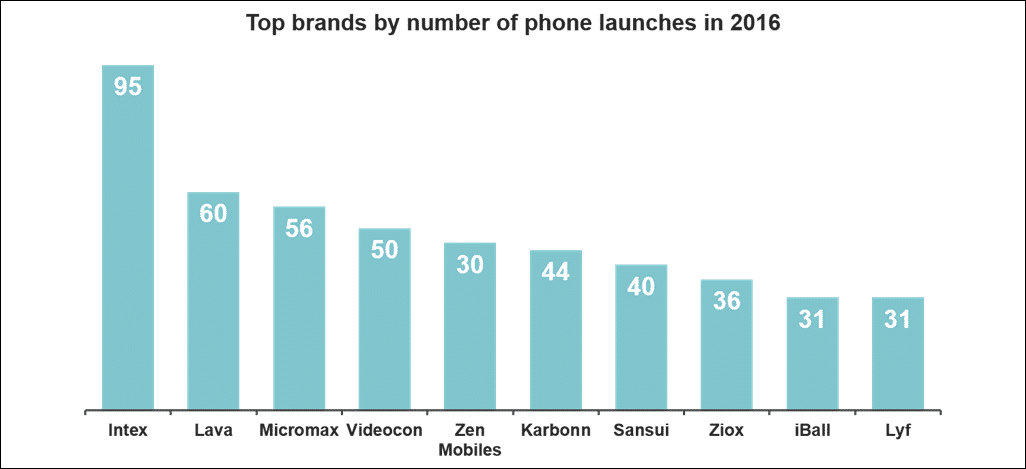 However, the chart above turns on its head if you consider the number of phones launched priced above Rs 10,000 – there's no Indian brand in sight. As can be expected, Samsung leads this category with 17 offerings over the last year. Lenovo stands at second spot with 13 smartphones launched in 2016, although if we add Moto devices in its fold, then combined, the two would be at first place with 21 devices in total. Taiwanese manufacturer ASUS has come a long way since its foray into the subcontinent in 2014, as it launched as many as 12 phones last year. Interestingly, the Cupertino giant has also managed to find a place in this list, even though it doesn't usually have an extensive portfolio. The reason for the same is that along with multiple variants of the iPhone 7 duo (review), it also introduced the iPhone SE as well as the 32-gig models of the iPhone 6s and 6s Plus (review).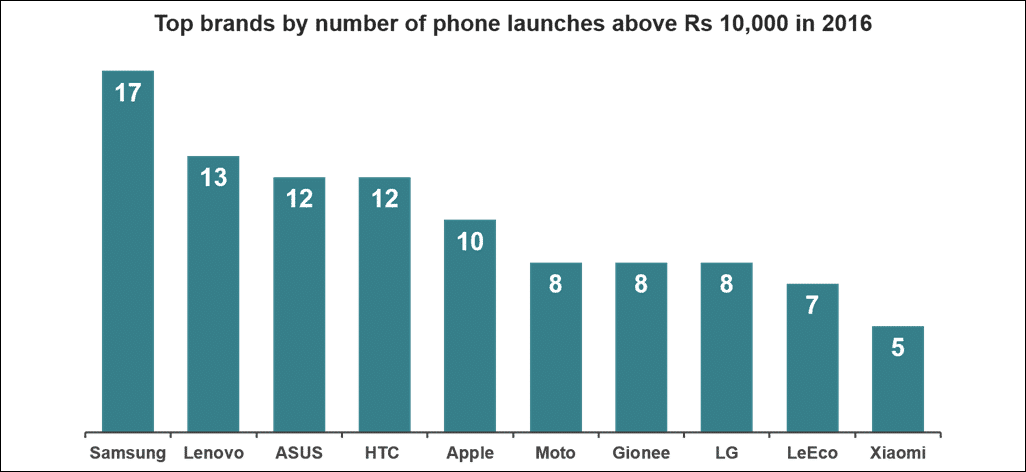 With feature phones expected to continue their dominance, we doubt if the status will change this year. But it would be interesting to see if Indian companies try and move up the value chain, especially after their failed attempts a couple of years back, or the international phone makers attempt to cater to the voluminous sub-Rs 10,000 price bracket.